Step into Camaro's Diner in Monzen-nakacho, a couple of blocks back from Eitai-dori Avenue and close to Tomioka Hachimangu shrine, and you will find yourself transported back to a time which may never really have existed, but which we all know of: the time of the idealised American roadside diner.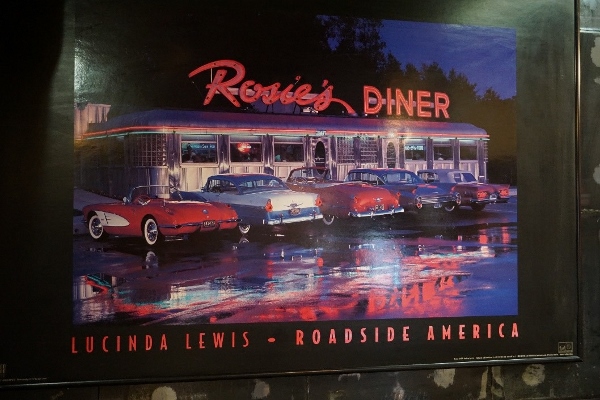 The walls of Camaro's Diner are covered with photographs of 1950s and 60s film stars, along with posters of chrome-decked and white-wall tyre coupes, convertibles, and sedans from that era, as well as other memorabilia.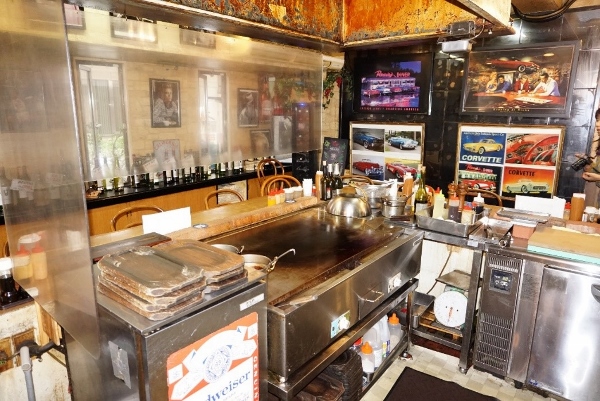 Named after the iconic Chevrolet Camaros, which the owner, Mr. Morio Hata, used to see cruising along Japan's Route 16, the first Camaro steak house opened in Toyocho in 1971, followed 3 years later by the Monzen-nakacho branch.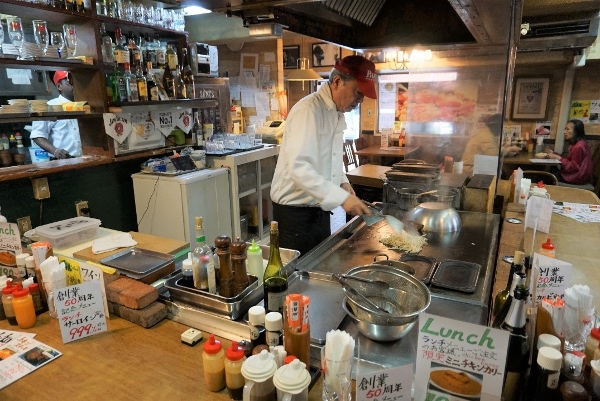 Camaro's Diner offers various steak cuts and hamburgers at reasonable prices. When we visited the diner late one lunchtime Mr. Hata was stood at the ready, behind a vast metal hot plate, clutching a pair of steel spatulas. Saying very little, he let his cooking speak for itself. Splashing a dash of oil across the hot plate Mr. Hata laid out the meat cuts and then set about frying them.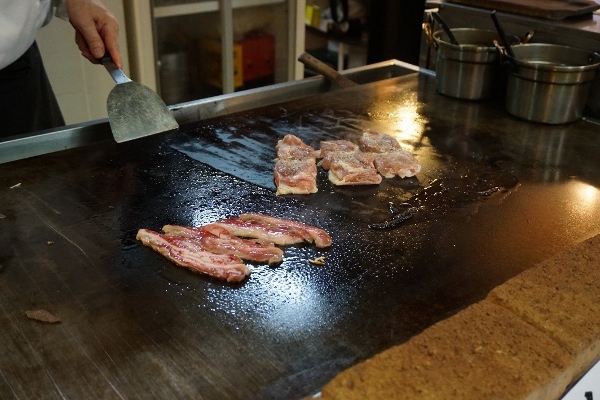 We sat engrossed at the counter watching as Mr. Hata turned the pieces over occasionally to make sure both sides were properly cooked, before cutting them up. Whilst he was seeing to this, his assistant worked away in the background preparing the side dishes: bowls of rice, salad, tonjiru miso soup (miso soup with pork, tofu, onions, and carrots), and a mug of cold mugicha (barley tea).
The food at Camaro's Diner is simple and comes quickly. First to be served up was a Japanese hamburger (JPY630+tax for a 150gms single dish or JPY1,000+tax for a lunch set), covered in a tasty thick demi-glace sauce.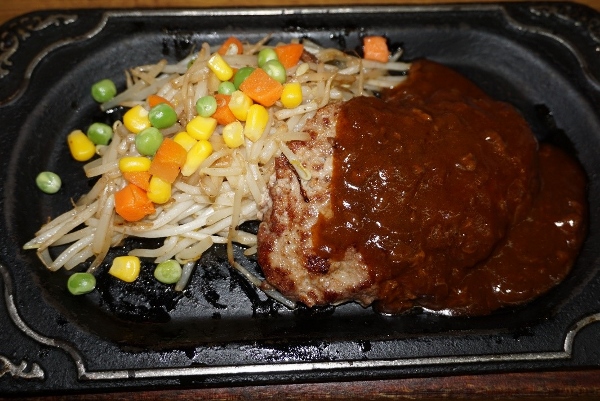 The aroma of the browned and tender sirloin steak (JPY650+tax for a 100gms single dish or JPY1,020+tax for a lunch set) which followed, set my mouth watering.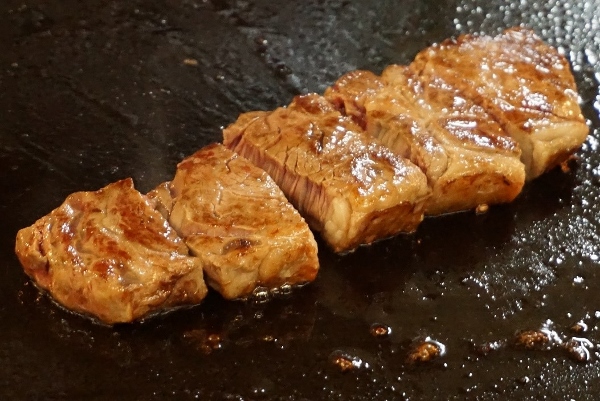 and then came some thinly–sliced gyutan (beef tongue), accompanied by a squeeze of lemon and a pinch of salt (JPY666+tax for a 100gms single dish or JPY1,030+tax for a lunch set).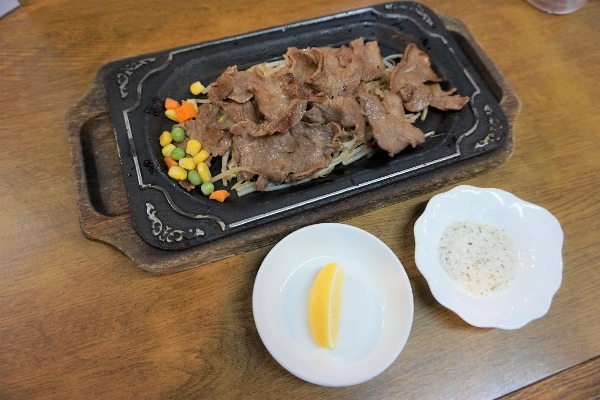 As a piece de resistance Mr. Hata kindly fried a few pieces of wagyu (Japanese beef) steak for us to savour. This was sooo— tender and tasted delicious. At lunchtime Camaro's Diner serves just ten wagyu set lunches, with the steak coming in a choice of 100gms, 150gms and 200gms sizes.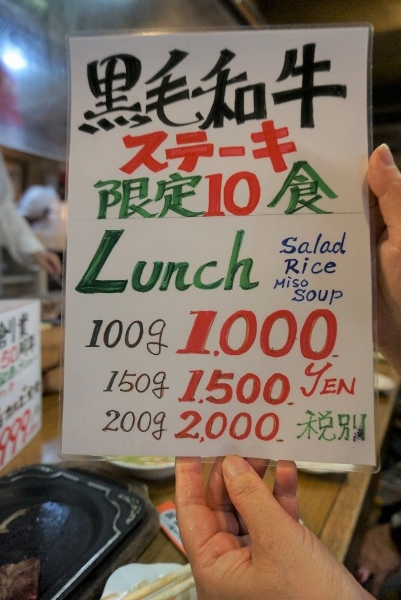 Prices of all meat dishes vary with size, and all come on a bed of moyashi (crisp and tasty fried bean sprouts).
And what did we eat these Japanese versions of quintessential American dishes with? Chopsticks, of course. It says a lot for the mouth-sized pieces into which Mr. Hata cuts up the meat, that the use of chopsticks presents no obstacle to tucking into these hearty meals.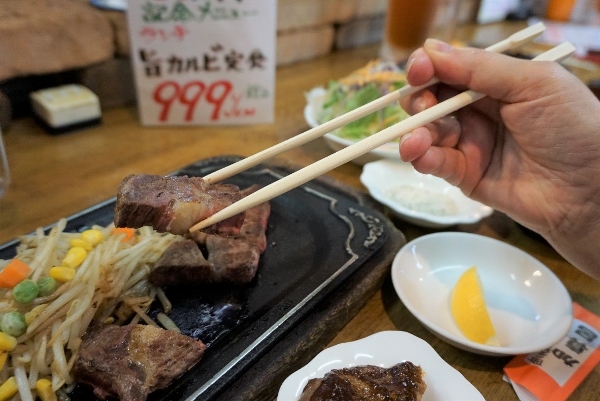 Each branch of Camaro's Diner has 2 or 3 staff, and Mr. Hata believes it is important to rotate himself among his 5 branches to maintain the quality of the food and service and to get feed-back from his customers.
Whilst we were sat at the counter enjoying the dishes Mr. Hata kept serving, there was a steady stream of customers, even for that late a lunch hour. He confided that at both lunchtime and in the evenings his restaurants see a lot of foreign customers who are checked into local hotels.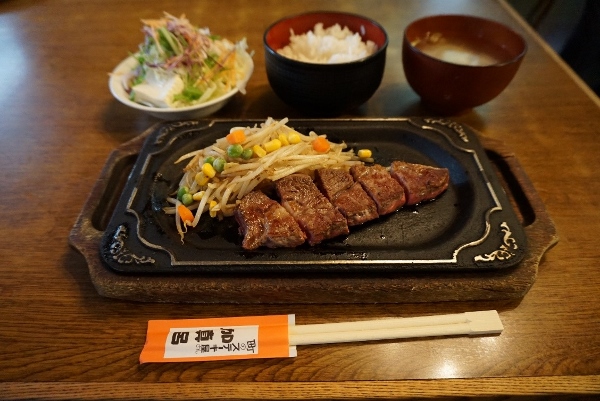 As well as Japanese beef, the diner serves USA, Australian and New Zealand beef, and Mr. Hata says he manages to keep his costs low through his long-standing connections with wholesalers; he even has the restaurant chain's name emblazoned on specially-bagged rice from Niigata.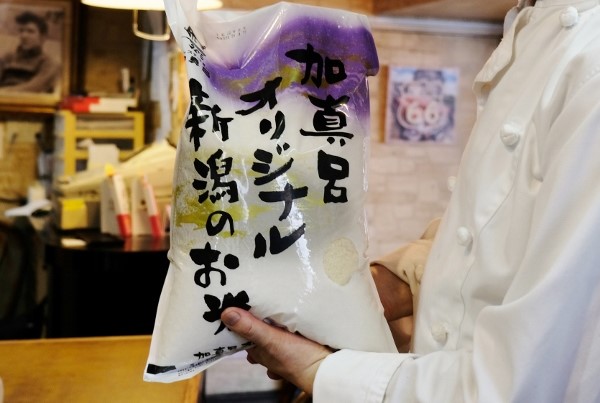 Capitalising on his experience gained in 50 years in the business, Mr. Hata works hard to balance cost and quality, and his motto is "tasty at affordable prices."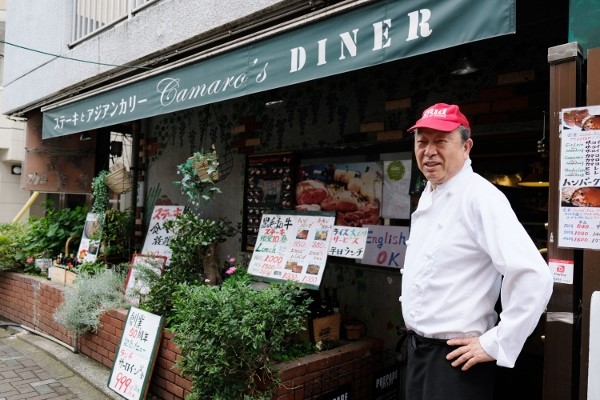 Tucking into a plateful of Mr. Hata's steak, whilst soaking up some American-style nostalgia sounds like a good way to spend a mealtime in Monzen-nakacho, don't you think?
Story and photographs by Jeremy Hutchinson