Stunning Edo Kiriko at Kirameki
Published: October 14, 2021
Mr. Hidetaka Shimizu, the proprietor of Edo Kiriko Senmonten Kirameki, is a craftsman of Edo Kiriko, the traditional art of cut glass design in Japan. On a recent sunny afternoon, he spared some time from his labours to discuss glass cutting, design, and his brand new venture.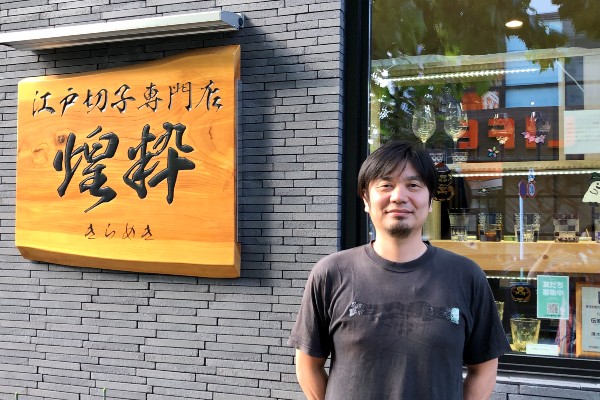 "I was born and grew up in Yokohama," explained the youthful and dynamic Mr. Shimizu. "I'd been interested in traditional Japanese arts and crafts from a young age and when I was in junior high school my father took me to an exhibition of traditional handicrafts in a department store. I witnessed a demonstration of glass cutting by a master artisan and was so transfixed I went for three consecutive days, resolving to enter the cut glass world if possible. As it turned out, I later found employment in the workshop of the same master craftsman, where I learned how to cut glass."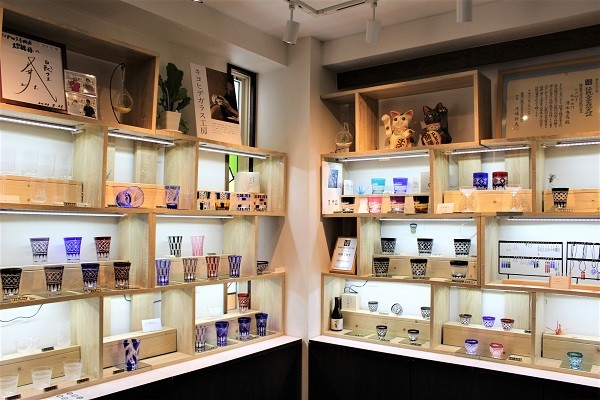 Edo Kiriko is a form of glass cutting that developed in Edo (modern-day Tokyo) in the 19th century as a synthesis of traditional Japanese techniques and European glass cutting. In those days, the glassmaking industry was centred on the Shinagawa area of Tokyo. Students who studied glass cutting under Englishman Emmanuel Hauptmann at a school established in Shinagawa moved to the edges of Tokyo after graduating, where land for their workshops and factories was cheapest, namely Kameido and Sumiyoshi. "The industry is still based here today, and that's why I opened the shop here," explained Mr. Shimizu.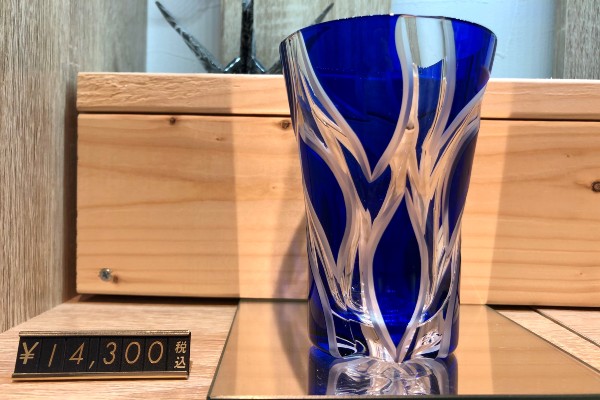 Mr. Shimizu estimates there are only 60 or so craftspeople like himself making Edo Kiriko in Tokyo now. No matter how skilled the photographer, nothing compares to seeing the glassware with your own eyes; the pieces are incredibly beautiful and astonishingly intricate, truly works of art. However, as Mr. Shimizu stressed, "I want people to use the glasses in their everyday life as they're functional objects. Displaying them is fine but I'd like people to drink from them."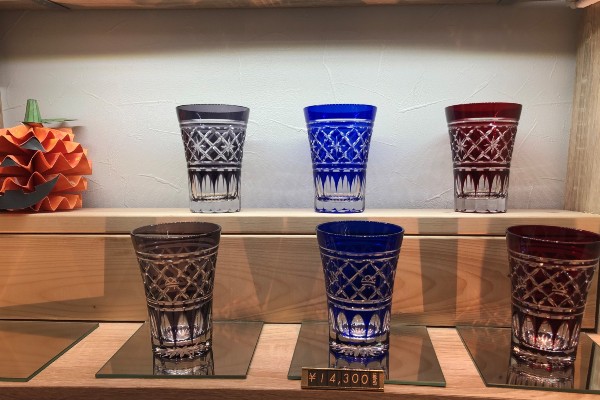 While some pieces such as the blue tumbler above are original designs, Edo Kiriko has a number of traditional motifs to match the glass cutting technique. These tumblers feature the palisade design (yarai) and start at 14,300 yen apiece.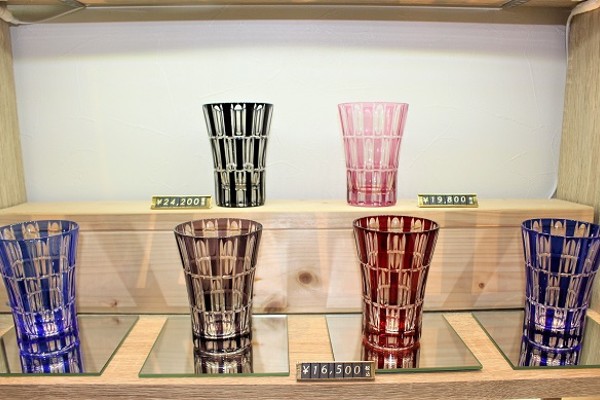 This traditional checkered design known as ichimatsu moyo has been used for dyed textiles since ancient times, and was the main design of the Tokyo 2020 Olympic logo. They begin at 16,500 yen apiece.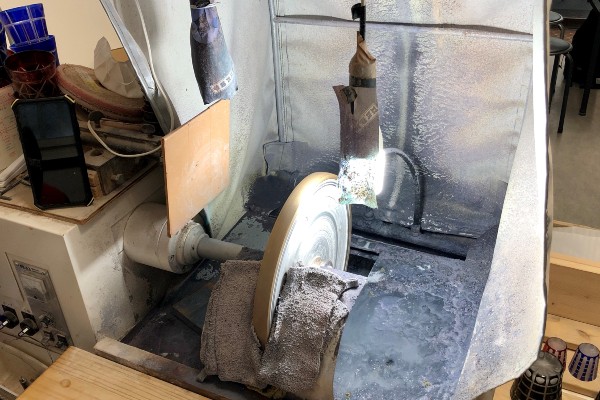 Mr. Shimizu receives the coloured glasses from the manufacturer, then spends his day following several procedures on grinders, such as this one, to produce the finished glass. After drawing the pattern on each glass he first cuts the initial outline, then progresses to cut the increasingly intricate designs within that pattern. His speciality is the final process, the one that creates the frosted glass effect.
While many manufacturers use a chemical process to produce the frosting effect, Mr. Shimizu does it entirely by hand, using a delicate and labour intensive hand polishing technique. "Doing it by hand naturally produces a higher quality frosting, but more importantly all the edges are smoothed out so it's really comfortable to the touch," he said.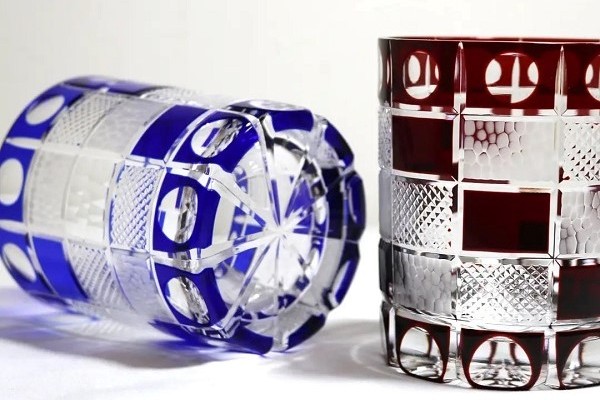 These chunky tumblers are stunning examples of this hand polishing effect. "I should prepare some glasses using the acid process just so that customers can compare them to the hand polished ones purely by feel," he said with a laugh.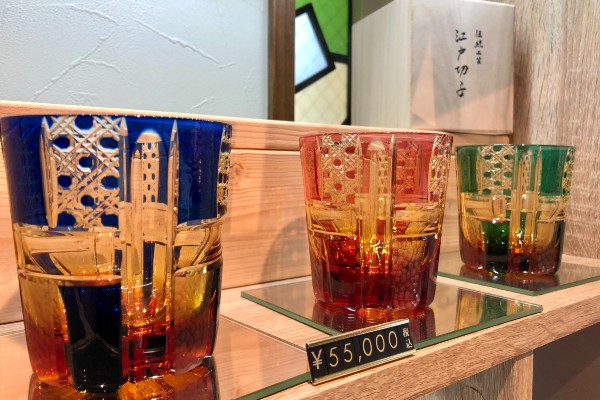 Edo Kiriko glasses are often given as gifts on auspicious occasions such as weddings or the 60th. birthday celebration known as kanreki in Japan. Cheers!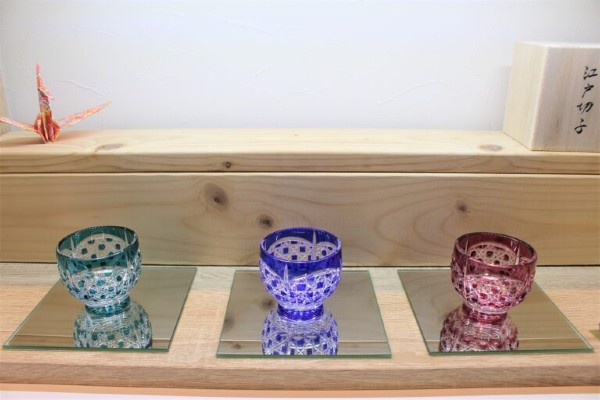 These gorgeous, jewel-like sake glasses feature the traditional designs known as octagonal woven bamboo (hakaku kagome) and hemp checkered pattern (asa ichimatsu). 26,400 yen each.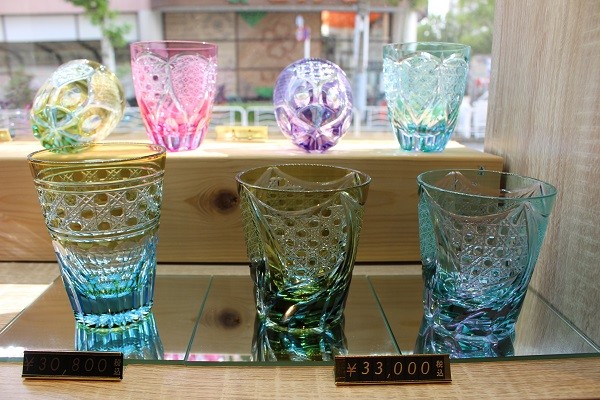 The designs may be traditional but the colours are most certainly modern. These candy coloured Edo Kiriko glasses are favoured by female customers and start at 33,000 yen.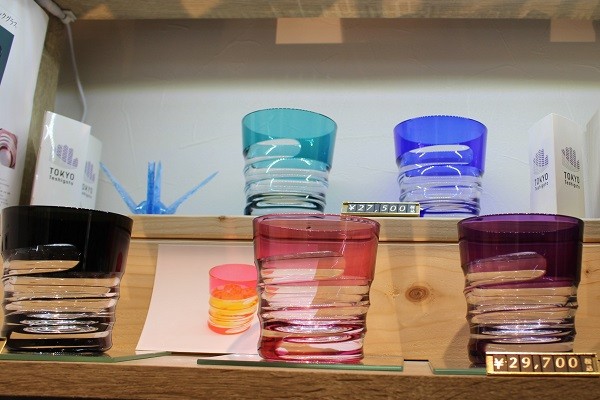 These elegant tumblers look as though they would fit your hand like a glove. From 27,500 yen each.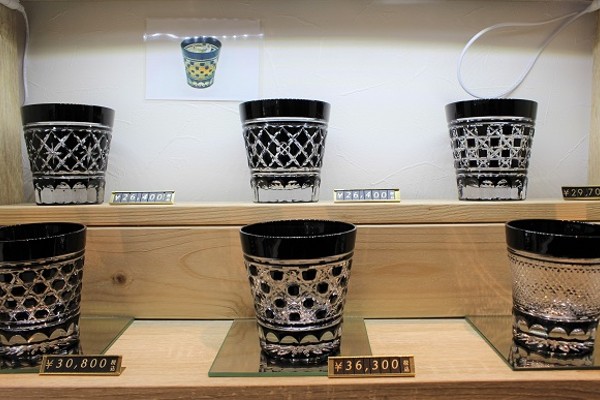 Black has traditionally not been a colour associated with Edo Kiriko owing to technical problems in the dyeing process that made the glass difficult to cut and polish. One manufacturer overcame these problems and produced a quantity of black glass, inviting Mr. Shimizu to try it. "It's become our signature colour," he says. The traditional patterns and stark black colour lend these tumblers a sense of weight and heft. Prices begin at 26,400 yen.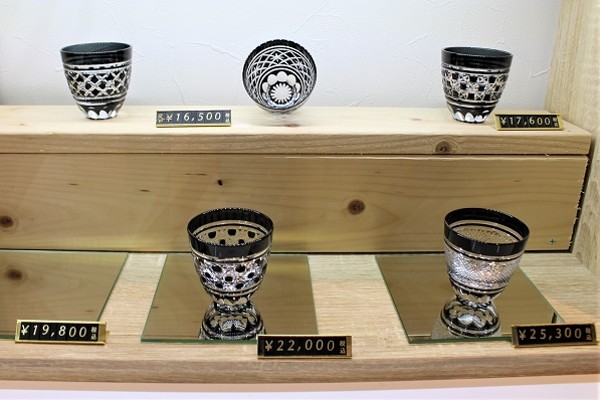 These sake glasses are equally elegant and start at 16,500 yen.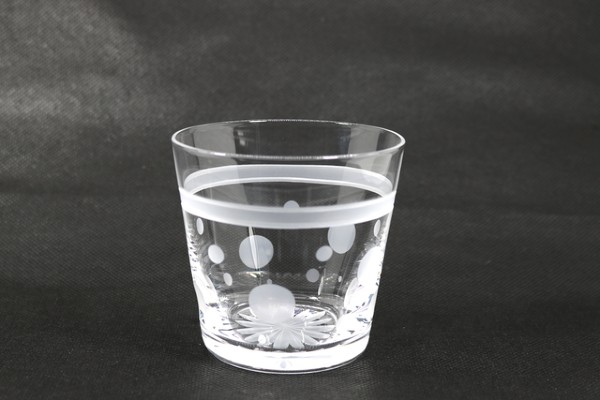 As Mr. Shimizu stressed, Edo Kiriko items are made for daily use and these mini glasses fit the bill. Perfect for sake, a shot or an iced tea in summer, they're just 1,650 each.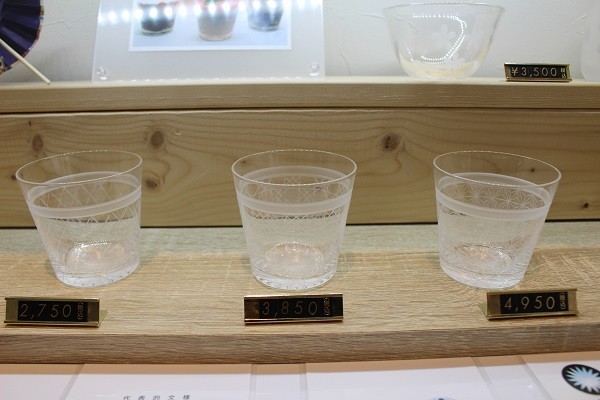 There are several designs of mini glass available. This series begins at 2,750 yen each.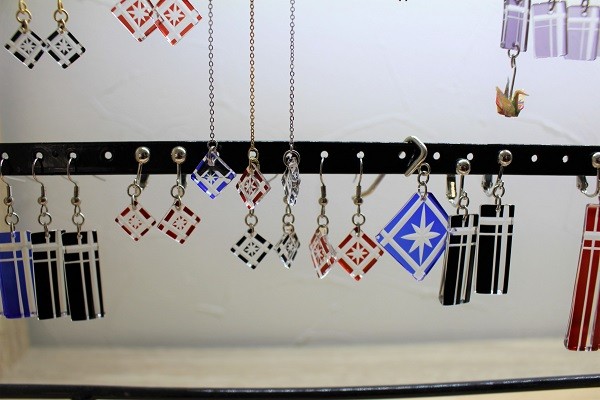 Mr. Shimizu has even created these rather stylish accessories. The necklaces begin at 7,700 yen each, while the earrings start from 13,200 yen.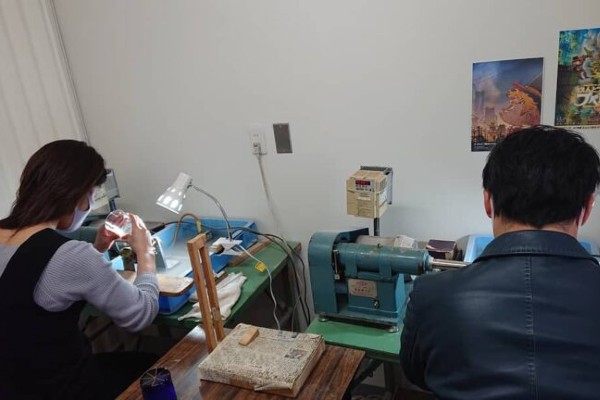 If you'd like to try your hand at traditional Edo Kiriko glass cutting then you're in luck as Mr. Shimizu offers a one-hour trial lesson. Customers can cut their very own unique cup, starting at 3,300 yen. How about that for a perfect souvenir of Koto-ku!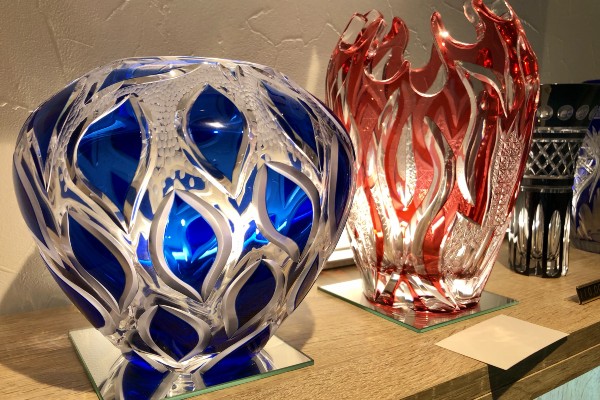 These vases are original designs made to display at the annual exhibition of the Koto Ward Edo Kiriko Association held in Ginza every spring. If you're in the Sumiyoshi area and would like to experience the stunning beauty and astonishing craftsmanship of Mr. Shimizu's work, just drop into the shop. Kirameki means sparkle or glitter in Japanese, a perfect name for this gorgeous glassware.
Story and Photos by Stephen Spencer