Stylish Heartsease at Cafe Polaris
Published: November 30, 2021
Cafe Polaris is a brand new, smart and stylish cafe restaurant in the Morishita area of Koto-ku. On a recent sunny autumn afternoon, we dropped in for a pleasant chat with the owners and staff.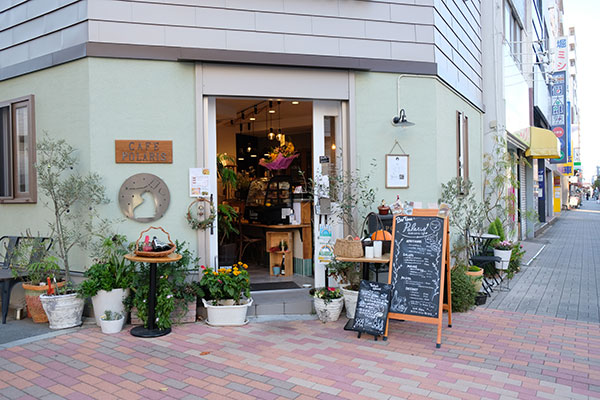 Located just one minute's walk from Morishita station on Kiyosumi Street, Cafe Polaris is difficult to miss. Painted a soothing light teal shade, the doorway is surrounded by a variety of bushes, plants, flowers and other decorations that create a welcoming atmosphere.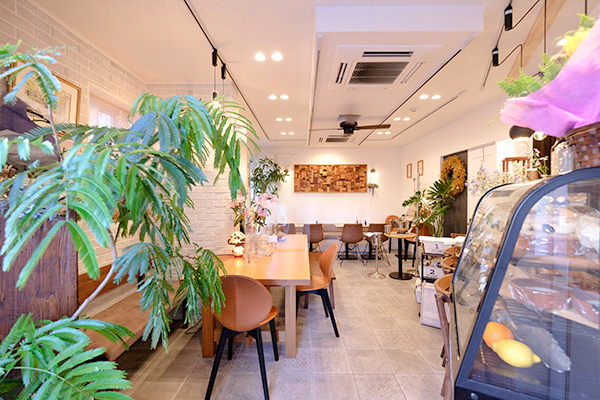 The interior is cool and woody, featuring bright white walls and ceiling, together with more greenery.  It's very comfortable and relaxing.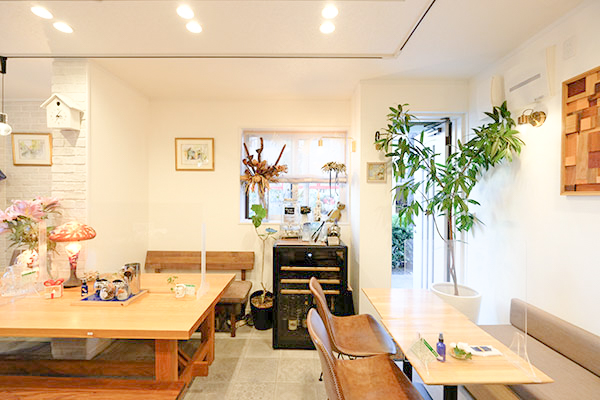 There's space for couples, singles, and groups.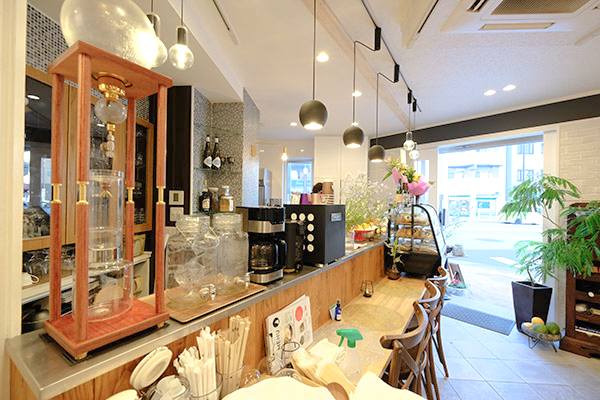 The counter, with several comfortable chairs and a street view, is a popular spot for visitors to take their time over a coffee break or slow lunch. The spacious front door and another entrance at the rear allow for excellent ventilation, keeping the interior cool and fresh on warm and humid days.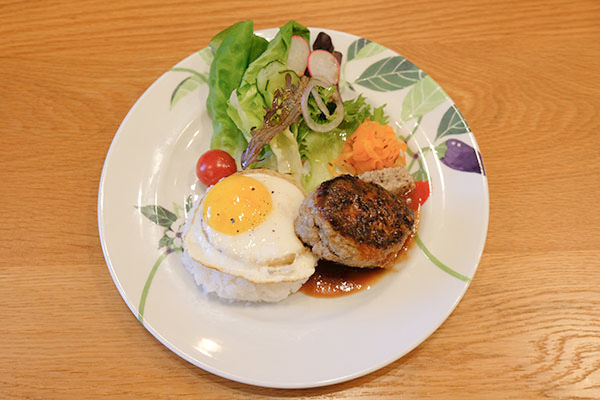 Available everyday except Sundays, this Morishita Burg (1,000 yen including soup) is a star attraction. The large plateful contains a thick, juicy hamburg in demi glace sauce loco moco style topped with a fried egg and served on rice, garnished with a variety of fresh vegetables grown in the "natural farming" method.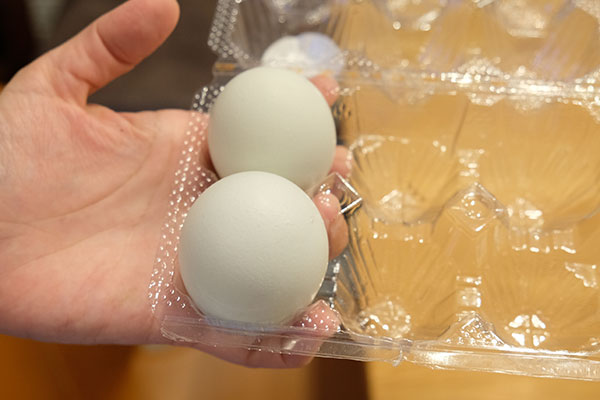 The Polaris owner and chef are extremely fastidious when it comes to selecting ingredients for the meals. The hamburg is rich and juicy yet soft and easily edible for senior customers, of which there are many. The eggs, for example, are sourced from Araucana chickens in Chiba Prefecture, and are tinged a light blue colour from which they earned the nickname 'blue jewels'. More than just aesthetically pleasing though, the eggs are high in nutrition.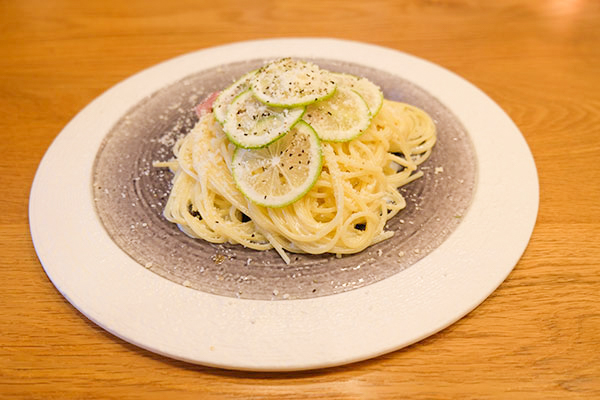 Lunch is served from 11:00 am to last orders at 13:30. Bar Time begins at 4pm with a different menu. One of the most popular dishes is this highly photogenic lemon cream pasta (1,200 yen). The sauce features agricultural chemical-free lemons from the island of Setoda in the Seto Inland Sea area of Hiroshima Prefecture. The lemons are edible, including the skin and are sharp in flavour with a pleasant acidity. The sauce contains onions from Awaji island, also in the Seto Inland Sea, Italian raw ham, fresh cream and black pepper. This is very good indeed, highly recommended.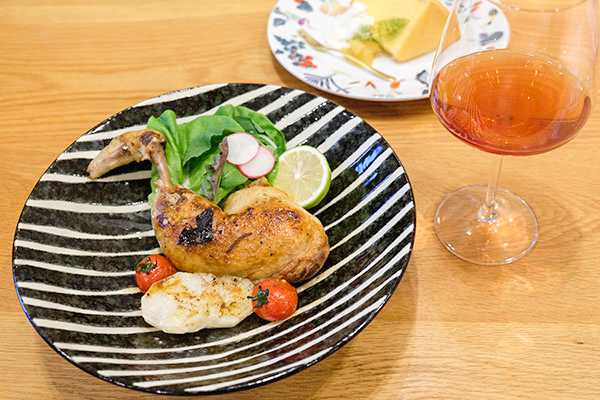 This Shingendori confit (1,300 yen) is another hit with regulars at Bar Time. Shingendori is a brand of chicken from the Koshu area (modern day Yamanashi Prefecture, west of Tokyo). The plump, juicy leg is slowly cooked at low temperature to perfection by chef Kazuya Sasamoto.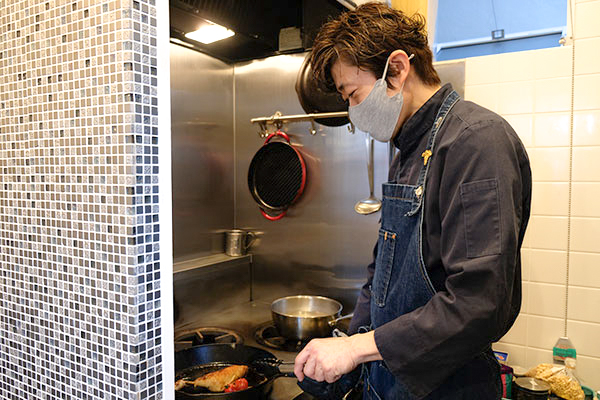 Chef and sommelier Mr. Sasamoto is well-versed in Italian cooking and spent 18 years working as a sommelier at a renowned Tokyo department store. "I design the menu to suit the wine," he explained.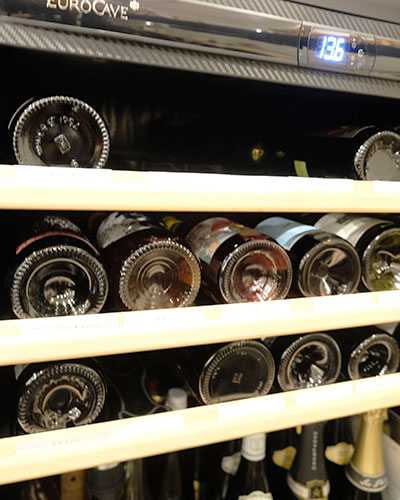 The wine list features a lot of natural wine and wines from France, New Zealand, and California among others. There's also a panoply of other drinks including Japanese craft beer and cider.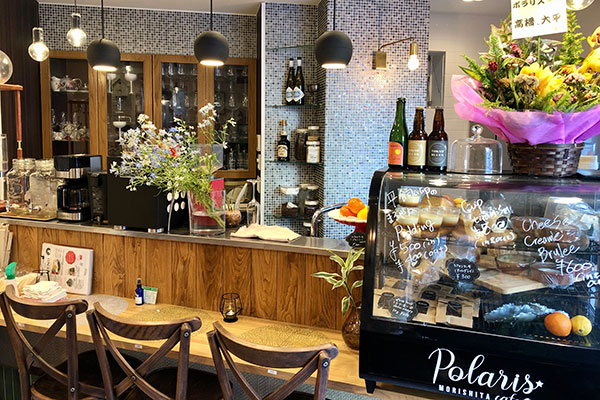 There are sweets and desserts too, many handmade by Mr. Sasamoto. On the day we visited there were custard puddings, tiramisu, creme brulee and two kinds of chiffon cake made to Mrs. Tsuezaki's own recipe.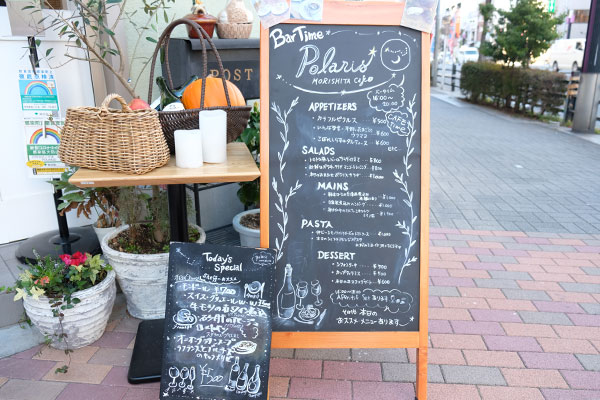 The Bar Time menu features an array of hors d'oeuvre, salads, main dishes and desserts, together with several daily dishes. On this particular day, there were stuffed cabbage rolls, beef tripe in red wine sauce, chicken gizzard ahijo, French onion soup, desserts and more. Red, white and sparkling wines are just 500 yen a glass.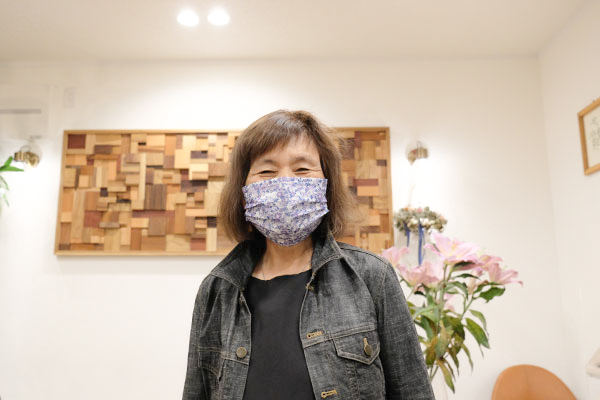 Cafe Polaris also functions as an "orange cafe," a meeting place for those suffering from cognitive impairment or senile dementia. Owner Mrs. Makiko Tsuezaki, whose company manages a day care centre in the area explained, "I specifically wanted to create a place where people suffering from these ailments and their families, nurses, caregivers, social workers, medical staff, and other experts could gather to discuss their concerns in a comfortable, relaxed environment. Many people are concerned about family members yet have little idea of who to speak to about their worries. We hope to contribute to the local area and its residents by providing this service every Monday."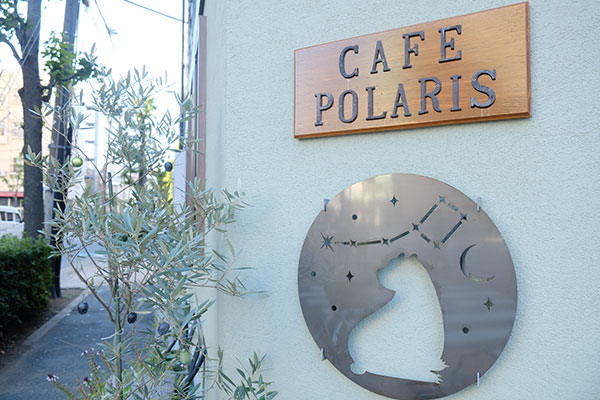 As Mrs. Tsuezaki said, every Monday is orange cafe day at Cafe Polaris. The name Polaris was chosen as the North Star has traditionally been a beacon of light to navigators by its position in the night sky. Whether you're a caregiver, a care receiver or just fancy a tasty meal in a very agreeable place, we're certain there's something for everyone at Cafe Polaris.
Story and some photos by Stephen Spencer