Stylish Soba at Tagurian
Published: August 23, 2019
Those fortunate to reside in the Fukagawa area of Koto-ku have yet another reason to be cheerful: Sobadokoro Tagurian. Soba is noodles made from buckwheat, popular since the early years of the Edo Period (1603~1863), high in nutrients and great for your health. Although all soba contains the same basic ingredients of buckwheat flour and wheat flour, the resulting noodles vary wildly depending on the soba flour, the ratio of wheat flour used, the thickness of the noodles and the gluten content of the wheat flour.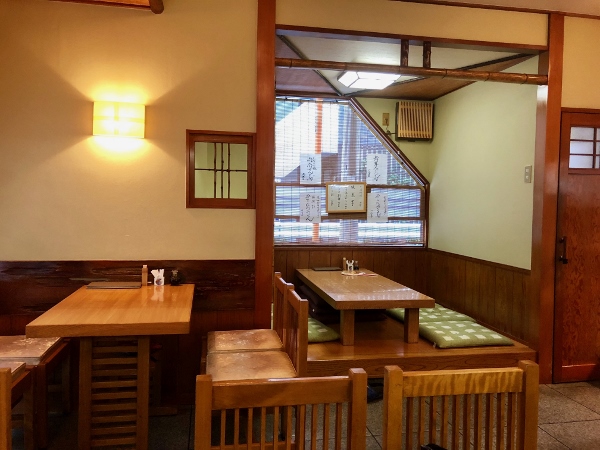 Trim, dapper and youthful proprietor Mr. Hiromi Higuchi welcomed us on a baking hot late summer afternoon; the energy-sapping heat and humidity were quickly forgotten as the cool, natural wooden interior, stylish decorative touches and discrete lighting soothed our spirits.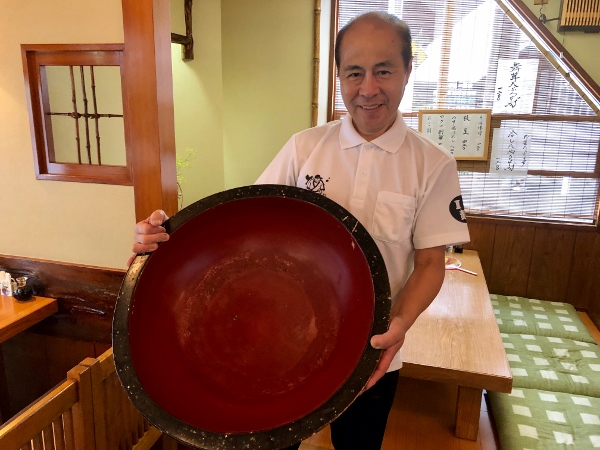 "I was born in Kyushu and came up to Tokyo as a young man intending to become a clothing and accessories designer. I started working at the well-known Chojuan soba restaurant in Kayabacho and quickly took to the business. I worked there for about 15 years before spreading my wings and opening my own place here. We opened during the first year of the Heisei Period (1989~2019) and I've used this kibachi (lacquered kneading bowl) every working day since then," he explains.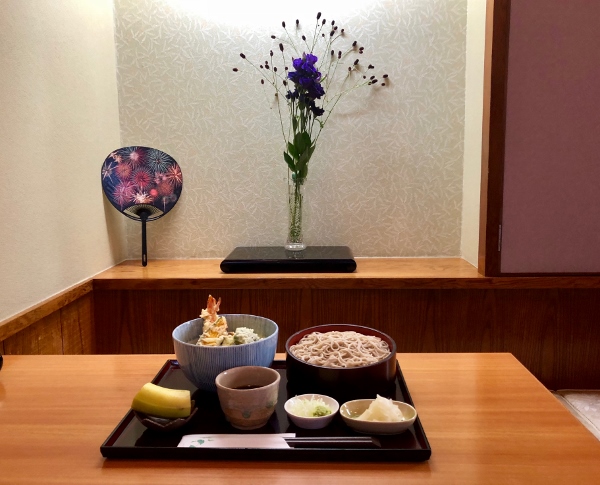 "Each soba restaurant has its own unique noodle style and here at Tagurian I make Edomae (old Edo style) thin noodles with around a 75/25 to 80/20 ratio of buckwheat flour to wheat flour," he adds. Noodles made from only buckwheat are exceptionally brittle so wheat flour is used as a binder; the most common ratio is around 80/20 although there are some places that make 90% buckwheat soba.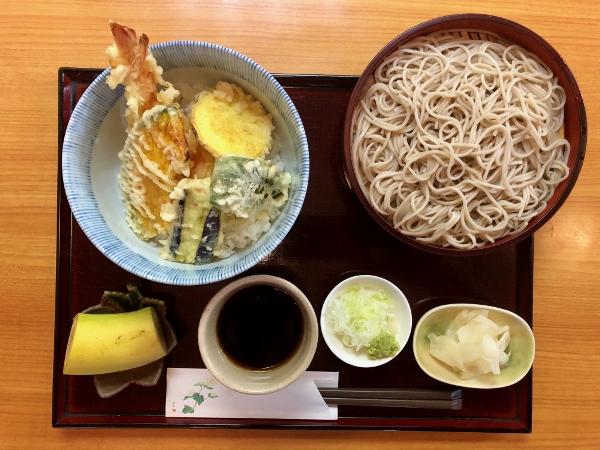 This tendon soba is the most popular lunch set at Tagurian. Coming in at an eye-catching 1100 yen it features cold soba (or hot in winter) together with a seasonal selection of deep-fried items (tempura) on rice. There's a small plate of pickled daikon radish to refresh the palate and a cheeky slice of banana for dessert.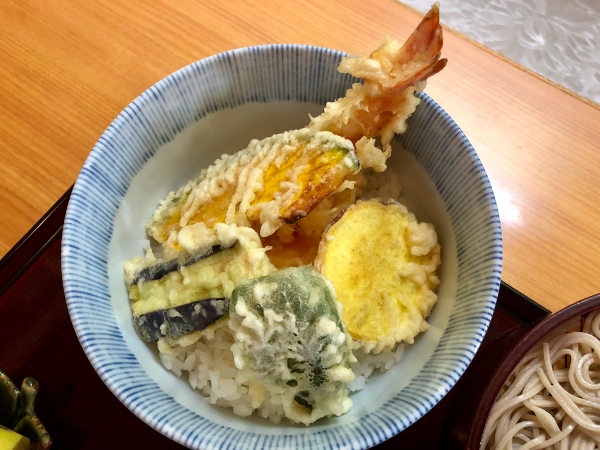 The tempura was very crisp and light which allowed the flavour of the fresh vegetables to shine through. A plump shrimp, together with eggplant, sweet potato, green pepper, and pumpkin tempura made for a tasty, healthy, and filling lunch.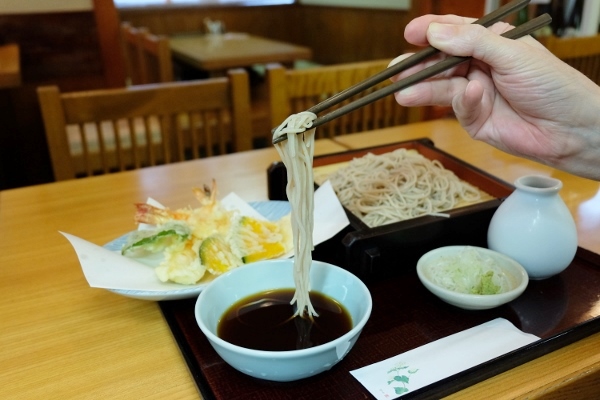 The kindly Mr. Higuchi shared some expert advice on how best to enjoy soba. "Many people dunk the entirety of the noodles into the soba soup (tsuyu). Since the soup is quite strongly flavoured it can mask the taste of the noodles themselves. The best way is to take just a few noodles and dip them about one-third into the sauce, then quickly slurp them into your mouth and chew. That way you can appreciate the noodles and sauce together without one overpowering the other," he said.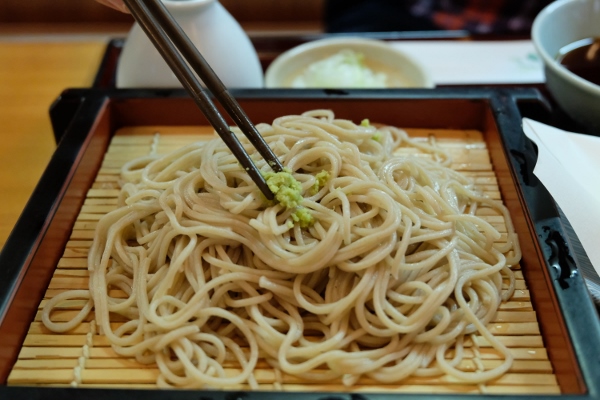 The sauce at Tagurian is homemade and richly-flavoured so just a touch is enough. "We use only fresh wasabi here and it's best put directly onto the soba noodles before dipping them into the sauce. A touch of wasabi, dip the noodles in about 30% and eat. Also, dipping the tempura into the soba sauce releases a little of the cooking oil and vegetable flavour into the soup, enriching the taste further." It works perfectly; the clean, almost herbal bite of the fresh wasabi adds even more flavour to the noodles and dipping sauce.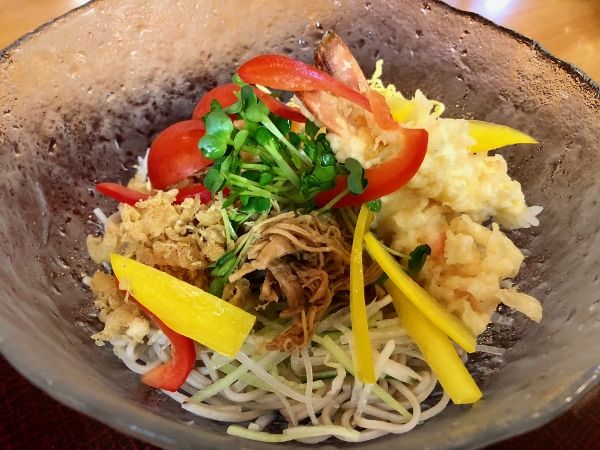 For those who prefer something slightly different Mr. Higuchi also serves a summer special limited edition hiyashi tanuki. It's cold soba noodles with a variety of toppings, served in the dipping sauce (hiyashi means chilled and tanuki is raccoon dog in Japanese). It's a counterpart to the well-known summer dish of hiyashi chuka, chilled ramen noodles topped with ham, egg, cucumber, and so on.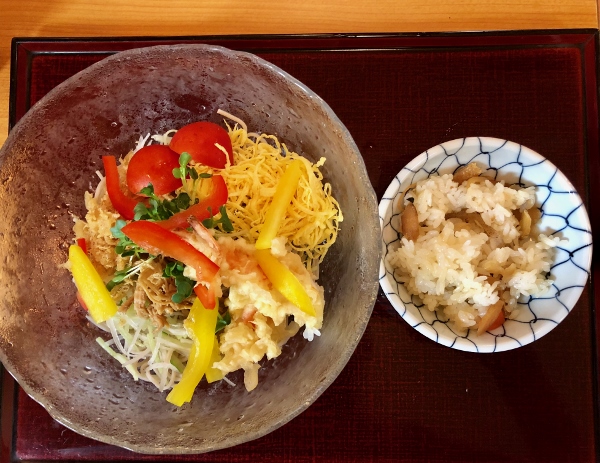 It features steamed and flavoured chicken, shrimp tempura, egg, sliced daikon radish, tomatoes, red and yellow peppers, and daikon radish sprouts and is served with a bowl of chameshi, rice cooked with tea. Very summery, both in colour and taste. Terrific!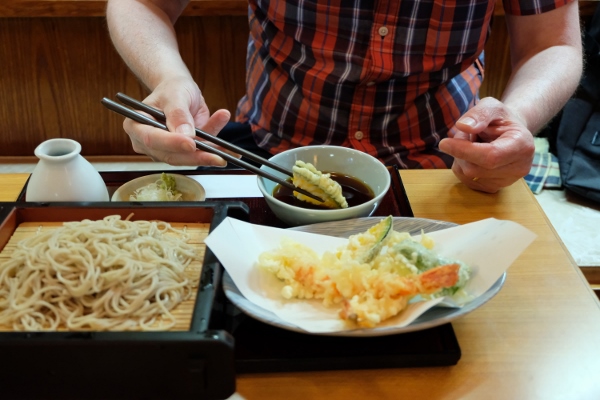 I'd long believed that cold soba was summer food and hot soba best in the depths of winter. Not so, according to Mr. Higuchi. "The New Year for soba, as it were, begins in September when the soba is harvested in Hokkaido. This "new soba" (shin-soba) is wonderful; green in colour, a little sweet and the aroma is much stronger. Chilled soba made from freshly-harvested soba flour is best in autumn and early winter. When you see the "shin-soba" sign up in soba restaurants, go right on in. Soba is best in slightly cooler weather," he explained.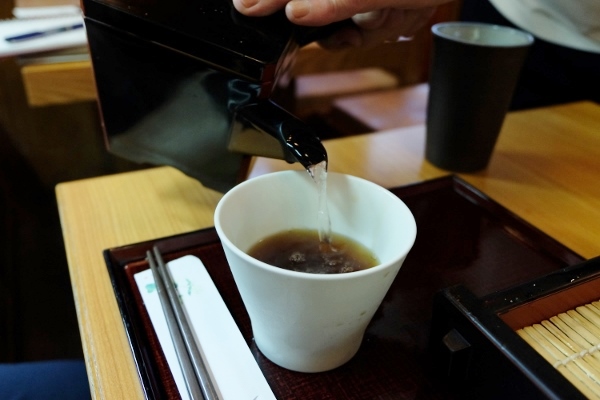 And don't forget to finish off with a drink of "sobayu." Sobayu is the remainder of the dipping sauce diluted with the hot water used to boil the noodles. It's exceptionally healthy and bursting with umami goodness!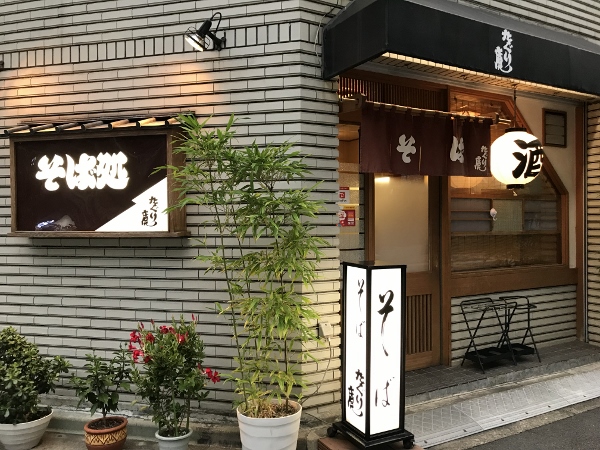 Sobadokoro Tagurian also has a variety of appetizers on the menu, such as tuna sashimi, and a selection of sake and beer for those who fancy a tipple. There are udon noodles too and a rather interesting Iberico pork soba dish. Despite being just a stone's throw from the traffic of east-west artery Eitai Street, it has a quiet, local neighborhood atmosphere. Mr. Higuchi says he serves around 60 or so customers a day, which seems scandalously few considering the quality and exceptional value of the food he serves. If you're in the area and fancy some superb soba in a comfortable setting, Sobadokoro Tagurian is the place for you.
Story and Photos by Stephen Spencer