Stylish Yakiniku with 500 yen Wagyu!
Published: March 5, 2021
Yakiniku is the wildly popular style of barbecuing meat and vegetables on griddles over flames from charcoal briquettes (sumibi) or gas and electric grills. It's companionable, fun to cook, and enjoyable all year round; warming in winter and energizing in the hot and humid Japanese summers. The image of yakiniku restaurants is changing as modern technology allows for sleek and stylish designs. We recently dropped in to one such place, Yakiniku Shuka Meikoen in Kameido.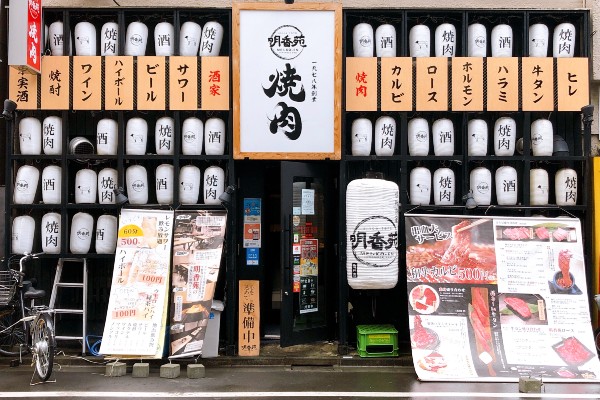 Meikoen is located on a side road just off the busy Meiji street, two minutes' walk north of Kameido station. The eye catching black and white lanterns make it easy to find.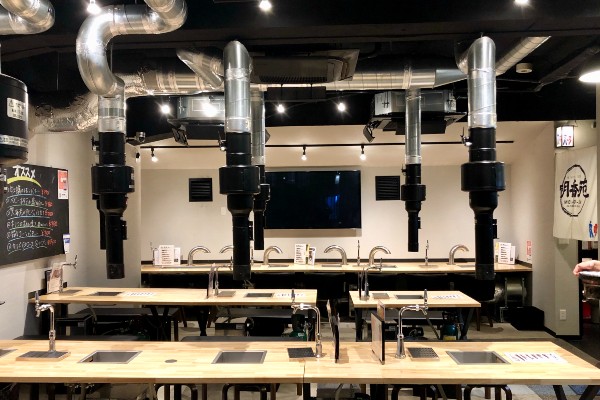 The sparkling interior with its black, silver, and blonde wood color scheme stands in a marked contrast to the traditional lanterns on the frontage.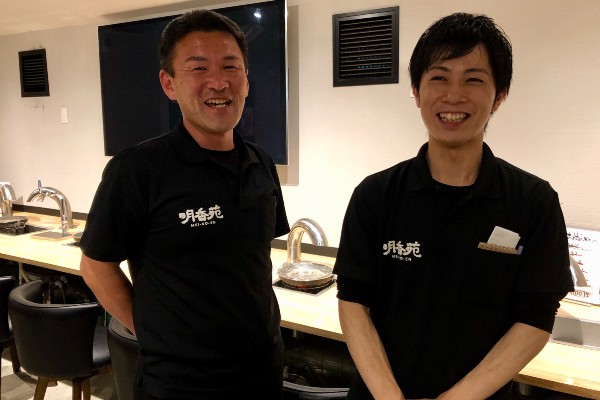 Manager Mr. Satoshi Segawa, on the right with staff member Mr. Tokiya Ida, took time out of his busy schedule to talk about Meikoen and meat. "We had the Meikoen Kameido grand opening in October 2019 and thanks to our customers, business has been good. Our parent restaurant opened in Higashi-Mukojima in 1978. Personally, I began my career working for a meat wholesaler before moving into the restaurant business; the knowledge and contacts I developed there allow us to source top quality meat at reasonable prices," he explained.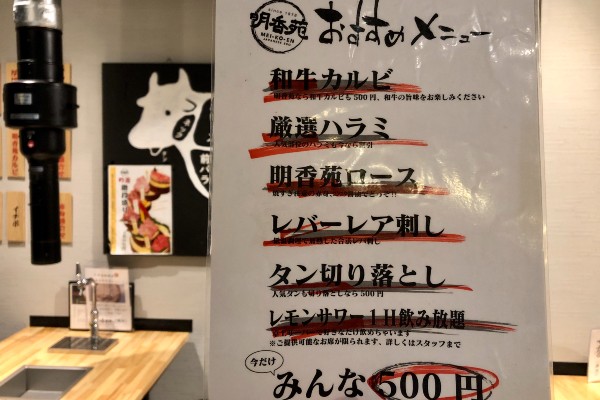 Reasonable is an understatement as Meikoen offers wagyu short ribs (calbi) at the astonishing price of just 500 yen. 500 yen? "Yes, we're not making any profit at that price," said Mr. Segawa with a rueful chuckle. In fact, there's a whole 500-yen menu that features skirt steak (harami), chuck (rosu), liver and tongue (gyutan) to go with the calbi.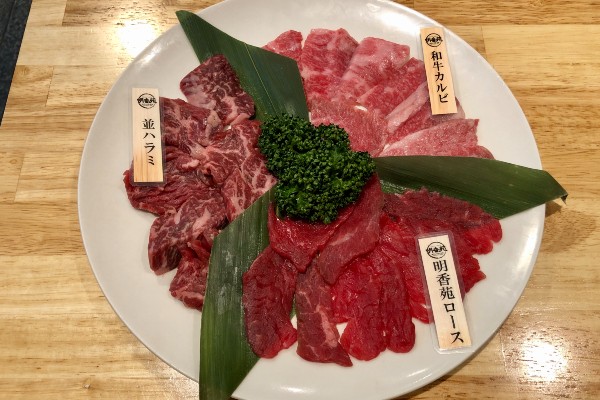 Clockwise from the top right: wagyu short ribs, chuck and skirt steak. Incredible value at just 1,500 for the plate!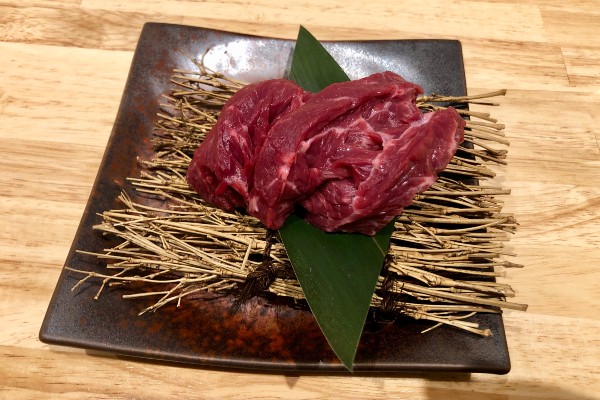 "Of course, we offer superior cuts of meat too," adds Mr. Segawa. "In particular, I'd recommend the Chateaubriand and top sirloin cap (ichibo)." This skirt steak (harami) is another popular selection at 1,580 yen. Thick slices of juicy skirt steak, perfect for when you want something really meaty. Mr. Segawa recommended the yuzu and chili sauce, or wasabi and ponzu for saltier cuts.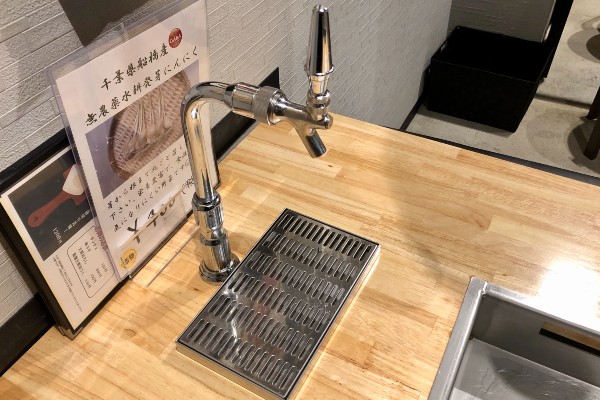 Not only can customers grill at Meikoen, they can also pour their own drinks with this table top server that dispenses chuhai sours. For just 500 yen, customers can enjoy an all-you-can-drink for one hour, which is fantastic value as one lemon sour is 380 yen by itself. Have two and you're winning! Other flavours available include grapefruit, Calpis and umeboshi, the sour and salty pickled plum-like fruit.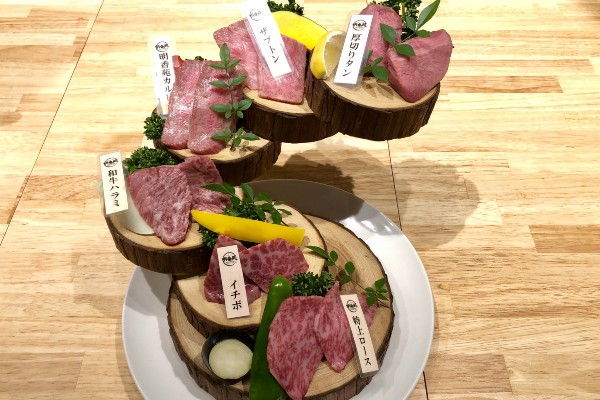 Another unique feature of Meikoen is this remarkable stairway to yakiniku heaven (kaidan mori), a veritable tower of meat featuring a variety of top-quality cuts and some fresh vegetables too. From the top are thick blocks of tongue, the traditional starter at yakiniku restaurants, chuck flap (zabuton), wagyu short ribs (calbi), skirt steak (harami), top sirloin cap (ichibo) and premium chuck. In the restaurant, this set will cost 3,800 yen but pre-ordering by phone earns a 1,000 yen discount. Again, this represents great value and is definitely recommended.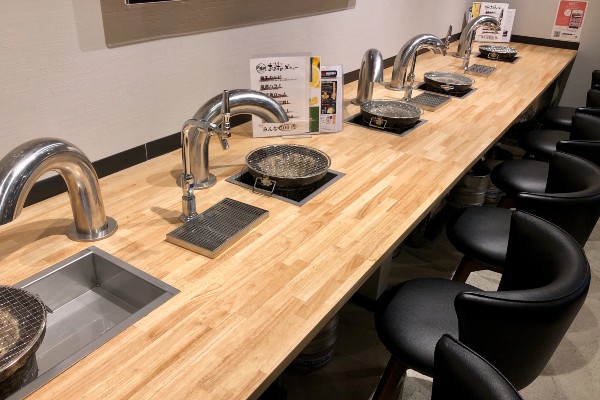 Solo yakiniku is an increasingly popular trend which has been boosted by health protocols during the pandemic. "Most of our customers are business people dropping in after work and couples," explained Mr. Segawa, "but we added this area for solo diners whose numbers have been increasing."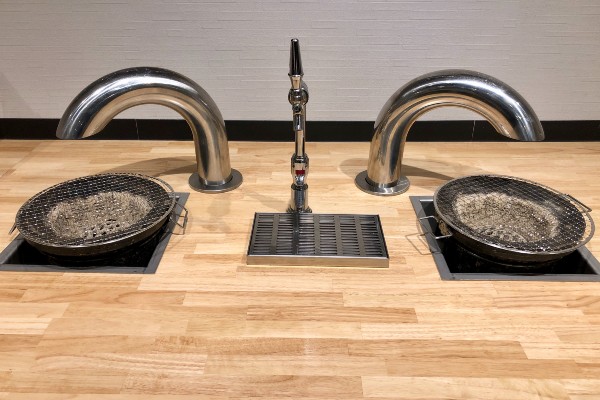 The extractor fans are both powerful and aesthetically pleasing. The development of fan technology is one reason behind the recent renaissance in the popularity of yakiniku restaurants. Meikoen also offers a variety of offal (horumon), which accounts for around 20% of all orders, according to Mr Segawa. High in collagen, it's popular with female customers.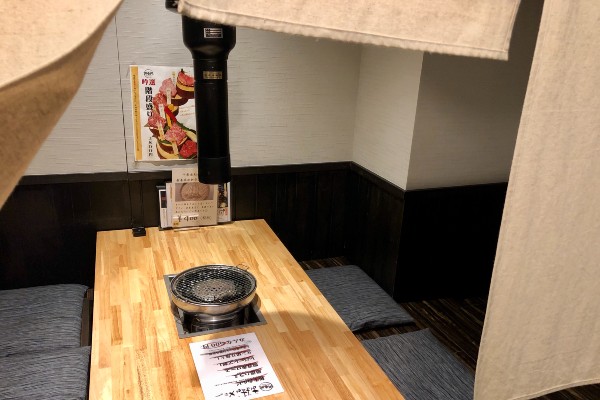 For those who prefer a little more privacy there's a VIP room instead.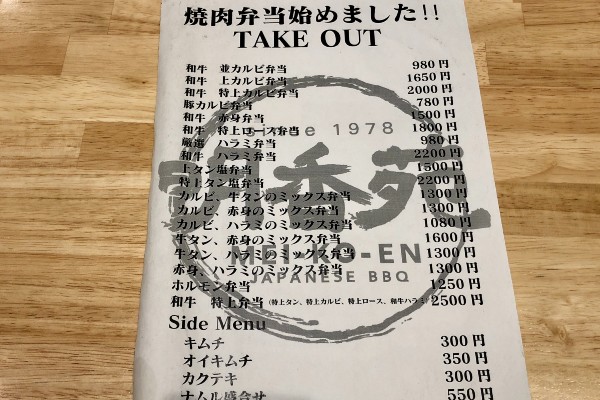 A wide variety of lunch boxes and take outs are on the menu at Meikoen. Short ribs, tongue, skirt steak, chuck and much more in a range from regular to premium quality are available, together with various pickles such as kimchi, daikon radish (kakuteki) and namul. Prices range from 980 yen for the regular short rib or skirt steak lunch boxes up to 2,500 yen for the premium selection box. Whether it's with family, friends, colleagues or even solo, Meikoen Kameido offers great quality at reasonable prices.
Story and photographs by Stephen Spencer