24-Hour Horumon People at Sumiyoshi Horumon
Published: March 6, 2018
The meat eaters amongst us often get the yakiniku urge when hungry. The sudden realization the only thing that can fill the gaping void in our stomachs are platefuls of charcoal grilled beef, preferably washed down with lashings of ice cold beer, highballs or sours. At Sumiyoshi Horumon you can sate your appetite 24 hours a day, seven days a week and 365 days a year. Yes, the restaurant never closes! You need never go hungry for yakiniku again!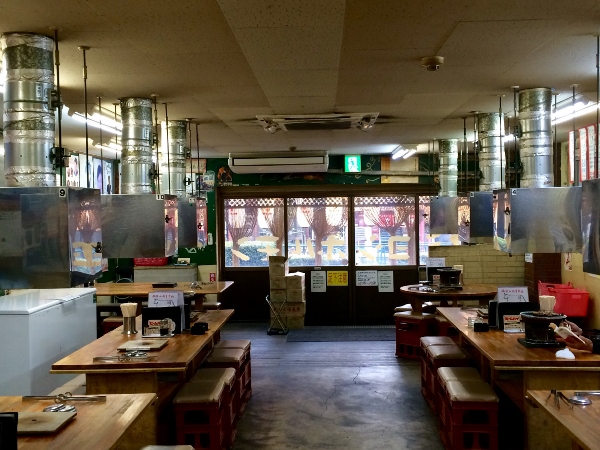 Located just a minute's walk from Sumiyoshi Station, the restaurant serves lunch from 5am to 4pm and a 'morning set meal' from 5am to 3pm. That's something you don't see everyday and the prices are stunning as well: lunch is all-you-can-eat for 980 yen with second helpings of rice, soup, and oolong tea or green tea. Unbeatable value!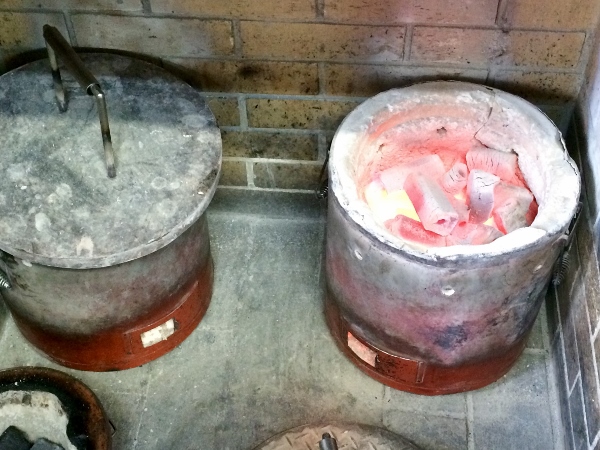 The meat is cooked on metal griddles over shichirin charcoal cooking stoves. Here the staff burns their own charcoal so they're always ready to go when a new customer enters.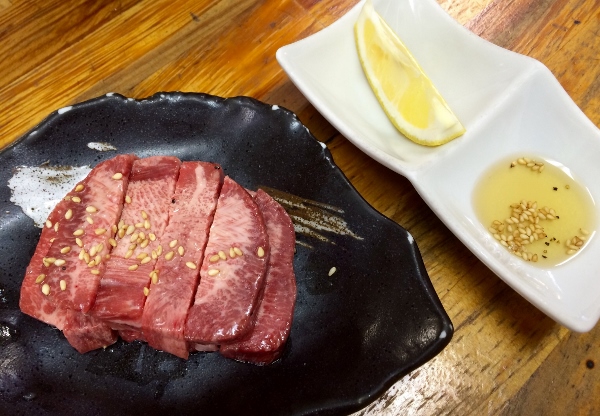 Most yakiniku eaters start with tongue. At Sumiyoshi Horumon a plate of thick cut, lightly salted tongue costs a mere 950 yen and it's delicious. Thick and juicy, it's wonderful with a squeeze of lemon. It's the perfect way to start your meal.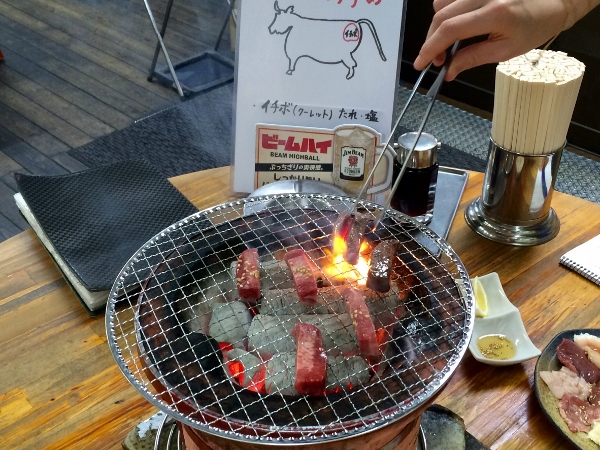 It's a challenge but keep going, you'll soon get the hang of it. Practice makes perfect and at these prices you can afford to practice. Dunk the tongue in the lemon juice and enjoy!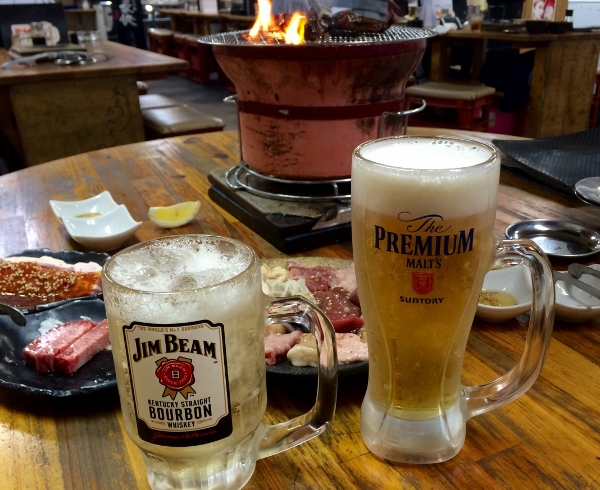 The drink menu is nearly as extensive as the food menu with enough cocktails, sours and mixed drinks to satisfy even the thirstiest person. Sumiyoshi Horumon proudly boats it sells the most Jim Beam highballs in all Japan. At only 380 yen each it's easy to see why. The beer's ice cold and really hits the spot. Cheers!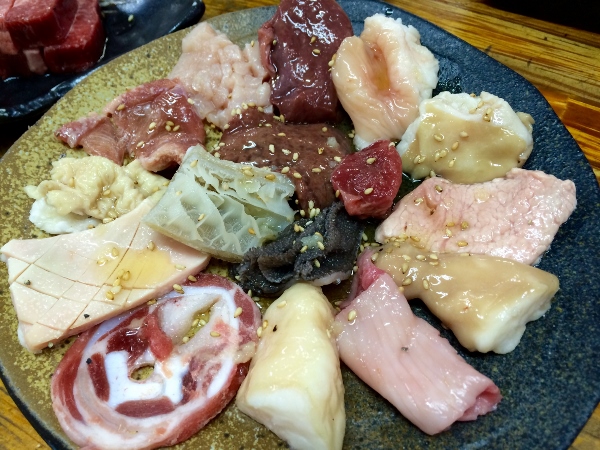 Wow! Next up is this plate of horumon, called a 'mini' and containing 16 different cuts of meat. Just what is horumon? It's another word for cuts of meat that weren't traditionally eaten, or offal in English. It is said that the name horumon comes from the Greek word hormōn, meaning to 'impel, set in motion'. The word hormōn is also the origin for the English word 'hormone'. In the Osaka dialect of the Kansai area, 'horu' means to throw away and 'mono' means thing, hence the idea that offal was thrown away and not consumed as food. It includes such things as tripe, intestines, heart, and so on. The 'mini' is 980 yen while a 'double' will set you back 1680 yen.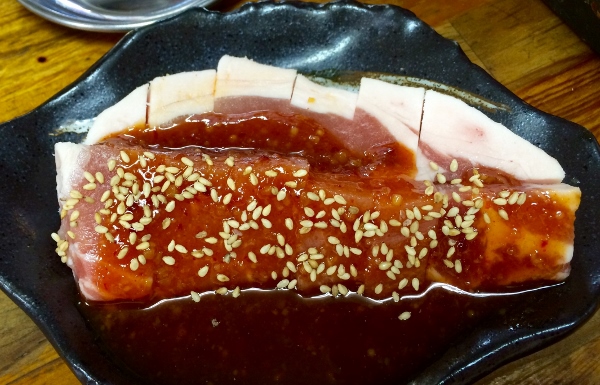 To round things off here's plate of matured pork loin in a thick miso sauce. Named 'princess pork' ("buta hime" in Japanese) on the menu, it's a very reasonable 750 yen. It's really good, with a juicy and richly aromatic pork flavour.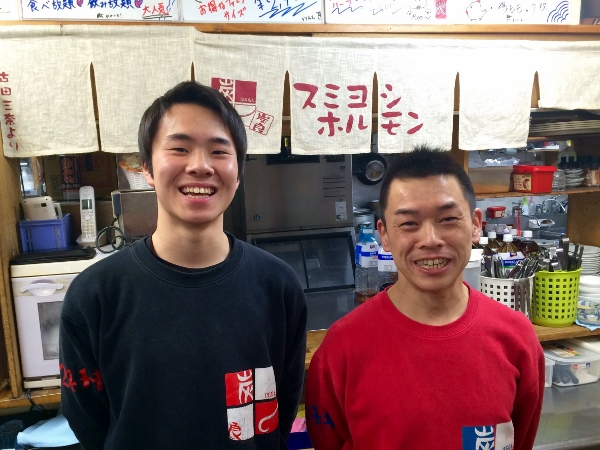 Staff members Mr. Sato and part-timer Mr. Ito are welcoming, attentive hosts and enjoy sharing a good laugh with the customers.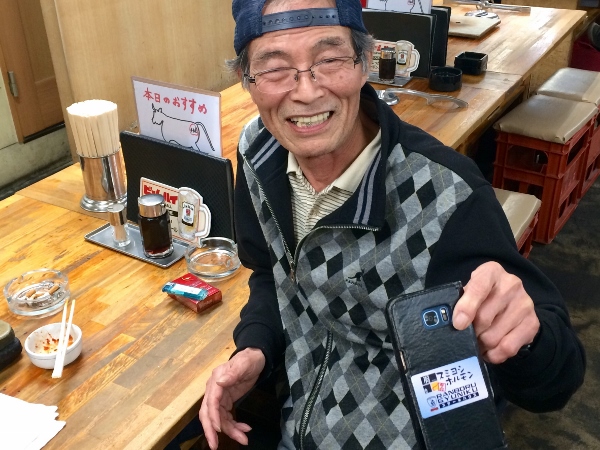 While the regulars are a friendly bunch. This gentleman pops in every day for a few drinks and a spot of food.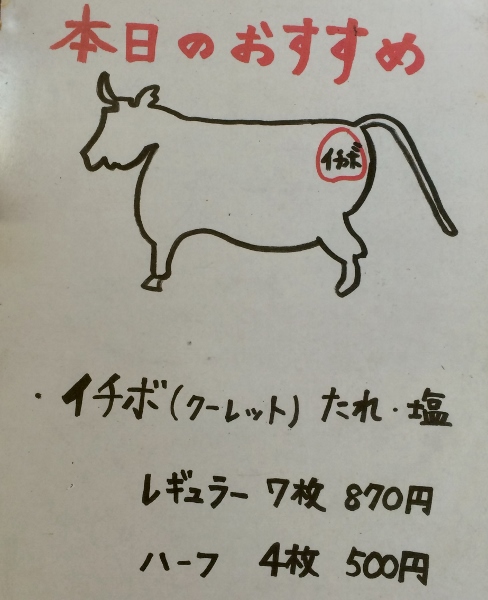 Currently popular at Sumiyoshi Horumon is the 'ichibo' (H-bone) cut of rump steak. Seven slices for 870 yen seems like exceptional value for money.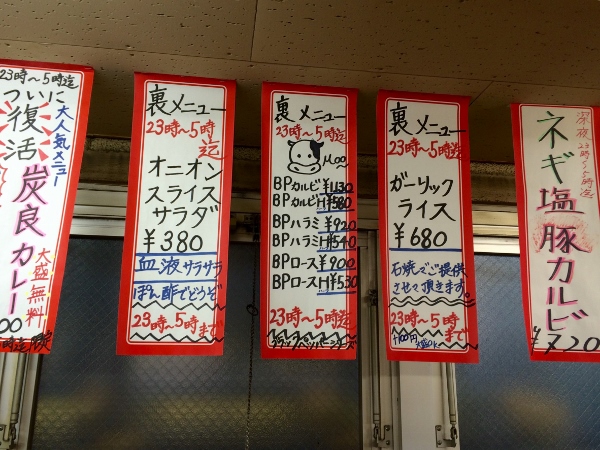 The endless variety of items on the menu is almost mind-boggling. In fact, you can eat most parts of a cow, if you so wish. These banners show the late-night (11pm to 5am) menu. There are generous all you can eat deals and all you can drink specials, as well as discount for parties of ladies. Many of the horumon cuts, particularly the large and small intestines, contain enormous quantities of collagen, which is supposedly beneficial in rejuvenating your skin.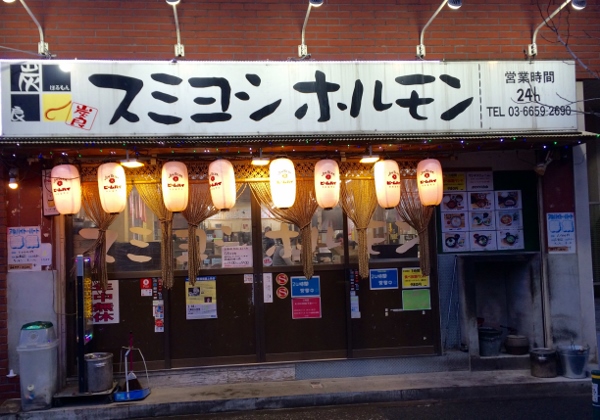 So, there you have it: an anytime, any day of the year yakiniku and horumon restaurant with great food, low price drinks and a real old town atmosphere. Also, if you haven't tried horumon yet, you really should, as it's great. So, what are you waiting for?
Story and Photos by Stephen Spencer