Super Spicy Chinese Noodles
Published: January 14, 2022
It's winter in Japan and the old north wind is whistling down the freezing streets of Koto-ku. While hats, scarves, and gloves are de rigueur to beat the chilly season, best of all is a steaming bowl of spicy noodles to put some heat back in our bellies. And where better to go for some seriously spicy noodle treats than Karai in Ojima. On a recent afternoon, we dropped in to talk noodles with manager Mr. Tetsuo Kariya and chef Mr. Otosaka.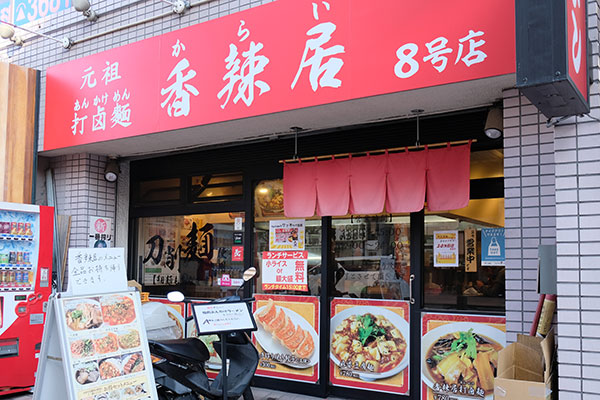 Karai is located just three minutes' walk from Nishi-ojima station, heading south down Meiji Street from exit A3. You can't miss the bright red signage!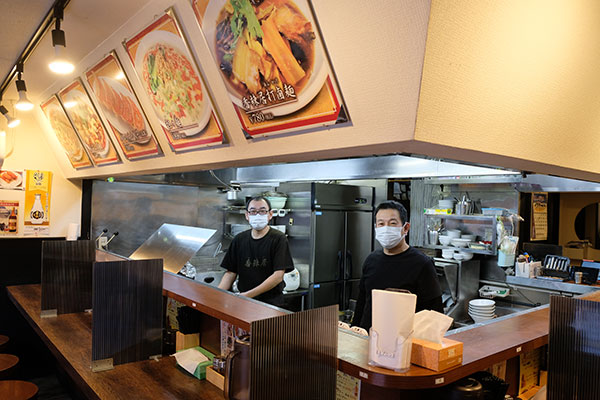 Inside, there's a wooden counter with seats surrounding a spotless open kitchen which allows a fine view of the staff working their magic. As Mr. Kariya explained, "Mr. Otosaka and I began working together in Shanghai where we opened the first of what became a chain of six noodle restaurants. We relocated to Tokyo and opened Karai on November 23rd. 2018 with the aim of bringing our original noodle dishes to local residents. Thanks to the support of our customers we've been able to do just that."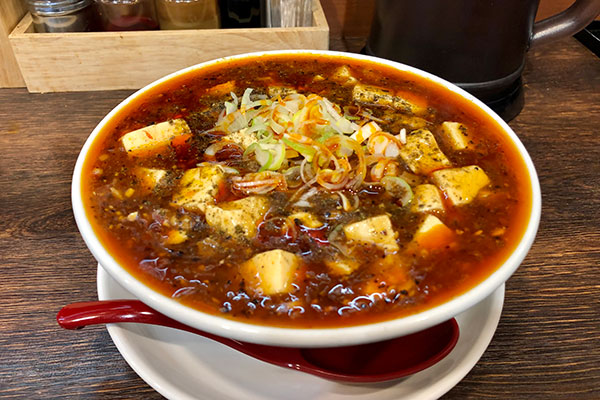 The most popular dish on the menu is this fiery mabo dofu men at 780 yen. It's a blend of Sichuan chilli sauce (toban djan) and Sichuan peppercorns, the latter bringing its distinctive numbing heat to the sauce. After the one-two punch of the chilli and pepper, there's a sweetness in the deep savoury extravaganza as well. "It's our version of a traditional Sichuan recipe," explained Mr. Kariya. "The tofu we use is good quality; around 80% of customers who try it become repeaters."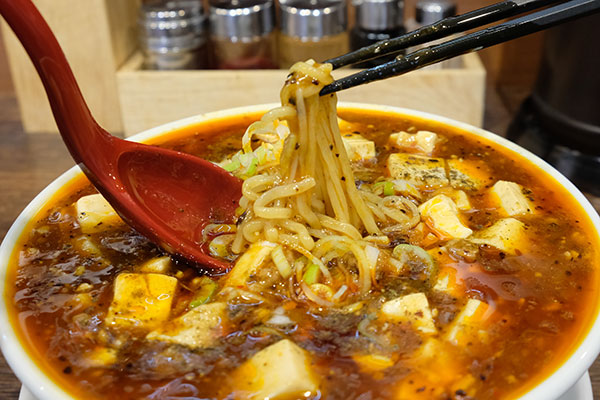 It's easy to see why. We tried the regular spice level and while it was hot it wasn't painfully so; it's really rich and beefy, perfect for a freezing cold day. The mabo dofu men comes in four spice levels: mild, regular, spicy, and super hot! Mr. Kariya said the super hot was dangerous, so we'll leave that judgement up to you!
The sauce really suits rice as well, so Karai offers lunch time customers a free bowl of rice to finish off the remainder of the sauce. There's also a mabo dofu and rice set lunch as well.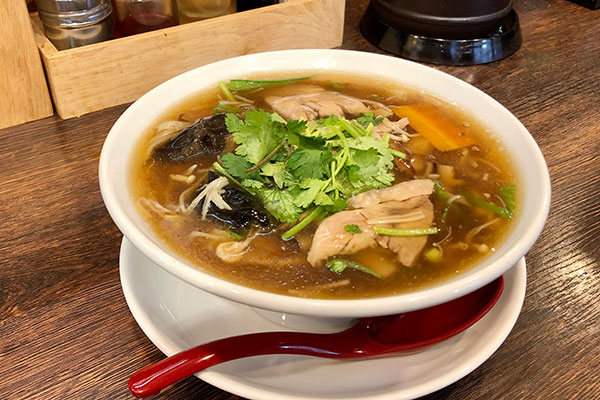 The signature dish at Karai is ankakemen, or noodles in a savoury sauce thickened with potato starch. What distinguishes the ankakemen at Karai from other restaurants is the unique sauce which contains a host of mushrooms such as enoki, shiitake, kikurage (wood ear mushroom) and chestnut mushrooms (yanagi-matsutake), together with chashu pork and several other vegetables such as lily flowers (yurinohana). The key ingredient is star anise. As Mr. Kariya said, "Some people are averse to it so we always inform new customers that the ankakemen is strongly flavoured with anise, and that they shouldn't order it if they don't like it." As Mr. Otosaka
begins cooking the restaurant fills with the warm smell of anise and boiling noodles.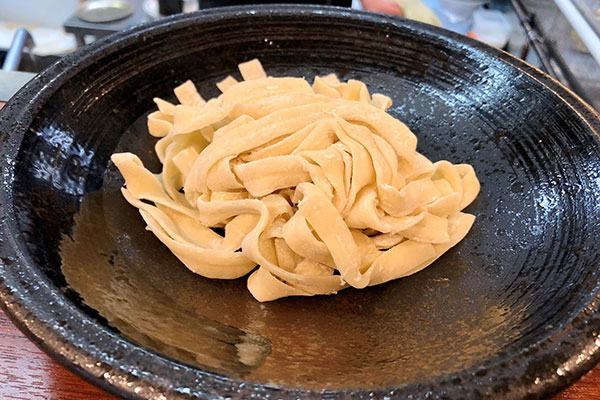 Karai offers two kinds of noodles, knife-cut noodles (toshomen) or thin ramen (hosomen) ones. Customers can choose which they'd prefer except for salt or soy sauce ramen, which only use the ramen noodles. The toshomen noodles are thick cut and curly, with a wonderful chewy texture.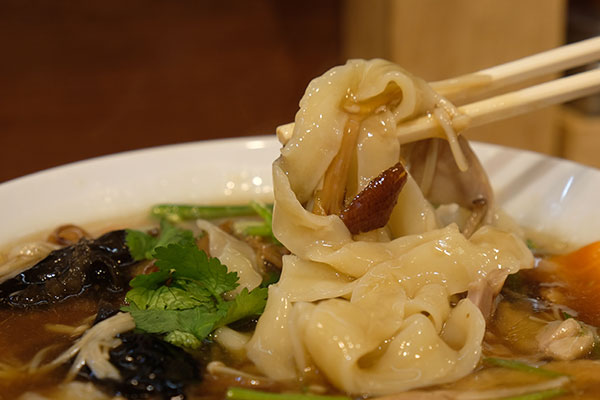 The ankake sauce was extremely thick, with a deep, rich flavour akin to yakuzen, Chinese medicinal food. We selected a topping of pakchi for an extra 150 yen; the combination of the fragrant Thai herb and star anise was wonderful. Unlike the mabo dofu men it isn't particularly spicy, but it's exceptionally warming, perfect for a cold winter's day. It's also an absolute bargain at just 780 yen!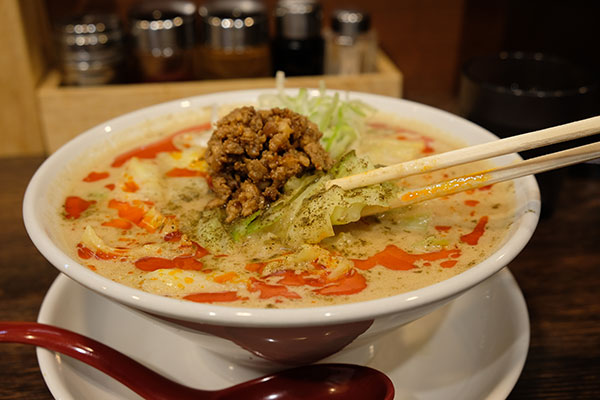 Third on the menu was this tantanmen at 890 yen. A Japanese version of the Sichuan favourite dandanmen, it usually features blanched greens but at Karai they are replaced with a lot of cabbage. "I prefer cabbage because it's sweeter. Our original tantanmen recipe contains a lot more vegetables than usual and our own homemade chilli oil (rayu)," explained Mr. Kariya, who added that he eats this at least once a week himself. While the bright red chilli oil may look fierce, the tantanmen sauce is mild with a strong sesame flavour complemented by the sweetness of the cabbage. It's another winner, and suitable for those who struggle with overly spicy food.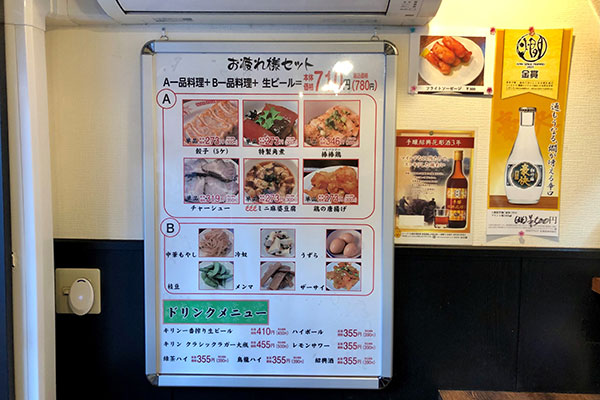 The menu at Karai also features a chinjao rosu noodle dish, which features beef, bamboo shoots and green peppers, together with sanratan, the hot and sour noodle dish from Sichuan and Hunan in China. Soy sauce and salt ramen are also available. For those who fancy a drink after work, there's an "otsukare sama" set for 710 yen, which seems very good value for a draft beer and a couple of light snack dishes from the A and B menus here.
The daily and weekly menus change with seasonal availability so there's always something new to look forward to at Karai. If you're in the Nishi-ojima area and suddenly have a craving for top quality spicy (or not so spicy) noodles, just head for Karai!
Story and some photos by Stephen Spencer