Is this Tokyo, or Taiwan?
Welcome to Higashisuna, Koto City. This neighbourhood, located on the east side of the ward, is known mostly for being a quiet corner for family residences. So when I heard that an authentic Taiwanese restaurant had been in operation in the area for 5 years, I was a) surprised I had missed it, and b) more than eager to check it out!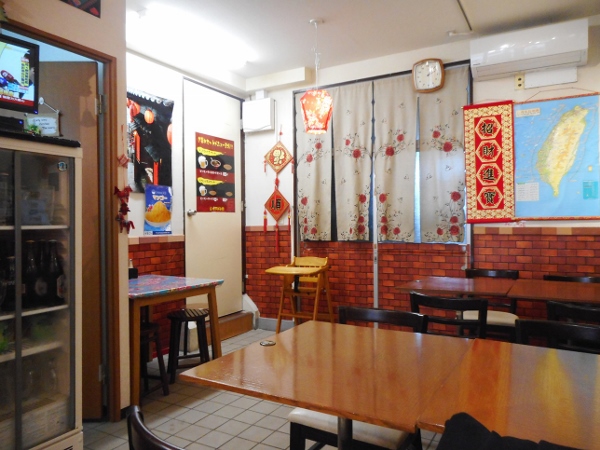 Walking into Taiwan a-Q Menkan (pronounced "ah-kyuu") was to experience an air of nostalgia: the warm, hodgepodge décor, the TV broadcasting a Chinese show in the corner, and most importantly, the delicious smells coming from the kitchen area.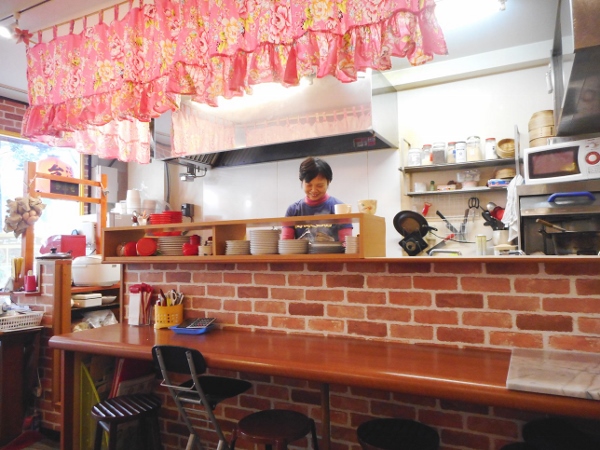 "Welcome, welcome!" Mrs. Leiken Nagai, the owner and chef, said enthusiastically as soon as I walked in.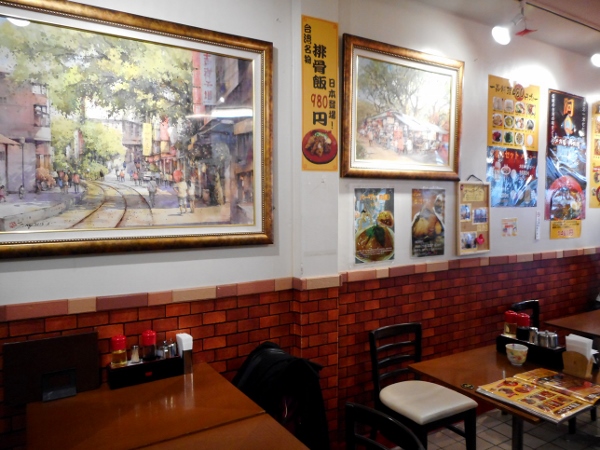 The lunchtime rush was over for the day, and the restaurant bas bathed in a slow, comfortable afternoon air.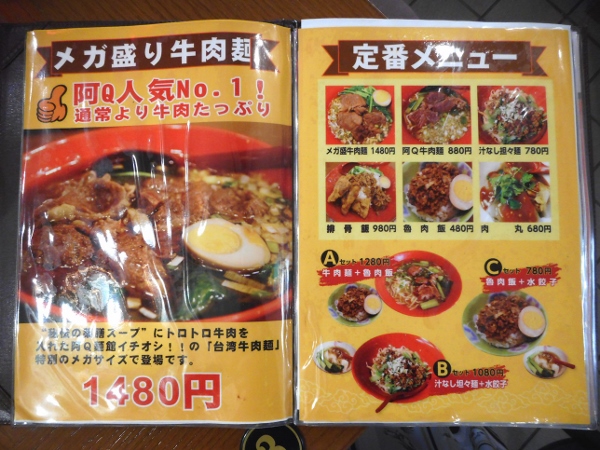 On to the food: "Our most popular item is the beef noodle, but we have plenty of other Taiwanese dishes too," Mrs. Nagai said, pointing to the menu. My eyes went wide at the selection: Soup dumplings (xiao long bao)! Spare ribs with rice! Zongzi (known as "chimaki" in Japanese—flavoured glutinous rice balls wrapped in bamboo leaves)! I wanted to eat everything!
…but since it was my first time, I figured going with the recommendation would be the best place to start.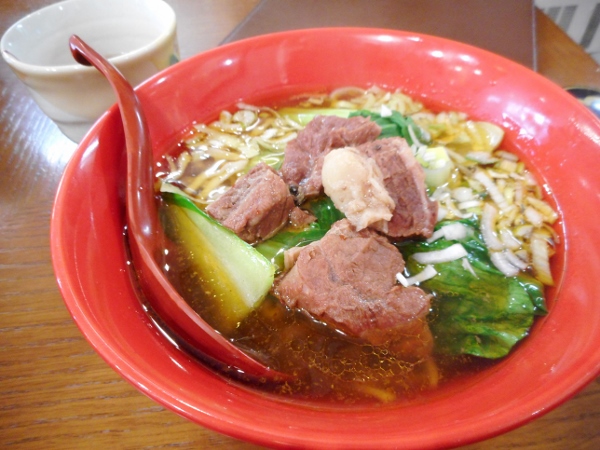 The Inimitable Beef Noodle:
Soon after, a steaming bowl of beef noodle was placed in front of me—and it smelled DIVINE. I could tell just by the appetite-inducing aroma that it was going to be good, and the first taste I had of the richly-flavoured soup confirmed it: delicious, and definitely "the real deal"!
"I simmer the soup over a two-day period," Mrs. Nagai explained.
"Honestly, it's better than the beef noodles you get in Taiwan," a well-travelled regular customer, who was finishing her own lunch, chimed in. "I mean it. I've tried to find beef noodle as good as this and so far, no luck!"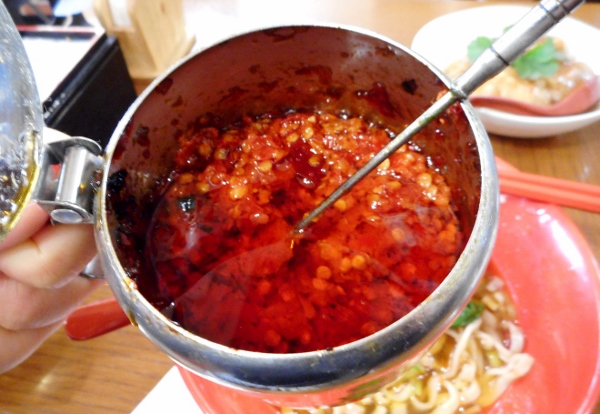 Halfway through slurping up the noodles (great texture, and a perfect match for the broth), I decided to add some chili oil to spice things up—and was surprised at how fragrant it was. The oil wasn't only spicy, but contained a layer of complex flavours. When asked, Mrs. Nagai confirmed with a smile that it was home-made.
"I've always had a knack for cooking," she explained. "It might be because both my father and grandfather are successful chefs who are a bit of a celebrity in Taiwan. I ended up spending a lot of time in the kitchen starting from a very young age. I discovered I could figure out the ingredients in a dish after having a taste, and could also replicate recipes from memory. I prefer to make my own condiments instead of buying pre-made, because I'm certain I can figure out a recipe that'll be unique and delicious," she said with quiet pride. Cooking was clearly a way of life for her, and an innate sense for creating good food simply seemed to run in her very DNA.
Ba-wan: Food of Fantasies
One Taiwanese dish I'd been dying to try but had never encountered before was "ba-wan". It's an extremely rare dish to find in Japan, so imagine my surprise to find it listed on the menu here!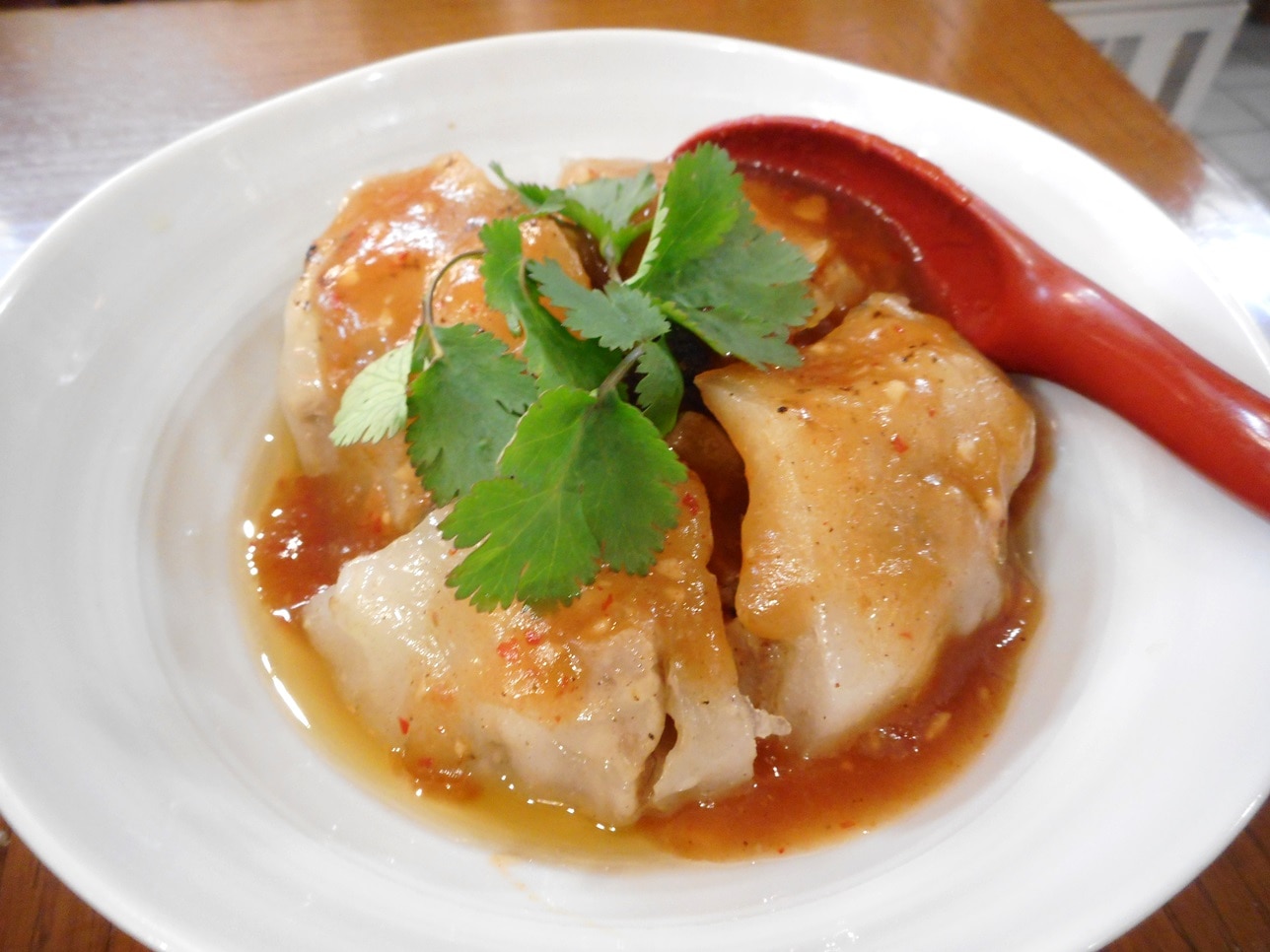 Ba-wan means "meat bun" but doesn't taste at all like the steamed kind. The outer layer is made from sweet potato starch (imported from Taiwan), and is gelatinous in texture. There's also a special sauce which gives it its signature smell and taste.
"Most Taiwanese customers recognize the smell as soon as they come in," laughed Mrs. Nagai. "Then, they almost always start off the meal by ordering ba-wan."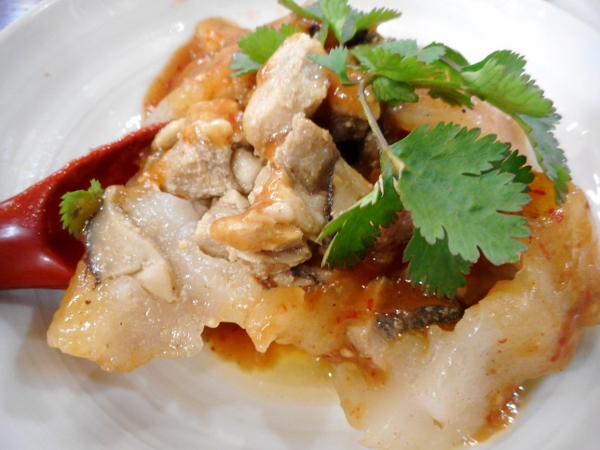 Inside is a smorgasbord of fillings, featuring pork, shiitake mushrooms, and bamboo shoots. It was so good!
"The ba-wan in Taiwan are great, of course, but they're tiny! At a-Q, you can get nice big ones that fill you up. I love it," said a customer.
One reason I've always wanted to try ba-wan is due to a certain animated feature film that showcases food inspired by Taiwanese cuisine. The scene where the food is consumed to great delight has stayed with me from the first watch, and I was really happy to be able to encounter this seemingly fantastical dish in real life. (Animation fans may be able to guess the movie in question.)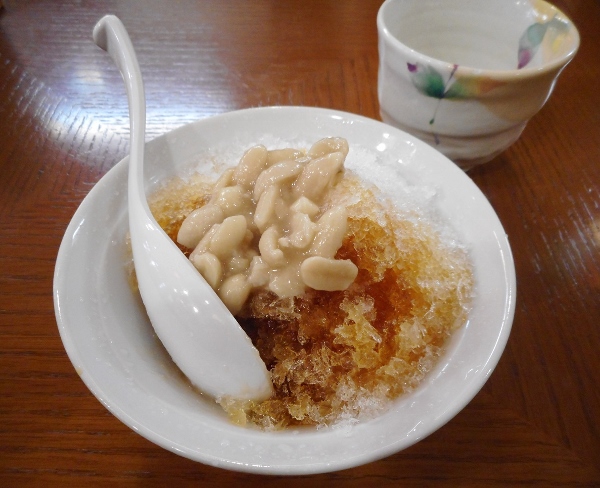 To finish off my meal, Mrs. Nagai served me "douhua"—literally, "tofu flower"—a traditional dessert. Also known as "tofu pudding", it contains super-soft tofu topped with a syrup and peanut sauce. I've always loved douhua, ever since I was little, so it was delightful to find a place that serves it!
A Piece of Taiwan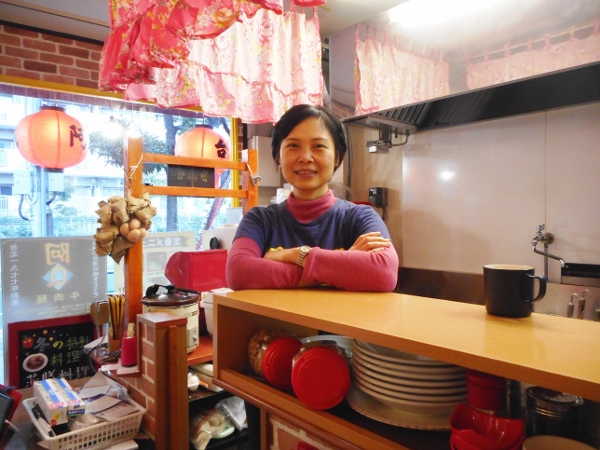 As I ate, the amicable Mrs. Nagai told me about her restaurant and her story.
"Creating the perfect beef noodle was always my father's and my dream," she said, speaking of her childhood spent in her father's kitchen. After getting married and moving to Japan, Mrs. Nagai decided that cooking would always be her calling and her passion, and opened a-Q, inheriting the name from her father's restaurant back in Taiwan.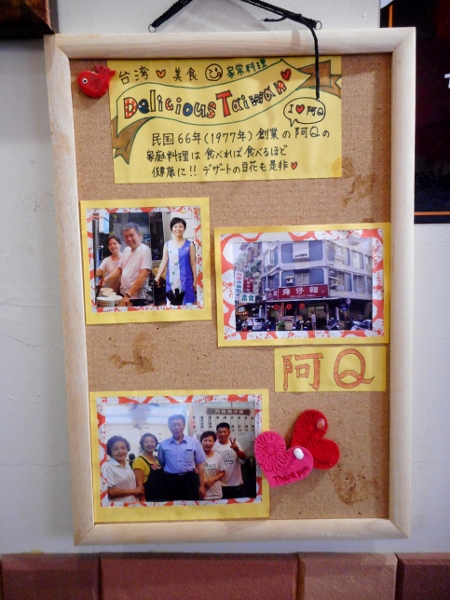 "It meant so much to me when he visited and tasted my beef noodle. I don't use a recipe, so it always comes out a little differently, but I'm confident that it's really good, every time. Still, my father is strict about food, so when he said he'd never tasted better—that mattered a lot."
With a keen taste for good food, impeccable talent, and an amazing personality, Mrs. Nagai has kept a-Q going. She said she loves the friends she's made though the store, and that even though it's no picnic, a-Q has really enriched her life. Her restaurant is a refuge for many, especially Taiwanese expats living in Japan, many who have expressed just how much they appreciate having access to the food of their culture. "I just have to open a door to be back in Taiwan" said one customer. "It's home away from home."
Story and Photos by Xianru Shen(Koto City Office Coordinator for International Relations)