Rejuvenate Your Skin with Acupuncture
Published: November 21, 2018
If you're looking for the secret to eternal youth, look no further: I've found it at Takabashi Osteopathy!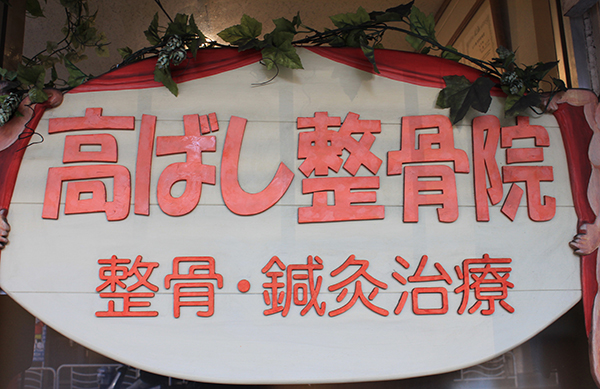 Just a 5-minute walk from Morishita or Kiyosumi-Shirakawa Station, Takabashi Osteopathy is no regular osteopathic clinic. It offers not only osteopathic treatments, such as acupuncture and moxibustion, but also cosmetic acupuncture.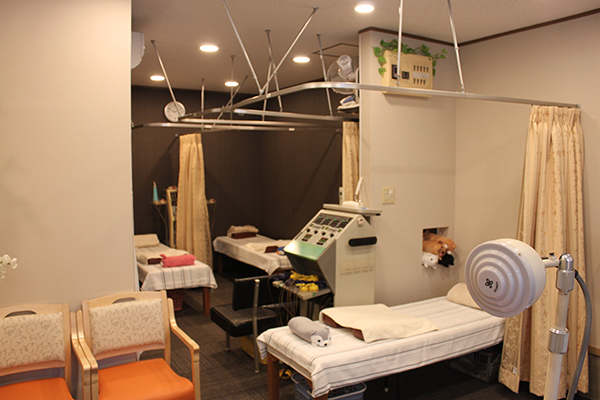 Cosmetic acupuncture is a popular trend around the world and especially in Asia. Celebrities, models, and actresses use cosmetic acupuncture, which is said to be a natural anti-aging procedure. Some people even call it an "acupuncture facelift"!
Mrs. Kojima is the dynamic director of Takabashi Osteopathy. She's a professional therapist in the fields of osteopathy, acupuncture, and moxibustion. With her three national certifications, she has more than 20 years of experience. "I opened the first osteopathic clinic in Morishita," Mrs. Kojima explained to me proudly. "And no need to say that there were very few women in the profession at that time!"
So, what is the secret of Mrs. Kojima's anti-aging facial treatment? Unlike other cosmetic acupuncture clinics, Mrs. Kojima offers complete facial care, combining different anti-aging treatments like acupuncture, facelift massage, and electrotherapy. She offered to do a short demonstration (and I'm the lucky guinea pig!).
At first, Mrs. Kojima applied a fresh gel on my face and did a slow and gentle massage with a facial electrotherapy device. It's a pleasant feeling, and you quickly start to relax.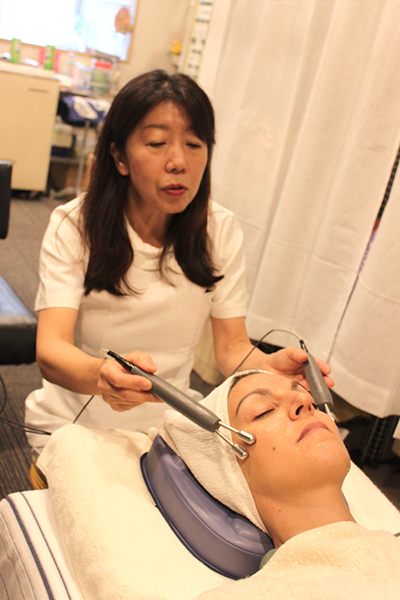 Then, Mrs. Kojima performed a facelift massage. "That's something you can do by yourself at home. It helps to reduce wrinkles and to smooth away facial lines."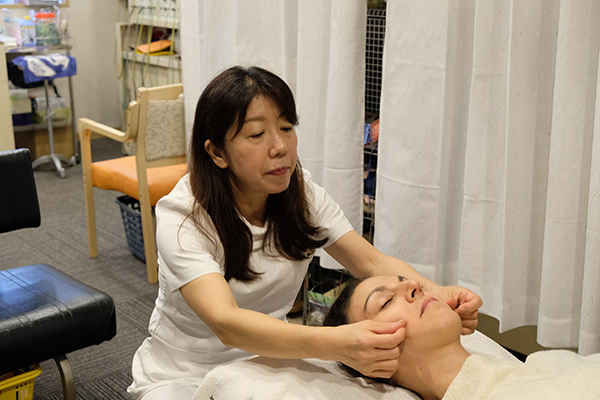 Now my skin is ready for acupuncture. About 20 needles are inserted at specific points for maximum effect and are left in for 10 minutes. Needles used for facial acupuncture are thinner and shorter than those used in classic acupuncture; they're 0.3 mm thin, or as thin as a strand of hair!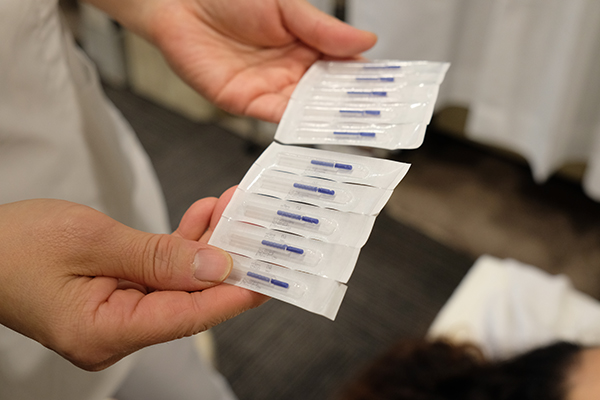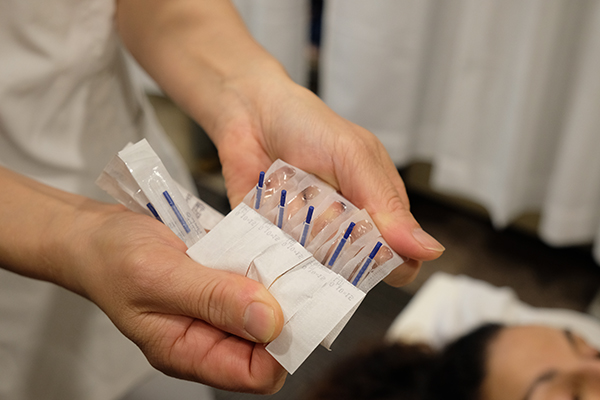 "Cosmetic acupuncture helps reduce wrinkles, stimulates the production of collagen, and rejuvenates the skin," said Mrs. Kojima. It's painless and quite relaxing. I didn't even feel a slight sting.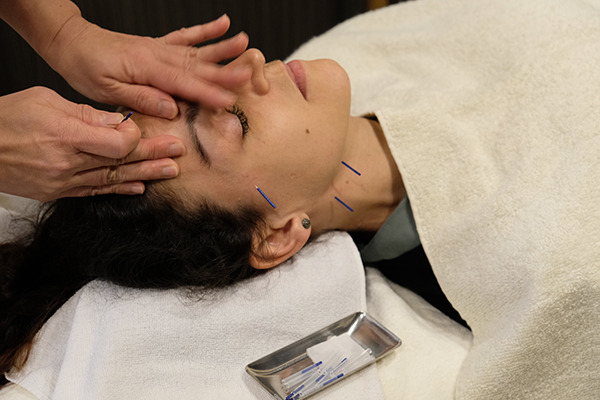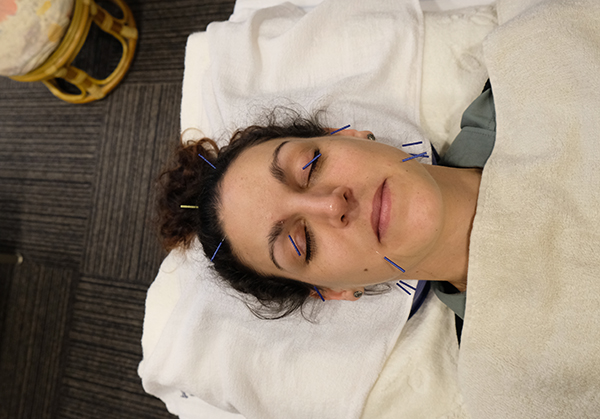 And the results were dramatic!!! My skin was toned, there were fewer wrinkles than this morning, and I looked relaxed. I could see the "lifting" effect of acupuncture and all this, without any surgery! And the cherry on top is that this is a 40-minute beauty care for only 3,000 yen! I've never seen such a reasonable price. No more excuses for not going to Takabashi Seikotsuin!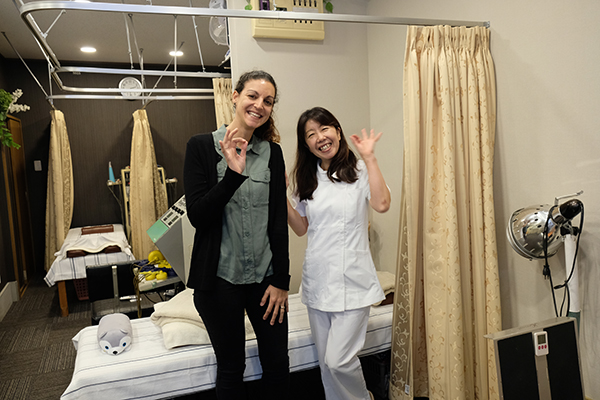 Besides the magic of rejuvenation, Mrs. Kojima offers various treatments, which can be reimbursed by health insurance. "A lot of patients come because of lower back pain," said Mrs. Kojima.
This is an electrotherapy device.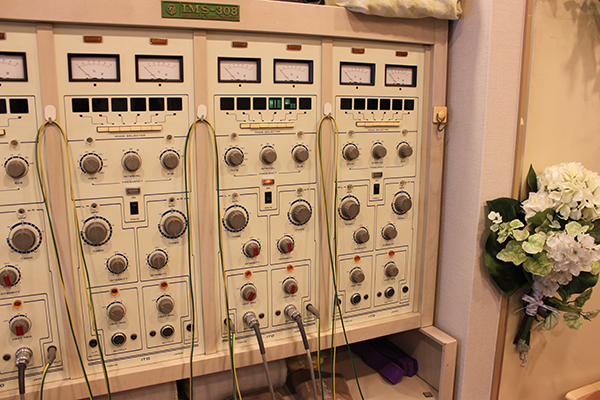 Electrotherapy reduces pain and stimulates the healing process. Electrodes are applied directly on the skin, and that's it!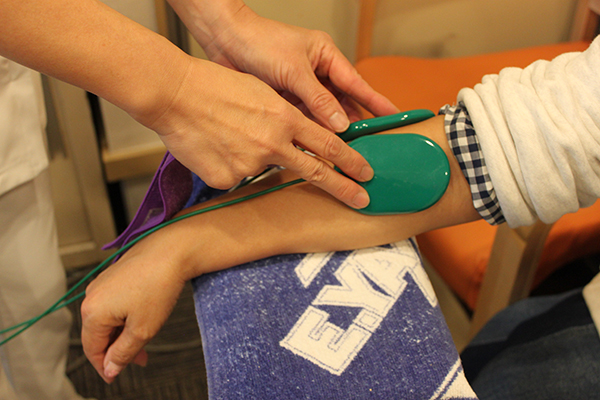 Takabashi Osteopathy also offers a 60-minute full body osteopathic massage for 3,500 yen. It's very reasonably priced! "Treatments are customizable. If a patient wants to add acupuncture or moxibustion, it costs 150 yen for one needle and 300 yen for one moxa," explained Mrs. Kojima.
And you can even choose your favorite animal cushion!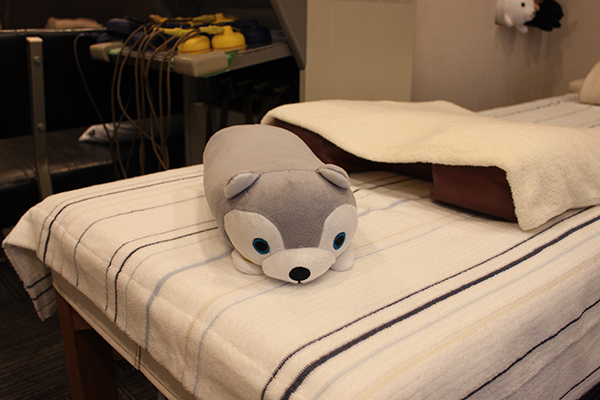 I choose the cat for my next visit! And you–which one would you want?
Story by Aline Lambelet