Tea for Health and Beauty at Fukuizumi Chaten
Published: February 7, 2020
The beneficial effects of drinking Japanese green tea have been known for over a thousand years. Recent advancements in medical science have shown what the ancients knew: not only does it taste wonderful but it's also extremely good for you. Koto-ku is home to many long-established tea shops and on a recent afternoon we had the great pleasure of dropping in at Fukuizumi Chaten in the Shin-ohashi area to talk tea with its proprietor, Mr. Satoru Kikuchi, and his charming wife.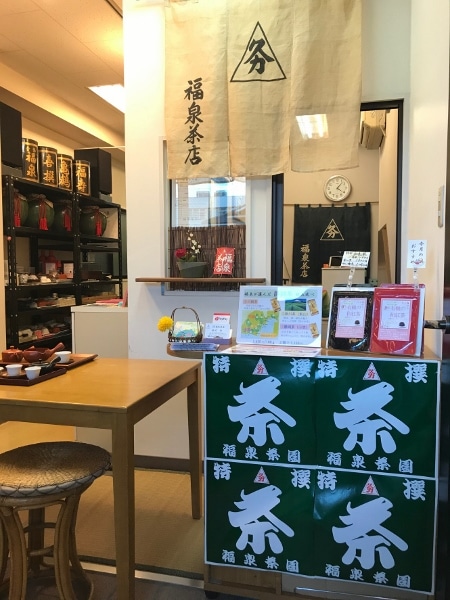 "My grandfather first opened this shop in about 1928. He moved a couple of times in the area and then settled on this location over 90 years ago. The shop then passed on to my father and I took over after working in the pharmaceutical company for several years. I'm the fourth-generation owner. We conduct a variety of tea business, both retail and wholesale. In the shop we have free tea-tasting and just today started a take-out hojicha (roasted green tea) service," he explained.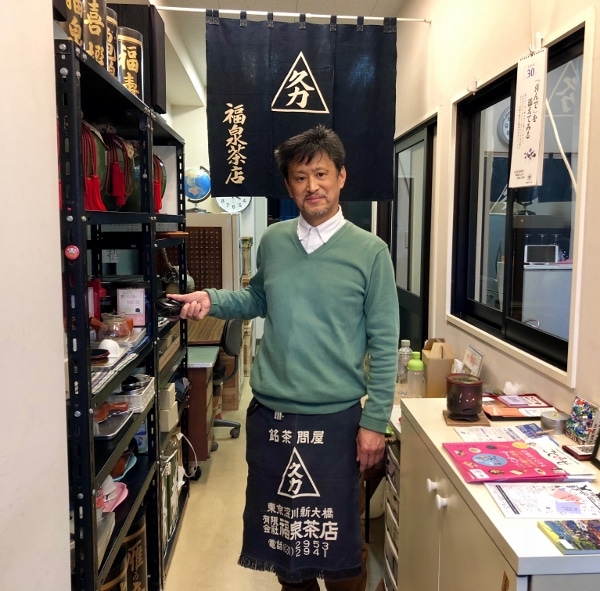 Mr. Kikuchi sports a vintage apron which gives the shop address as Fukagawa, the former name for the entire western area of what is now Koto-ku. "I spend a lot of my time traveling around the country meeting growers, wholesalers and blenders," he says, when asked about the nitty gritty of the job. "I go all over but spend most time in the Chiran area of Kyushu and Kakegawa and Oigawa in Shizuoka, selecting the best tea for the shop."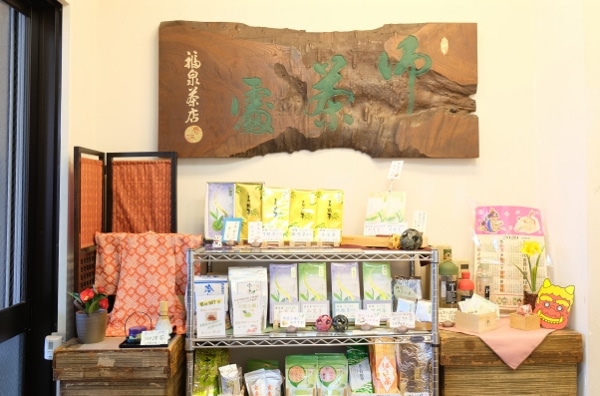 As Mr. Kikuchi explains, tea is subject to a variety of environmental conditions that affect its aroma and taste, in a similar way to the "terroir" of wine. "In winter I'll go around and check on the tea plants, talk to the growers to make sure the new leaves are developing well. I just came back from a tasting in Shizuoka two days ago."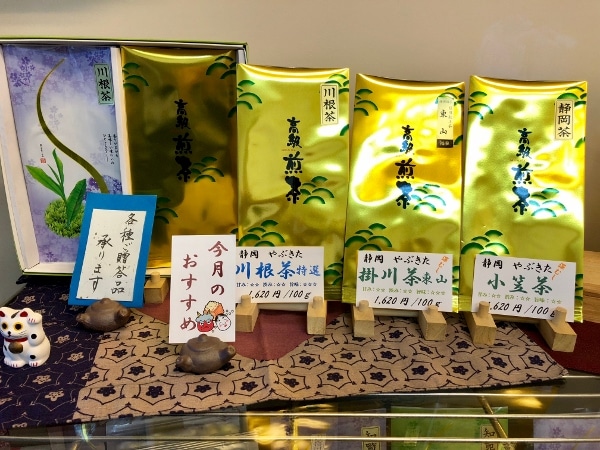 The monthly recommendations at Fukuizumi Chaten are these blends from Kawane, Kakegawa and Ogasa in Shizuoka. "They're very good; I drink them myself, every day," he adds.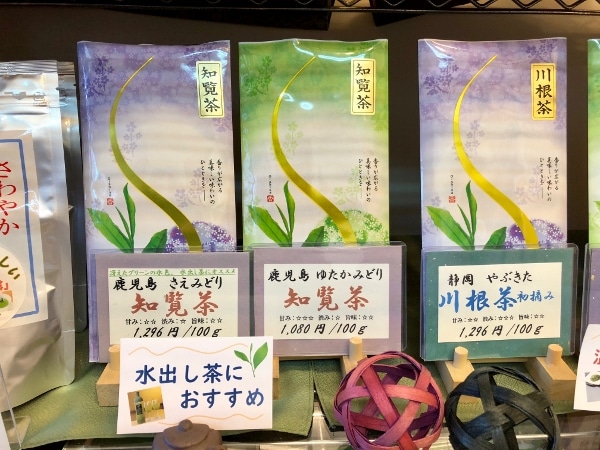 These two teas hail from the Chiran area of Kagoshima Prefecture in Japan's southernmost large island, Kyushu. On the left is Chiran Saemidori and on the right is Chiran Yutaka; both are very highly rated and represent exceptional value at 1,296 and 1,080 yen for 100g.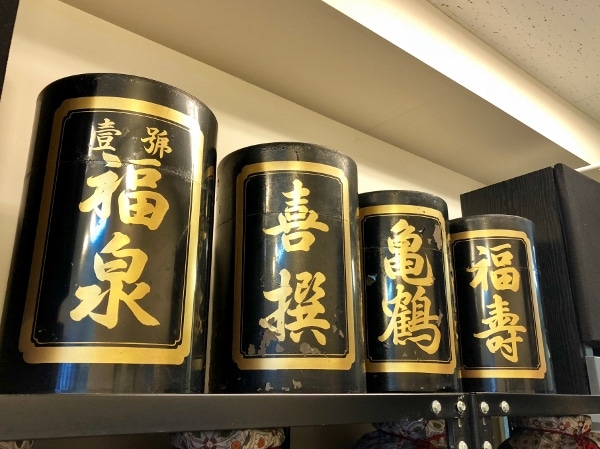 Tea and tea shop names tend to use Chinese characters that represent long life, health and happiness. Fukuizumi means fountain of good fortune, while animals noted for their longevity such as turtles and cranes, also feature.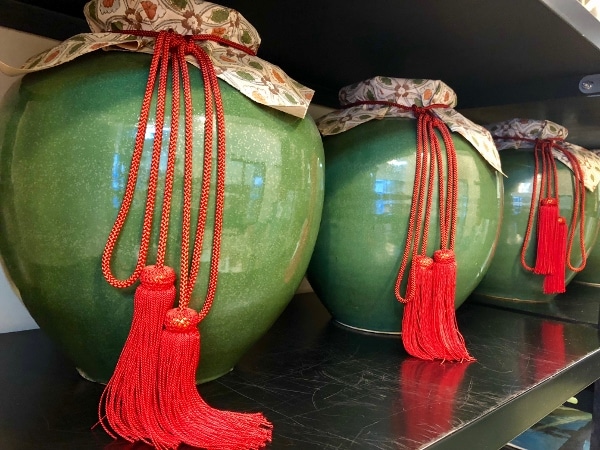 These glazed pots are Shigaraki ware, from Shiga Prefecture. Known as one of the Six Ancient Kilns in Japan, Shigaraki ware has long been associated with tea and the tea ceremony.
In this video you'll see exactly how not to make Japanese green tea and then how to make it properly. The first person uses water that is too hot, doesn't wait long enough for the leaves to open and then pours the tea incorrectly. The result is a weak, flavourless, wishy-washy drink that shocks Mr. Kikuchi, who then shows the correct way to make tea.
To begin with, he pours the hot water into the water cooler (yuzamashi) and explains that the first brew should be around 70~80C in temperature.
He estimates 100ml of water per cup and uses 2g of tea leaves. He checks the temperature of the water by holding the water cooler in the palm of his hand. It's still a touch too hot so it's cooled further by pouring into the cups then after 10 or 15 seconds the water is returned to the cooler. The water is then poured into the teapot.
The tea is allowed 30 seconds to one minute to brew. As Mr. Kikuchi explains, the key point is to check whether the tea leaves have opened. He shows that the leaves haven't opened yet, then waits another 30 seconds or so.
He pours the tea little by little, alternating between the cups. The tea is poured right to the very last drop, almost flicking the tea pot to extract the final liquid. It is, of course, wonderful. A fine deep green colour, a rich aroma and superb flavour.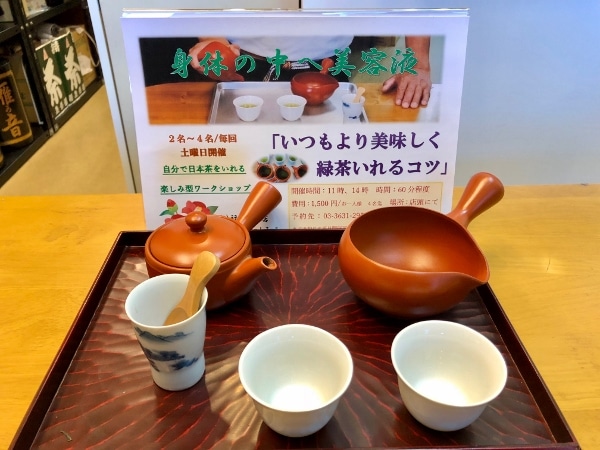 Mr. Kikuchi offers a tea workshop twice on Saturdays, at 11am and 2pm, for up to four people at a time. It costs 1,500 yen per person and is very popular among local residents. For international visitors there is another course which also contains instructions on how to prepare delicious tea in countries where the water is different from Japan. Soft water is best but not always available. The workshop costs 2,000 yen per person.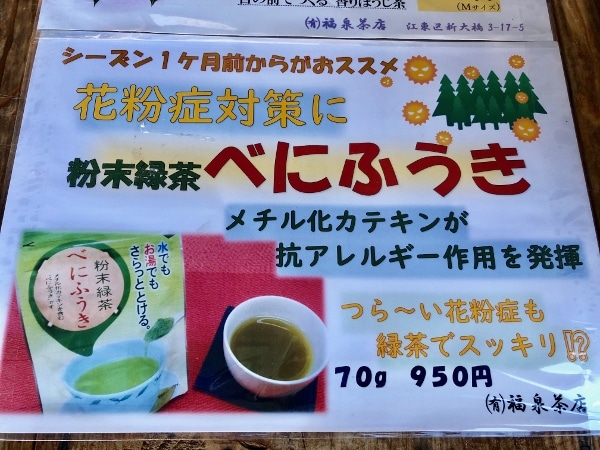 Spring in Japan brings the cedar pollen allergy season to the Tokyo area. Vast forests of cedar to the north and west pour forth their pollen as the temperature rises, plunging millions of people into months of misery. Help is at hand with Benifuki tea, a special strain developed in Kagoshima some 60 years ago. Benifuki contains a uniquely high amount of Methylated catechin (catechins being the super-healthy polyphenols that occur most in green tea) and has become much in demand for allergy, hay fever and eczema sufferers. Mr. Kikuchi recommends people start drinking it a month or so before the season starts, which is from late January to early February in the Tokyo area.  So pop down to the shop in December and pick up a bag nice and early!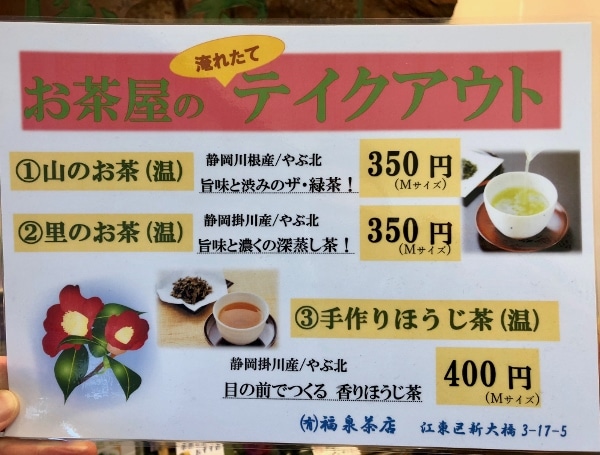 Mr. Kikuchi also offers a take out tea service featuring three different varieties:
① Yama no ocha – which is Shizuoka Prefecture Kawane Yabukita tea
② Sato no ocha – Shizuoka Prefecture Kakegawa Yabukita tea
③ Hojicha – Shizuoka Prefecture Kakegawa Yabukita tea roasted in the shop. Unlike regular green tea which is steamed, hojicha is made by roasting the tea leaves in a porcelain pot that imparts a nutty flavour and a reddish-brown colour, while reducing the caffeine and astringency.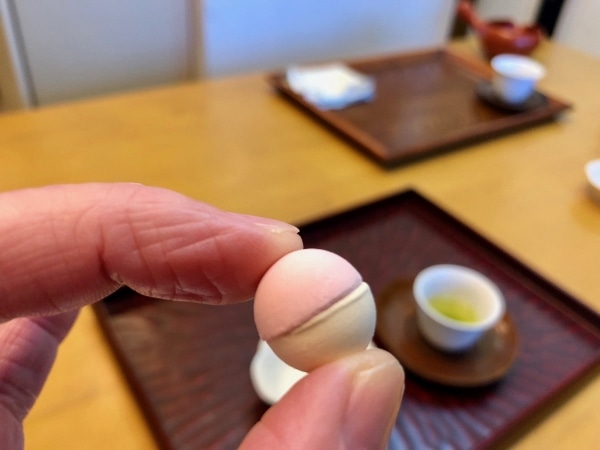 Whatever your tea needs, just ask Mr. Kikuchi. After all, he is an expert in the cup that cheers and his shop is a very pleasant place to be. You might even get a dainty little Japanese sweet like this (a higashi) to taste after the tea!
Story and photographs by Stephen Spencer