Kameido Tenjin Shrine is renowned as the best place in Tokyo to see wisteria flowers. The plants, which hang from vast trellises around ornamental ponds, explode into a riot of colour and fragrance every April, drawing huge crowds. The shrine is dedicated to 9th century scholar, poet and politician, Sugawara no Michizane, considered to be a "god of learning." Many students visit the shrine to pray for success in examinations and their academic life. Just across the road from the entrance to Kameido Tenjin Shrine lies the sembei (rice cracker) shop, Okiya.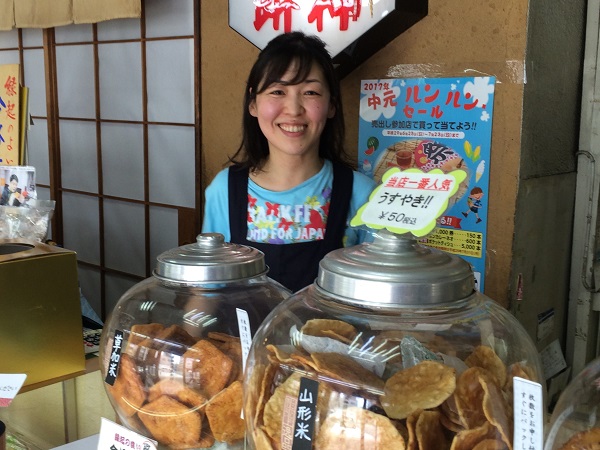 "My grandfather's father first opened the shop in 1907," says the friendly and charming proprietor, Mieko Oki. "I'm the fourth generation proprietor. Back then it was in front of Kameido Station near where the fountain is now. We've always sold sembei except for during the war when rice was unavailable in a ready supply. During that time my grandfather sold sweets in Ameyoko market in Ueno. Later, he went back to selling sembei as a cheap and tasty snack for children."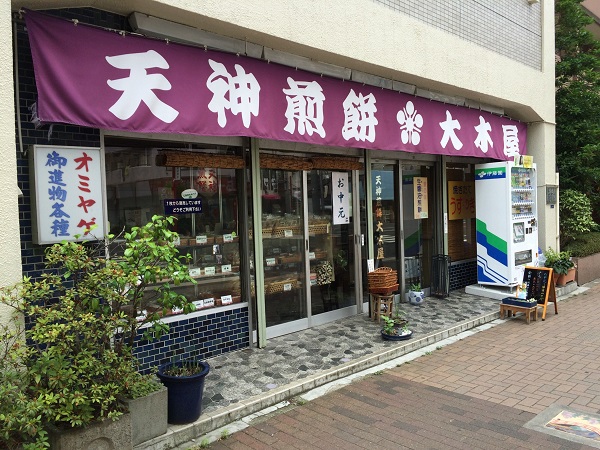 Baking the crackers is the job of the remarkable Mr. Koshikawa, now 84 years old, and the equally remarkable machine he tends with loving care. "We bought the machine second-hand some 45 years ago and I don't know if they make them any more. If you look closely you can see where Mr. Koshikawa has replaced parts," says Ms. Oki. "I don't touch the machine myself. Mr. Koshikawa is the only one who can operate it. It only responds to his touch."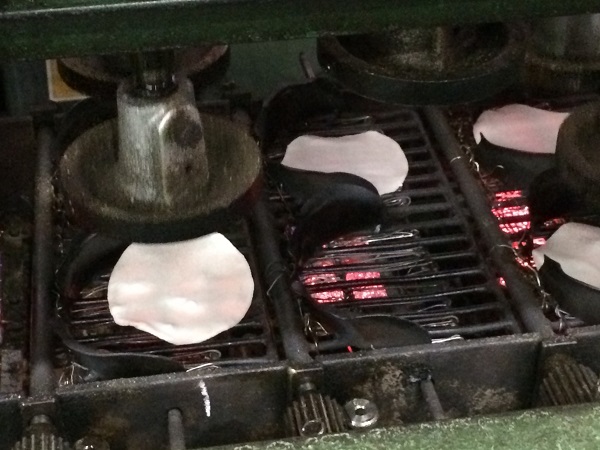 The vacuum tubes attract the crackers and draw them into the process one by one. They are shaped by the pistons, baked lightly, and then flipped over so both sides are cooked evenly.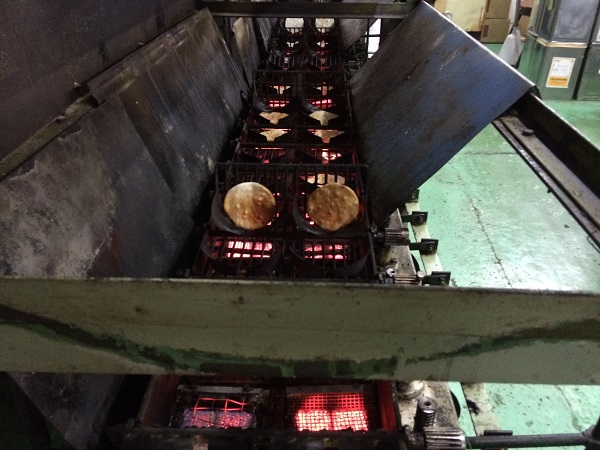 All the while, Mr. Koshikawa prowls the line, seemingly oblivious to the intense heat, watching like a hawk to prevent blockages or burning.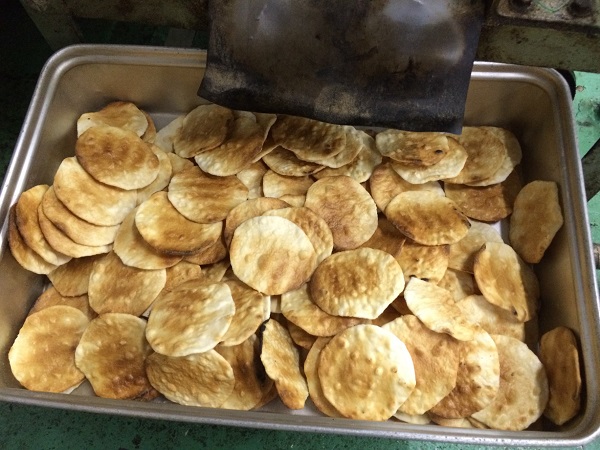 At the end the cooked crackers fall off the track and into a metal box. When eaten straight off the line, piping hot, they are terrific, crisp and crunchy. But they are not yet finished. The next step is dipping them into the soy sauce mix.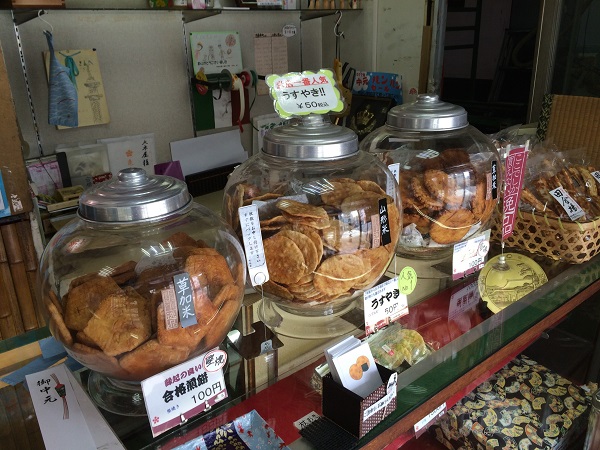 "Our products contain no additives of any kind. The soy sauce does contain a small amount because otherwise it would go mouldy very quickly. Additive and preservative-free rice crackers like ours are susceptible to humidity so we can only store them for about two weeks in summer. In the winter when it's dry we can store them for about three months."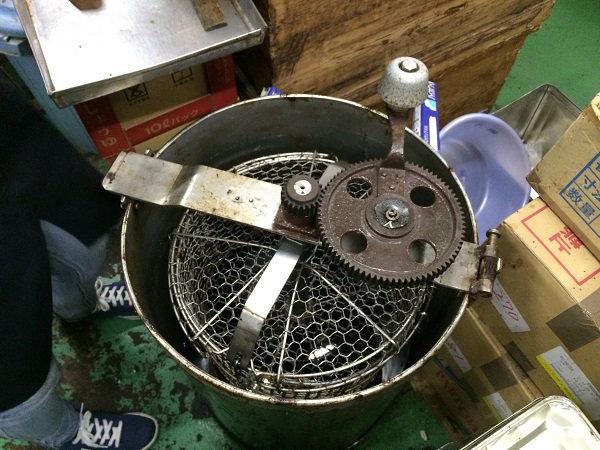 "Our soy sauce mix contains only a little sugar and a little potato starch. That's it. No mirin (sweet sake used for cooking), sake or any additives. The crackers are given a two-minute spin and then placed in the racks above the machine to dry."
"Some of the crackers are dipped in 'white' soy sauce. It's not actually white but a light brown colour that reflects the more delicate flavour it imparts to the crackers. These crackers often have other flavourings as well, such as plum or aonori (green laver). This machine here is used to add things like sugar, matcha green tea flavour or shichimi togarashi (seven spice mix) flavour. You just put the dried crackers in with the ingredients and crank the handle."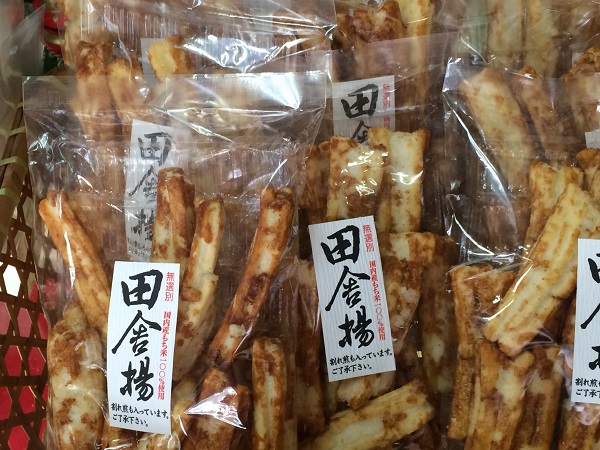 During the busiest times the indefatigable Mr. Koshikawa bakes 2,000 crackers in one session, roughly once every three days. At the peak of its business the company employed five men and supplied twenty other shops. Now it's just Mr. Koshikawa and one shop in Narashino, Chiba Prefecture. "Things looked a bit sticky a couple of years back but we pulled through. Sales were up 30% last year thanks to foreign tourists visiting the Shrine," says Ms. Oki.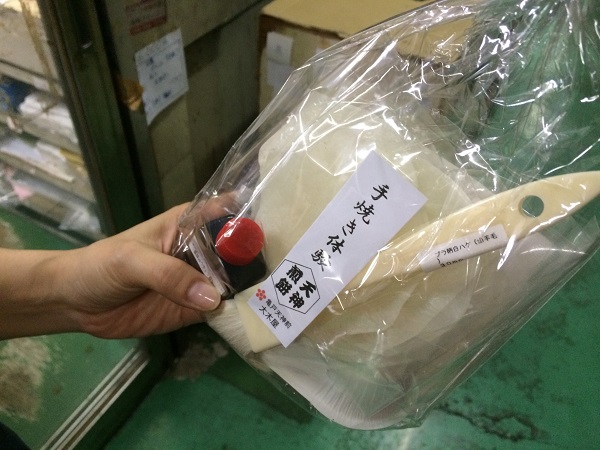 Very popular items at Okiya are "bake them yourself" crackers. You grill or pop the uncooked crackers into an oven toaster for three to four minutes and can enjoy them hot with soy sauce, mayonnaise, balsamic vinegar or anything that takes your fancy. There's another set that comes with a bottle of soy sauce, a brush to apply it and instructions on how to bake and dry your crackers.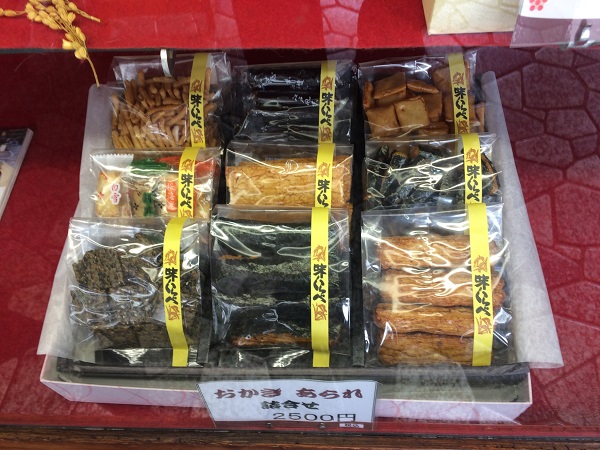 The sembei at Okiya are delicious, from the light and crisp to the salty and incredibly crunchy. Sweet or savoury, there's something for everyone here. They also make wonderful souvenirs as they keep for up to three months in a dry climate.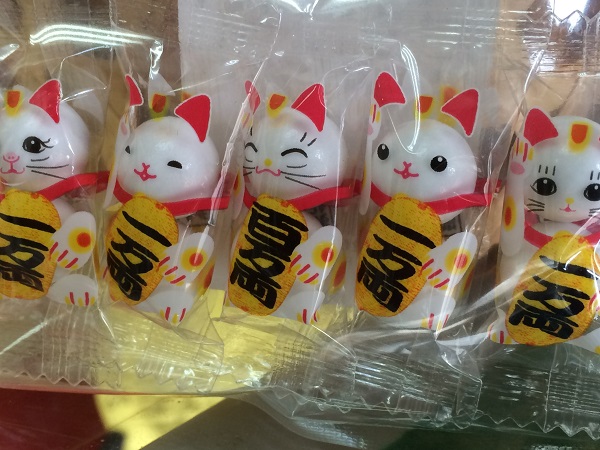 There are even some chocolate cats….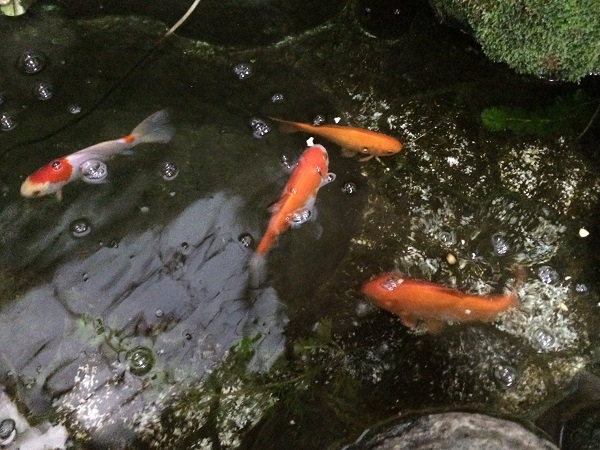 …And there's a goldfish pond inside the shop!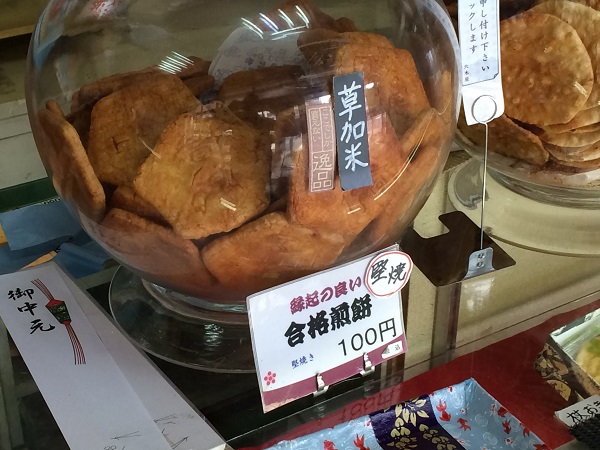 If you're visiting Kameido Tenjin Shrine or are just in the area, you really should drop in to Okiya. You'd be crackers not to!
Story and Photos by Stephen Spencer