A welcome new addition has been made to Koto City's parade of lovely local bakeries!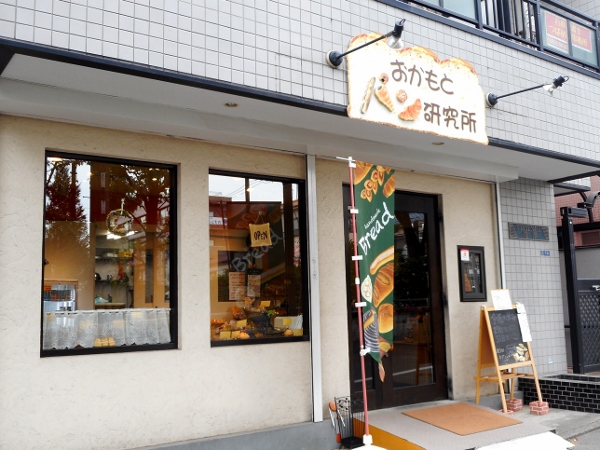 Located south of Kameido Station in a quiet neighbourhood, Okamoto Bread Laboratory is an intriguing, friendly little shop that fits in nicely with its peaceful surroundings.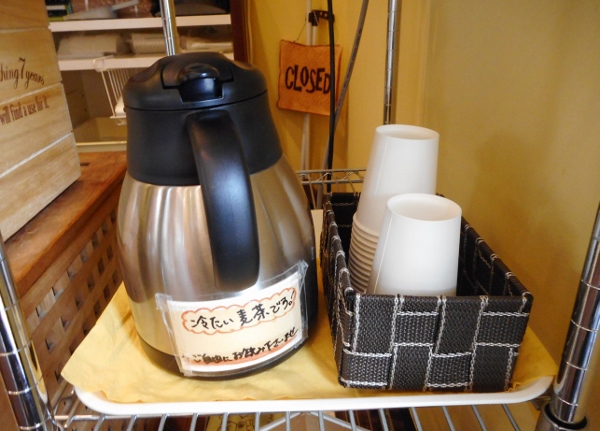 Walking in, I noticed an unusual feature right away: a help-yourself water and tea station!
"We want our customers to feel at home," Mrs. Okamoto said when I commented on it. "It's getting hot outside, so I think having a bit of cold tea to drink while they shop will be welcoming."
What lovely service! I'm already getting a great vibe about this store. But why is it called a "laboratory" instead of simply a "bakery"?
"I wanted to be creative when I opened the shop last summer," answered Mr. Okamoto this time. "There are already so many bakeries and boulangeries out there, I thought…let's pick a different word."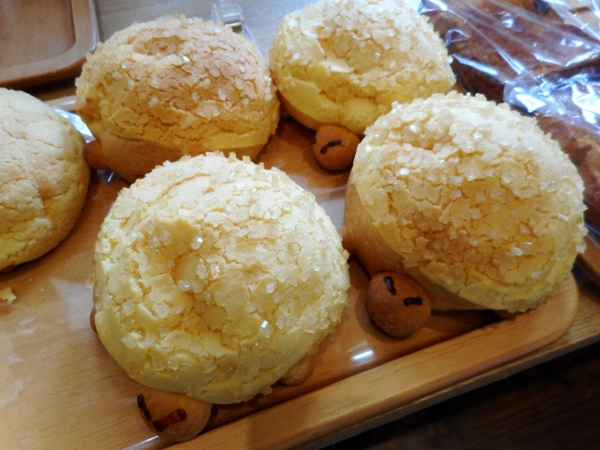 So let's see what's been cooking up in this laboratory of baked delights. First up we have the "Kameron pan", a play on the words "kame" (turtle) and "melon pan" (melon bread), a popular snack in Japan. Though I learned a couple of years ago to my disappointment that there are no real melons involved in making of melon pan (the name comes from the latticed pattern carved into the round bread to make it resemble a melon), I think we can all agree that the lack of turtles in the Kameron pan is a good thing! Instead, this delicious sweet bread pays homage to the Kameido region, which loves all things turtle.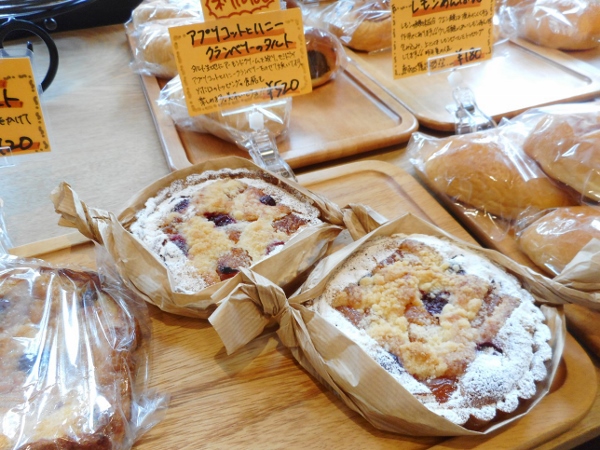 Sliding right on over, I discovered some lovely Viennoiserie, like the apricot, honey and cranberry tart pictured above, alongside Danishes and pies. Mr. Okamoto says he gets bored easily with using the same old recipes and will often invent new breads to add to the shelves, which gives him plenty of chance to get creative with seasonal fruits.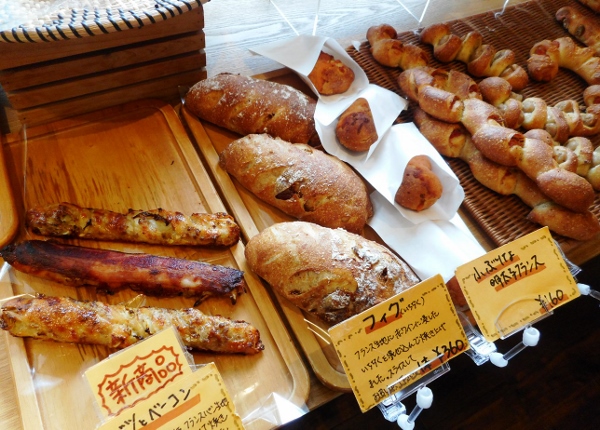 Next up were the savoury, semi-hard breads, which are great for a satisfying snack or light meal; selections included mouth-watering choices like "herb and sausage bread", "bacon épi", and "mentaiko (salted cod roe) rolls".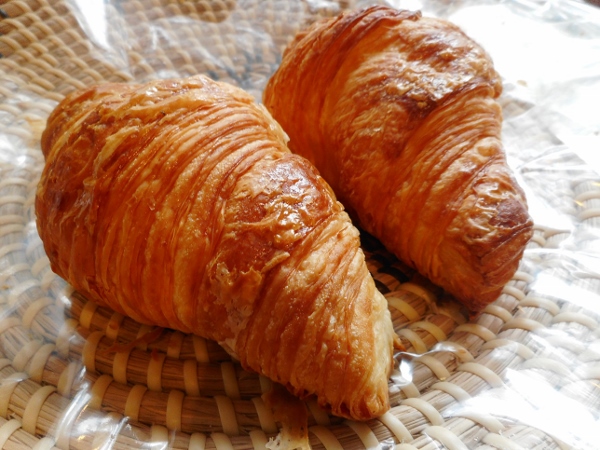 "The croissants are also very popular", said Mr. Okamoto. And indeed, even though it was still morning, only 2 of them were left—and probably not for much longer. These perfectly baked rolls looked amazing!
There were, of course, a lot more than can be described in a single article. The variety is astounding (over 80 kinds of bread!) especially when you consider that Mr. and Mrs. Okamoto keeps shop with just the two of them.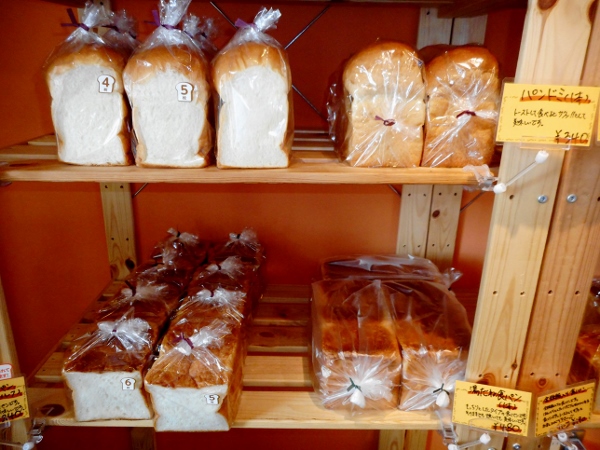 But two more breads definitely stood out in my eye. The first, and one of their must-try recommendations, is the "yu-dane" loaf.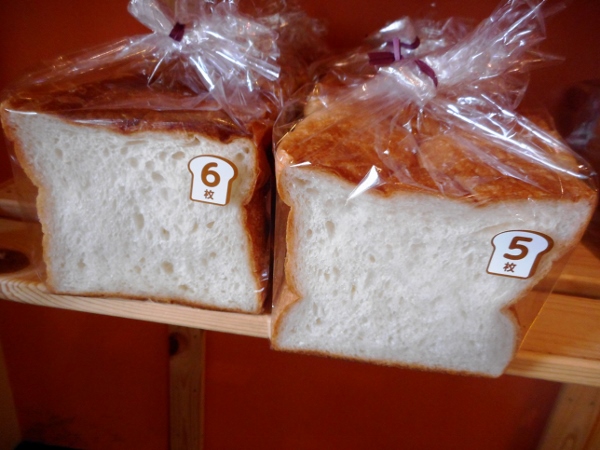 This seemingly simple loaf of white bread is Mr. Okamoto's specialty. Soft and slightly chewy, the mouthfeel of the loaf has the trademark "mochi-mochi" qualities of Japanese bread. I personally love this texture, and found the yu-dane loaf great both as is, and toasted. (The advantage to toasting it is the wonderful aroma you get, as I confirmed the next day at home.)
The secret? A technique known as "water roux" or "tangzhong" in English and—yup!—"yu-dane" in Japanese; this method uses a mixture of flour and water that is heated up and added to the dough. The resulting loaf is moist and has a longer shelf life than those made without.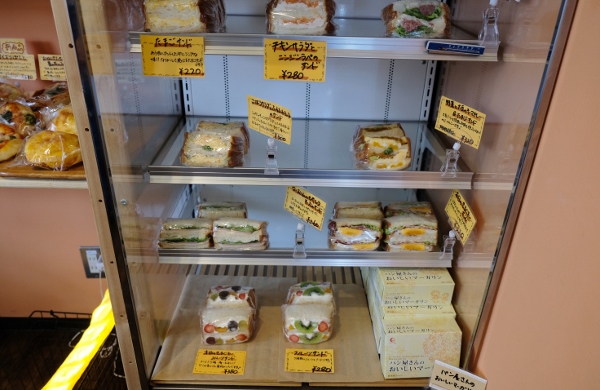 I'd definitely recommend picking up a loaf for home if you stop by Okamoto Bread Laboratory, but if you'd like to sample it sans commitment first, try one of their many sandwiches, which are made with the same bread. Just be careful though—these are very popular, so be sure to show up in the morning if you want a taste!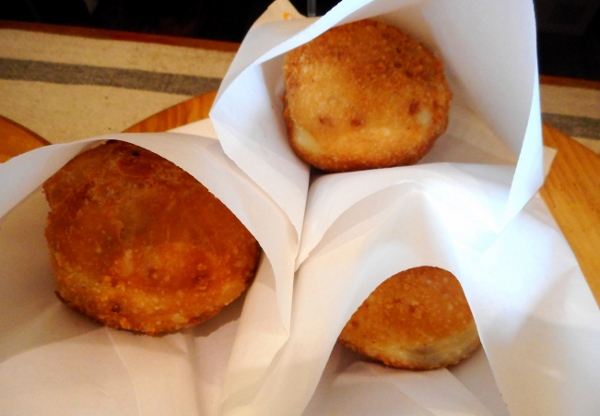 The second must-try is their "kare-pan" or curry bread. Fried golden on the outside and filled with delicious curry fillings on the inside, the Okamoto version of this favourite Japanese baked good is popular among customers of all ages. There are three kinds: one with butter chicken curry, one with spicy keema curry and a boiled egg, and one that's filled with a milder curry, made for younger palates.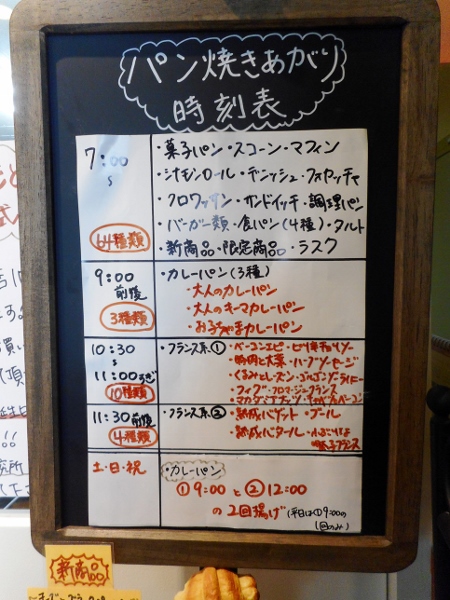 If you've got a flexible schedule, definitely try to get these when they're freshly baked. Mr. Okamoto very kindly has a schedule posted in-store that tells you at what time certain breads come out of the oven—kare-pan are due out at around 9:00 a.m. on weekdays and at both 9:00 a.m. and 12:00 p.m. on weekends!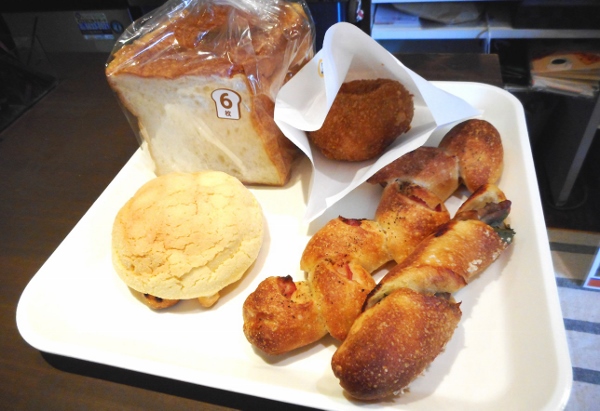 After finishing my round among the different breads, I couldn't resist picking up a few of things for myself. My tray looked like this.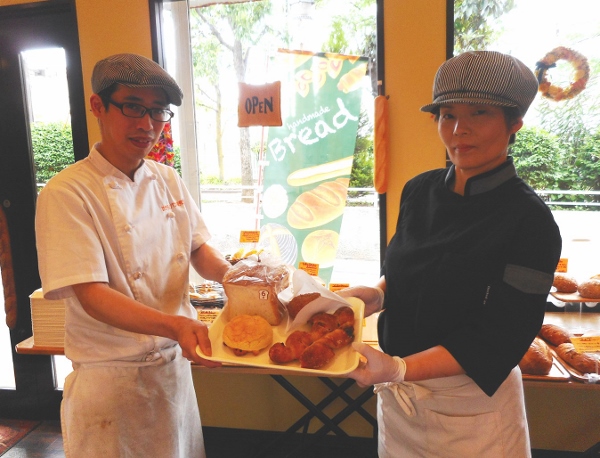 I chose the breads with Mr. and Mrs. Okamoto's help, since there were simply too many, and everything looked delicious.
"We hope you enjoy them! I'm always looking for feedback from customers to improve my baking and inspire new ideas," Mr. Okamoto said.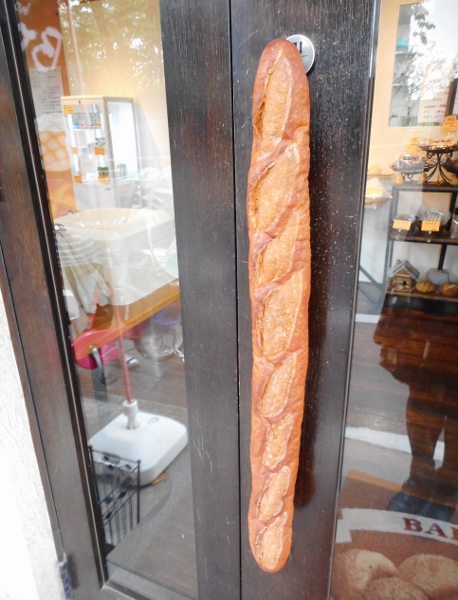 As I left the store (making note of the baguette-shaped door handle on my way out), I thought about the wonderful nature of local bakeries like this one. Koto City residents love their local bakeries, and while the reasons are numerous, I think stores like Okamoto Bread Laboratory really exemplifies why. Aside from the fact that you can get handmade bread, baked with care and using fresh ingredients, you can tell that both Mr. and Mrs. Okamoto really, really care that the quality of their products is up to the customers' standards.
"It doesn't matter if I think it's delicious; it only matters if the customer does," Mr. Okamoto stated simply and clearly. So though it's written nowhere in the recipe, he always keeps his customers in mind while baking, constantly coming up with new baked goods and asking for feedback on how to improve recipes. "I'm no scientist or researcher," Mr. Okamoto claimed bashfully, but personally, I think his dedication to constant research and improvement makes it quite apt that this shop is called a "laboratory"!
Story and Photos by Xianru Shen(Koto City Office Coordinator for International Relations)