The Taste of Fukagawa at Monzenchaya
Published: March 22, 2021
Monzenchaya is a long-established restaurant serving Fukagawa meshi: the signature dish of the eponymous area of Koto-ku. Although the district is now greatly reduced in size, the name Fukagawa commonly refers to the western half of what is Koto-ku, one of the traditional downtown areas (shitamachi) of old Tokyo. On a recent afternoon, we dropped into the recently refurbished restaurant for a chat with Ms. Yoshiko Ijima, daughter of the founder.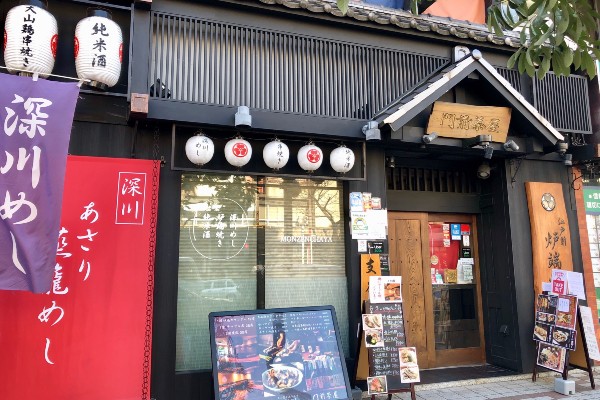 Fronting onto Eitai street one minute's walk from Monzen-nakacho station and just across the road from Fukagawa Fudo temple and Tomioka Hachimangu shrine, the location couldn't be better. You can't miss Monzenchaya either: the black facade, vivid red noren curtains and stark white lanterns are striking, especially when illuminated at night.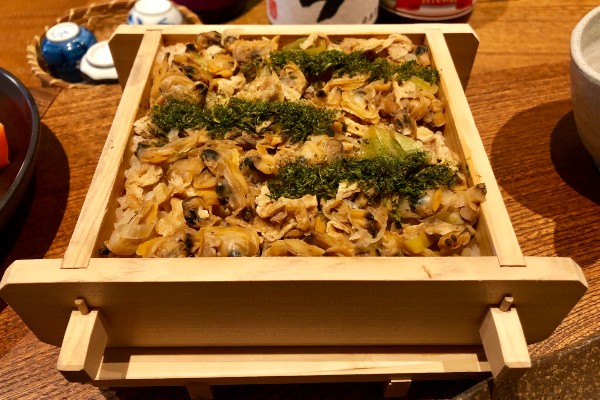 Fukagawa meshi (meshi means cooked rice or a meal in Japanese) developed during the Edo Period (1603~1868) as a quick meal eaten onboard fishing boats by Fukagawa-based fishermen. Consisting of locally caught clams simmered with negi onions and served over rice it was an early kind of fast food. Over time it evolved into the dish known today, of which there are two types: the "bukake type" features short-necked clams in miso (fermented soy bean paste) soup served over rice and the "kakikomi type" in which the clams are cooked together with the rice.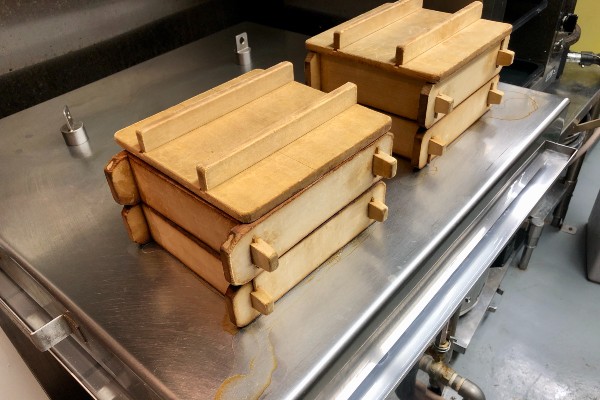 Monzenchaya prepares its Fukagawa meshi in an original way, by steaming the rice and clams together as Ms. Ijima explained," Our aim is to serve the best possible Fukagawa meshi to our customers." The clams and rice are prepared separately, then layered in a wooden, reed-bottomed box which is popped into the steamer. The steaming process draws out the clam juices which sink into the rice, creating a simple but rich and elegant flavour. Some dried green seaweed (nori) adds a further aroma and a dash of colour.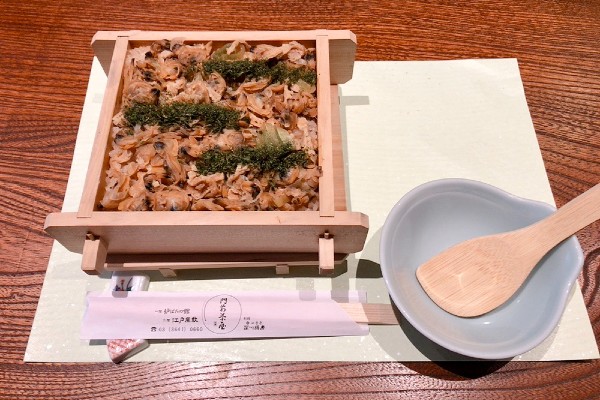 The Fukagawa asari seiro meshi costs 1,210 yen in the evening or just 1,000 yen at lunchtime, including tax. I must admit to having eaten it before and being a confirmed fan; it's extremely tasty and highly recommended. The rice is specially selected by a Fukagawa "rice meister" to match the clams and their broth.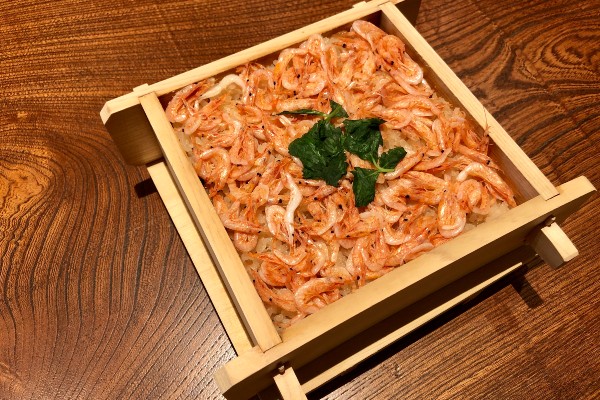 It's not all clams though. As Ms. Ijima explained, "This style of cooking, in which different items are prepared separately then steamed together at high pressure, is a traditional one that can be used with a variety of seasonal ingredients. The rice becomes plump and fluffy and is infused with the flavours of the topping." From March this version with sakura shrimp is available, while an autumn and winter one featuring salted pollack roe (tarako) was also mentioned. The sakura shrimp seiro meshi also costs 1,210 yen at dinner and 1,000 yen for lunch. The shrimp come from Suruga Bay in Shizuoka Prefecture and will be available until around the beginning of May.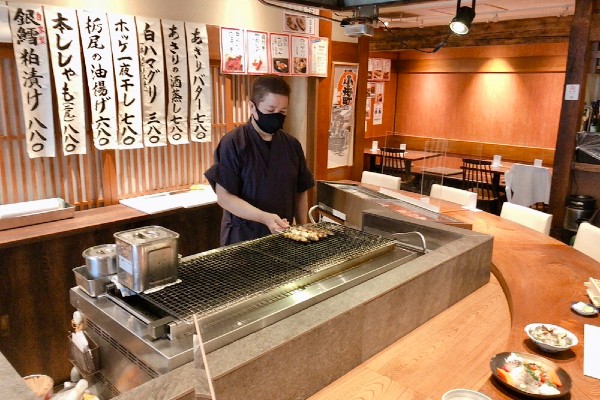 Monzenchaya also offers a robatayaki menu, in which a variety of meat, seafood and vegetables are grilled over charcoal at the central counter.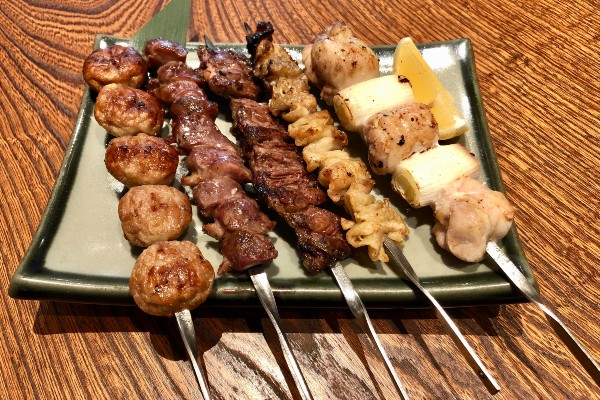 The kushi sakari set costs 1,320 yen and features crunchy chicken balls (tsukune), juicy chicken and negi onion (negima), meaty heart (haatsu), gizzard (sunagimo) and crispy skin (kawa). Reasonably priced, very tasty and quite filling!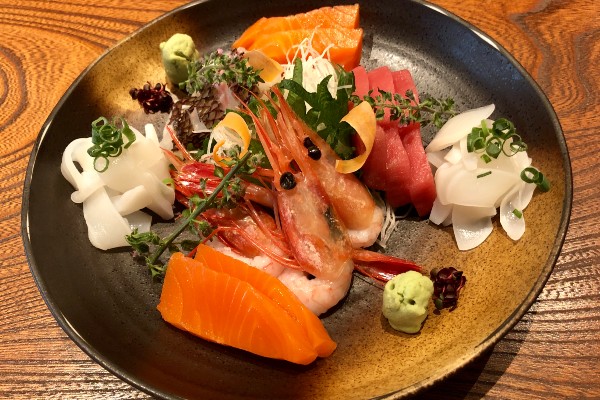 This fine sashimi selection, featuring five kinds of high-quality seasonal fish is available for 3,300 yen including tax. There's a wide choice of sake to match it, too.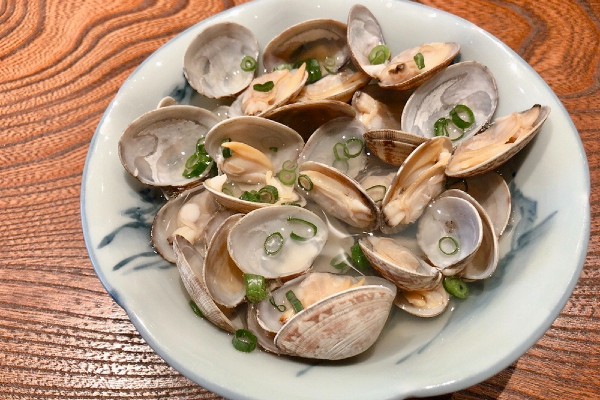 Continuing on the seafood theme, these clams steamed with sake are another treat at 850 yen. The slightly sweet broth is a delight, while the clams themselves are tender and flavourful.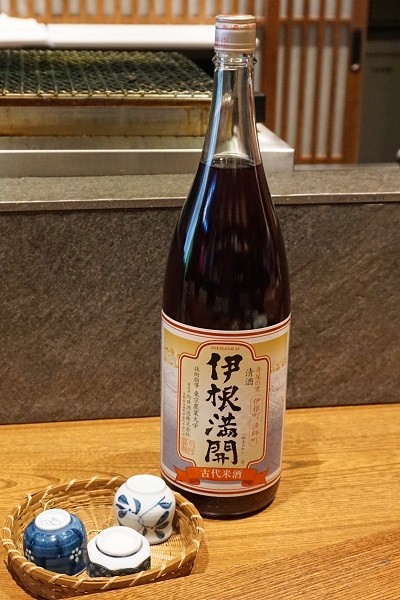 To say we were knocked out by this Inemankai sake from Kyoto would be an understatement. Made from red rice (akamai), generally regarded as the oldest variety of rice in Japan, it resembles rose wine in both colour and taste. The slightly bittersweet flavour came as a real surprise though, not what we expected at all. Very nice indeed at 880 yen a glass.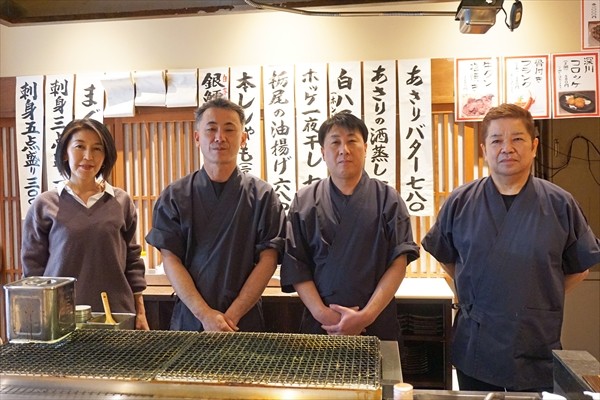 Monzenchaya opened in 1980 and was refurbished two years ago, when Ms. Ijima took over. The customers are varied and legion, with female customers and families having increased since the redesign. New menu items such as clam croquettes are proving popular too. The restaurant is frequently featured on television and has become a must-visit for the many people who flock to the major temples and shrines in the area. From left to right: Ms. Ijima, head chef Masahiro Iino, Takemitsu Takahashi and restaurant manager Hideyuki Nakamine.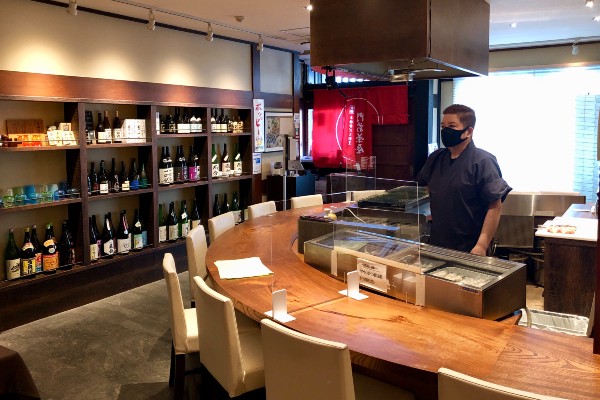 As the friendly and welcoming Ms. Ijima said, with a chuckle, "The facade may make people feel a little awkward about entering, but we're just a regular Japanese izakaya (bar serving food) inside." Indeed, the food at Monzenchaya is both very good and reasonably priced, while the atmosphere is comfortable and relaxed, yet decidedly upmarket too, an interesting combination. A warm welcome is guaranteed for all. If you've never tried Fukagawa meshi, there's nowhere finer than Monzenchaya to start!
Story and photographs by Stephen Spencer