The True Flavour of Miyakojima
Published: February 24, 2021
Miyakojima Cuisine Lucky is one of a very few restaurants in the Tokyo area serving food from Miyakojima, one of the southernmost islands of the Japan Archipelago. Miyakojima is the largest of the Miyako Islands, a small group located in Okinawa Prefecture, roughly midway between Okinawa Island and Taiwan. On a recent early spring afternoon, we dropped in for a chat with second generation "mama" Ms. Asako Matsuo.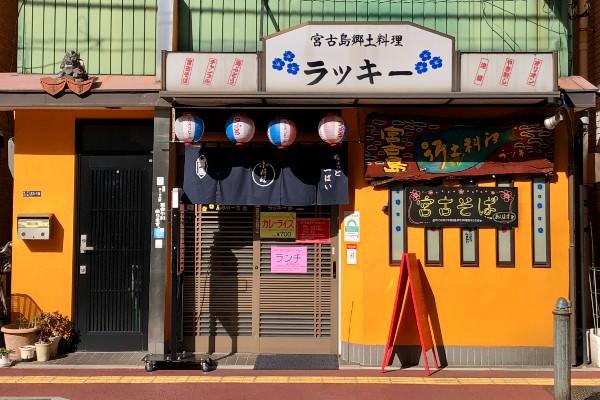 Lucky is as bright and colourful as the island of Miyakojima. On the roof over the entrance on the left sits a protective shisa, guardian lion-dogs of the Ryukyu Islands.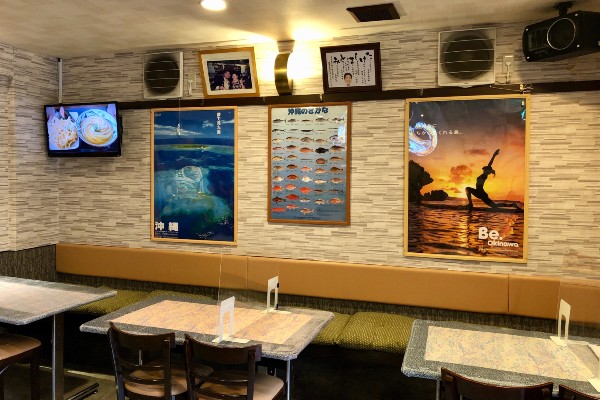 In contrast to the facade, Lucky's interior is comfortable, modern, spacious and warm, the walls adorned with posters advertising the tropical delights of Okinawa Prefecture. "Our family is actually from Taramajima," explains the friendly and hospitable Ms. Matsuo, "an outlying island east of Miyakojima. It's a really small place. We moved to Miyakojima where my mother Tomi Obaa (Obaa is grandmother in the local dialect) opened the original Lucky."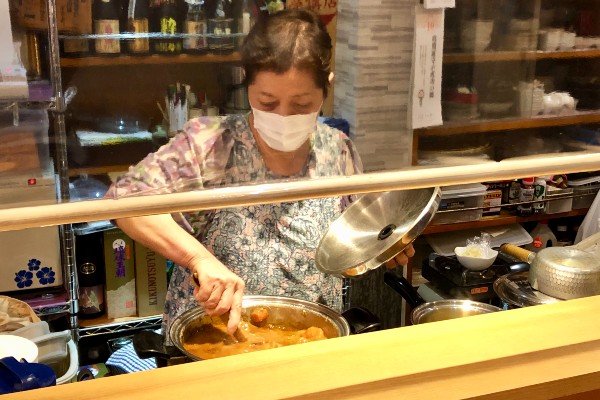 Ms. Matsuo stirred a large pot of fragrant curry in anticipation of the early evening crowd. "I moved to Tokyo, got married and raised my children before opening my own Lucky here in Kameido. My mother ran hers in Miyakojima, while I ran mine in Kameido. A few years ago, my mother closed the Miyako restaurant and moved in here with us. She's 92 now and sits at the counter, chatting with the customers."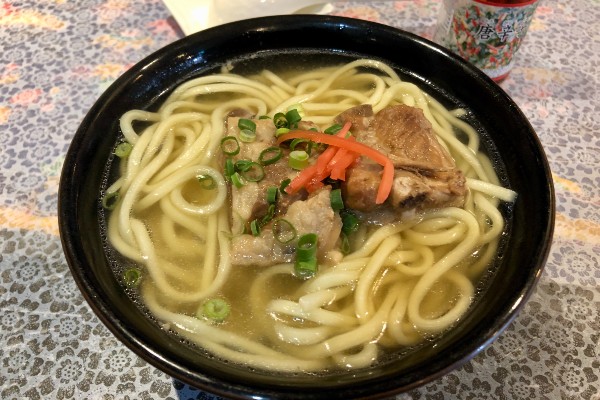 One Miyakojima and Okinawan signature dish is soki soba. It consists of tender pork ribs on egg noodles in a rich pork broth, garnished with negi onions and pickled red ginger. The soki soba at Lucky was gorgeous; a rich, fully-flavoured broth and melt in the mouth pork that was so soft it just fell off the bone.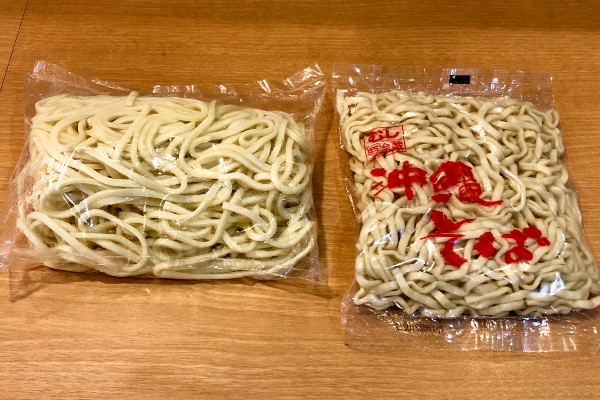 While noodles in Miyakojima and Okinawa are known as soba (buckwheat noodles), they are in fact egg noodles and don't contain any buckwheat at all. Lucky serves only noodles made on Miyakojima island, on the left here, which are again slightly different to the standard Okinawan ones on the right. The Okinawa noodles are shorter and twisted, the Miyakojima ones longer and straight. They also have a springy, elastic texture and are suitable for eating with pasta sauces.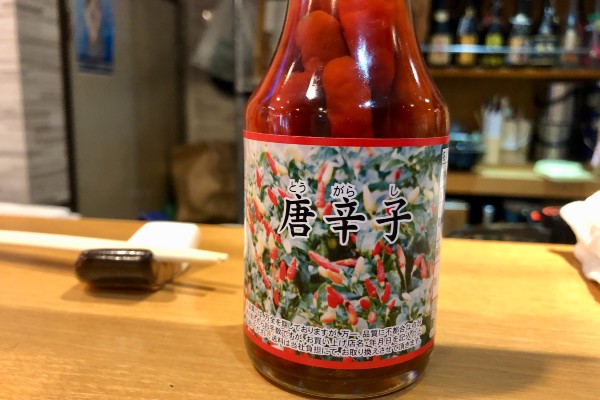 What are the specialities of Miyakojima cuisine? "Firstly, bean sprouts," replied Ms. Matsuo, "everything's got bean sprouts in it. They grow well on the islands. Secondly, in Okinawa the fermented soy bean paste (miso) is known as andansu and is locally-made miso fried with pork or dried bonito and a variety of other ingredients. All andansu are different; families have their own recipes, different islands have their own style and so do the commercial makers. Sugarcane is grown on Taramajima so the local miso paste contains black sugar. At Lucky we use only Miyakojima andansu soy bean paste."
Another key ingredient is this chili sauce, where fiery local peppers are infused in awamori, a local spirit distilled from Thai rice. Awamori is fearsomely strong, ranging from 30% to 60% alcohol by volume. A couple of drops of this sauce are traditionally added to soba, miso soup, goya champuru and other dishes.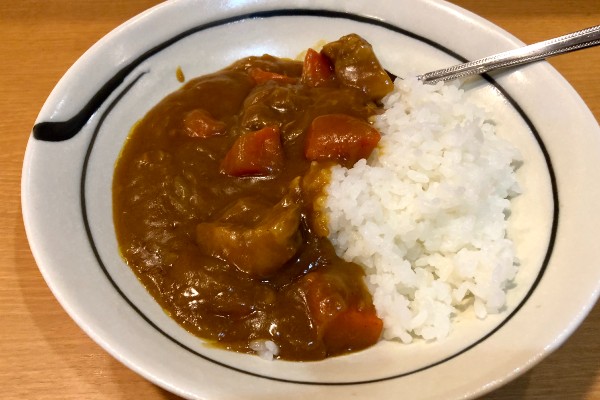 As Ms. Matsuo and her friend Ms. Kato, the menu creator and cooking chief explained, the majority of ingredients used at Lucky come directly from Miyakojima, including the agoo pork, fermented bean paste, noodles, dried bonito and seasonings. The vegetables, all 100% organic, are sourced from a relative's farm in Nagano Prefecture. The rice served is Koshihikari, also from Nagano. The curry sauce was mild and tasty, with large chunks of Agoo pork, from the indigenous Okinawan black pigs, another key ingredient in many dishes. It's very filling and good value at 700 yen a bowl.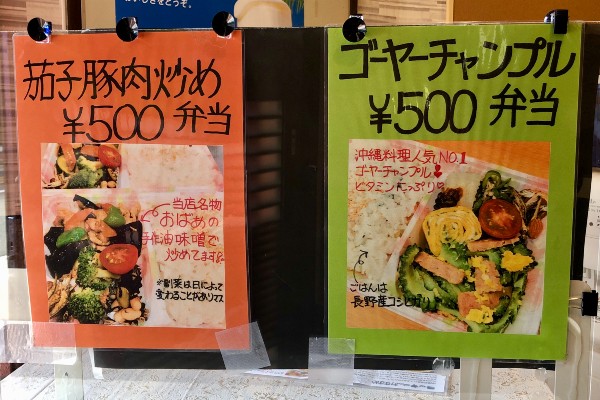 Lucky has adapted to the current situation by changing its opening times. Rice balls are available from 8:00 am ("Many people drop in and pick them up on the way to work," explained Ms. Matsuo), lunch is available from 11:00 am, lunch boxes go on sale around 11:30 am and the restaurant closes at 5pm. The rice balls, known as musubi, are stuffed with pork and andansu, just plain andansu or other ingredients.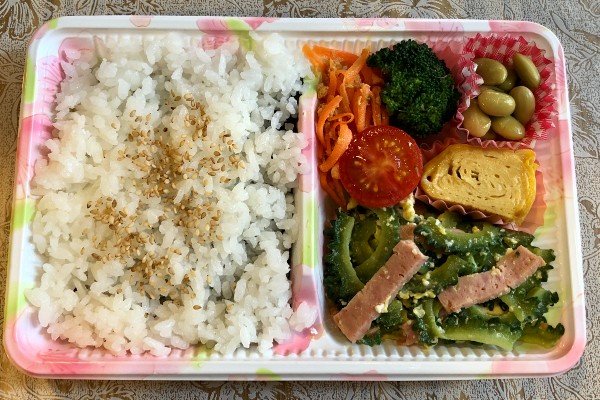 Lucky offers two kinds of lunch box: eggplant and pork stir fried with andansu soy bean paste and the ever popular goya champuru, pork belly stir fried with tofu, egg and the bitter melon gourd known as goya. Both are just 500 yen. Tulip is the luncheon meat of choice in Okinawa Prefecture and Miyakojima is no different.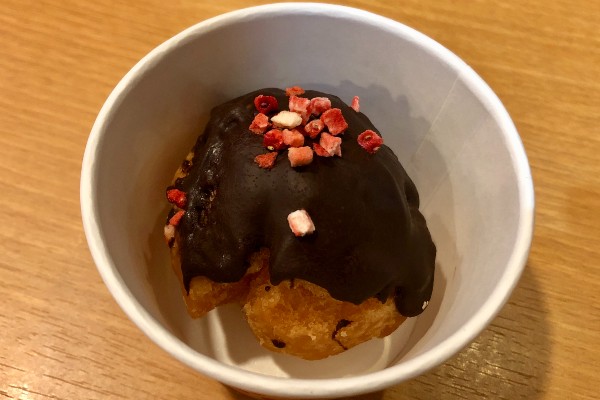 Another island favourite is sata andagi, Okinawan doughnuts. Created by Ms. Kato, the doughnuts are a mix of egg, sugar and flour, deep fried in the increasingly popular rice oil. "We practiced frying the sata andagi in various oils but rice oil produced the least greasy and tastiest doughnuts," she explained. Denser than regular doughnuts, they make a hearty snack or dessert at just 200 yen apiece.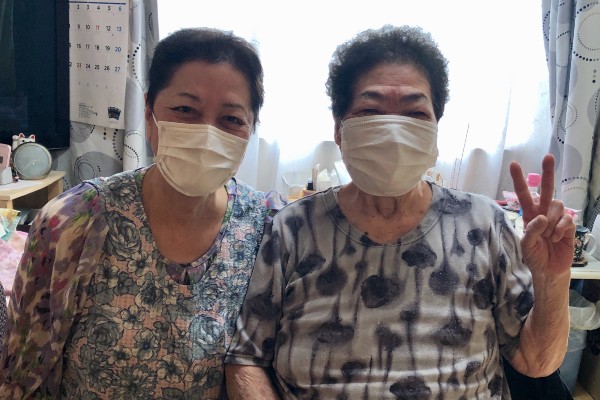 Ms. Matsuo's venerable mother, 92-year-old Tomi Obaa, was upstairs enjoying her latest hobby of drawing with crayons and coloured pencils when we called but was happy to pose for a photograph. Not only did she manage her own restaurant in Miyakojima but had a cooking show on NHK, becoming somewhat of a celebrity. Bright as a button and sharp as a pin, she's living proof that Okinawan people really do live longer and enjoy life. Perhaps the secret is in the food, as people often say…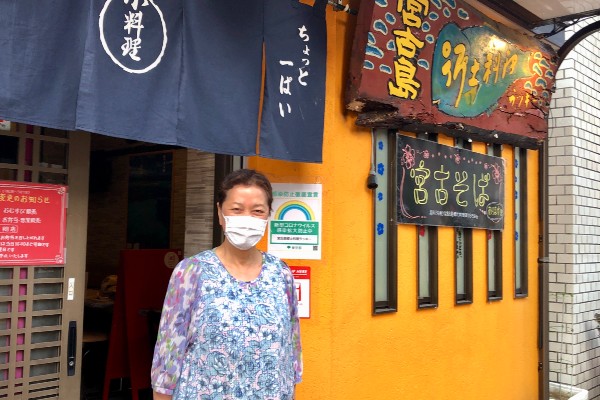 Lucky is a part of the neighborhood. Ms. Matsuo and Ms. Kato are up at dawn every day making rice balls for people going to work; just put in an order and they'll make whatever you want. The food is hearty, healthy home cooking, very popular with local teleworkers. "Some young singles who don't have time to cook drop in twice a day for a meal," says Ms. Matsuo. We thoroughly enjoyed our visit to Lucky for the true taste of Miyakojima! As they say on the islands, tandei gatandei and ganzu ganzu!
Story and photographs by Stephen Spencer