Tokyo Bay Park BBQ with Amazing Views
Published: October 27, 2022
Autumn has finally arrived in Tokyo! The heat and humidity have fallen, the sun's still shining and it's not raining. Autumn, the season of appetite as it's known in Japan, and what better way to enjoy the comfortable weather than with an outdoor barbecue? On a recent morning we dropped into the Toyosu Gururi Park BBQ Place for a chat with the friendly and welcoming staff.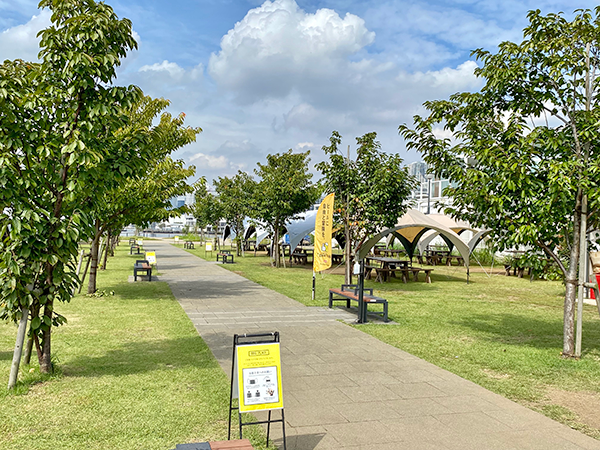 Location's the key and Toyosu Gururi Park BBQ Place has it in spades. Set in a grassy, tree-lined park with Tokyo Bay on two sides, the views are spectacular.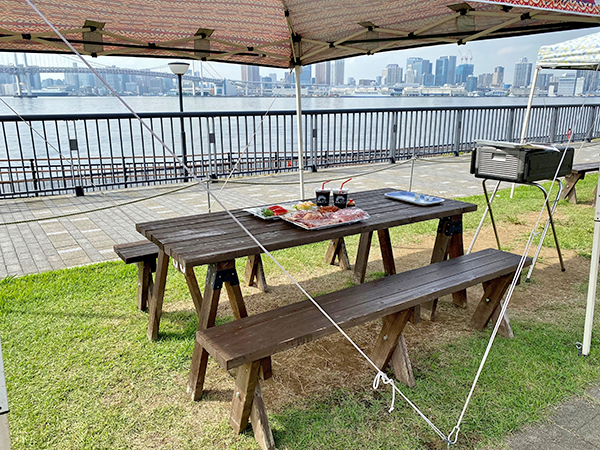 The system at BBQ Place is extremely flexible, from courses which provide all food, drink, condiments and even dessert, to the most basic plan in which customers bring all consumables with them and order one menu set per group.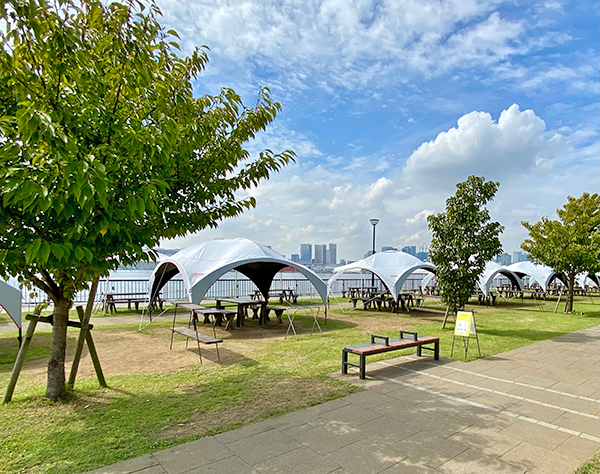 There are over 100 different barbecue tables to choose from, divided into three groups. The most popular are these Regular Site tables which seat 10 and cost 17,600 yen, or just 1,760 yen each during the day. Weekdays are open from 11:00 to 16:00, Saturdays and Sundays are 10:00 to 16:00, while the Saturday and Sunday only sunset time is from 15:00 to 19:00 and costs 19,800 yen.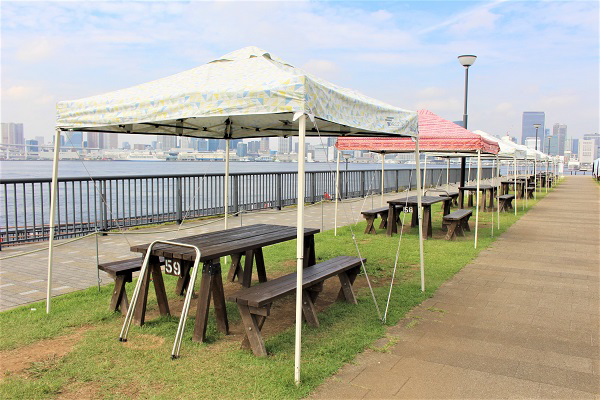 The Family Site tables are slightly smaller, designed for a maximum of six people, yet are closer to the water. They are 11,500 yen each, with opening times of 11:00 to 16:00 on weekdays, 10:00 to 14:00 on Saturdays and Sundays, and cost 13,200 yen for the Saturday, Sunday and public holiday only sunset time of 15:00 to 19:00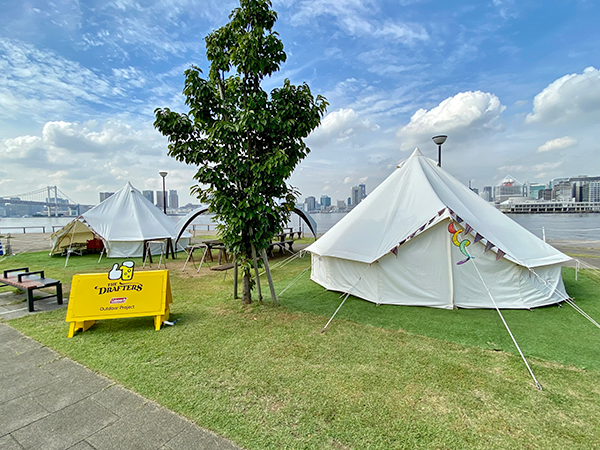 For really big crowds there's the Party Site, which features enormous tents, sofas, reclining chairs and your own beer servers. Usually available for groups of up to 20 guests, the current limit is 10 due to the ongoing pandemic, meaning more elbow room and comfort for all. The Party Site tents cost 48,400 each and are available from 11:00 to 16:00 on weekdays and 10:00 to 14:00 on weekends. The sunset time is again only available on Saturdays, Sundays and public holidays, lasts from 15:00 to 19:00 and costs 53,900 yen.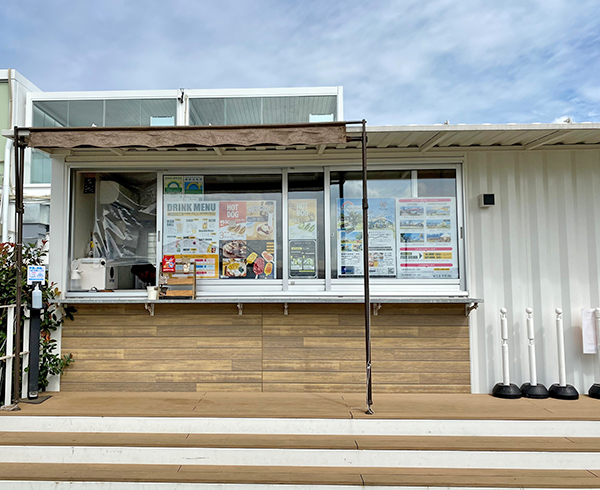 Manager Mr. Niu stressed that while most customers visited BBQ Place for a barbecue, the shop also sold a variety of hot and cold food such as hotdogs, ice cream, desserts and a wide range of drinks, including alcoholic beverages. "Joggers, dog walkers and the many fishermen the area attracts often stop for something to eat or drink and admire the view. Some fishermen even barbecue the fish they caught," he explained.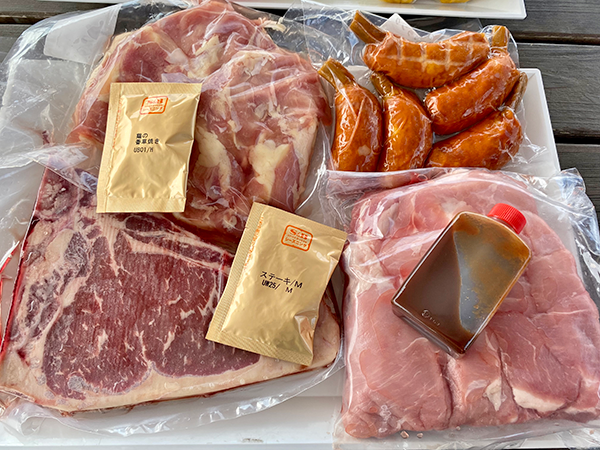 The food and drink menu is extensive. The most popular is the Honkaku 3.8 Pound set (1.7Kg. 9,460 yen) which contains a thick cut T-bone steak, four on-the-bone spare ribs, chicken thighs, five on-the-bone franks plus vegetables and condiments, enough for 5 to 6 people.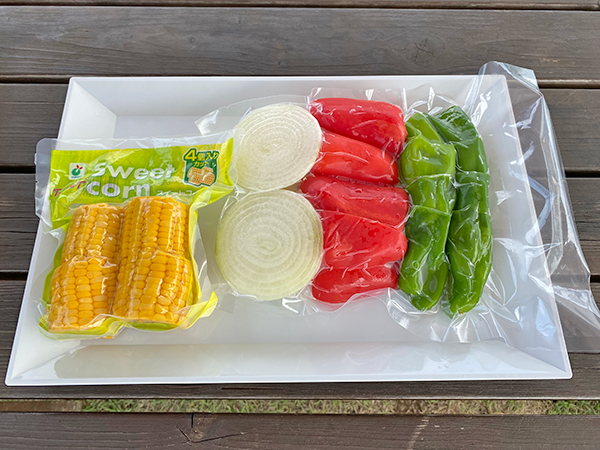 The vegetables come vacuum packed to retain freshness.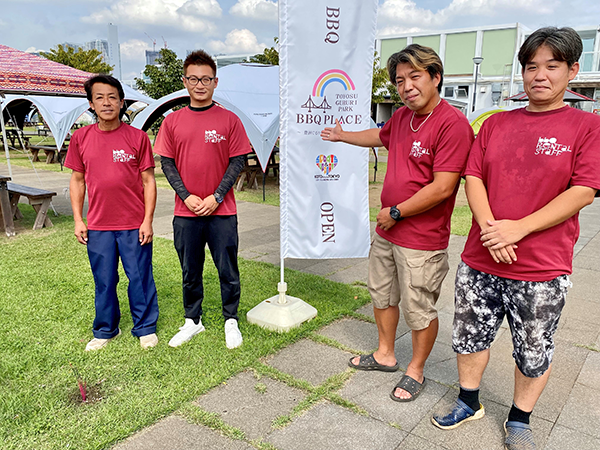 The expert barbecue staff are always on hand to assist! Manager Mr. Niu is second from the left.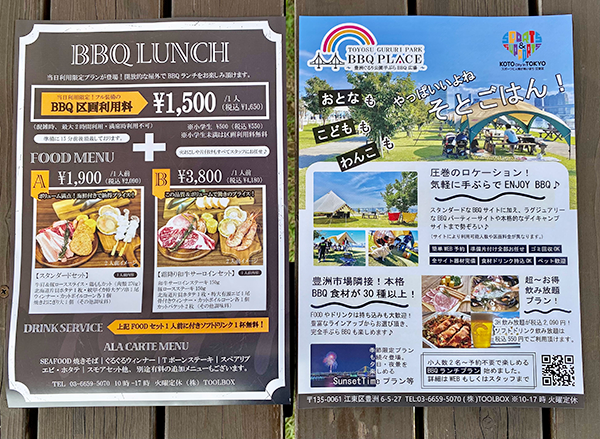 Fancy a barbecue lunch but there's only a few people? Well, you can enjoy a lunch special with a maximum of just four friends together; 1,500 yen for the table rental and 2,090 yen for the A lunch or the wagyu sirloin steak B set for 4,180 yen.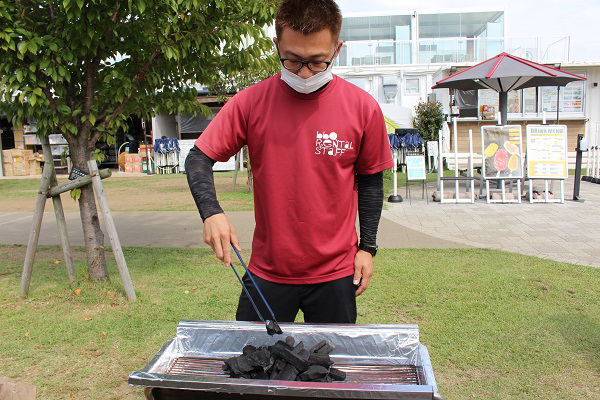 If it's a fine day and you suddenly feel the urge to enjoy a barbecue by the water, customers can head down to Toyosu Gururi Park BBQ Place entirely empty-handed and the staff will start the fire, fetch the food and drink and even clear everything up afterwards. That's a great service!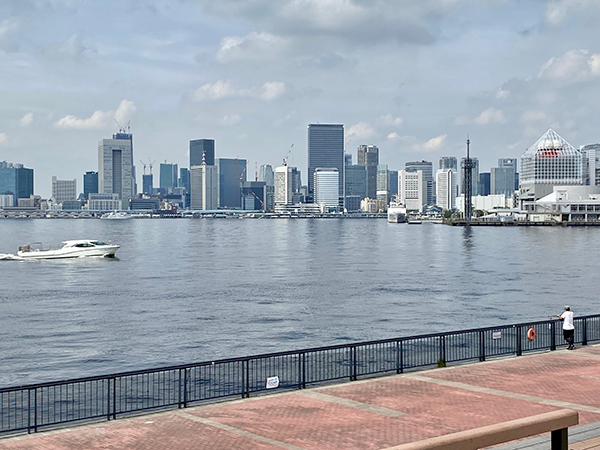 The park is dotted with a selection of flowering cherry trees of different types that bloom at slightly different times in spring, while the views of Odaiba, Rainbow Bridge, the waterfront and even Skytree are amazing. It's even better at night!
by Stephen Spencer