Top Yakitori and Mexican Treats!
Published: June 24, 2021
Sumibiyakitori Daimon is a yakitori restaurant serving the perennially popular charcoal-grilled skewers of chicken and a whole lot more, as we discovered to our great pleasure on a recent sunny afternoon visit. Manager and chef Mr. Akihiro Okada and his youthful assistant Mr. Suzuki were our very welcoming hosts.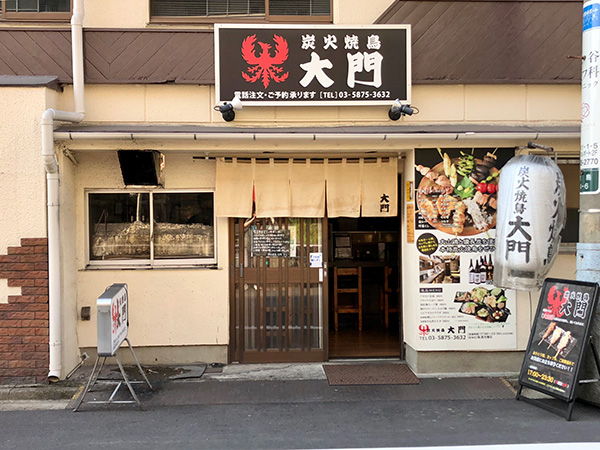 Located just four minutes' walk from Nishi-ojima station, Sumibiyakitori Daimon opened for business in 2012 and has become a firmly-established local favourite since then. "Many of our customers are families whose kids have grown from toddlers to junior high school students," said Tokyo born and raised Mr. Okado. "Kids ask their parents to take them to Daimon!"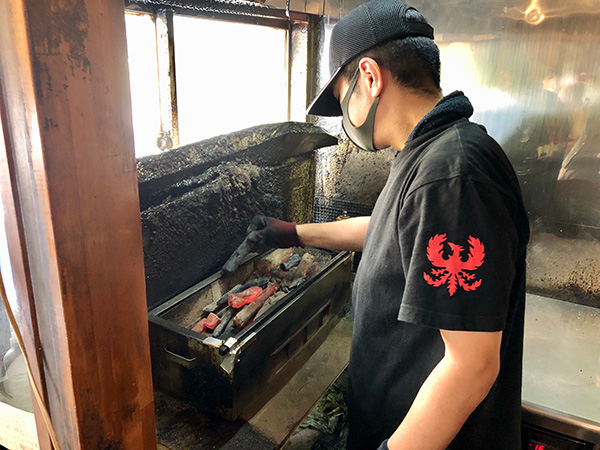 After heating the charcoal briquettes on the gas range, Mr. Okado loads them into the grill pan and begins to cook. As the smell of barbecuing chicken spread through the shop, my mouth began to water uncontrollably. And even though it was way before the 5pm opening time, customers appeared to order take outs, drawn by the irresistible siren call of yakitori savouriness wafting down the street.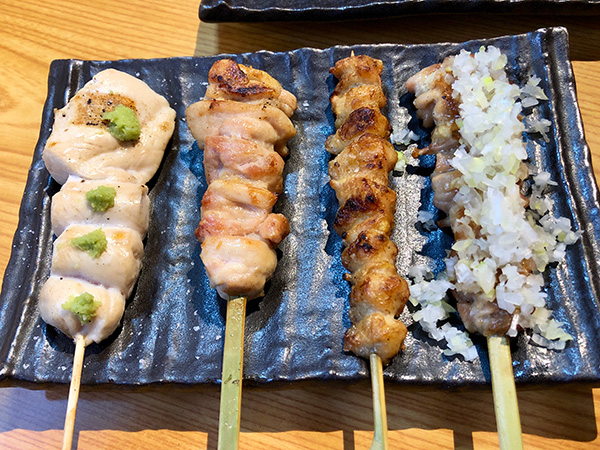 "We use only Daisen chicken from Tottori Prefecture," explained Mr. Okado as he deftly served up a plateful of four of the most popular items on the menu. From left are chicken breast with wasabi (sasami 230 yen), thigh meat with all skin and fat removed (momo shoniku 230 yen), parson's nose (bonjiri 190 yen), and neck meat with minced negi onions and miso (seseri negi miso 230 yen). Expertly prepared and cooked to perfection, each skewer retained the natural flavour of the high quality ingredients.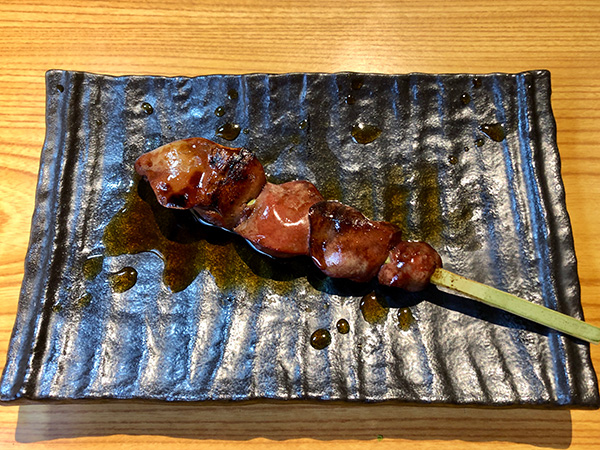 We were quite surprised to hear that liver was the most popular skewer. One taste and we knew why – cooked medium rare, it was so soft and creamy it literally melted in the mouth. Unbeatable value at 190 yen, even for those who don't particularly like liver.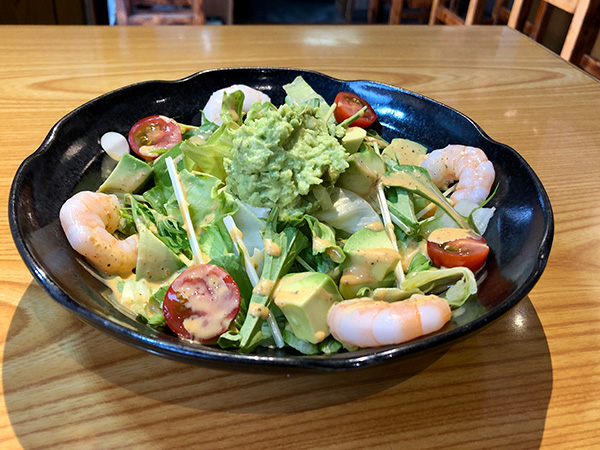 Mr. Okado then surprised us again by explaining how he spent a year in San Diego as a young man and was introduced to Mexican cuisine by Mexican-American friends there. Upon returning to Japan, he started working at a Mexican restaurant and then moved on to a yakitori place, before combining the two at Sumibiyakitori Daimon, his own establishment. This avocado salad, featuring plump shrimp, chunks of avocado, cherry tomatoes, and a topping of spicy guacamole was a delicious accompaniment to the yakitori (600 yen, 450 yen for a half size). Very impressive, and perfect with an ice cold beer…..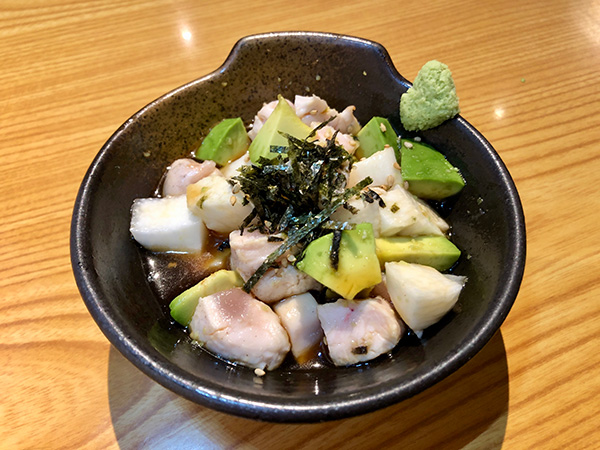 Here's another original that really opened our eyes: charcoal-grilled soft chicken breast with avocado and yam in a slightly sweet soy based sauce. Served with wasabi, shredded seaweed paper, and sesame, it's a terrific combination of textures and flavours. Just 450 yen, and a great favourite of female customers.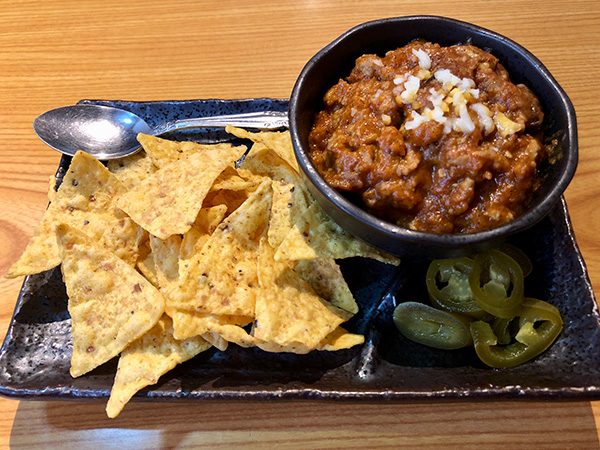 In the blink of an eye Mr. Okado produced yet another winner; a chili con can (not carne!) made with minced chicken instead of beef (680 yen). Sliced jalapeno peppers are available for those who like it really hot.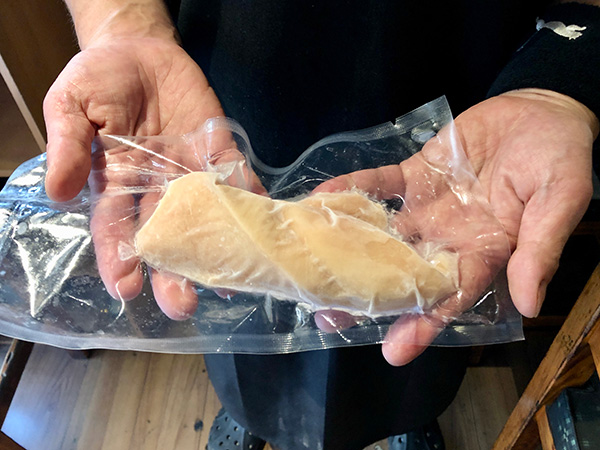 Mr. Okado has responded to the salad chicken boom with his own version. "It's a boiled chicken breast, vacuum packed and frozen. Customers can defrost them and use them at home, however they like." A nice idea at 380 yen apiece.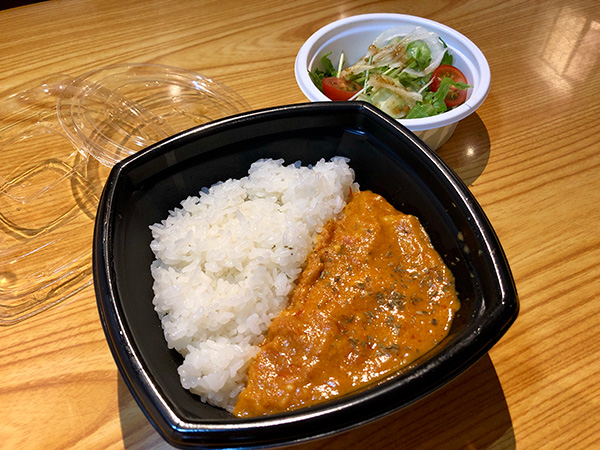 Sumibiyakitori Daimon offers a hearty take out menu too. Wise folk know that you don't have to visit a curry house to enjoy a good Ruby Murray; we've sampled superbly spiced dishes in horumon restaurants and noodle shops before, for example. This butter chicken was fantastic too, top quality chicken in a piquant, creamy sauce (800 yen with a small salad).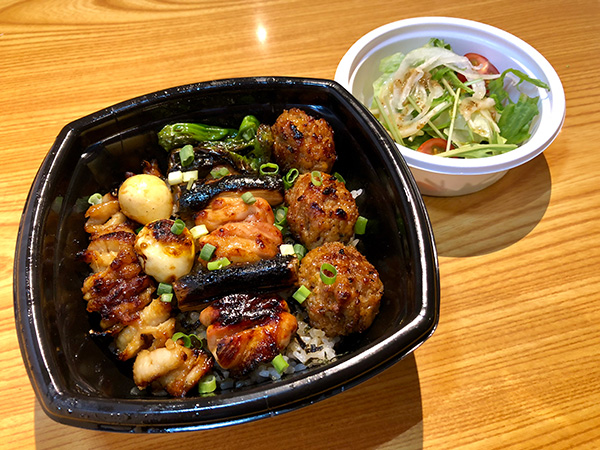 King of the takeouts has to be the yakitori bento, as evidenced by the number of customers dropping in to order one or more! Chicken and negi onion (negima), minced chicken balls (tsukune), crispy skin (kawa), quail's eggs (uzura tamago), and shishito peppers all grilled to savoury magnificence and served on rice. The juices from the grilled skewers sink into the rice, giving it an extra umami boost! Wonderful value at 980 yen with a small salad too.
Sumibiyakitori Daimon has a counter and a couple of tables. While the decor may be unassuming, classic reggae floats from the speakers creating a very relaxed and comfortable atmosphere. It's no surprise to hear there are many ladies among the regular customers. "Yes, we have many solo eaters, both male and female, who drop in for a drink and a few skewers on the way home," said Mr. Okado. "Our regulars are very friendly and everyone is always welcome, from kids to seniors."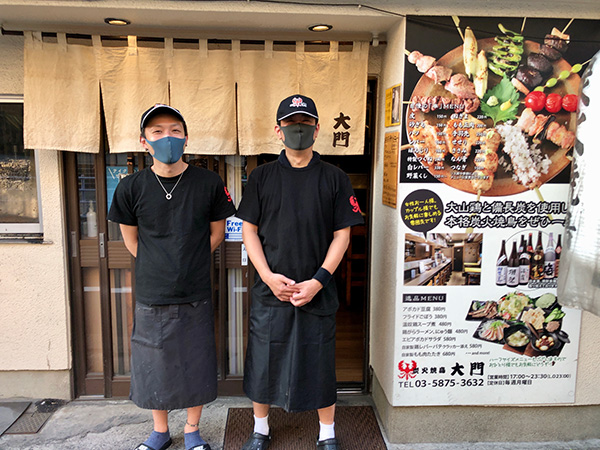 Sumibiyakitori Daimon is exactly what you'd want from a local yakitori restaurant: expertly prepared, top quality yakitori, and a surprisingly wide menu that includes butter chicken curry, chicken broth-based pho (580 yen), chili con rice (800 yen) and more. The draft beer is Premium Malts, with an extensive selection of shochu and sake on the drinks menu, too. Mr. Okada and Mr. Suzuki, on the left here, are gracious hosts and very laid-back characters. If you're a resident or a visitor, you can't miss Sumibiyakitori Daimon!
Story and Photos by Stephen Spencer