Traditional Meat Shop
Published: December 7, 2022
Niku no Wakita is a traditional Japanese meat shop that has been serving local residents in the Ojima area for over 50 years now. On a recent afternoon, we dropped in to chew the fat with second-generation butcher Mr. Wakita.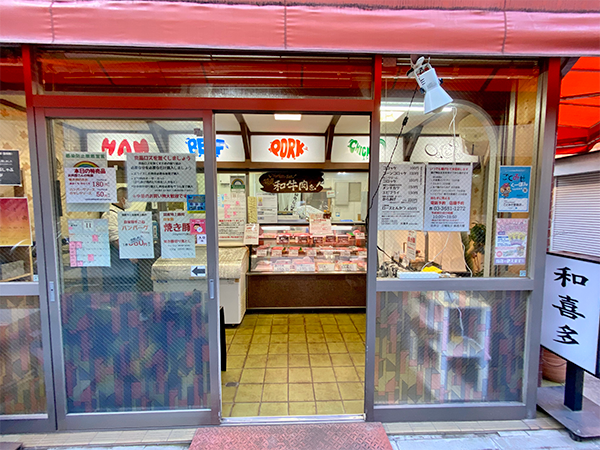 Located on Ebisu street in the Ojima nana-chome area, Niku no Wakita is the very epitome of the traditional meat shop, right down to the original Showa Era interior decor, which gives it a comfortable, homely feeling.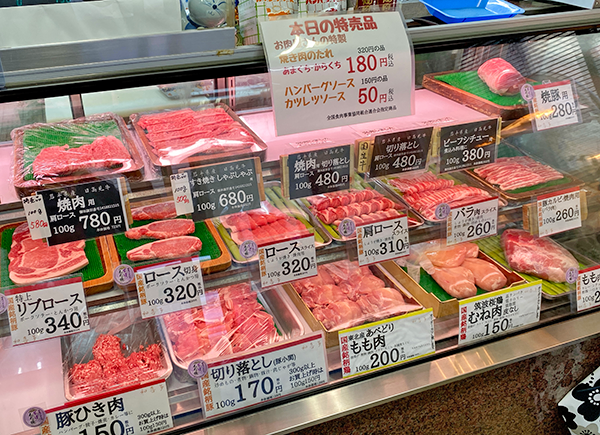 The shop offers Japanese beef, pork, and chicken, all selected by Mr. Wakita himself, who has understandable confidence in the quality of his meat.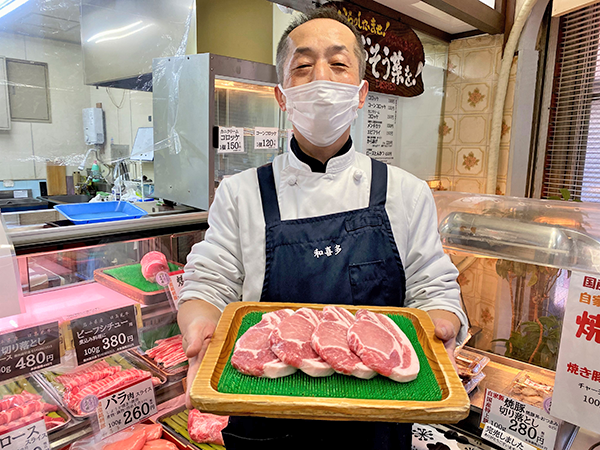 When asked to select his top recommendation, he produced these premium (tokujo) thick pork loin slices. The brand of pork may change depending on seasonal availability but on this occasion it was Shiho Mochi pork from Ibaraki Prefecture.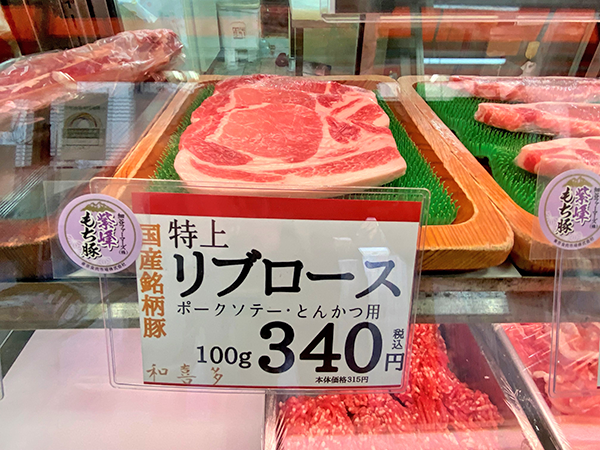 "It's soft and juicy, good for frying," explained Mr. Wakita. The slices are 340 yen for 100g, including tax. Mr Wakita estimated one slice would cost around 550 yen including tax, which is very reasonable given the quality. He can cut the slices to order, thicker or thinner, as preferred.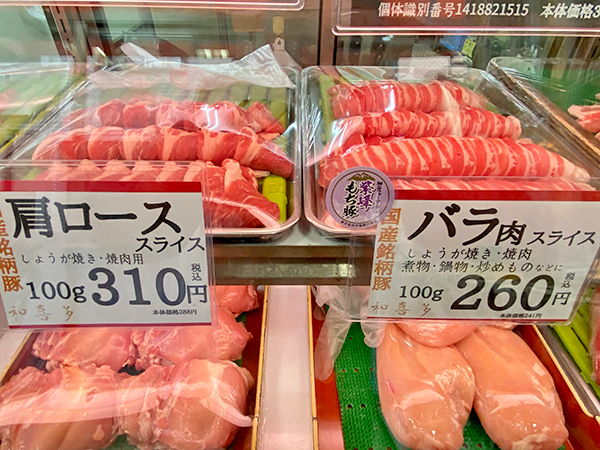 While the pork loin slices are superior for frying or cutlets, the boneless pork rib is tops for barbecuing (yakiniku style), stir fries, hot pots and the ever popular pork and ginger. At 260 yen per 100g it's also very reasonable. The pork shoulder on the left is also recommended for pork and ginger, at 310 yen for 100g.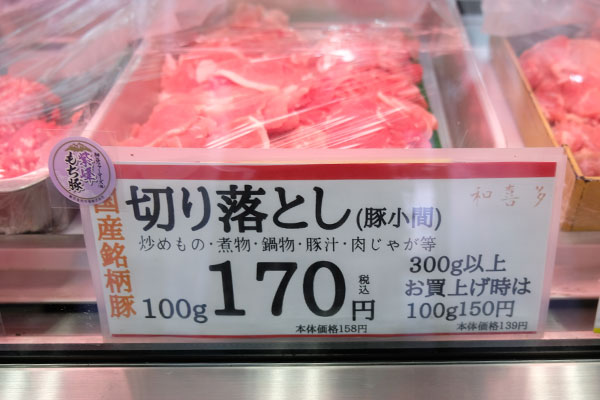 Kotomise coupon holders can enjoy a nice discount as these end pieces (kiri otoshi) are reduced from 170 yen per 100g to 140 yen per 100g.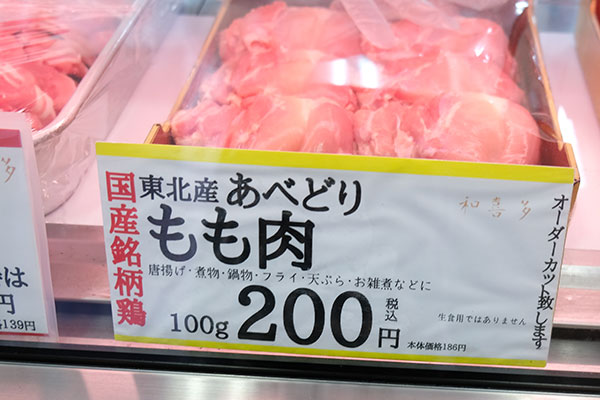 Moving on to chicken, Mr Wakita stocks the recently popular Abedori brand from Japan's north-east, 200 yen for 100g. As with all the meat at Wakita, it's immaculately cut for ease of cooking.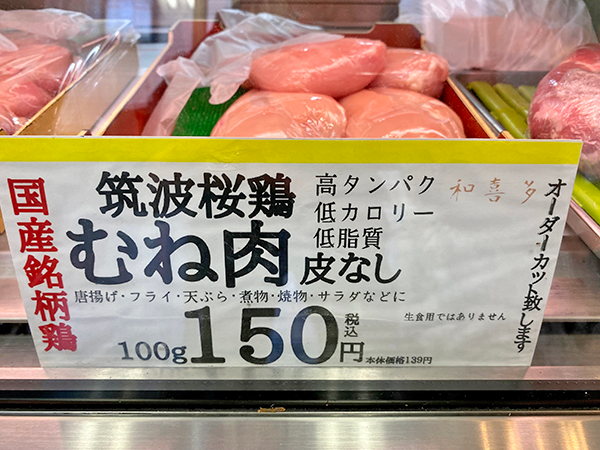 Another brand of chicken, this time the Tsukuba Sakura brand from Ibaraki Prefecture. Mr. Wakita trims the skin, fat and tendons off the breast meat before it goes into the showcase. "Many customers are senior folk who don't need large amounts; it saves food loss at both sides and makes the meat more convenient to use. I'll cut it to order too so customers can buy only what they need," he explained.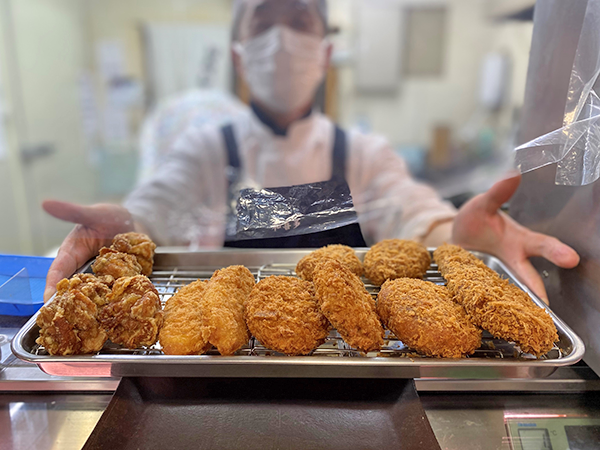 Mr. Wakita also offers a range of deep-fried items such as karaage chicken, croquettes, minced meat cutlets (menchi katsu), pork loin cutlets, pork fillet cutlets, and fried shrimp.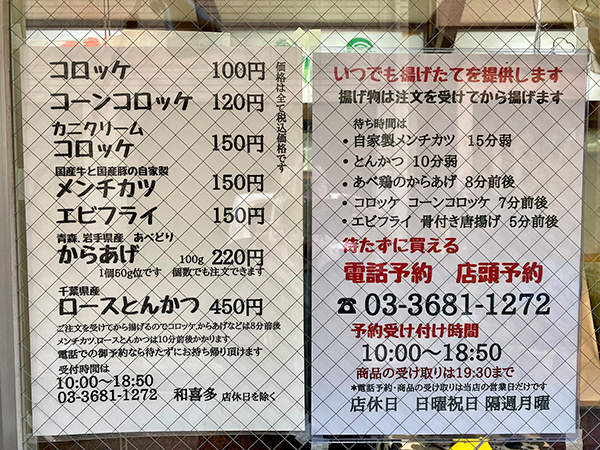 They're cooked to order so to save time customers can call ahead. The prices are on the left and the waiting times are on the right.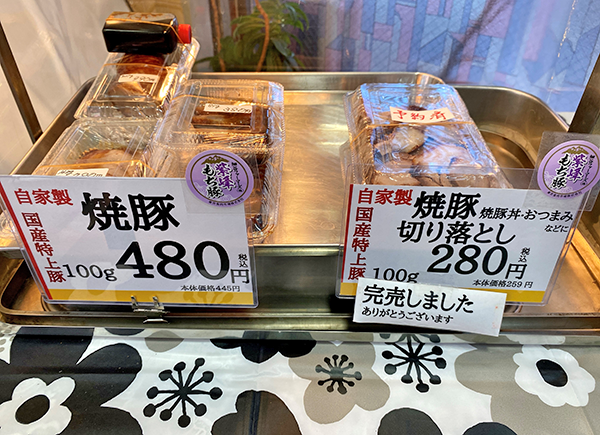 And there's more. Mr. Wakita also roasts pork loin rolls (480 yen for 100g) and pork end cuts (280 yen for 100g). Both are popular and quickly sell out, so get there early.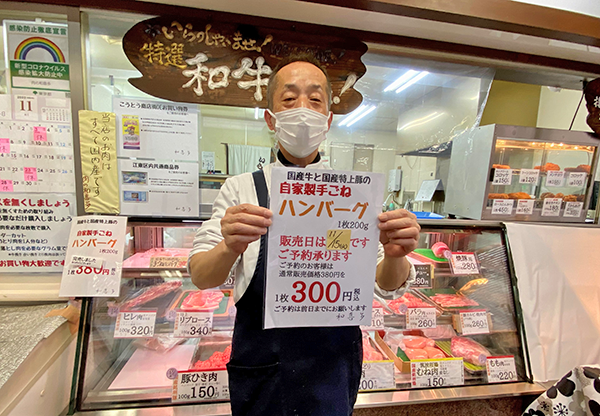 Mr. Wakita also makes his own hamburgers (300 yen each, including tax). One can easily imagine that they're really meatilicious. If you're in the general Ojima area and fancy some tasty meat, brand chicken or traditional shop-made deep-fried delights, just head for Niku no Wakita.
by Stephen Spencer