Training Gym for Wheelchair Users
Published: March 24, 2022
The recent Tokyo Paralympics once again highlighted the remarkable ability of para-athletes in a variety of sports: basketball, rugby, fencing, tennis, and athletics. If you've ever wondered where wheelchair athletes train in the nation's capital, the answer is at i-Self Workout, a gymnasium near Kiba Park in Koto-ku. On a recent spring afternoon, I dropped in for a chat with CEO Mr. Takanori Isa and trainer Ms. Nishiyama.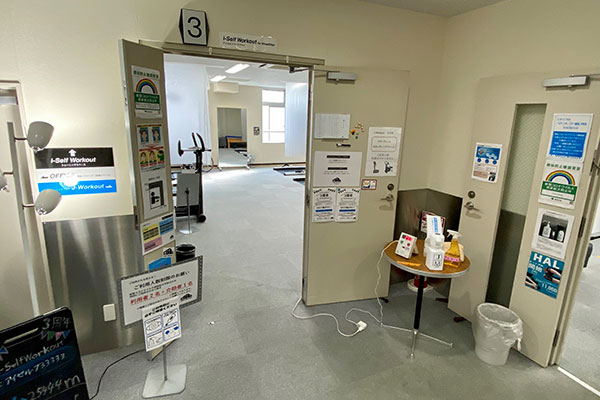 As Mr. Isa explained, "i-Self Workout is part of J.Workout, the only training gym in Japan for people with spinal cord injuries. J.Workout is a partner company of Project Walk, the world leader in spinal cord injury recovery. We opened i-Self Workout here in 2019 as a gym for wheelchair users to train safely by themselves using specially designed machines."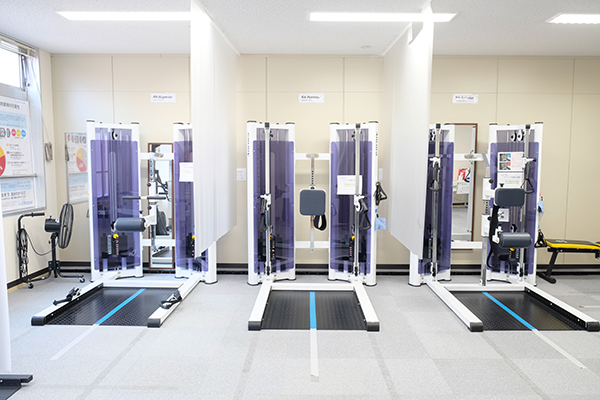 The airy, high-ceilinged room contains a variety of widely spaced machines designed specifically for wheelchair users. "Wheelchair users are paralysed and have other problems related to this, but need to exercise for health, to lose weight and improve circulation. The machines here allow wheelchair users to do just that," he said.
Physiotherapist Ms. Nishiyama demonstrated this air walker, which cleverly combines a standing frame into its design. The machine can be utilised by anyone who has difficulty standing, and is frequently used by senior customers.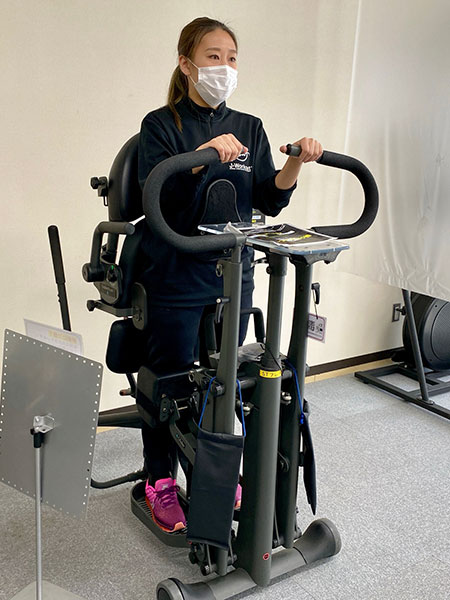 The user first sits on the seat, with knees against the protector pads, then pumps the handle to raise the entire seat to an upright position. The user can then exercise as usual, while securely held in place. It makes for a great aerobic workout and strengthens the joints too.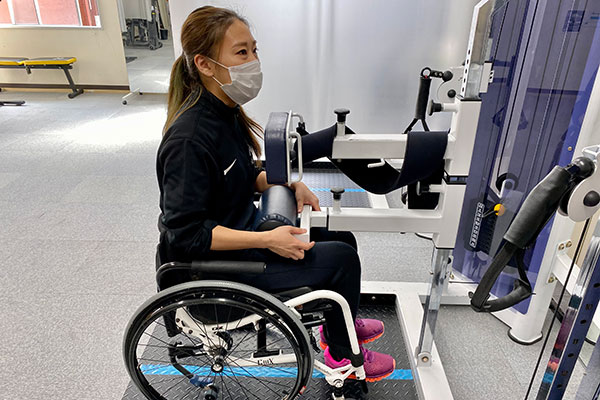 Mr. Isa explained how wheelchair users' greatest fear when working out is tipping over. New training machines designed for wheelchair users now feature safety devices to keep users firmly in place, as Ms. Nishiyama showed. The padded tube fits snugly over the lap, a chest pad protects the upper body and the whole body is firmly held by a thick belt.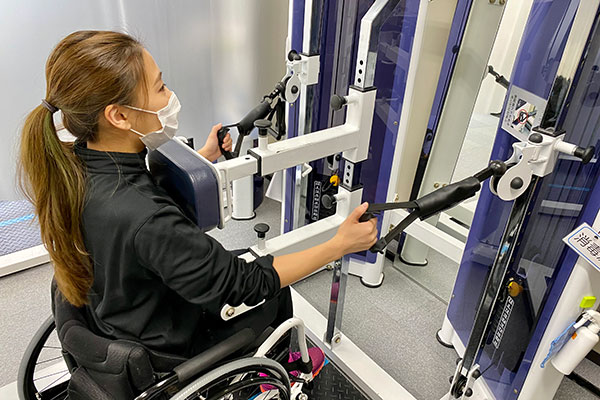 The machines are entirely adjustable in every respect. This RX anterior machine for training back muscles can be adjusted for different weights on the left and right arms.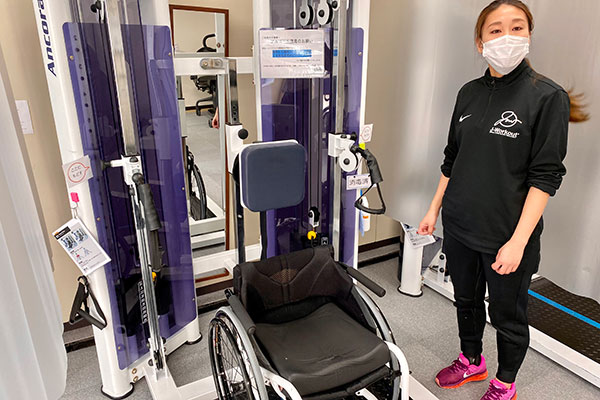 The RX posterior chest press works in the opposite way, with the user backing into the machine.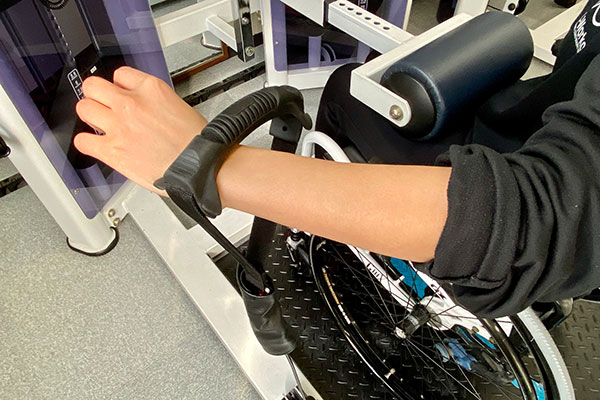 The third machine in the series, the RX Superior shoulder press, works in a similar way. Users can loop their hands through the handles to exercise the shoulder muscles.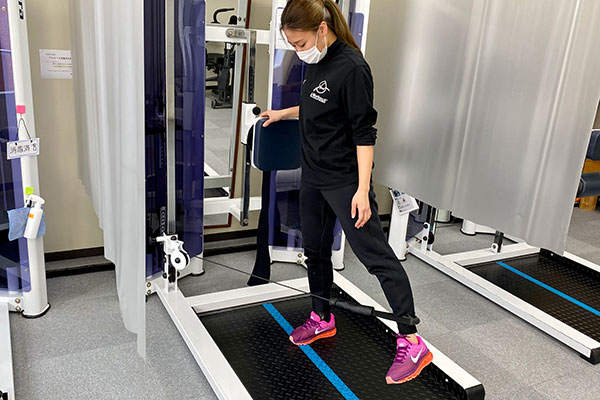 The flexible RX machines can be used in a variety of ways by both wheelchair and non-wheelchair users.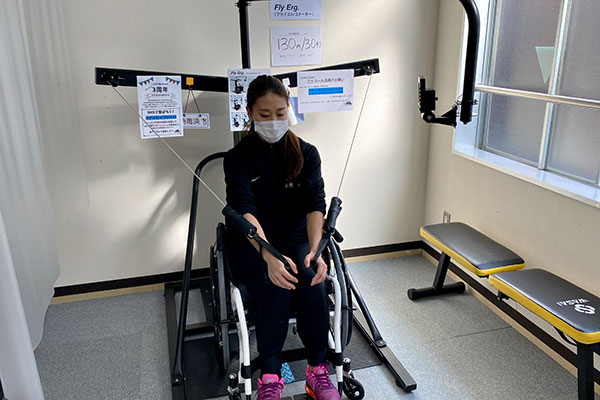 Two ergometer machines allow users to set targets and view their results in real time on a monitor fixed to the frame on the right. Events are held each month for speed and distance on the fly ergometer machine.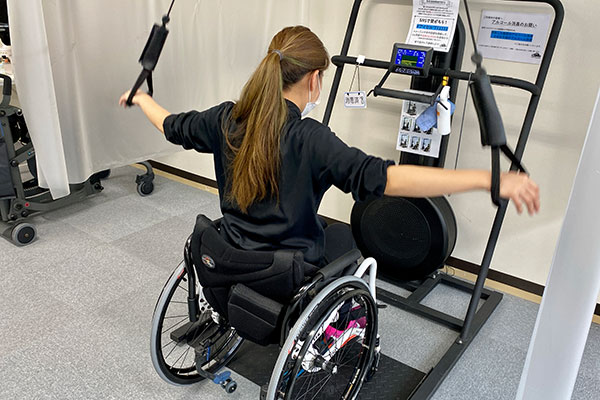 Like the fly erg, the shoulder erg machine can be used for aerobic exercise and to train a variety of muscles in the upper body. These machines are so versatile, the recent evolution of training equipment is extremely impressive.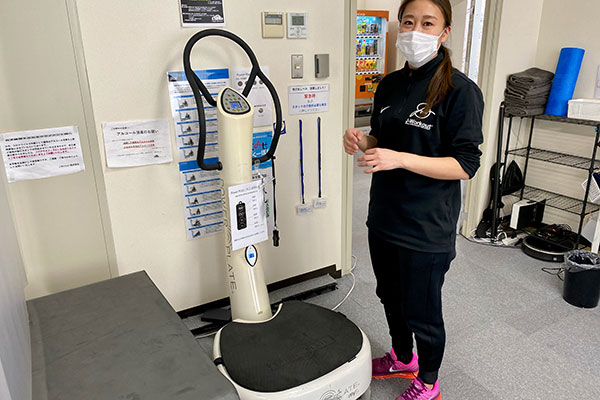 The power plate may look innocuous but it certainly packs a punch. "The technology was studied by NASA as a way to prevent muscle atrophy and maintain bone density while spending time in space stations and after their return to earth," explained Mr. Isa. The plate vibrates at great frequency and amplitude, which can be adjusted, exercising muscles, improving blood circulation, increasing flexibility and balance.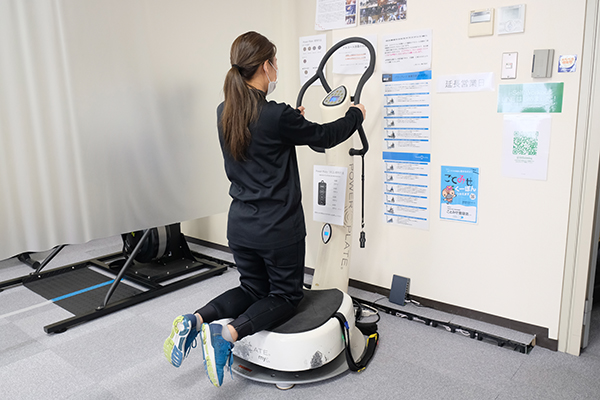 Anyone can gain benefit from using a power plate. It's a boon to wheelchair users, senior citizens, those who dislike intense exercise, dieters, and many more. I found that by bending my knees slightly I could focus the vibration on my stiff calf muscles, a very comfortable feeling indeed.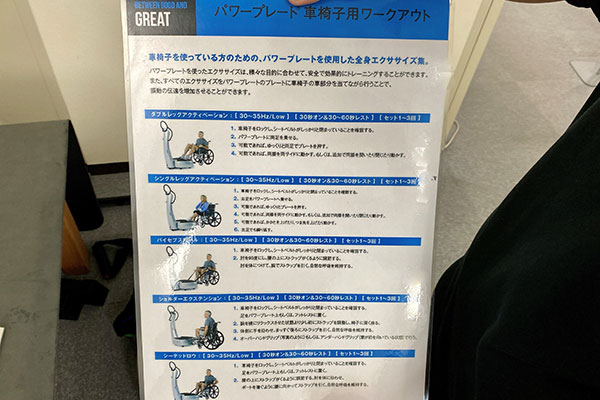 Simply by resting their feet on the plate, wheelchair users can exercise muscles in their legs and lower bodies.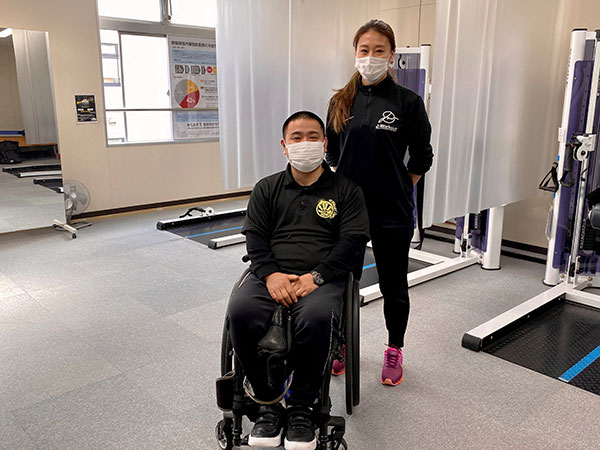 As Mr. Isa explained, i-Self Workout has some 23 trainers, of whom two-thirds can speak English after training abroad, mainly in the US. The others communicate "through their hearts" as he put it. Prices are very reasonable: 11,000 yen a month for all-time members, 7,480 yen for weekday members, 8,580 yen for weekend and public holiday only members, or 2,200 yen for each visit. The registration fee is 5,500 yen, though Mr. Isa said this will be waived for those who heard about i-Self from Kotomise. Nice!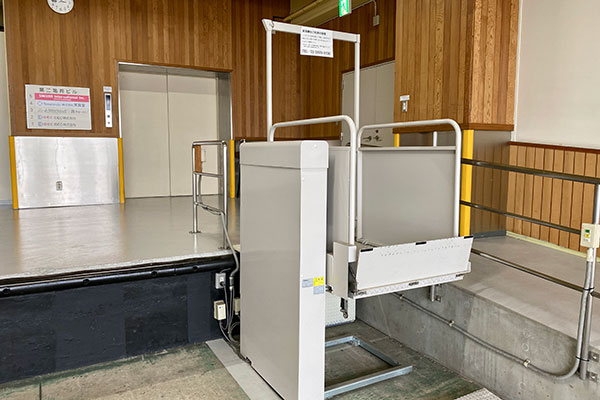 i-Self Workout is located on the 3rd floor of the number 2 Kamei building near Kiba station. It can be accessed via the ground floor car park, where there's a ramp or lift for wheelchair users. The elevator takes visitors straight up to the entrance. All are welcome at i-Self Workout, whether wheelchair users or not. It's a tremendous place doing great work; if you're in the area why not drop in and check it out!
Story and some photos by Stephen Spencer