Tsotang! Amazing African Items and More!
Published: May 24, 2022
Japan is home to many shops selling a variety of miscellaneous goods designed to improve the aesthetic quality of daily life: clothing, ceramics, interior decorations, kitchen utensils, toys, accessories, and many more. Known as zakka in Japanese, the shops are as individual as the goods they offer. Tsotang is one of the most individual of all, offering a wildly eclectic selection of African goods, clothing, accessories, household items and a whole lot more. On a recent afternoon, we dropped in for a chat with owner Ms. Seiko Mihara and her charming mum.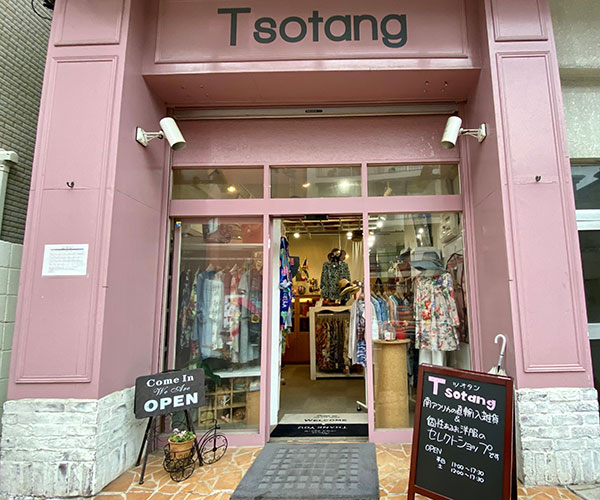 Located on a quiet street a few minutes' walk south of exit 2 of Monzen-nakacho station, the pink-fronted Tsotang appears to have been transported from a Harajuku backstreet. You really can't miss it!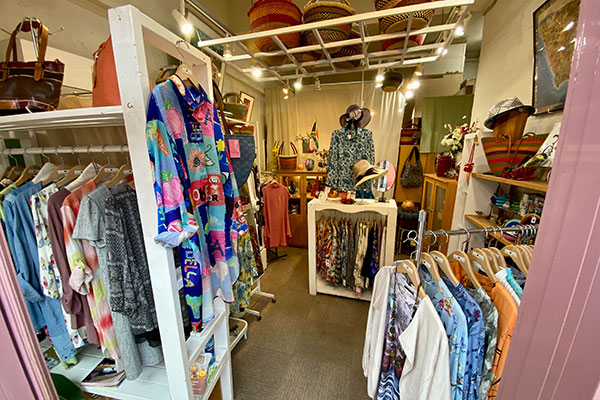 Inside it's a riot of colour and design. "I previously worked for a company that had connections to South Africa and was able to travel to the country with the president, who spoke no English. We attended events, markets, and sales promotions, met creators and designers and began an import business. After the president retired I founded my own company and opened the shop here in 2016."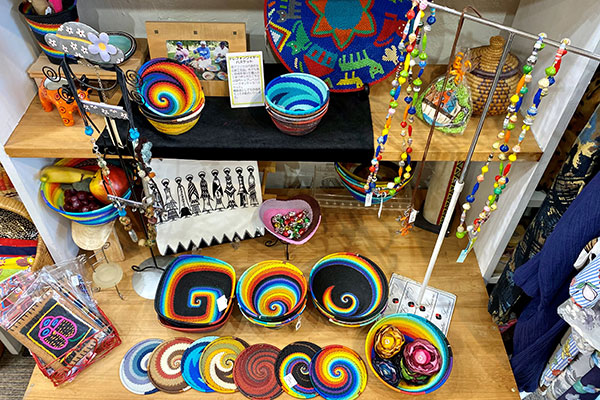 "I like brightly coloured clothing and interior goods that are cheerful and uplifting," explained Ms. Mihara. Tsotang is a Sotho language word meaning "amazing" and was actually suggested by a previous South African ambassador to Japan. The brilliant colours of these handmade wire baskets and coasters would brighten any room!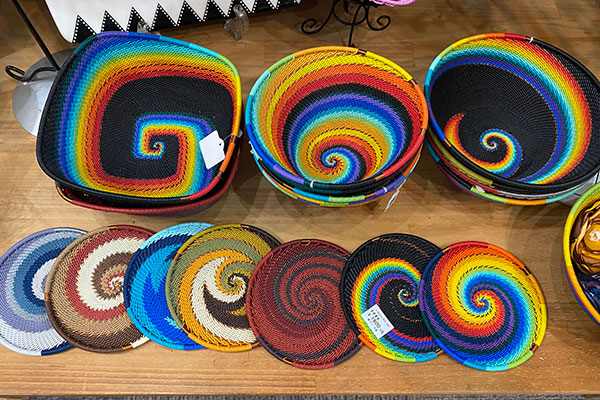 The baskets (4,180 yen including tax) and coasters (1,600 yen excluding tax) are handmade from telephone wire, a traditional art in South Africa.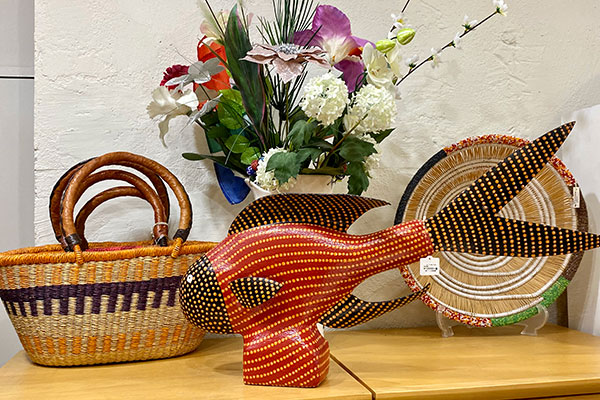 Papier mache items such as this splendid fish are another popular handcrafted item.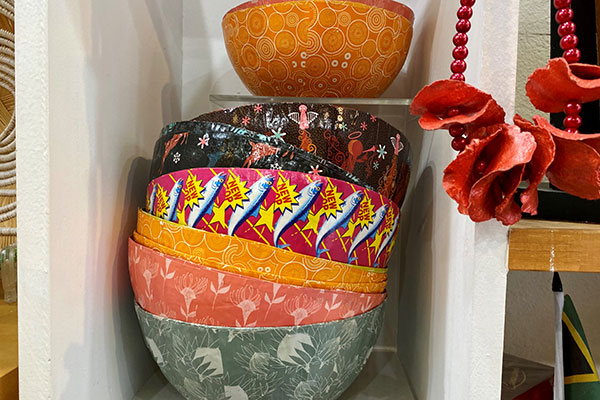 As are these attractive bowls and the necklace too.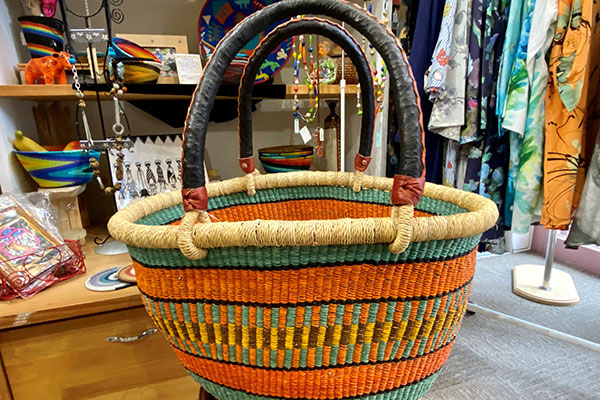 While most of the African items at Tsotang are products of South Africa, these hand woven bags hail from Ghana. Sturdy and voluminous, they're sure to garner attention when used for shopping or a picnic in the park. The unique bags are 37,500 yen each, including tax.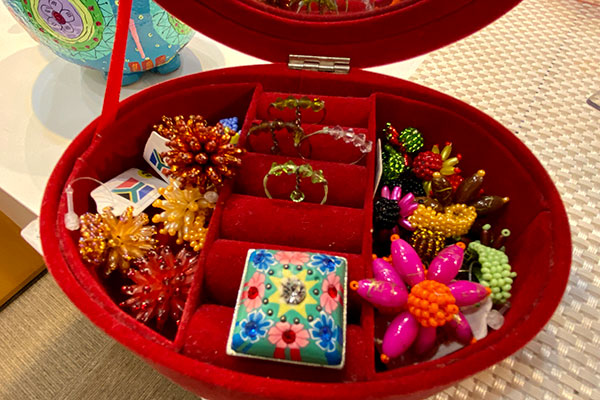 "We have a very wide range of customers," said Ms. Mihara, "From young women who browse the accessories to senior ladies who appreciate the colourful nature of our clothing selection."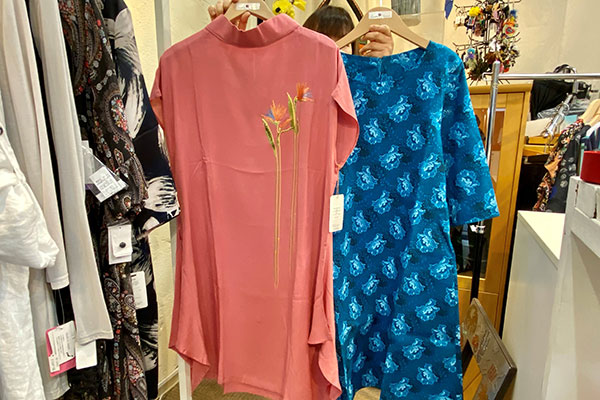 The clothing selection includes dresses made with traditional South African motifs such as the flame lily or from materials like the poppy turquoise shwe shwe on the right here. Ms. Mihara also showed us some other stunning shwe shwe cloth she intends to turn into clothing in the future.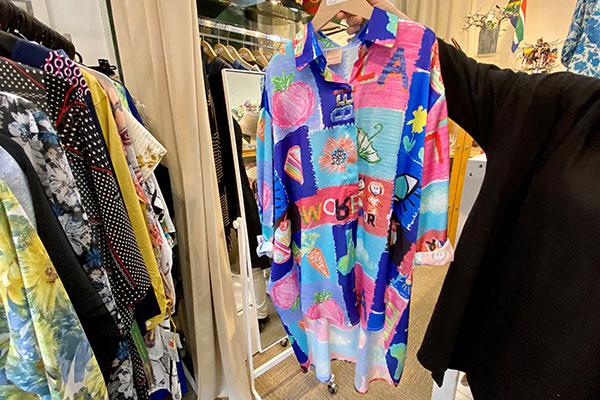 Colourful is the keyword as Ms. Mihara shows off a blouse from an Italian ladies wear brand.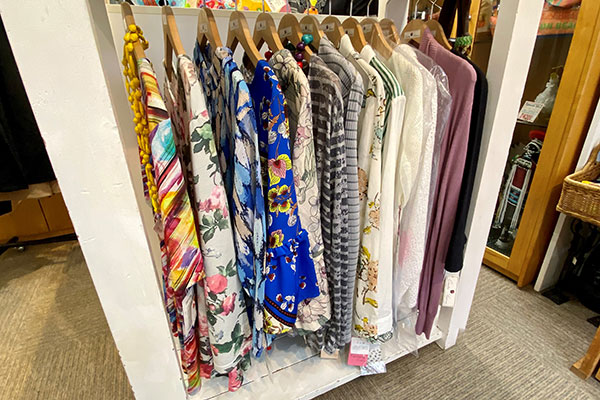 Most of the women's clothing at Tsotang is actually European, mainly French and Italian, carefully selected to appeal to youthful-feeling local ladies. "Even the winter clothes I select tend to be vibrant," explained Ms. Mihara,"especially the Italian and Japanese winter coats. There's always something new in stock in natural fabrics such as Indian cotton, whether from Europe, Japan, India or many other countries."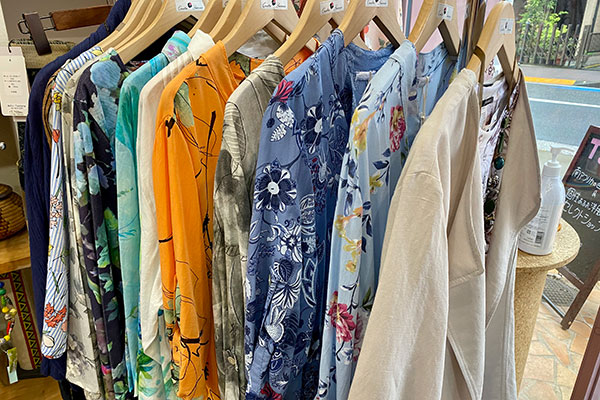 Cheerful flower prints seem to be the popular motif for summer 2022!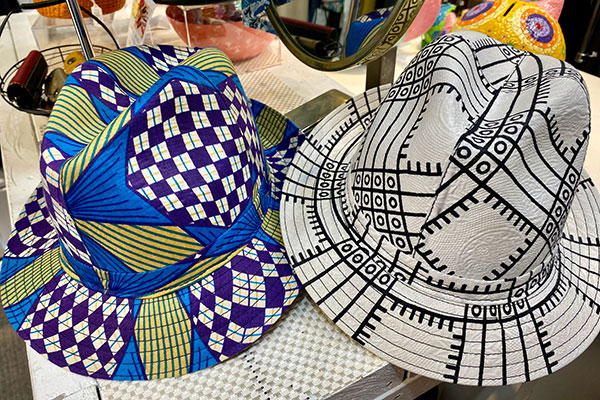 These rather dapper hats were made in South Africa but from West African material.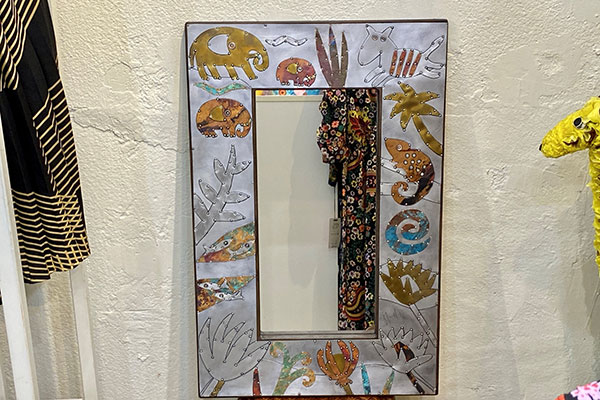 Tucked away amongst the billowing clothes and eye-catching accessories was this stunning beaten metal and riveted mirror, which would brighten up any room. A perfect gift!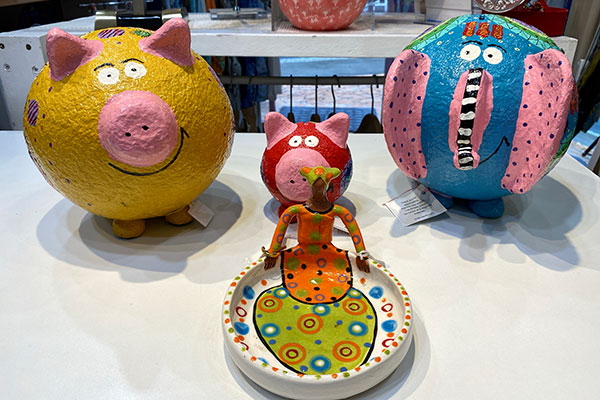 The papier mache pig, cow, and elephant piggy banks were so appealing.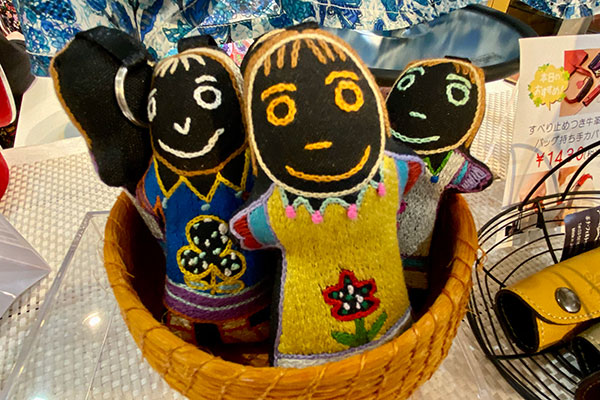 In fact, the whole shop is an absolute treasure trove of delightful, gaily coloured items that would make perfect gifts for anyone, from grandchildren to grandmothers. For those living outside Tokyo, Tsotang pop-up shops appear regularly in department stores in areas such as Funabashi, Chiba or Otawara in Tochigi Prefecture. Please check the Instagram link on the Tsotang website for more information and the online shop. Ms. Mihara is also a fluent English speaker and extremely knowledgeable about African arts, crafts, fabrics and fashion. If you have any questions, just give her a call!
Story and photos by Stephen Spencer