Koto-ku is blessed with a bewildering array of fascinating places but perhaps none are as charming as Tatsumi Shindo. Tatsumi Shindo is a time capsule, a voyage back to the early post-war years; located just a stone's throw from Monzen-nakacho Station it's a dog-leg street crammed full of 32 eating and drinking establishments, many of which seem to have changed little since the 1950s. Our guides to this captivating corner were the proprietors of Wafu Snack Kasumi, Mr. Makoto Aiso and his charming wife Hideko.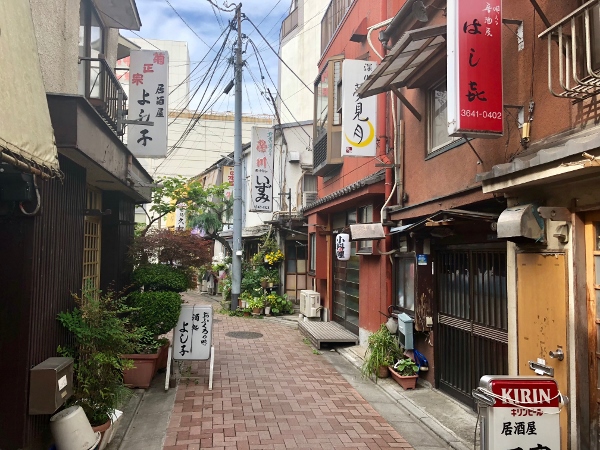 Mr. Aiso, grandson of a professional Tsugaru-shamisen player from Aomori Prefecture in the far north of Honshu island, was born and grew up in Fukagawa where his father, also a shamisen player, had a restaurant. For several years in the 1970s, he lived and worked in Milan, at one of only two Japanese restaurants in the city at that time. After returning to Japan, he worked in his father's place, played the shamisen and sang, and carried a portable shrine in the famous Fukagawa Hachiman Summer Festival.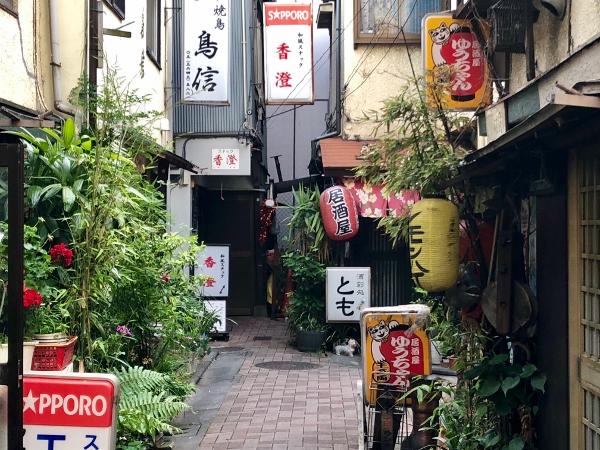 Kasumi is tucked away in a side spur about halfway up (or down) the street. At the end of  the war, this area was empty land as the previous buildings had been destroyed by the bombing. "A black market sprang up here immediately post war, with people selling anything they could from street stalls. Of course, it was unlicensed and illegal so GHQ (the post-war authority headed by General Douglas MacArthur) wanted to close it down," Mr. Aiso explained. "The street stalls became small bars and restaurants called "snacks" and were licensed, then organized into two associations. The two associations still exist and have meetings once a month. Some of the land the businesses stand on is owned by the associations and some is in private hands."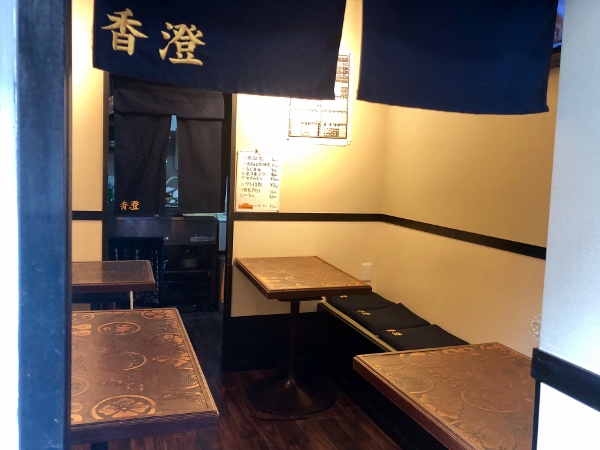 Kasumi seats eight and is very cosy, with a small kitchen off the main room. With the door open on a warm early summer afternoon, it was very comfortable indeed. The Kasumi system is very simple: two and a half hours of all you can sing and drink costs 3,000 yen. Beer, wine, and sake are paid for separately. Red wine is available but not white. The sake varies depending on the season and Mr. Aiso's personal taste.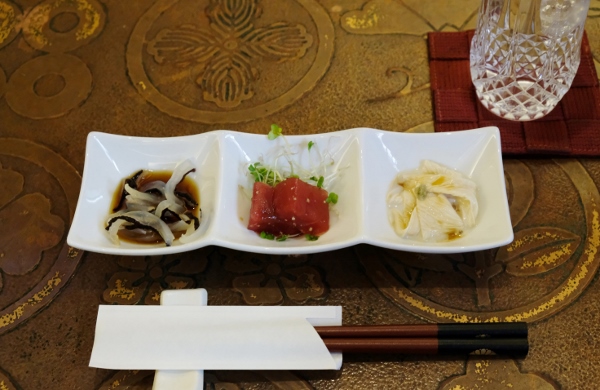 Mr. Aiso cooks and prepares all the food. He disappears into the kitchen and in a flash produces this extremely tasty treat. From left to right is raw jellyfish in a fruity homemade ponzu sauce; Mr. Aiso sings the praises of the raw jellyfish and rails against commercial ponzu ("It's full of chemicals"). The jellyfish is indeed top quality, with a marvellous crunchy texture that would go perfectly with some dry sake. In the middle are chunks of rich red tuna and on the right is yuba, tofu skins whipped off the top of boiling soymilk; small, bite-sized pieces that both look and taste great. Usually one dish of the three is something hot.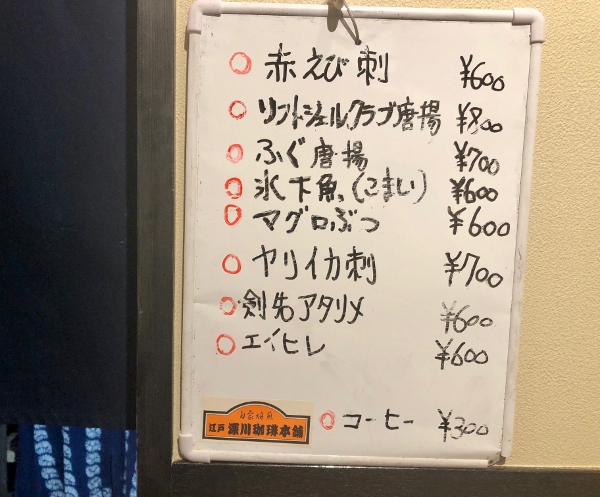 Having spent his working life in the restaurant business, Mr. Aiso knows his onions, so to speak, and the brief menu is packed with tasty and unusual items. There's red shrimp sashimi, deep-fried soft shell crabs, deep-fried blowfish (fugu), saffron cod (komai), tuna, cuttlefish, squid, and grilled stingray or skate fin (eihire), all at reasonable prices. Mr. Aiso heads over to the new fish market in Toyosu two or three times a week to stock up and is also a keen fisherman. Since much of Japanese food is seasonal, the menu changes in accordance with the time of year.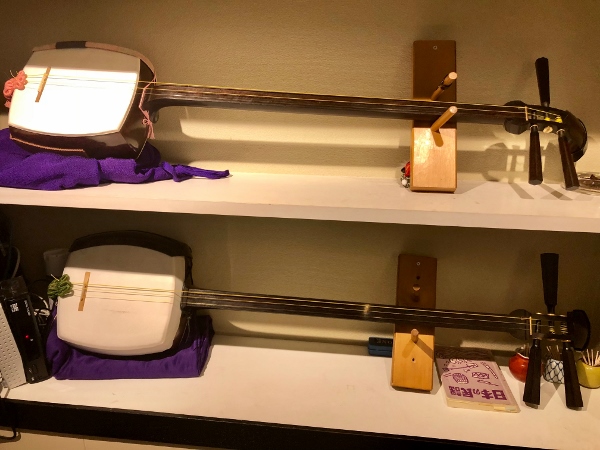 The shamisens played by Hideko and her husband may look similar but there are subtle differences. The upper one is a "hirazamisen" used by geisha and has a membrane (the white area) made from cat skin. The lower one belonged to Mr. Aiso's grandfather, who studied the tsugaru-jamisen with a famous blind musician around a hundred years ago. This tsugaru-jamisen is made from Indian red sandalwood (kouki in Japanese) and has a membrane made from tanned dog skin. The strings are made from silk and nylon. I was surprised at how heavy the shamisen was, far heavier than a much larger acoustic guitar.
Mr. and Mrs Aiso treated us to a brief performance of two classics: Tosa no Sunayama and the most famous of all Tsugaru-shamisen songs, Tsugaru Jongara Bushi. The first deals with the decline of the prosperous Aomori port town of Tosa which thrived in the 14th century but was abandoned as the harbour silted up in the 16th century, while the latter is an evocation of sadness at the death of a loved one. The shamisen is loud and powerful, while Mr. Aiso's singing was melancholy and mournful.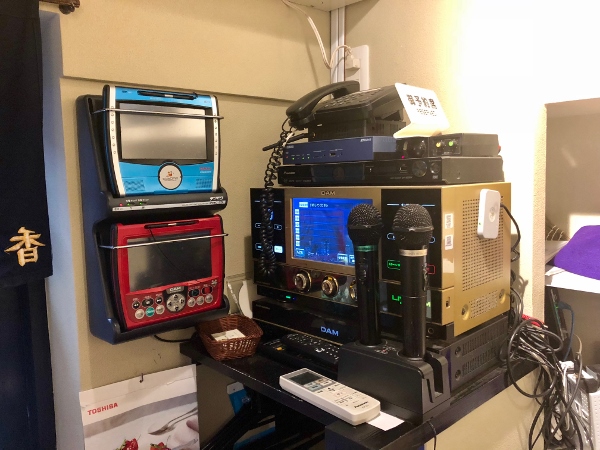 Karaoke is ever popular. "Our customers are all ages, from young ladies in their twenties up to seniors in their seventies. Patrons who want to chat come earlier in the evening, while the singers tend to arrive later on. Peak time is around 8pm. Parties can hire out the whole place for the evening or groups can extend their time to three and a half hours for an additional fee of 1,000 yen," added Mr. Aiso.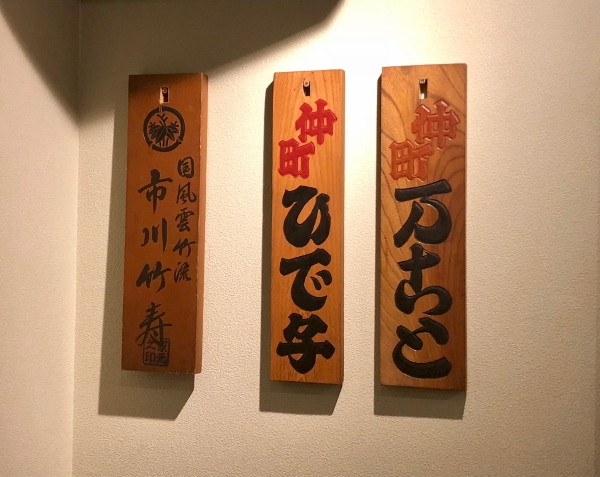 Kasumi also serves coffee and a range of soft drinks. The coffee comes from the legendary Edo Fukagawa Coffee Hompo roastery and cafe in Fuyuki, Koto-ku. It's very good value at 300 yen a cup.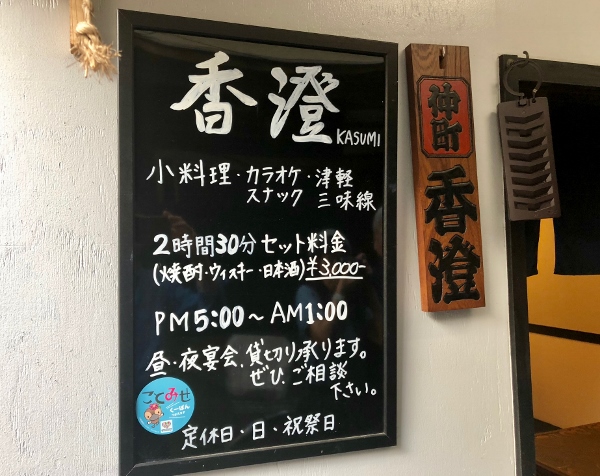 Kasumi is open from 5pm until 1am, although it may well be later than that. Mr. and Mrs. Aiso are not only exceptionally welcoming but talented musicians and singers. Mr. Aiso is also an extremely interesting character and a fount of knowledge about traditional music, Edo Period comical  poetry and local history. All are welcome!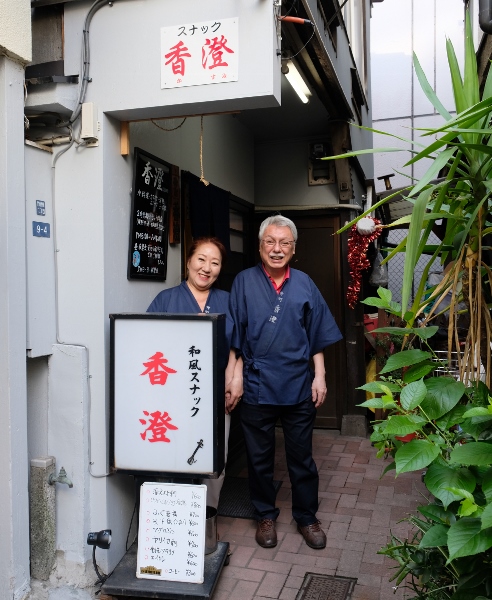 Story and Photos by Stephen Spencer