Okinawan Vibes at U-Maku
Published: February 6, 2019
Across from Shinonome Park, 10 minutes from Shinonome station, is a hard-to-miss vibrant turquoise sign for "All Okinawan Food". Stepping into this restaurant is entering into the magical world of the owner and chef: Mr. Une. A fusion of Okinawan and West Coast American décor, the ambience is casual, eclectic, and fun.
Born in Okinawa, Mr. Une moved to Tokyo about 15 years ago. He opened the restaurant as a way to share his love of Okinawan food and culture, but also to put his own spin on traditional dishes and ingredients. U-Maku, he explained, is an Okinawan phrase that means happiness and good luck. His creativity and passion were palpable as he discussed his process of selecting which items featured on the menu.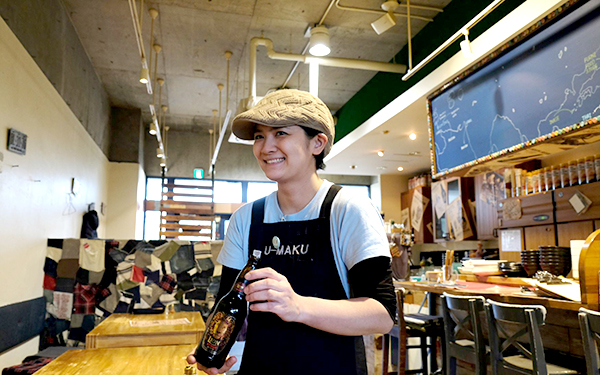 All the produce is imported from Okinawa, and Mr. Une changes the menu every day or so depending on availability and inspiration. Certain classics are staples, such as taco rice (Tex-Mex taco filling served on a bed of rice) and so-ki soba (an Okinawan speciality more similar to udon than soba), others dishes, however, come and go.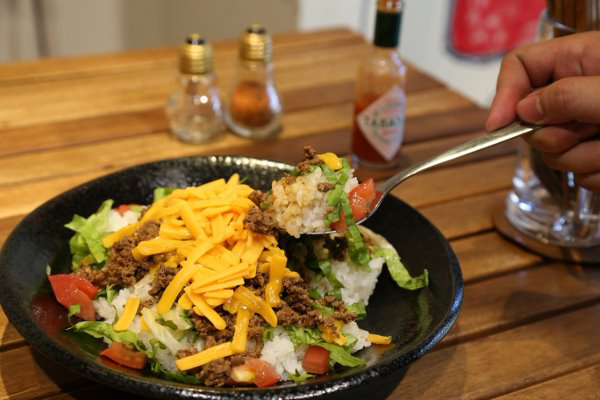 (A dish that was inspired by American Tex-Mex due to the heavy presence of American military)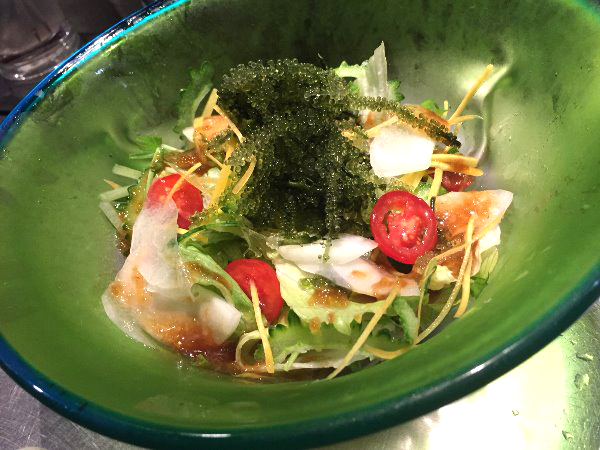 (A salad made using umibudo, a type of seaweed that features heavily in Okinawan cuisine)
In addition to the ever-changing menu, U-Maku also offers an impressive selection of craft beer, as well as the standard Okinawan choice: Orion. Above the bar is a huge blackboard with a hand-drawn map detailing where each brew is from. I asked Mr. Une how the beers are chosen and he answered it was based on recommendations combined with "a feeling", exuding a calm and relaxed Okinawan attitude. Each bottle is priced at 650 yen, a good deal for craft beer in Tokyo.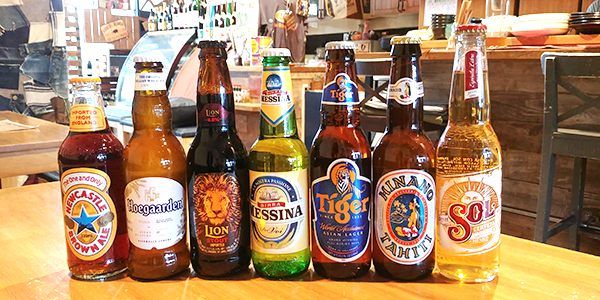 (U-Maku offers 15 types of craft beer)
While at U-Maku, I sampled the shima no karaage (island fried chicken), kaki no kunsei (smoked oysters), and Lion Stout, Mr. Une's beer recommendation. He explained that when preparing the fried chicken, awamori (a traditional Okinawan spirit made from long-grain indica rice) is added to the batter, creating a lighter and less-greasy texture. The oysters were fully infused with smokey flavour that paired very well with the dark roasted taste of the stout.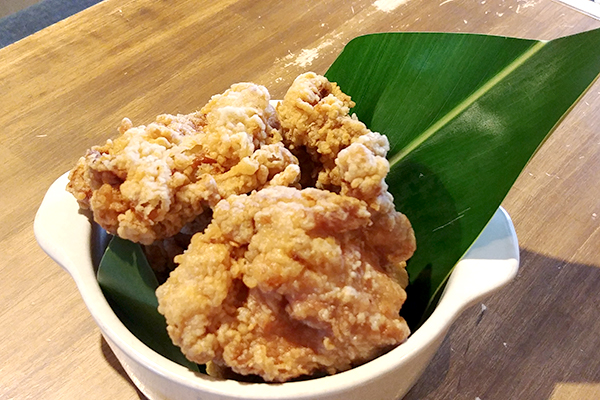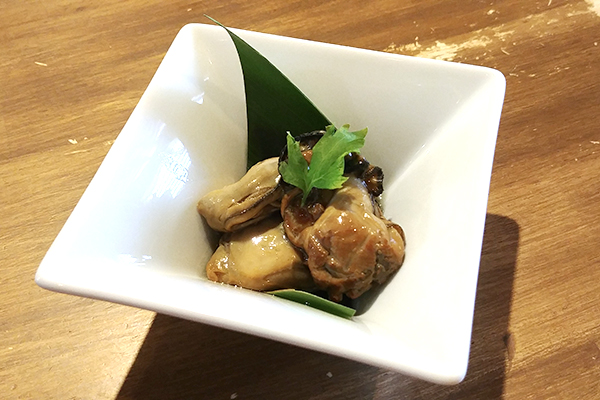 Sitting in the restaurant, my eyes were continually dazzled by the wild decorating style and objects scattered about. While perusing the beer and sake on offer, I was shocked to see a bottle with a whole snake inside! Mr. Une explained this is habushu, an awamori-based liqueur named after the habu snake placed inside. This species is incredibly poisonous, so the traditional Okinawan belief is that power is gained from drinking habushu.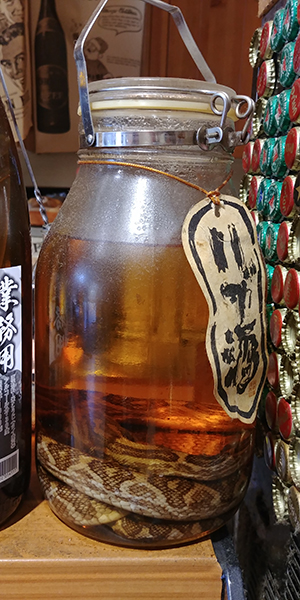 The restaurant is open for both lunch and dinner, but also features a wide variety of smaller dishes ranging from 500 to 700 yen, perfect for a quick drink and snack. I was especially pleased to learn that every day until 9 pm, the restaurant is smoke-free, a rare feature for restaurant bars in Japan.
At U-Maku, everything I sampled was incredibly flavourful. I can't wait to return and try more, particularly the goya dumplings. Okinawan-style restaurants are not very common in Tokyo, and more-still, ones with such culinary and creative flair. Should you be in the mood for a taste of something different, make your way over to U-Maku, you won't be disappointed.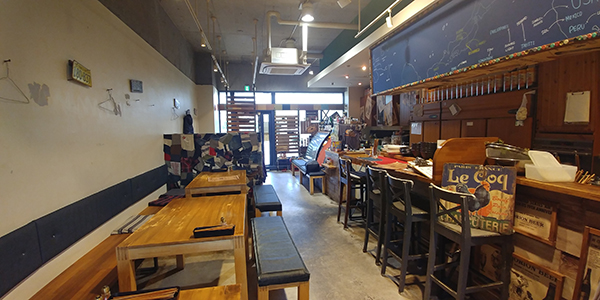 Story and Photos by Jenna Wilson