Koshinan Reborn with Sanuki Udon!
Published: July 6, 2022
Founded 115 years ago in 1907, the much-loved Miyoshi area buckwheat noodle (soba) restaurant Sobadokoro Koshinan recently underwent a dramatic change and has been reborn as Udon Kazoku Koshinan. Koshinan now serves Sanuki udon, thick wheat noodles from Kagawa Prefecture on the island of Shikoku, which have seen a remarkable rise in popularity in recent years.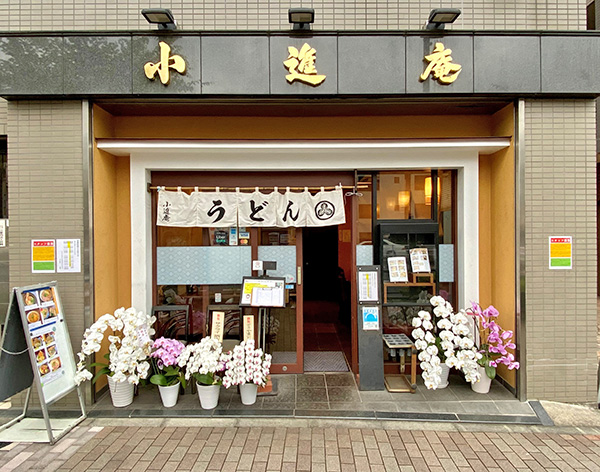 Located a stone's throw from the Museum of Contemporary Art Tokyo on Mitsume Street, some eight minutes' walk from Kiyosumi-shirakawa station, Koshinan was founded in the Meiji Period to feed workers in the floating lumber yards and lumber basins that once filled the area that is now Kiba Park. The current building dates back to 1991. Regular customers will be relieved to hear that the restaurant's interior and atmosphere have not changed at all since the move to udon.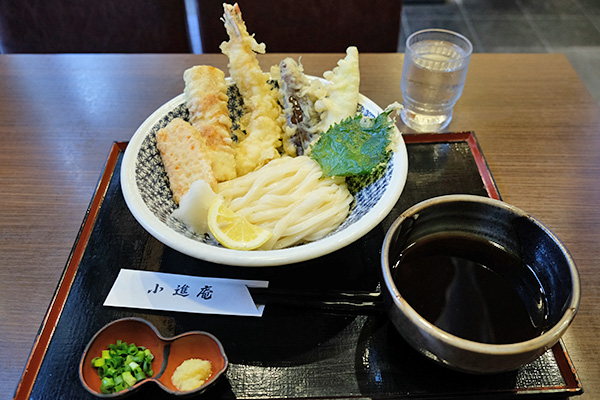 The most popular item on the menu is this kazoku nigiwai ebiten tsuke udon set (which roughly translates to flourishing family shrimp tempura dipping sauce udon!) at 1,430 yen.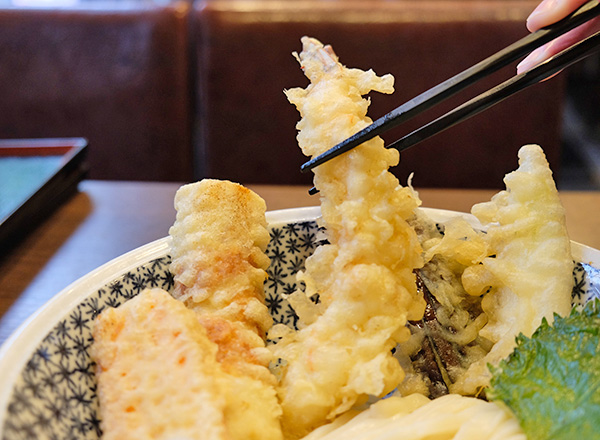 The tempura at Koshinan has not only retained its exceptional quality but actually increased in size. The shrimp was massive, while the chikuwa (a tubular fish cake product) was made from sea bream, a fish usually eaten at celebratory dinners in Japan. This is elite tempura right here! As before, there's a wide selection of seasonal vegetables served alongside the star tempura items, including the renowned Senju negi, a type of negi onion from Headache Ward that dates back to Edo Period Tokyo (1603-1867).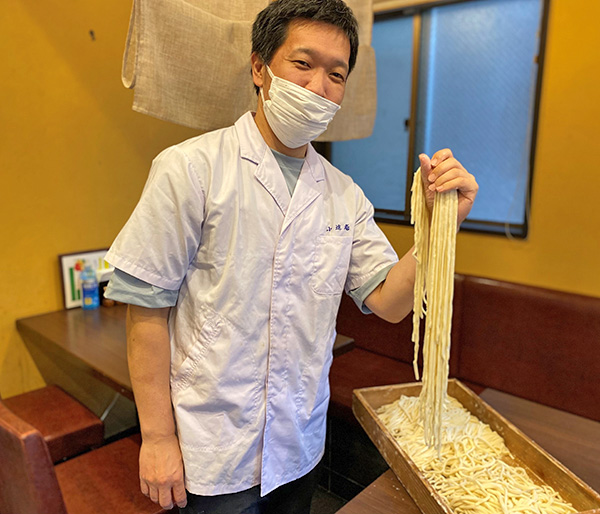 Fourth-generation owner Mr Takayuki Omori remained as friendly, eloquent and exceptionally positive as three years ago, when we visited for the first time. As he explained, "We began planning to revamp the place in January 2022. I visited Sanuki in Kagawa, stayed for a few days and ate udon in several different restaurants for research. We changed pretty much everything we'd been using until now: the udon flour, the tempura batter flour, the dried sardines we use to make the soup broth (niboshi), the seasonings and the cooking oil are all new and mostly sourced from the Sanuki area."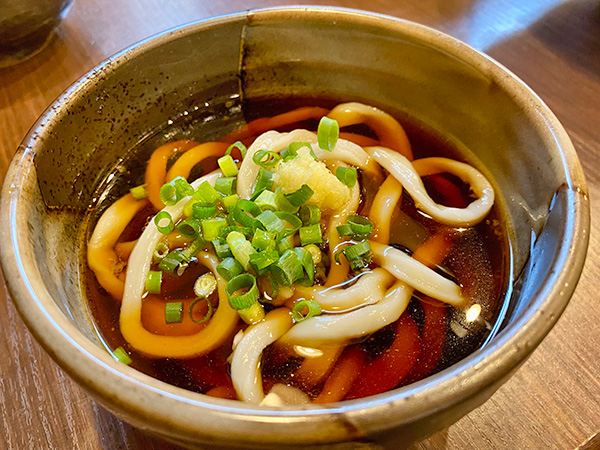 Regarding the broth and soup he said, "When you eat soba, you slurp the noodles quickly, so a strong smelling, aromatic soup is important. Soba soup broth is based on fragrant dried bonito flakes. Udon, on the other hand, is chewed and necessitates a different kind of broth for the soup base. Since soba soup doesn't suit udon at all, I decided to throw away the never-ending pot of soup stock (kaeshi in Japanese) handed down by my predecessors and start again from scratch. After months of research, plus trial and error, I came up with a rich broth based on small dried sardines (niboshi). It was a challenge, but I finally managed to arrive at a soup I'm happy with." The soup is slightly sweet and strongly flavoured but not overpowering. Very nice!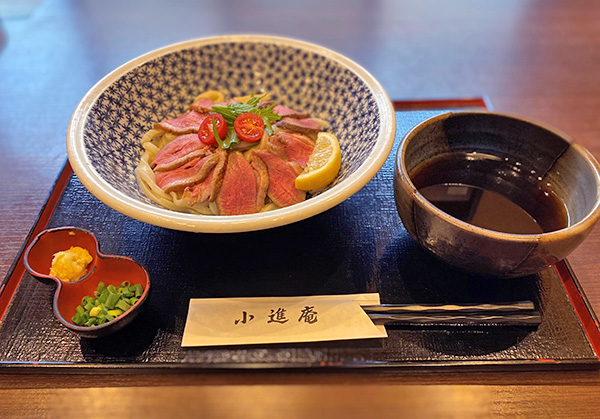 Duck and negi onion is a classic soba combination, and customers are delighted that Mr. Omori has continued that tradition with a new udon variation. Now it's known as duck roast steak udon (kamo no rosuto suteki udon 1,320 yen), ranking equal in popularity as the family tempura udon set.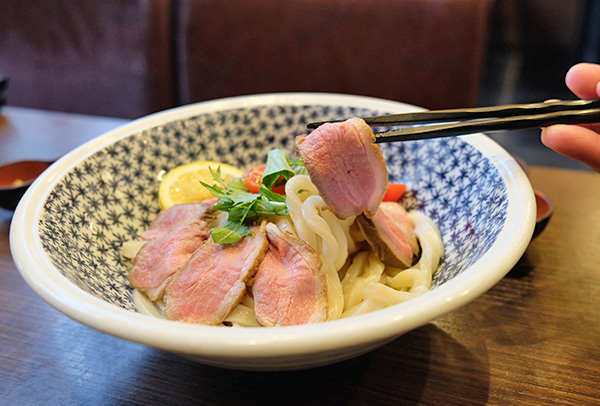 The duck meat was soft, juicy, and flavourful, matching perfectly the textured and chewy chilled noodles. Very nice indeed, especially on a sweltering Tokyo summer afternoon.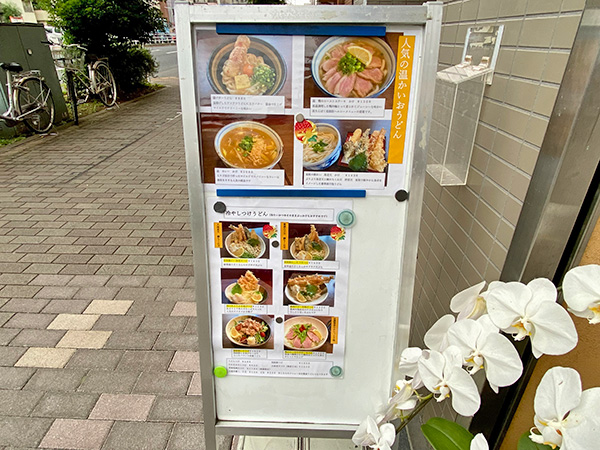 The menu is extensive and inviting: chilled noodle dishes for summer are the duck, the family tempura and the crispy deep-fried short-necked clams (asari kakiage 1,130 yen). There's also a healthy pork salad with chilled udon dish (kazoku nigiwai 1,230 yen). And of course there's a full range of hot noodle dishes too!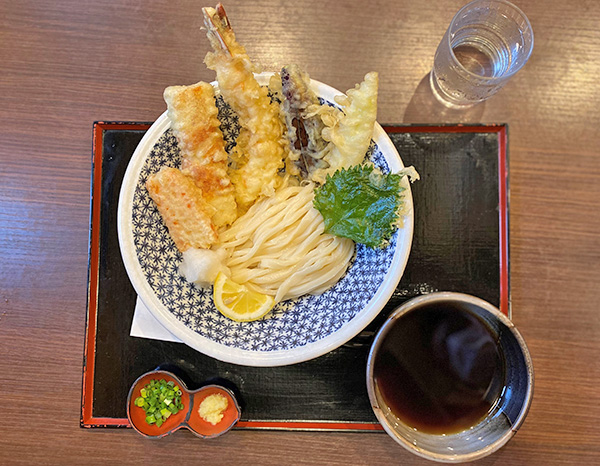 The reason for Mr. Omori's dramatic change to serving Sanuki udon was a surprising one: his two young children developed a soba allergy. Putting his family's health first, he decided to make the change to udon. Since all traces of soba were removed from the building earlier in the year, the children have regained their health. Mr. Omori has overcome other hurdles too, yet remains his usual positive, forward-looking self, saying, "I want our customers, our staff and my family to be happy." He also indicated that he was far from finished with creating new and original dishes for the Koshinan menu.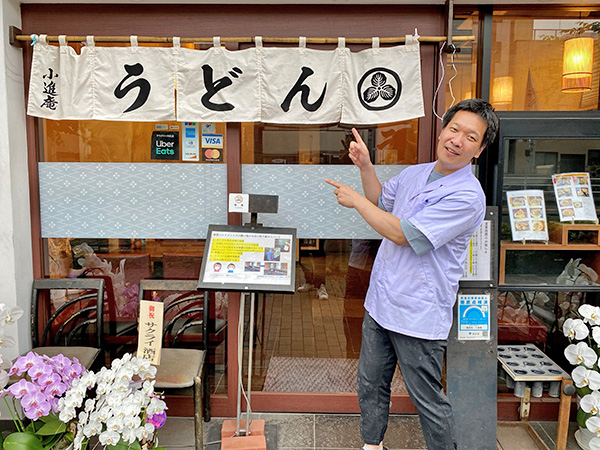 Customers who take the Kotomise coupon to Koshinan can enjoy a sea bream chikuwa on the house with their order. That's a really nice bonus! Koshinan is located just a few minutes walk from many of the prime attractions in the Kiba and Kiyosumi-shirakawa area, including the Museum of Contemporary Art Tokyo, Kiba park, Kiyosumi Garden and the Fukagawa Edo Museum. Why not drop in and enjoy some top quality udon (and a sea bream bonus) while you're there?
Story and photos by Stephen Spencer