Umeshu Specialist with Tasting!
Published: November 17, 2022
Umeshudo is a shop dedicated entirely to the joys of umeshu, a liqueur made from ume fruit and various kinds of alcoholic beverages. Not just any umeshu though, as Umeshudo stocks only products made in Wakayama Prefecture, the largest ume producing region in the country. On a recent sunny morning, I dropped in for a chat with owner Ms. Kubota and shop manager Ms. Akiho.
The shop currently offers around 22 types of umeshu, all of which are free of additives, acidity regulators, artificial colourings and flavourings. While ume is generally rendered as 'plum' in English, it's actually an apricot and is generally eaten as a pickle on rice. They also make a very nice and healthful drink, usually steeped in shochu liquor.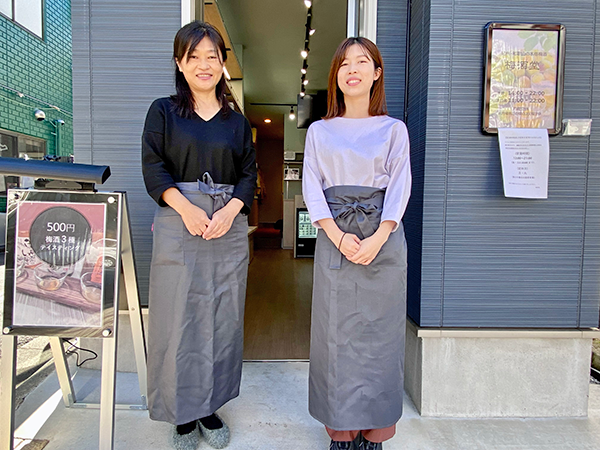 Wakayama-born Ms. Kubota opened Umeshudo with daughter Akiho as manager in August 2022. "Wakayama umeshu was given a Geographical Indication (similar to an AOC) in 2020. I want to promote our delicious and healthy umeshu throughout Japan and to the world," she explained.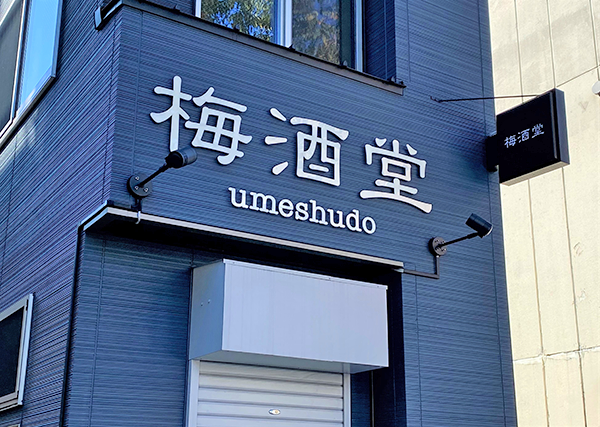 The shop is located just 3 minutes' walk from exit 2 of Monzen-nakacho station, directly across Eitai Street from Tomioka Hachimangu shrine. You can't miss it!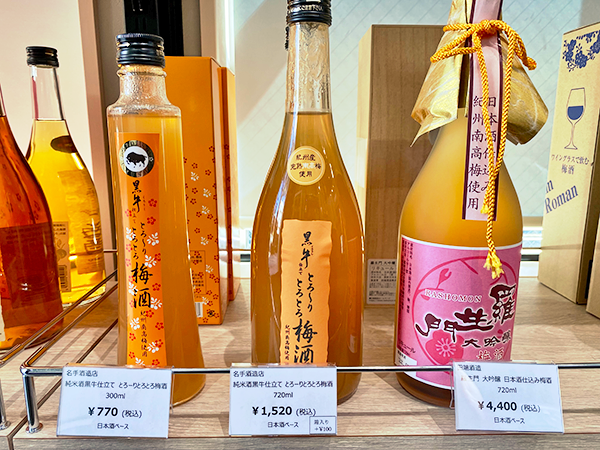 I was quickly disabused of the notion that most umeshu is made from shochu. "No, we have umeshu based on sake, whiskey, brandy,  Awamori, and even gin," said Ms. Kubota. "Most of the umeshu is made using Nankobai brand ume from the Kishu area of Wakayama Prefecture." Nankobai are widely reckoned to be the best (and the most expensive) ume in Japan. On the left here are two types of umeshu based on Kuroushi sake from the Nate Brewery, while the Rashomon on the right hails from Tabata Brewery.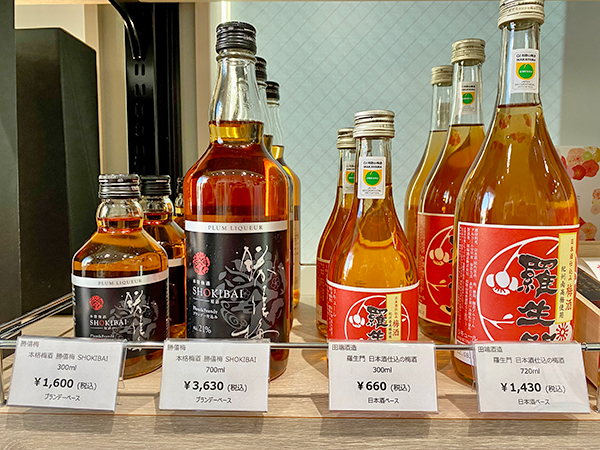 The Shokibai on the left is based on brandy, while another Rashomon variety on the right is sake based. Shokibai is one of Japan's leading producers of pickled ume (umeboshi), and the umeshu took five years to develope. Combining top quality sake or liquor with the best ume creates beverages priced similar to premium whiskey. Like whiskey, umeshu is a drink to savour.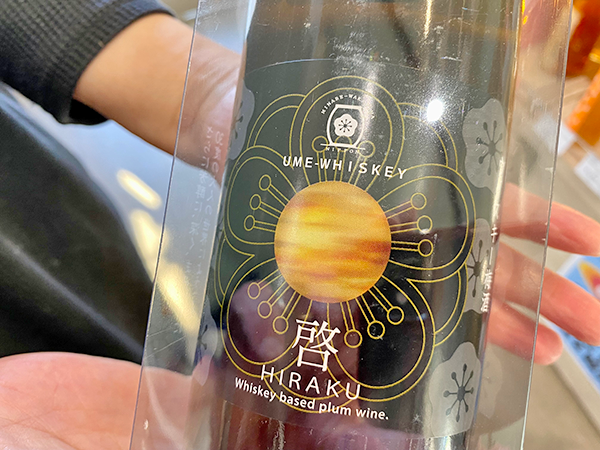 There's craft umeshu like this Minabe Hiraku, a whiskey-based drink with an alcohol content of around 30%. Umeshu varies in strength, from around 7% to 40% or more, so please check the bottle before imbibing!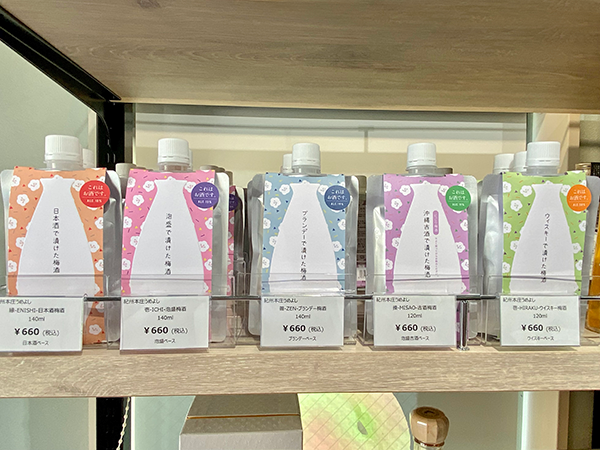 These smaller umeshu packs make ideal gift sets. Containing 120 ml or 140 ml, the five varieties are based on sake, awamori, brandy, Okinawan aged sake and whiskey. 660 yen each.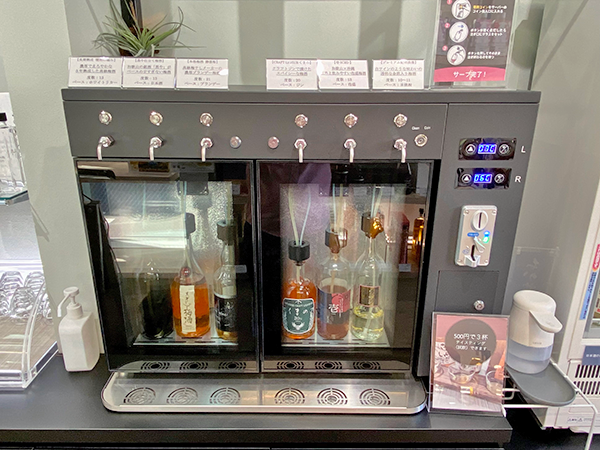 While Umeshudo is a treasure house for umeshu lovers, the most interesting feature for neophytes is the drink comparison set (nomi kurabe setto). For just 500 yen customers can choose three different varieties from six in the drink dispenser.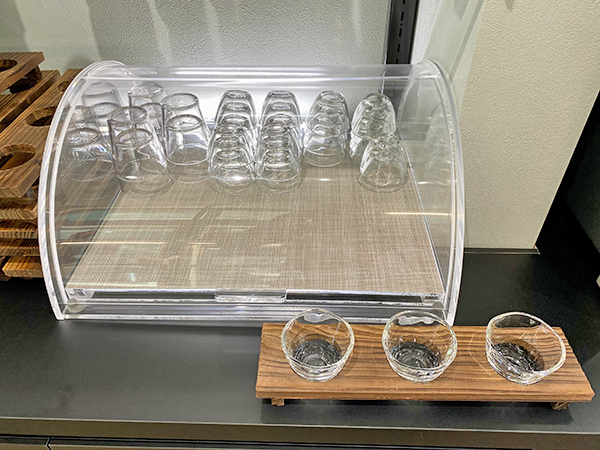 The staff will prepare a tray of three fresh glasses.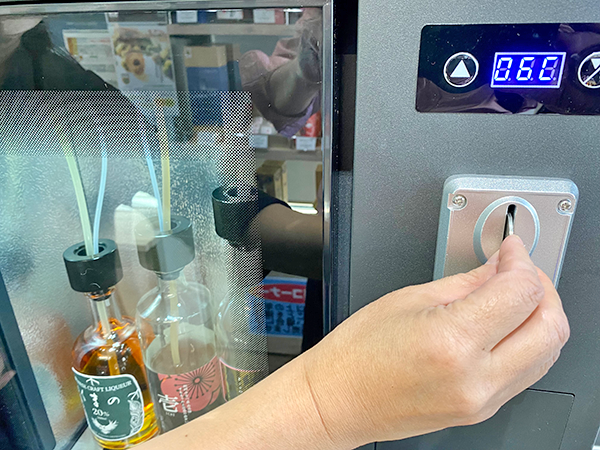 Pop three of the special coins, one by one into the slot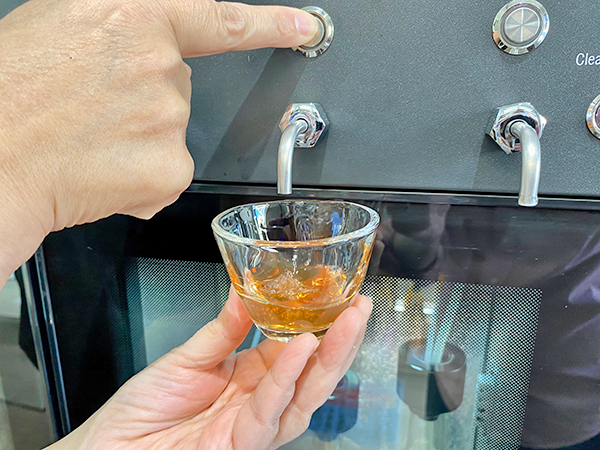 And push the button. Easy!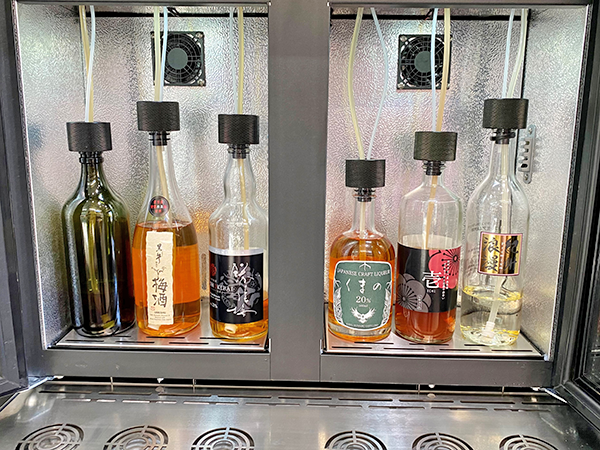 I tried three and was particularly impressed with the Shokibai brandy-based umeshu, 21% abv. This was rich and mellow, not overly brandy flavoured, very warming and perfect for a cold winter's day. The Ichi umeshu is based on the Okinawan firewater known as awamori and was similarly thick and strongly flavoured, although only 13% abv. There's simply no comparison between these top quality umeshu and the ones I had drunk before; they are simply fantastic!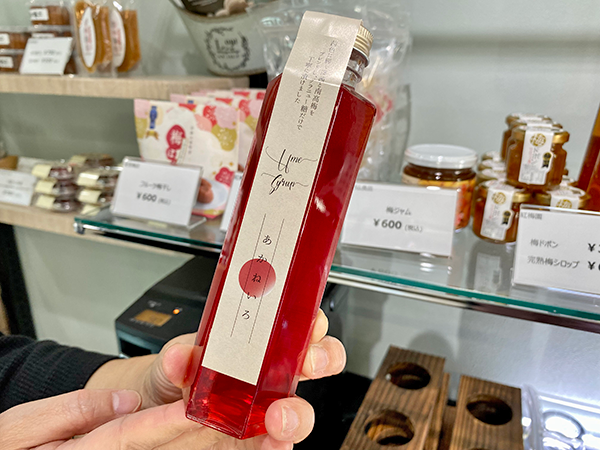 Besides umeshu the shop offers all manner of ume-related items, including syrup, jam, umeboshi paste, candy, umeboshi, and ice cream that suits umeshu. For sake lovers there's a selection of Wakayama Prefecture sake too.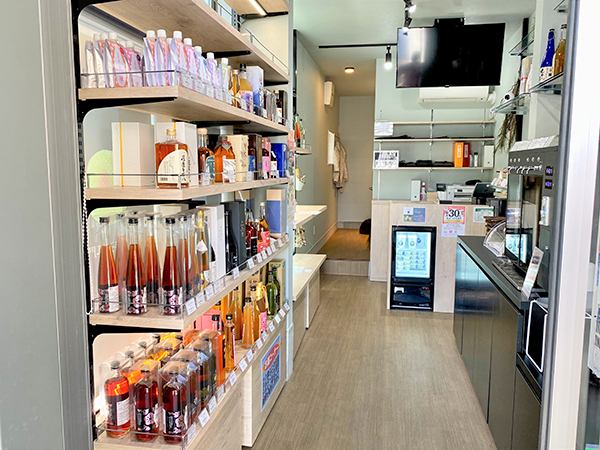 If you're in the Monzennakacho area and have never tasted premium umeshu before, immediately head to Umeshudo. You're in for an absolute treat!
by Stephen Spencer