Unique Showa Retro Cafe
Published: March 15, 2023
Whimsical is perhaps the best word to describe Sunamachi Cafe Aoineko, or Aoineko for short, the brand new Showa Retro cafe and eatery on Koto-ku's famed Sunamachi Ginza shopping street. On a recent afternoon, we popped in for a chat with owner and chef Ms. Watanabe.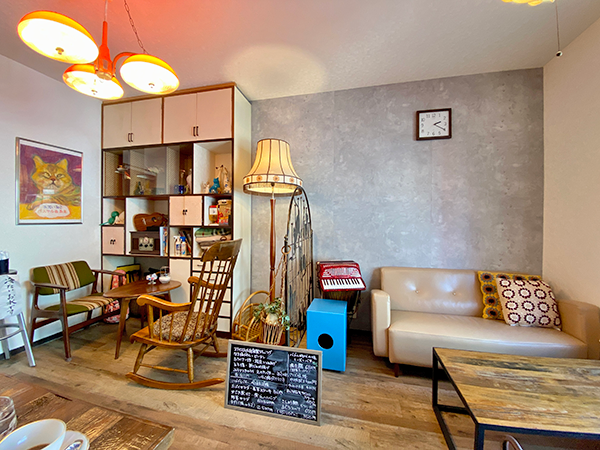 From the front door to the third floor everything about Aoineko harks back to the golden age of Japan's boom years, roughly the late 50s to the mid-80s. Although the Showa Period actually ran from from 1926 to 1989, the term Showa Retro generally refers to that 30 year stretch. "I love the design of that period," explained the effervescent Ms. Watanabe.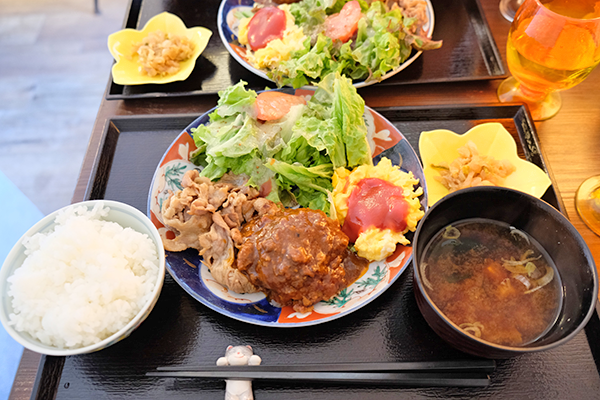 1,000 YEN LUNCH, SUPER SHOWA VALUE
The menu contains many Showa delights, hearty nostalgic favourites that nourished the baby-boomers as they grew up. Top of the bill is this lunch special of homemade hamburg steak, pork fried with ginger and scrambled egg salad for just 1,000 yen, including tax ("A crazy price," said Ms. Watanabe). For an extra 100 yen, you can add a cup of tea or coffee, hot and cold, or even a soft drink!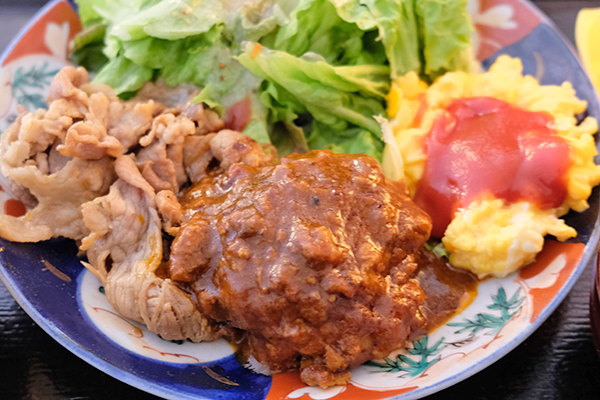 GREAT TASTE, GREAT VALUE
Everything is handmade by Ms. Watanabe in a traditional Showa style. The set lunch also comes with root vegetable soup made with Akita miso paste produced by a sake brewery, a large bowl of rice and a small side dish of pickled vegetables or similar. The side dishes change by the day and the miso paste by the season. Great taste, great value!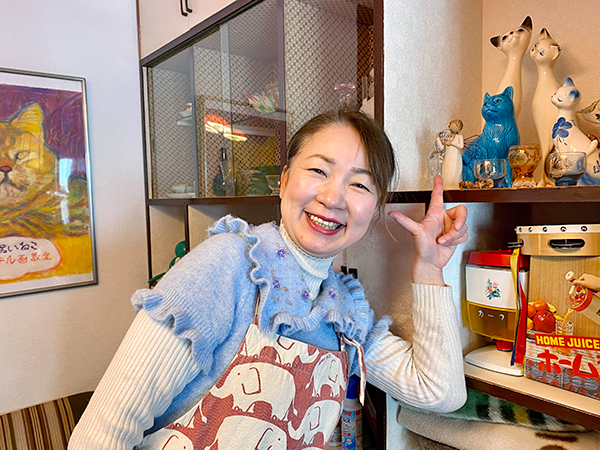 Ms. Watanabe cooked at home for her family then spent 15 years cooking in a set lunch restaurant, before taking the plunge and opening Aoineko in February 2022. All of the unique interior layout, the eclectic collection of Showa Period interior goods and the menu are her own creation. "It's very difficult to preserve old things in Japan, taking care of them is very important, I feel," she said.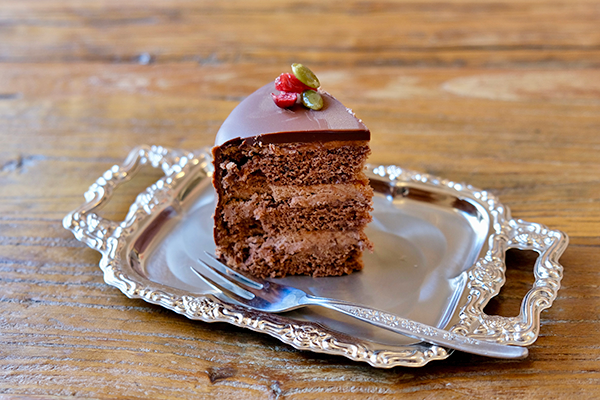 Aoineko offers cakes too, of course. This extremely tasty Sacher torte hails from Akita Prefecture, Ms. Watanabe's home area, while the very popular apple pie is created by a female patissier in Yamanashi Prefecture. The Sacher torte and coffee is 700 yen, the apple pie and coffee 800 yen. Regular coffee is 400 yen, with organic coffee 500 yen a cup. Carrot cake and fruit pound cake are also available, as and when.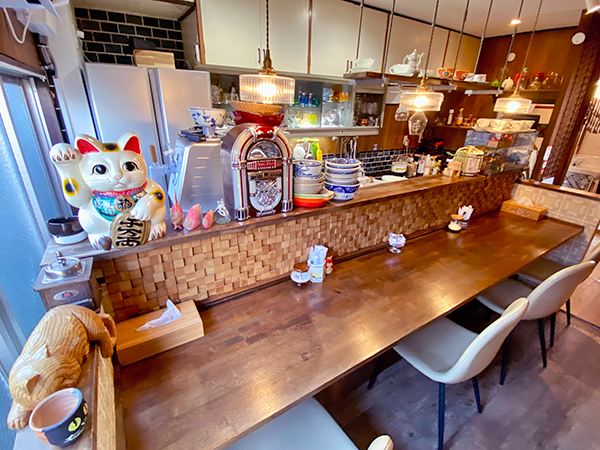 The interior at Aoineko is fascinating, to say the least. The main entrance is on the second floor of an entirely refurbished building, with the kitchen counter on the left and the front room on the right overlooking Sunamachi Ginza itself.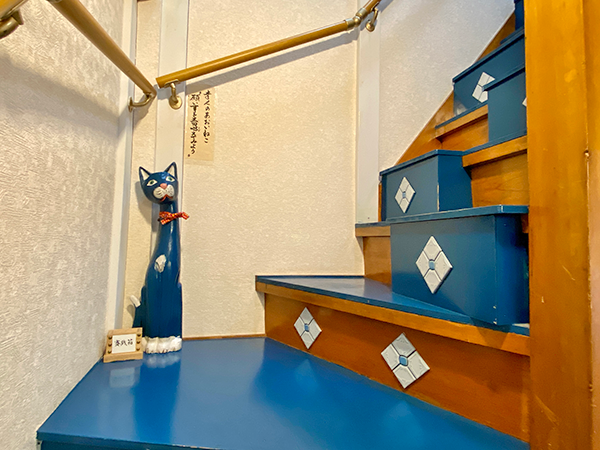 These precipitous stairs were created by a carpenter to Ms. Watanabe's design (she painted them herself) and lead up to a second floor with three private rooms.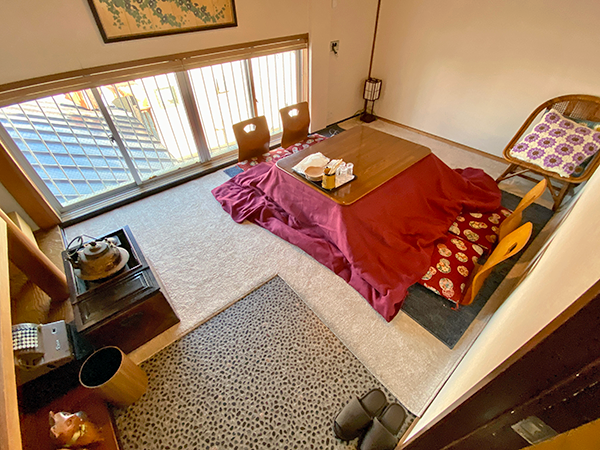 All three rooms can be reserved for groups or used on an ad hoc basis. On the day I visited, the sakura no ma room was in use by a study group but the yuki no ma room, with its kotatsu, go table, tea ceremony box and colourful cushions was redolent of the 1960s.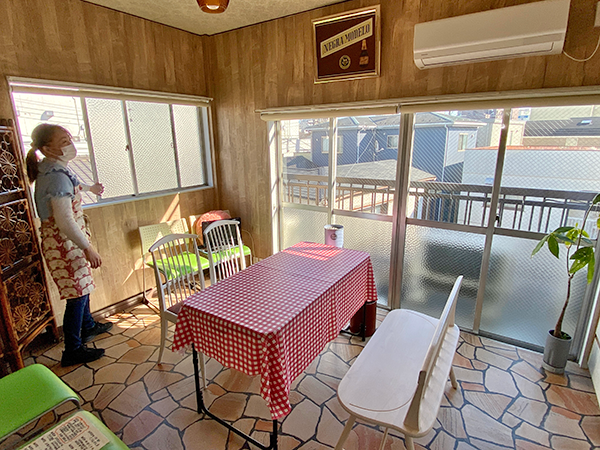 The third room, tenku no ma, has floor to ceiling windows and a great view over the rooftops. It's also the smoking room. Customers can eat, drink, chat and enjoy a game of something, whatever they like.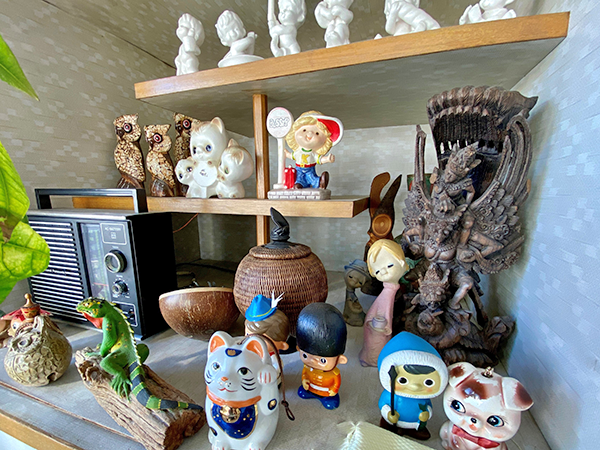 Every available space seems to be filled with nostalgic kitsch from the 60s and 70s, much of it featuring cats.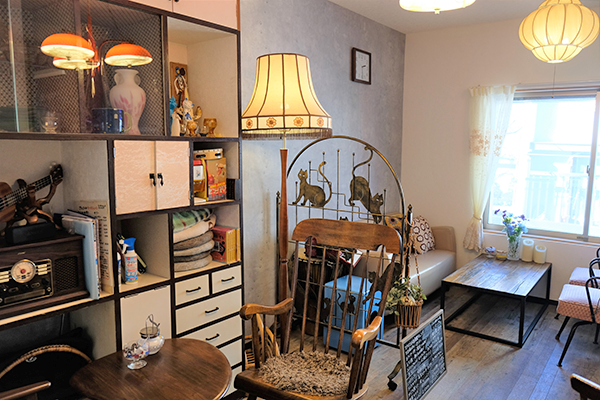 Ms. Watanabe is also a cat lover, and Aoineko is dotted with felines wherever you look. How many can you spot?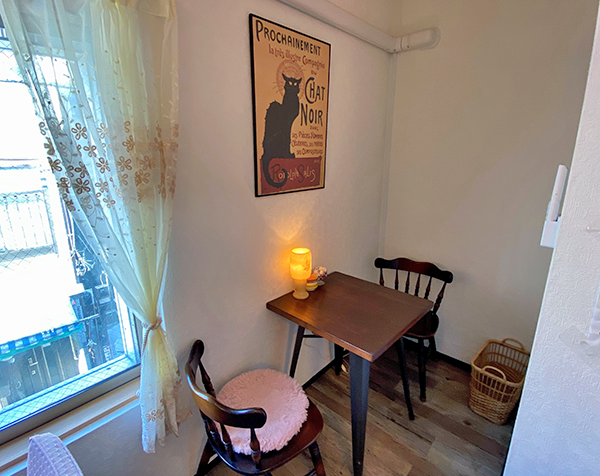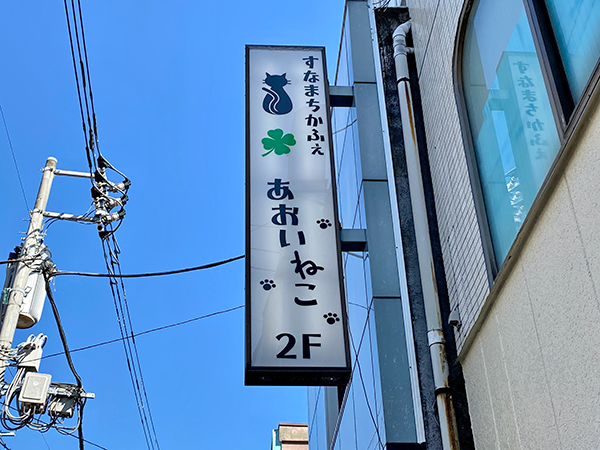 Great food at reasonable prices, a warm and friendly atmosphere and a quirky, unique interior that transports one straight back to the vibrant, colourful days of peak Showa Period. What's not to love?
by Stephen Spencer