Belena Cleaning: Stain Removal the Professional Way
Published: January 25, 2018
Cleaning shops, like convenience stores and dentists, are as ubiquitous in Koto-ku as in many other areas of Tokyo. Most offer similar services at similar prices, with little to choose between them. Belena Cleaning, located a few minutes south of Kameido Station and just off Meiji-dori Street, is a most unusual cleaning shop. The stain removal expert, Mr. Satoru Kobayashi, recently took some time out to wax lyrical about his business.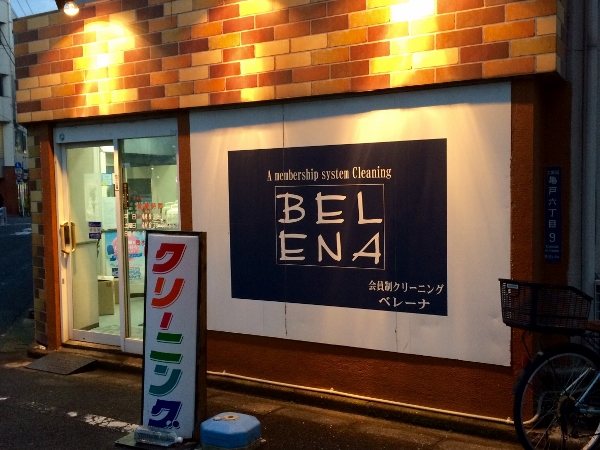 "We're a strange shop, I suppose," said Mr. Kobayashi. "I'm extremely fussy and use only the most modern techniques. You could say it's an obsession; I once spent 12 hours removing a single bloodstain from a shirt. We do regular cleaning of course, but even that has a variety of choices including maintenance, machine pressing, stain removal, pressing by hand and preventative maintenance."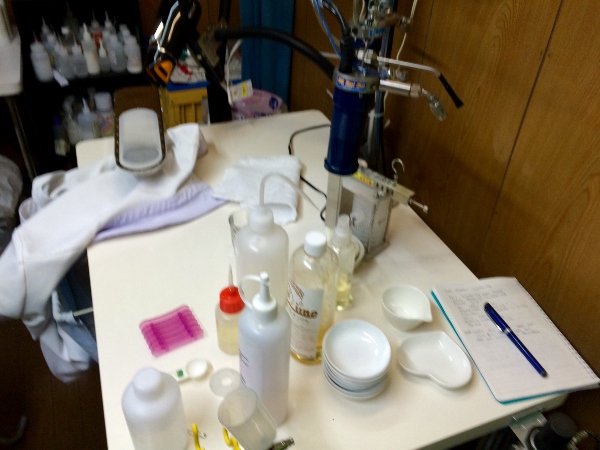 "My grandfather started the business some 40 years ago. I'm the third generation proprietor and run the shop with my father now. After studying law at university I worked in a law office for a few years, and then came here about 12 years ago. I learned the business from a famous figure in the world of Japanese cleaning—a leading expert in stain removal who designed many of the tools we use nowadays. We are one of only four shops in Tokyo to have earned a specialist's certificate from his association."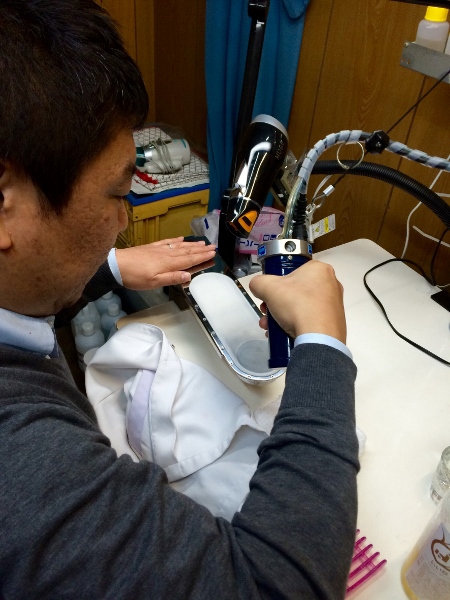 Photo 4 Cleaning table"I usually work here at this table. When a customer comes in the first thing to decide, is whether to remove the stain or not. It's an expensive business and very often costs more than the item itself. If the item was very expensive or has great sentimental value, then it's obviously worth it, and we go ahead."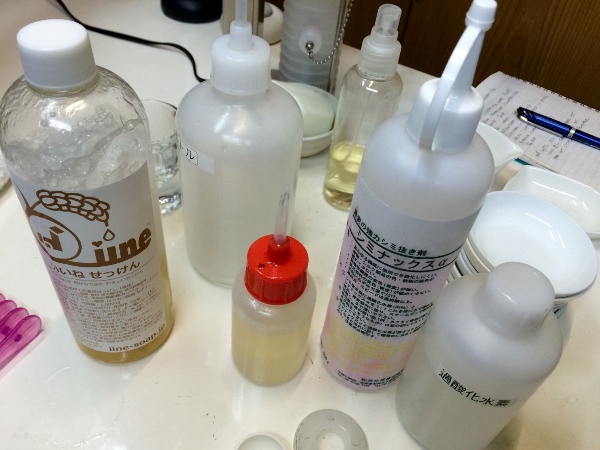 "Firstly we analyze what kind of stain we're dealing with: is it ink or blood, a sweat stain or a food stain? Is it acidic or alkaline? Water-based or oil-based? That determines the kind of soap to use and the procedure we will follow."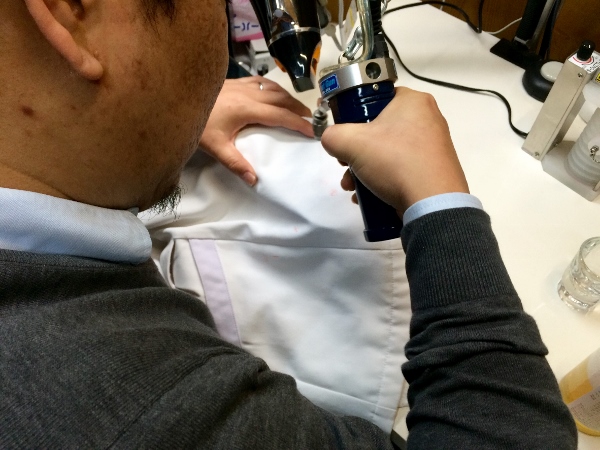 Mr. Kobayashi places the cleaning item over a padded arm with a powerful suction pump attached. Then he sprays it with this gun, which projects an ultra fine spray that cleans without damaging the material.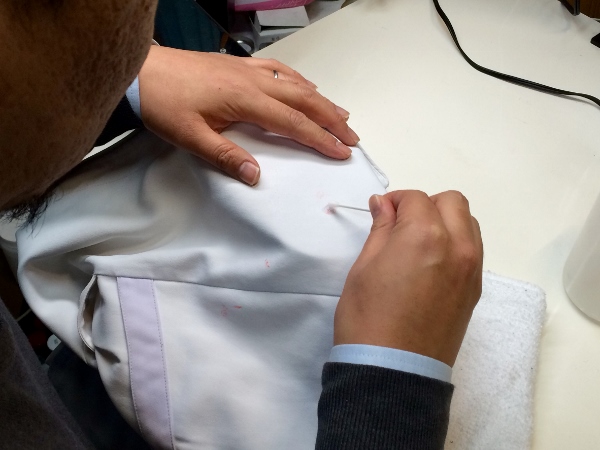 The soap or cleaning fluid is selected and applied.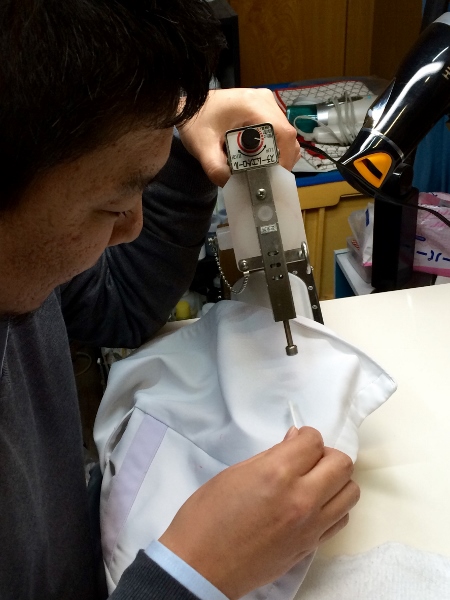 The steam gun enters the fray and the stain is gently removed. From start to finish, the process takes only a few minutes.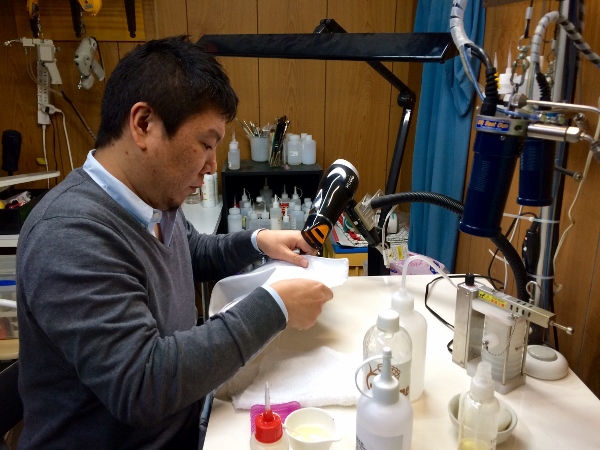 A quick blast with the dryer and it's done!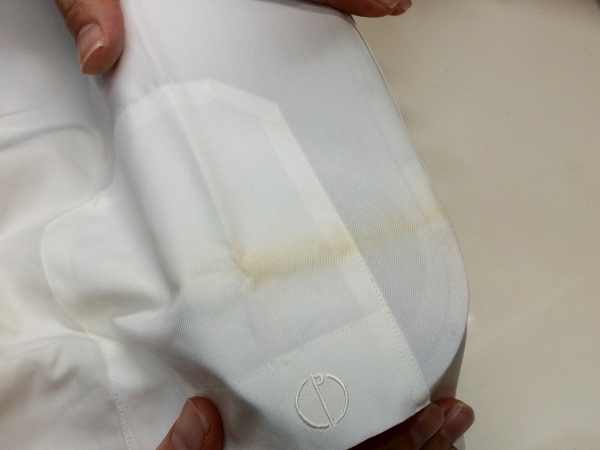 Oxidation stains, those annoying yellow or brown marks you finds on clothes stored for long periods in drawers or closets, may seem intractable but they too are no match for Mr. Kobayashi's skill.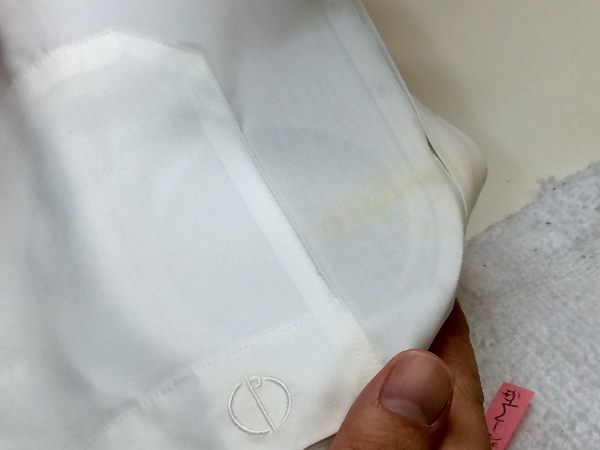 In a matter of moments, the shirt looks brand new.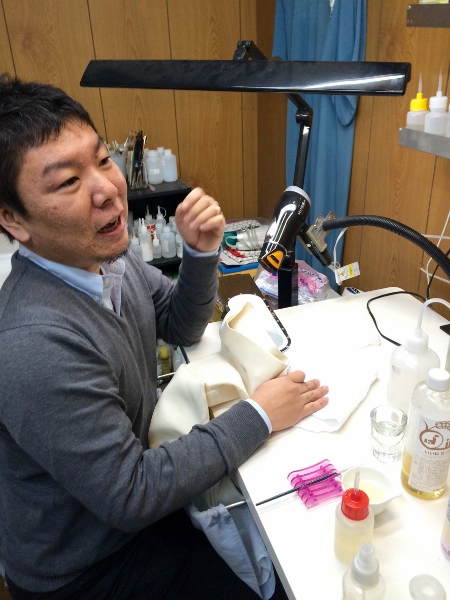 Mr. Kobayashi has worked with Muji, the Japanese retail company, at in-store events to promote garment repair and stain removal. He also does repairs, breaking garments down into their constituent parts, repairing, dyeing and then cleaning them. It's incredibly detailed and demanding work. Down jackets is another specialty. If you have one of those luxury-brand down coats and want it cleaned, then Belena is the place to go.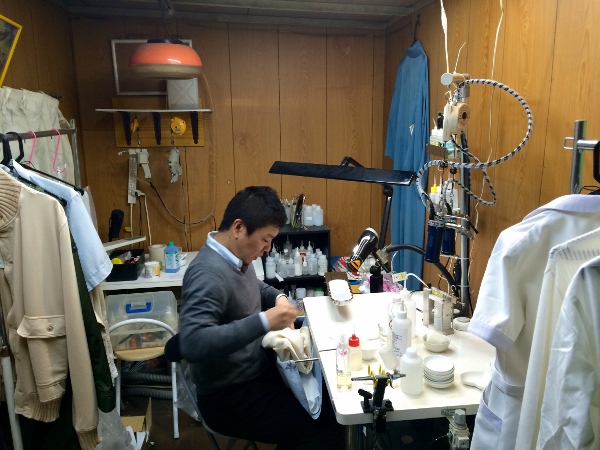 "Just send a few photos to our Line account for an appraisal. We need to see the label, the stain and ascertain that there's no damage to the material itself. For those in the area, please drop in. We have customers from all over Tokyo. If we accept your item but then can't clean it, we'll refund your money. Don't try it yourself! It's very difficult for the layman so please call the professionals. Call Belena Cleaning."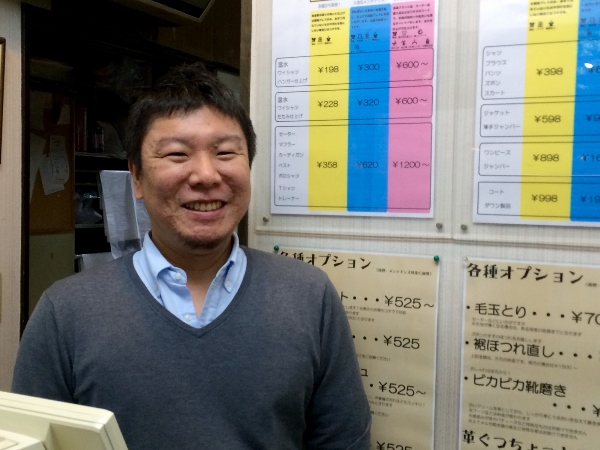 Mr. Kobayashi credits the high level of Japanese cleaning shops to the long history of silk kimonos and items that need the most delicate of touches to remove stains. Cleaning, dyeing and repairing are part of Japanese culture. At Belena Cleaning, Mr. Kobayashi is continuing that long and proud tradition in the most advanced, contemporary style.
Story and Photos by Stephen Spencer