Vibrun For a Vibrant Life!
Published: February 16, 2022
Want to lose weight? Fancy adding some muscles? Would you like to wipe out that work-from-home stress? Well, if that sounds like you and you're in the general area of Sumiyoshi and Kinshicho, we've just the place: Personal Gym Vibrun. Vibrun is a personal training gym with some unique features, which we learned about from the youthful and engaging staff on a recent visit.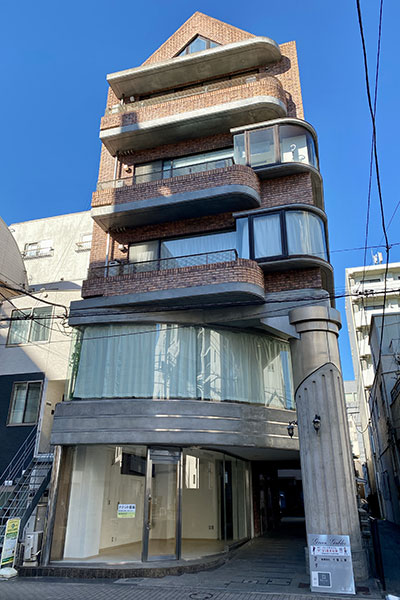 Located on the 4th floor of this unmistakable building, just a couple of minutes' walk north of Sumiyoshi station on the way to Kinshicho, Vibrun opened in the autumn of 2019, as trainer Mr. Koki Kawaguchi explained. "We were just getting started when the coronavirus pandemic began, and although it was difficult initially business picked up as more people began to focus on their health."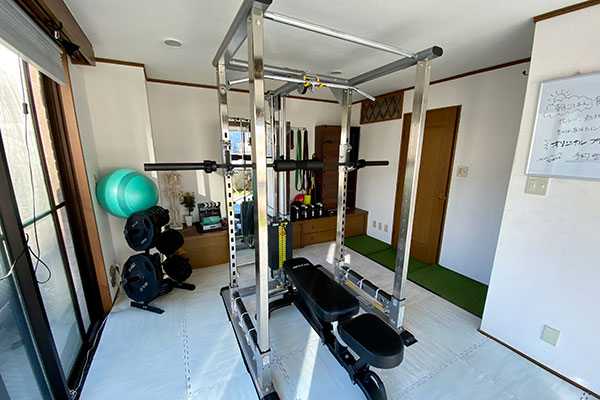 The remodelled interior is airy, spacious and extremely bright with floor to ceiling windows that afford panoramic views of the area. There are two large rooms with exercise machines and another with the table for Mr. Kawaguchi's speciality, known as skin stretch in Japan.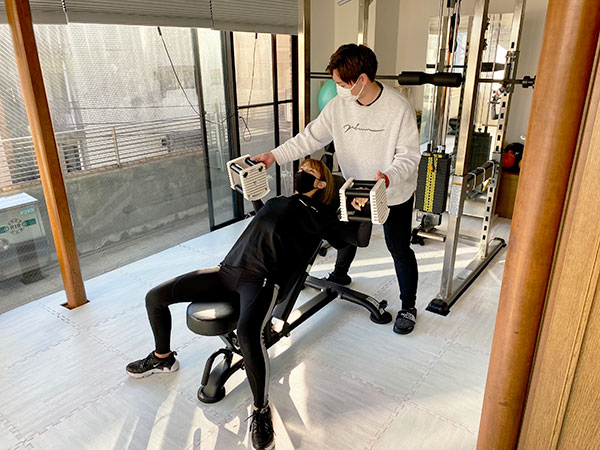 Alongside Mr. Kawaguchi are trainers Mr. Ayumu Tatsukawa and his wife Yoshiko, a qualified nurse and respiratory therapist turned personal trainer. As they explained,"Many people are turning to personal trainers for a variety of reasons: they prefer the privacy, the close attention to detail, the personalised programmes we offer, and the more relaxed atmosphere here." The youthful trio are simultaneously highly qualified and very easygoing.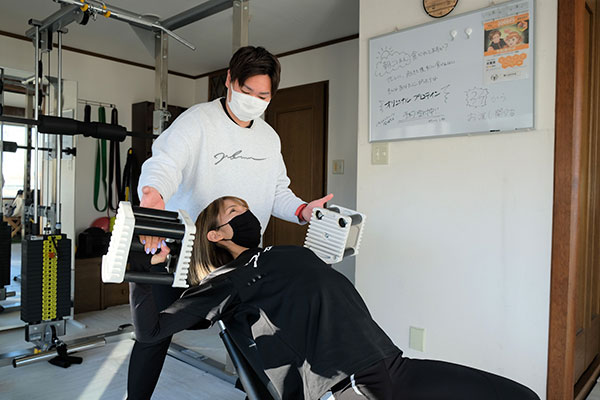 Weight loss, enhancing muscle definition and exercise for health are the principal motives for customers visiting Vibrun. There's an initial counselling session in which the customer's goals are discussed and then a personalised training programme is created. Some customers have short term objectives, such as losing weight and body toning for an impending wedding, new job, career change, or other major life events, while others are more long term.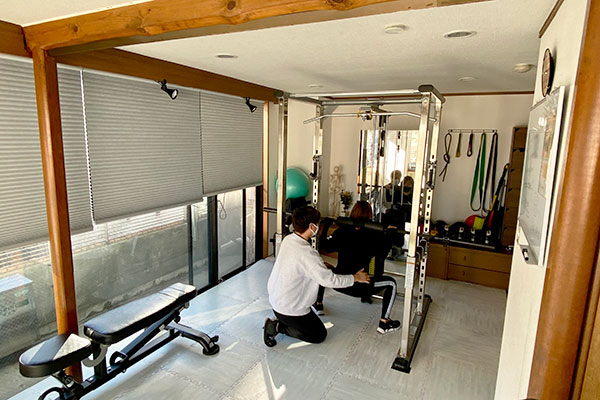 Vibrun operates on a ticket system, where customers can purchase courses of 8, 16 or 24 tickets. There is no time limit on the use of the tickets, a boon for those with irregular or seasonally busy work. Many of Vibrun's customers are people working from home during the pandemic, who appreciate both the exercise and the chance to get out of the house and chat with other folk.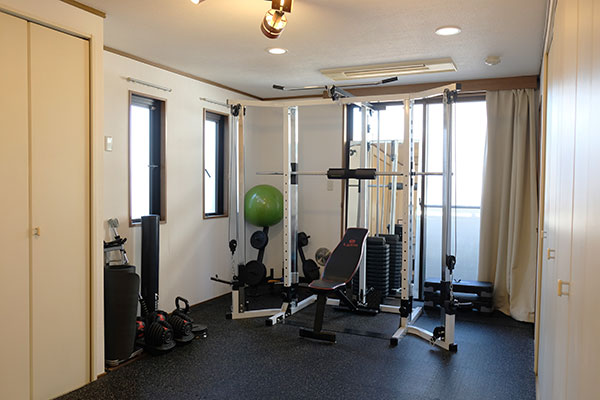 Vibrun has two unique features which set it apart from any other personal training gym we've encountered. Firstly, there's the Pair Personal course in which husband and wife trainers Ayumu and Yoshiko Tatsukawa train another couple. Each class is 90 minutes, with Yoshiko training the woman and Ayumu the man, either together or in different rooms. Pictured here is the second training room with a Smith machine. The Pair Personal sessions are "quite hard" according to Mr. Kawaguchi and come with a brief break for customers to catch their breath.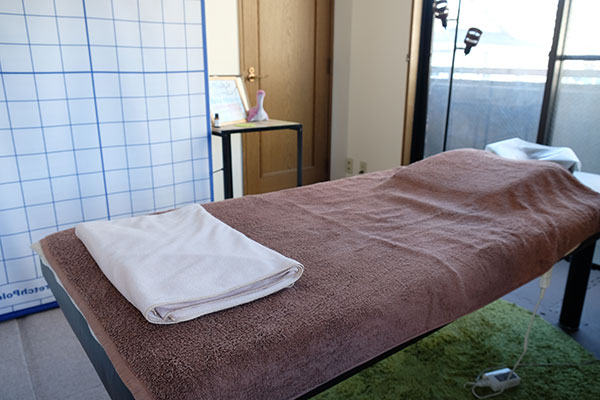 The other unique feature at Vibrun is Mr. Kawaguchi's speciality, skin stretch. Skin stretch is the Japanese for a kind of conditioning of the fascia, the connective tissue that encases our body parts and binds them together. It's similar to myofascial release (kinmaku release), a manual therapy used in massage to "release" muscle tightness and soft tissue dysfunction. The checked hanging on the left is for photographing customers to show improvements in posture, body conditioning and weight loss.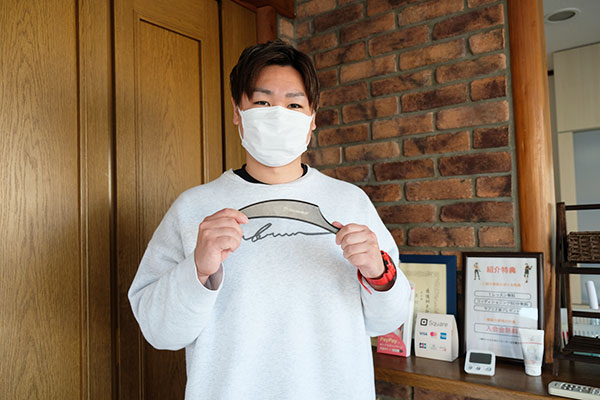 After studying sports training at university, Mr Kawaguchi became a conditioning trainer, then began to specialise in myofascial release and skin stretch. "Basically, what we call skin stretch is the opposite of myofascial release in that we start from the skin and outer muscles then work down, whereas myofascial release starts with the innermost muscles." Here he models one of the stainless steel tools of the conditioning, known as a "dolphin".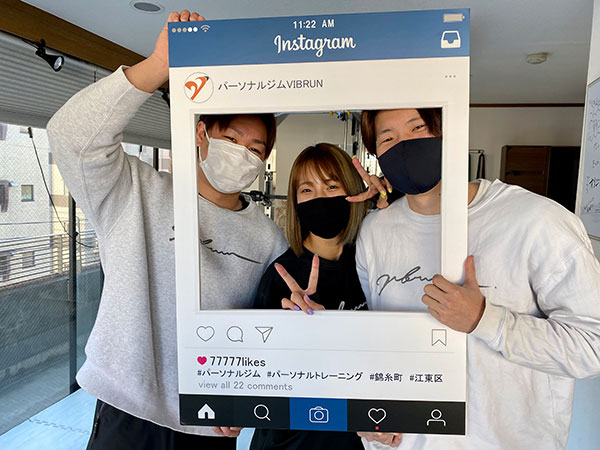 All trainers at Vibrun are also available to discuss dietary concerns and aid customers in planning a balanced diet. Each individual customer's progress is easy to track with a personal trainer, which is perhaps the greatest advantage over frequenting a regular gymnasium. Appointments can be made via Line, mail or in person after a session. The number of customers wanting early morning pre-business workouts has increased recently, prompting a switch to an earlier opening time of 8:30 am. One hour trial lessons for both singles and pairs are available, something we'd thoroughly recommend.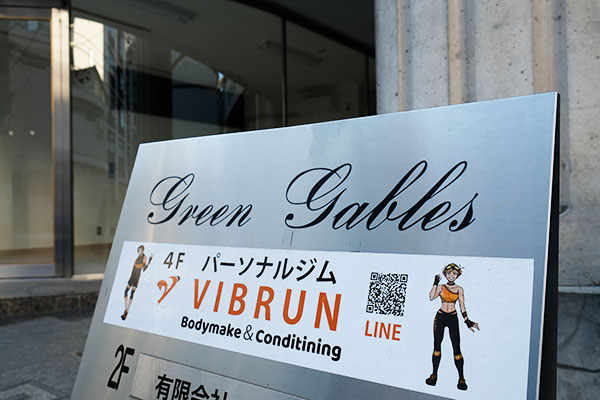 Whatever your situation or objectives, Vibrun offers a great service in a comfortable atmosphere at a great location.
Story and some photographs by Stephen Spencer