Wagaya no Shokudo: Healthy Home Cooking at Unbeatable Prices
Published: September 25, 2020
The Wagaya no Shokudo chain of restaurants began in Monzen-nakacho, Koto-ku in 2007. The business model of serving healthy, traditional Japanese home cooking at very reasonable prices, 24 hours a day, to a target customer base of business people, singles, students, and shift workers has proved a big hit over the years. The latest addition opened in 2018, a few minutes' walk north of Kameido station. On a recent blazing hot afternoon, we dropped in for a chat with manager Mr. Tsukada.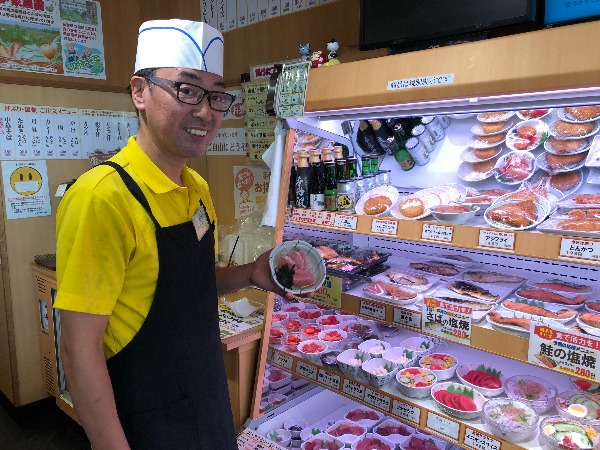 With many years' experience in the restaurant business, Mr. Tsukada is eloquent in describing his mission to feed the people of Kameido in the healthiest manner possible. "For me, it's all about combining nutritious foods with those that will increase natural immunity the most. We serve 60 to 70 different dishes which change on a daily and seasonal basis. The emphasis is on fish, vegetables, fermented foods, and pickles. We mainly source our ingredients from a local market and local shops."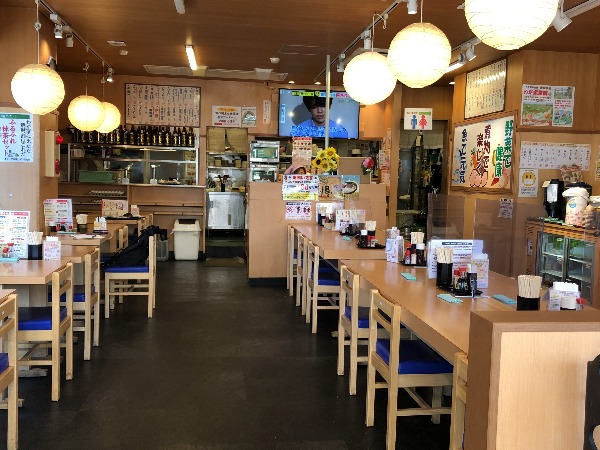 The interior is light and airy, with plenty of space between tables to allow for social distancing.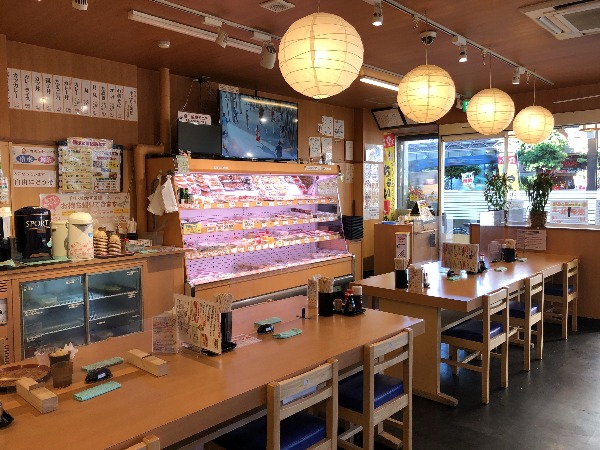 Immediately inside the entrance on the right is the counter, where the pre-cooked and prepared foods are stored in tightly-wrapped bowls and on plates. Customers simply take a tray, select their dishes and move to the counter at the rear, where they can pick up hot soup and rice while the dishes are being reheated. They can add any number of dishes to their original selection if they are still hungry, and pay on leaving. This simple but efficient system reduces overheads and allows Wagaya no Shokudo to pass on the savings to the customers.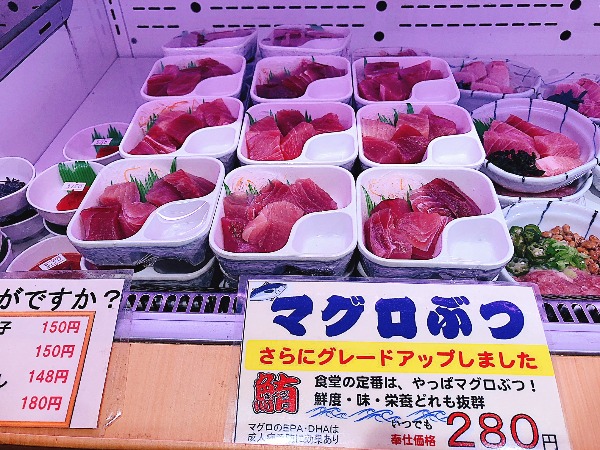 So, what are the most popular items? "Fish," said Mr. Tsukada without a moment's hesitation." In particular, tuna." Amongst the tuna dishes available the number one bestseller is this sliced tuna at just 280 yen: big, thick chunks of juicy fresh salmon at an unbeatable price. All tuna served at Wagaya no Shokudo comes from Misaki in Kanagawa Prefecture, Japan's second largest tuna port for tuna.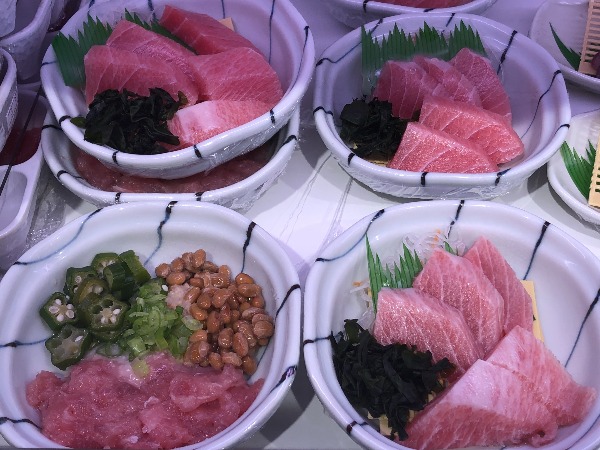 Mr. Tsukada emphasized the importance of combining a variety of dishes into a meal. Fermented foods are widely eaten in Japan and the bowl on the left, which features minced tuna, fermented soy beans (natto) and okra, is just bursting with healthy goodness. Again, it's incredible value at 378 yen, while the premium quality tuna on the right is just 578 yen. All prices are excluding tax.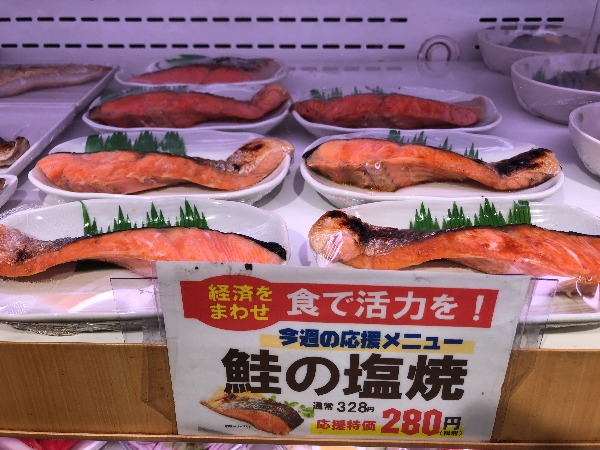 The weekly special was this grilled salmon, down from 328 yen to just 280 yen per piece.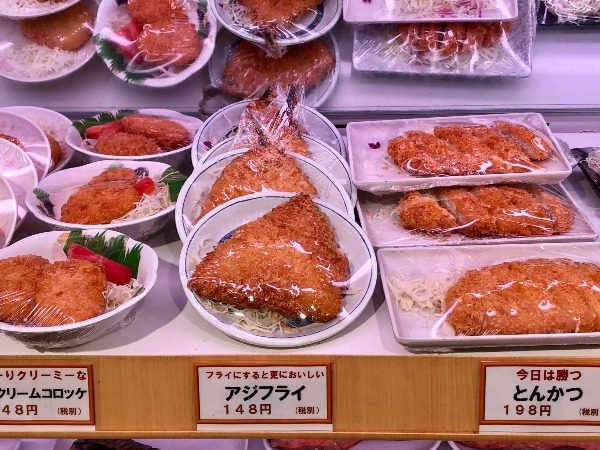 The immensely popular creamy crab croquettes are just 148 yen, the horse mackerel (aji furai) is the same price, while the deep-fried pork loin (tonkatsu) is 198 yen. Not only are the prices astonishing but most of the dishes are things people rarely prepare for themselves at home.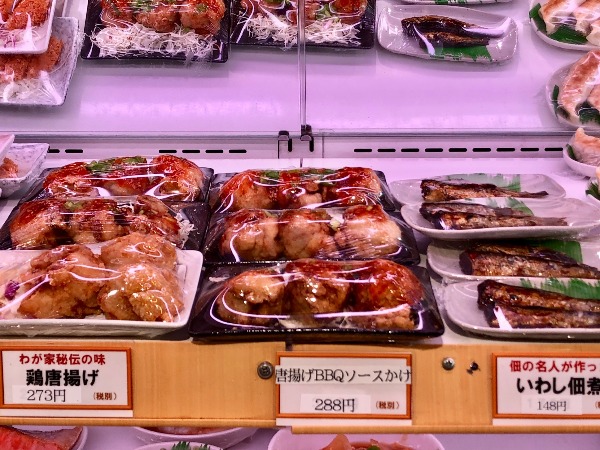 One of Mr. Tsukada's top recommendations was the deep-fried chicken (karaage) at 273 yen, or 288 yen with a barbecue sauce. "Eating chicken with rice speeds the metabolization of both foods." he explained, "If you then add something like the spicy stamina bowl which contains fermented soybeans (natto), kimchi, and a steamed egg, together with miso soup you have a very healthy base for your meal."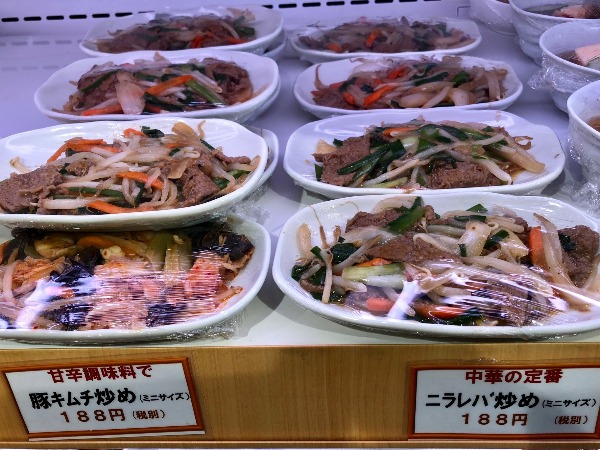 Another recommendation was the liver and garlic chives (liver nira), here shown in mini-size at 188 yen. On the left is a pork and kimchi stir fry. Mr. Tsukada rated liver and garlic chives with a side order of kimchi as the best nutritional combination, particularly for the capsaicin in the spicy kimchi.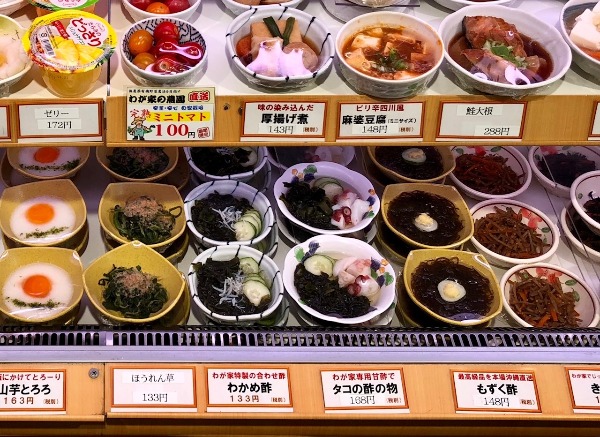 The sweltering heat and strength-sapping humidity of the Tokyo summer can cause the dreaded summer exhaustion (natsubate), where people lose their appetite, struggle to sleep properly and feel permanently weary as a result. To beat the heat, many people enjoy vinegared dishes, such as those on the right here. From left is grated yam with raw egg (tororo imo), blanched spinach, vinegared seaweed, cucumber and whitebait, vinegared octopus with cucumber and seaweed, brown Okinawan seaweed (mozuku) with vinegar and grated ginger. On the extreme right is another very popular dish, carrot and burdock root with sesame (kimpira gobo).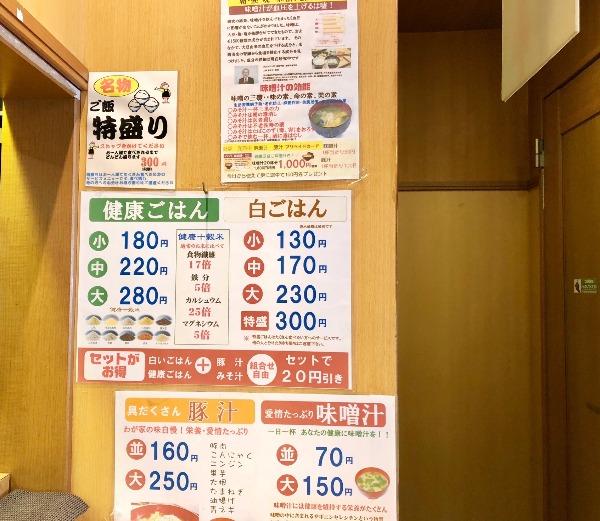 Wagaya no Shokudo serves A Class white rice in small, medium, large or extra-large portions for 130, 170, 230 or 300 yen respectively. The increasingly popular multi-grain rice costs 180, 220, or 280 yen and contains millet, barley, mung beans, azuki beans, Job's Tears (hatomugi) and so on. Between 10am and 3pm diners can have a free second helping of rice if they order the medium size bowl. For soup there's a choice of pork and vegetables (tonjiru), a hearty, miso-flavoured broth containing pork, konnyaku, carrots, daikon radish, Japanese taro (satoimo), onions, green onions and deep-fried tofu skin, or regular miso soup with various ingredients. On this particular day it was deep fried tofu skin and seaweed.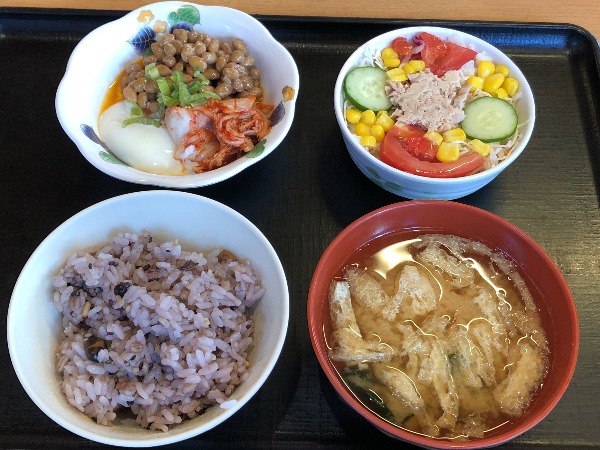 The spicy stamina bowl (188 yen) on the top right features an onsen tamago, an egg slowly cooked in warm water that leaves the white runny and the yolk firm. The fermented soybeans (natto) and the spicy kimchi are highly nutritious. The tuna salad comes in at 148 yen, with the medium sized bowl of multigrain rice at 220 yen and the miso soup with fried tofu skin (aburaage) and seaweed at 70 yen. That's a filling, nutritious base for just 626 yen, before tax. Add a main dish and the total cost will be around 1,100 yen, remarkable value for money.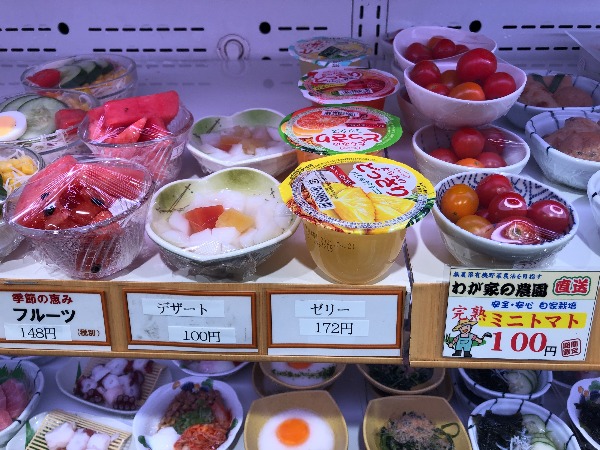 A variety of salads are also available, including the popular organic mini tomatoes grown on Wagaya's own farm in Chiba Prefecture. There are even desserts such as fresh fruits, almond tofu (annin dofu, which is actually made from apricot kernels), and summer fruit jellies.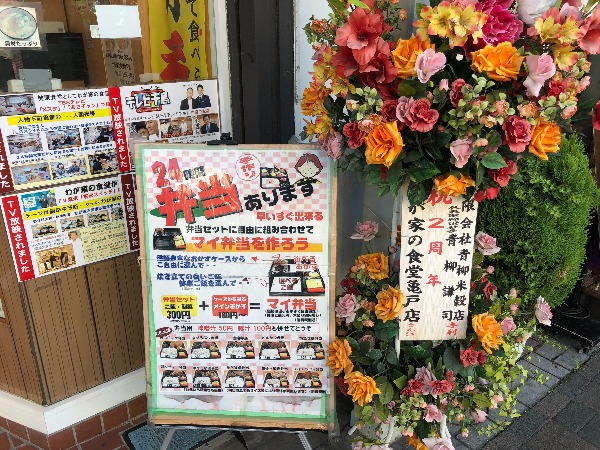 Two kinds of takeout lunch boxes are available. Mix and match, where the customer can choose a main dish and the type of rice they want (multi-grain rice is 50 yen more) begin at 420 yen for the croquette lunch box. Miso soup (50 yen) and pork soup (100yen) can also be added.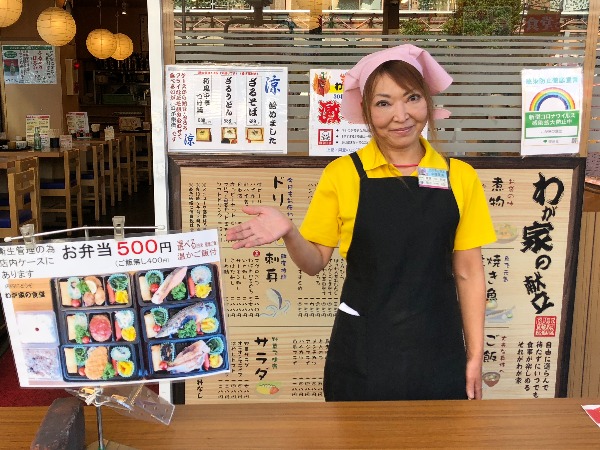 Prepared lunch boxes at just 500 yen each are on sale for those in a real hurry.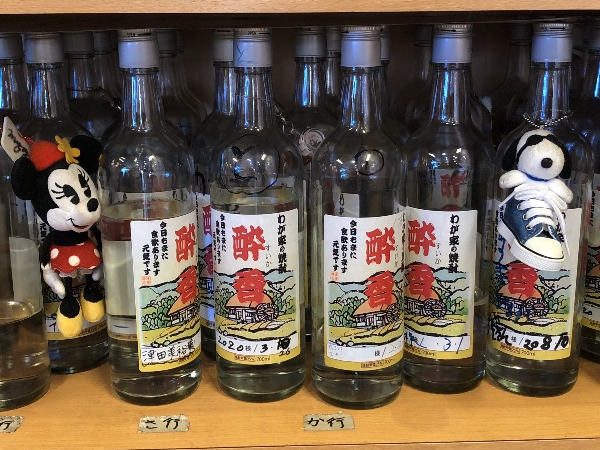 Some regular customers even keep a bottle of Wagaya no Shokudo's own brand shochu to drink with their dinner. Customers are limited to one hour per visit, as it's not really a drinking establishment.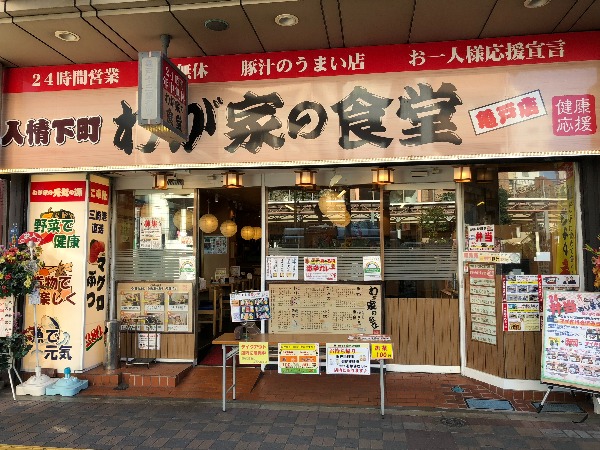 The original concept of Wagaya no Shokudo was to give those far from home a place to eat real home cooking at very reasonable prices. If you're in the Kameido area and would like a healthy, hearty Japanese meal at prices that won't break your budget, just drop in. Mr. Tsukada and his charming staff are waiting to serve!
Story and photographs by Stephen Spencer