Wagaya no Shokudo: Healthy Home Cooking at Unbeatable Prices
Published: September 14, 2020
Wagaya No Shokudo is a Monzen-nakacho restaurant serving hearty, healthy Japanese home-cooking with an inventive twist. On a recent sultry summer afternoon, we dropped in for a chat with general manager Ms. Asuka Komuro.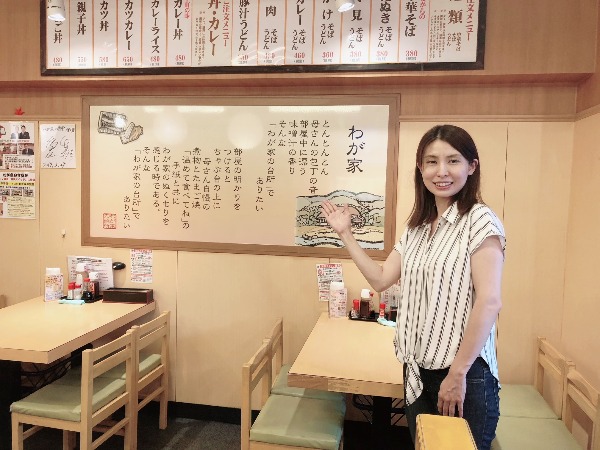 "My father opened the restaurant here in 2007, taking over an establishment already in place," explained the brisk and affable Ms. Komuro. "He wanted to provide single men, business people living away from their families and night or shift workers with healthy food at reasonable prices. Many single people living alone don't cook for themselves and it can be difficult to manage a healthy diet by yourself. This was his idea."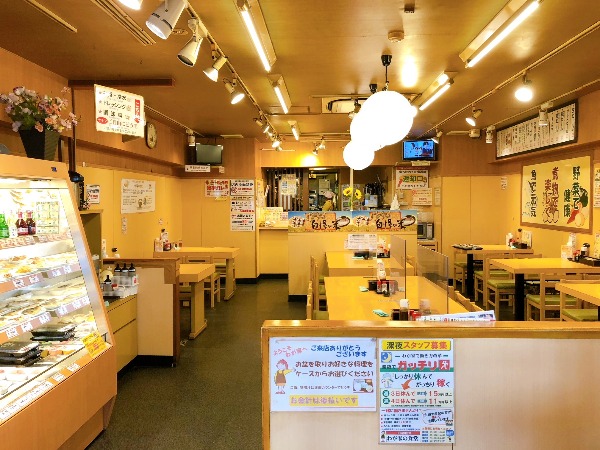 Located just three minutes' walk from exit 6 of Monzen-nakacho station, Wagaya no Shokudo (literally, our house's canteen or cafeteria) has a bright, clean interior reminiscent of a company dining hall or restaurant. "Customers are limited to 60 minutes per visit," says Ms. Komuro, "so many eat and leave, particularly in the day time when we're very busy. Some have a drink in the evening, though."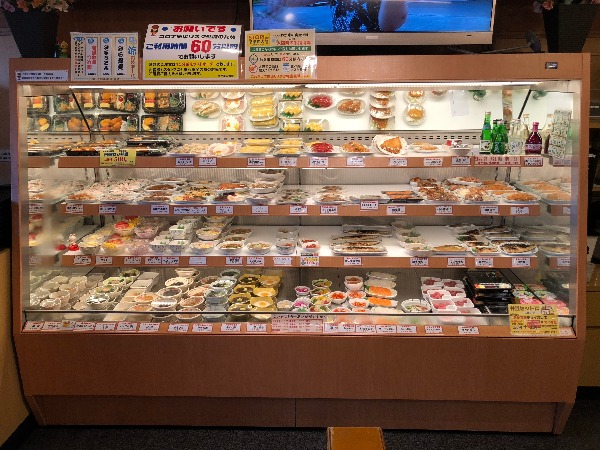 On entering Wagaya no Shokudo one is immediately struck by the large display case with shelves packed full of bowls and plates of all sizes, tightly wrapped with cling film. This was Mr. Komuro's innovation: pre-cooked portions that can be reheated in a microwave or eaten as they are. "The lunch time period is all about making best use of the one hour or so that company workers have," explained Ms Komuro. "Ordering, then waiting while it's cooked takes time that many don't have to spare."
So, how does it work? "Customers take a tray and select what they fancy from the main dishes, side dishes, pickles and salads on the shelves. They take the tray to the serving counter where the dishes are reheated, then select their choice of rice and soup which is served piping hot by the staff. It's quick and efficient. It also allows us to charge far less than restaurants serving similar meals."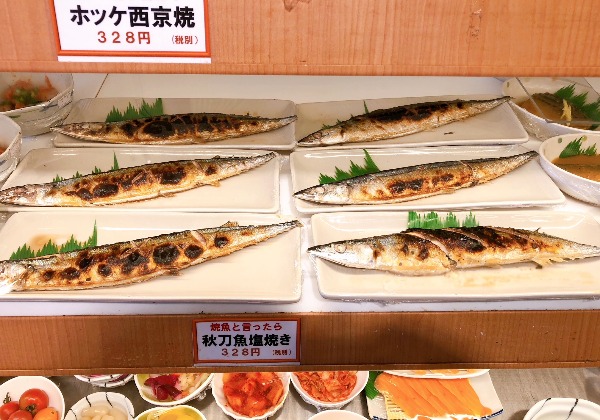 There's a bewildering variety of dishes on the counter shelves. The most popular are fish, particularly grilled fish like these Pacific saury (sanma), a great favourite in autumn. At 328 yen each, they represent incredible value!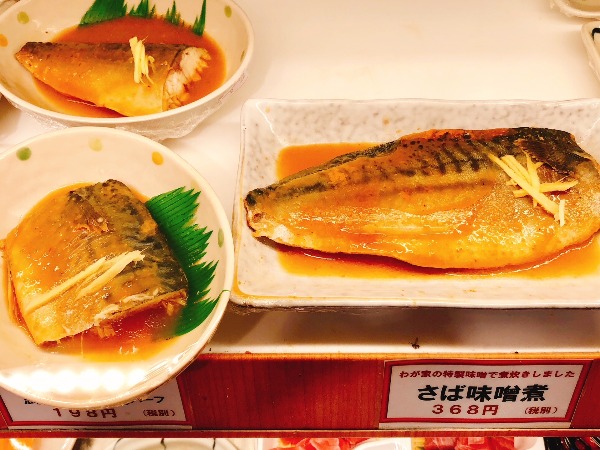 This mackerel in fermented bean paste (miso) is another classic home-cooked dish. A remarkable 368 yen for a whole fillet or 168 yen for a half!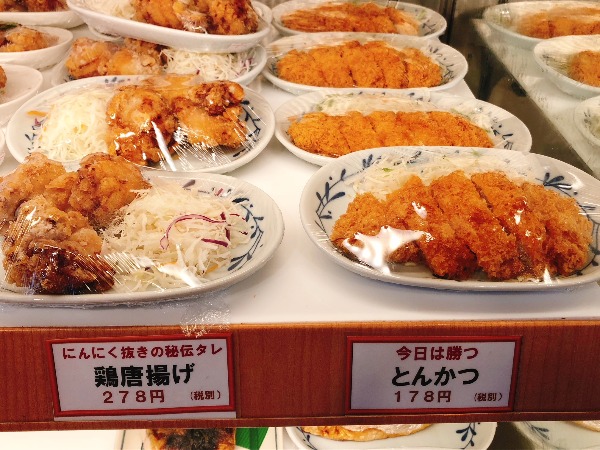 Deep fried items abound, such as this garlic-free chicken (karaage) at 278 yen or the pork roast cutlet (tonkatsu) at just 178 yen.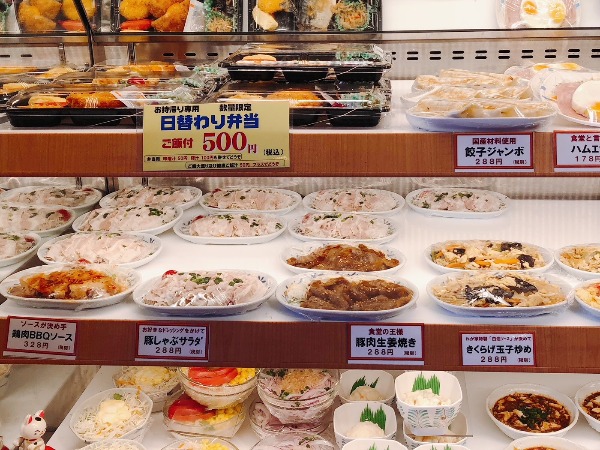 For meat eaters there are plenty of choices, such as chicken in BBQ sauce (328 yen), blanched pork salad (buta shabu 288 yen), pork and ginger (288 yen), spicy mapo tofu (248 yen), stewed pork intestines (motsu nikomi 328 yen) and liver with nira (garlic chives) for 188 yen. The prices are astounding; it's nearly impossible to make these items oneself at home for less.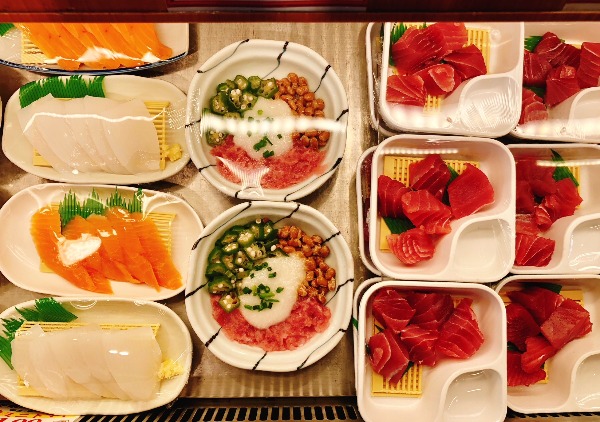 A Japanese set meal features rice, soup, a main dish and two side dishes. This salmon or squid sashimi is 288 yen, stamina tuna with okra, natto, and grated yam (tororo) is 378 yen and tuna chunks are just 280 yen.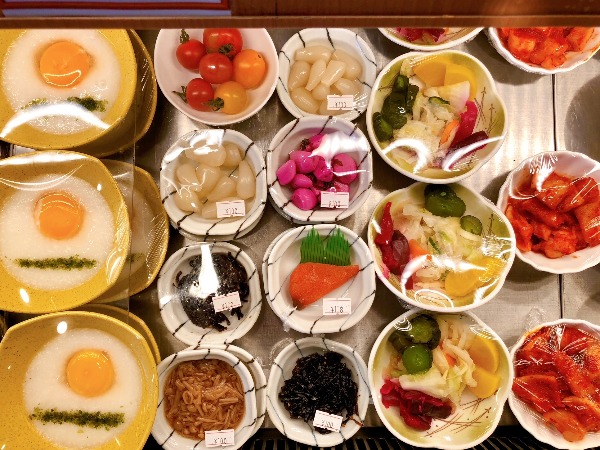 The myriads of side dishes are healthy, nutritious and the sort of things busy people don't make at home. From left are grated yam and raw egg, organic tomatoes, pollack roe, nametake mushrooms, pickled scallions, garlic, and other vegetables and homemade kimchi. These side dishes are priced from 100 to 178 yen, before tax.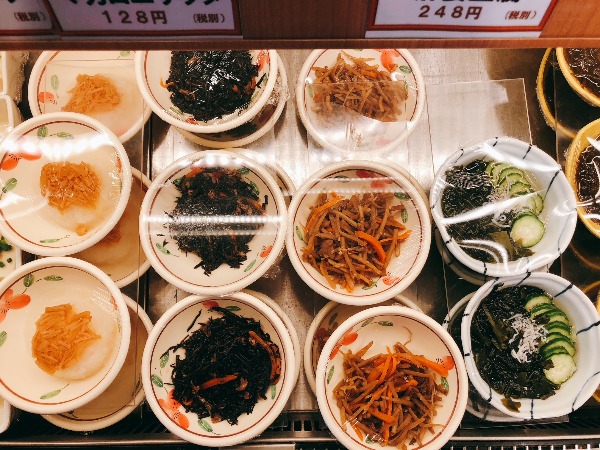 While here are grated daikon radish topped with nametake mushrooms, hijiki salad, sliced burdock root, carrot and sesame (kimpira) and a great summer favourite, seaweed, cucumber and boiled whitebait in vinegar. Vinegar-based dishes counter the effects of the energy-sapping heat and humidity of the Japanese summer. "We offer many seasonal dishes," explains Ms. Komuro, "It's part of my father's vision that Wagaya no Shokudo should be a kind of home from home for people living away from their families. For example, in spring it's blanched rapeseed (nanohana), chirashi zushi, eel and fruit jelly in summer, Christmas cake in December."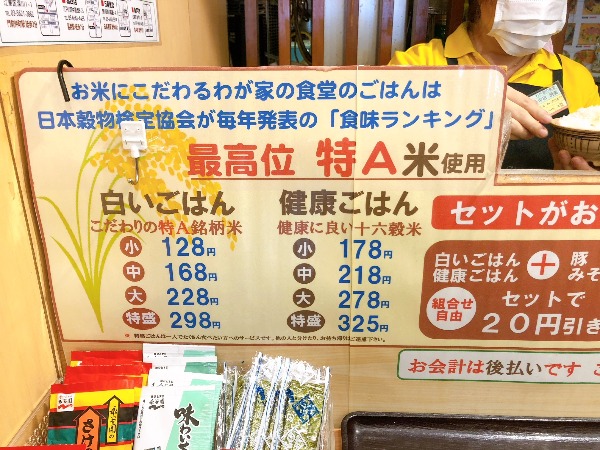 Wagaya no Shokudo serves A Class white rice in small, medium, large or extra-large portions for 128, 168, 228 or 298 yen respectively. The increasingly popular multi-grain rice costs 178, 218, 278 or 325 yen and contains millet, barley, mung beans, azuki beans, Job's Tears (hatomugi) and so on. Between 10am and 3pm diners can have a free second helping of rice if they order the medium size bowl.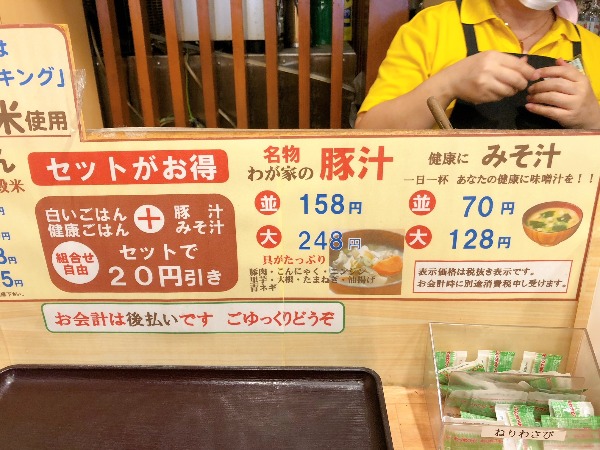 For soup there's a choice of pork and vegetables (tonjiru), a hearty, miso-flavoured broth containing pork, konnyaku, carrots, daikon radish, Japanese taro (satoimo), onions, green onions, and deep-fried tofu skin, or regular miso soup with seaweed and negi onions. The pork soup is 158 yen for a regular size and 258 yen for a large, while the miso soup is 70 yen and 128 yen for the same sizes.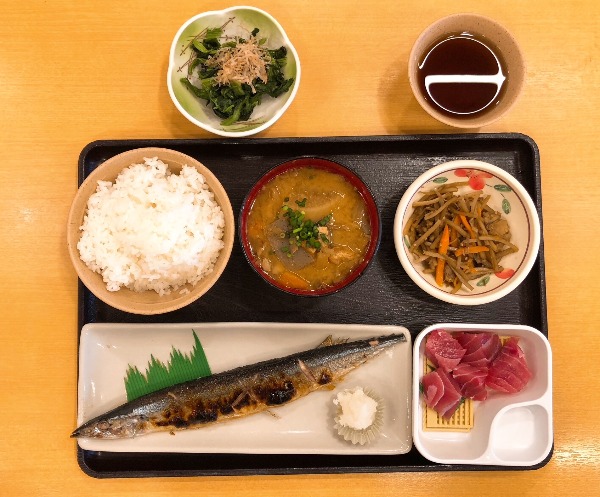 Our selection was very tasty indeed and more than filling. It featured multi-grain rice at 168 yen, pork soup (158 yen), Pacific saury (328 yen), burdock root and carrot (128 yen), tuna sashimi (280 yen), and blanched spinach (ohitashi) at 138 yen. That's a grand total of 1,200 yen for a delicious, satisfying dinner bursting with healthy goodness.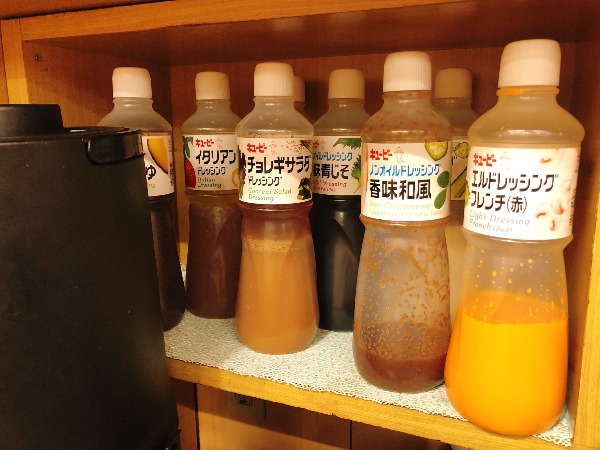 Regular salads are available too, with a variety of dressings. There are also various toppings for rice, such as the fragrant yukari, made from purple shiso leaves and furikake, the ubiquitous mix of dried fish, seaweed and sesame powder.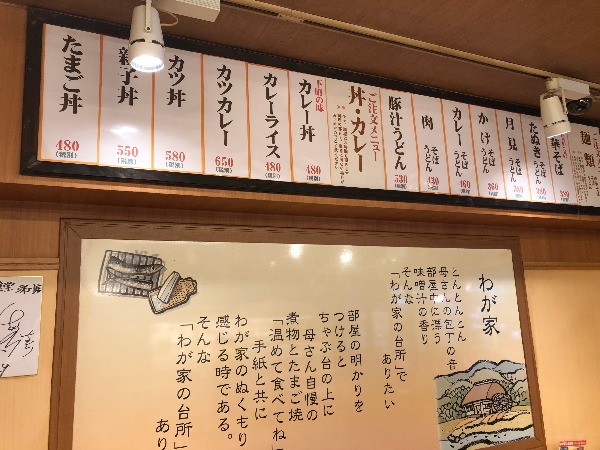 For those with more time Wagaya no Shokudo also serves dishes that can be ordered on arrival, such as noodles (udon, soba, ramen) and donburi dishes such as pork cutlet on rice or curry rice. Again, prices are very reasonable. Lunch boxes are available at just 500 yen.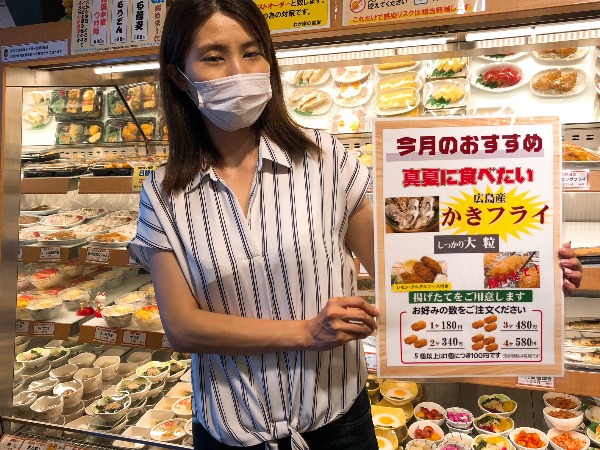 This month's special is deep-fried Hiroshima oysters. Served with tartar sauce or lemon, one is just 180 yen, while four come with a hefty discount at 580 yen. Nice!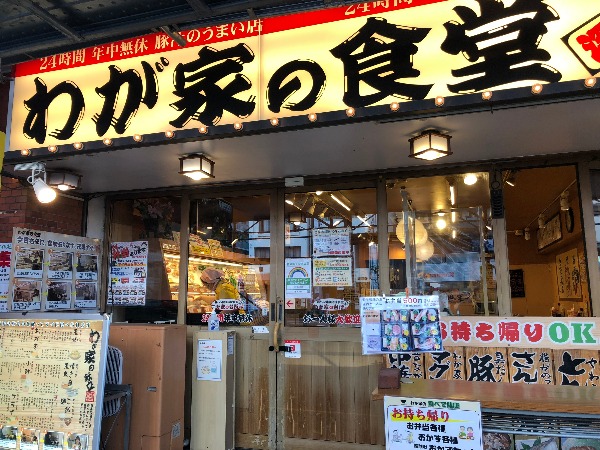 Many of the vegetables served at Wagaya no Shokudo are organic, grown on a farm in Chiba Prefecture. "The owner wanted to buy organic vegetables but the prices were prohibitive. It turned out to be cheaper to rent some land and grow his own," explained Ms. Komuro. Tomatoes, eggplants, potatoes, daikon radish and green shiso (oba) are all grown on the farm. Healthy, filling, nutritious and incredible value for money; that's Wagaya no Shokudo. If you're in the Monzen-nakacho area and fancy a real slice of home cooking Japanese style, you know where to head. And it's open 24 hours a day!
Story and photographs by Stephen Spencer