Ready For The Next Big Thing
Published: November 30, 2017
Japanese people love sports, and they especially love their national teams and international players. Japan's National Soccer team has countless passionate followers, ice skaters and rugby players' names are household words, and tennis fans are glued to their flat screen TVs when Kei Nishikori or 19-year-old Naomi Osaka takes to the court. But what sport will catch the public eye next, you might ask? That's an easy question to answer: table tennis.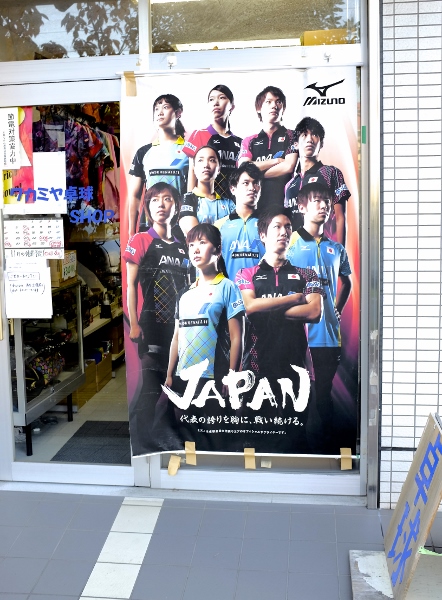 While table tennis has always been in the background in Japan, the emergence of a younger generation of players has caught the attention of sports-conscious Japanese fans. Players like Kasumi Ishikawa, Mima Ito, Miu Hirano and 14-year-old Tomokazu Harimoto have become well known throughout the country are also on point to become Japan's leading hopefuls for the 2020 Tokyo Olympics. What's more, the new T-League Premier League will kick off in the fall of 2018 and will surely fuel more interest in table tennis.
The sport's sudden rise is not only good news for Japanese fans and table tennis players, but also for Mr. Akihide Wakamiya, owner, manager and staff at Wakamiya Table Tennis Shop in Koto City's Ojima district.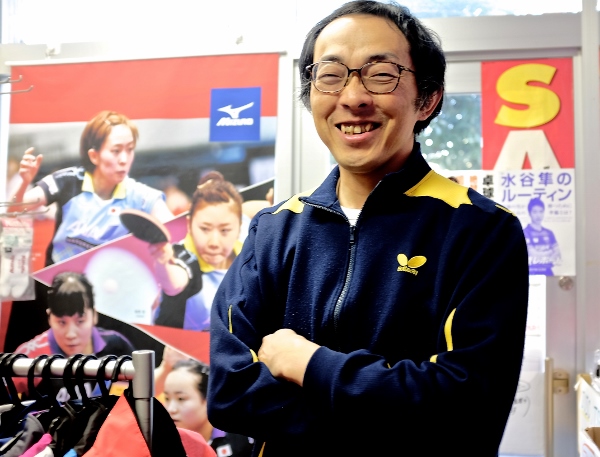 Seven years ago, Mr. Wakamiya traded in his office worker lifestyle for something new—running a table tennis shop. Now it looks like those seven years of hard work will pay off big-time as the sport booms. His shop serves Tokyo's eastern wards, and his customers include non-club players, tennis table clubs and schools.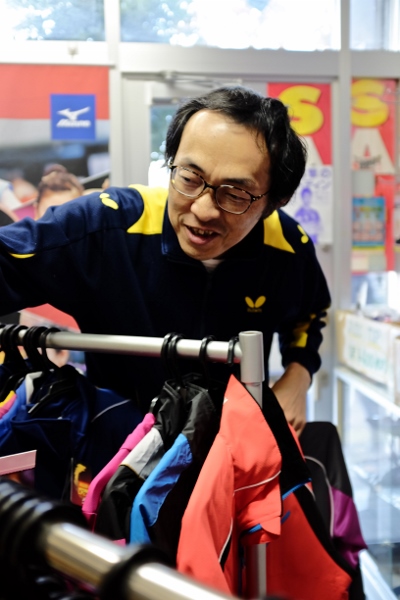 And if there is something related to table tennis, his shop has it. Shirts? Check! Shoes? Check! Socks? Check! Balls and rackets? Check! Racket covers and cleaning gear? Check! He's got it all. Mr. Wakamiya takes great pride is his skill in re-covering rackets. Above his workspace is a sign that says there is no charge for re-covering rackets.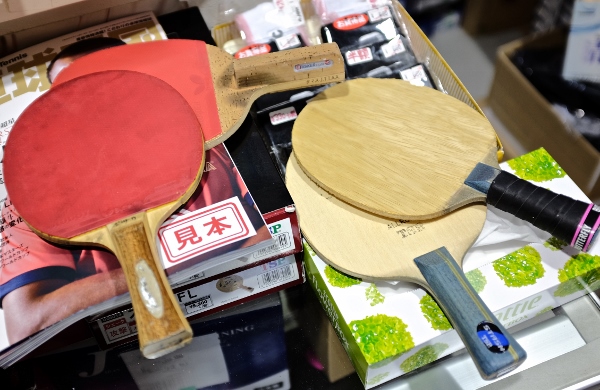 The customer buys the racket covers, which come in various grades, and are, by rule, red on one side and black on the other, and Mr. Wakamiya does the re-covering. (The covers can be seen in the photo that shows what looks like a rack of CDs or DVDs but are actually the various brands and grades of racket covers.)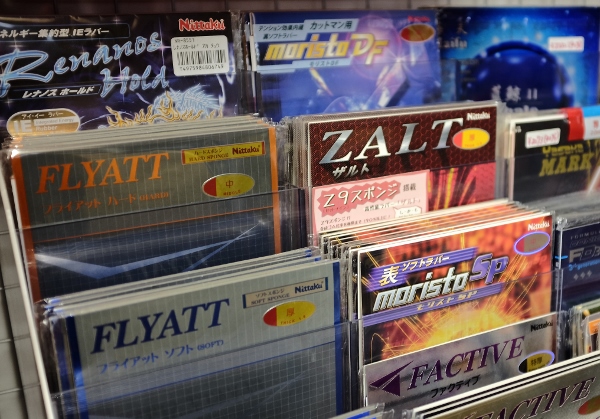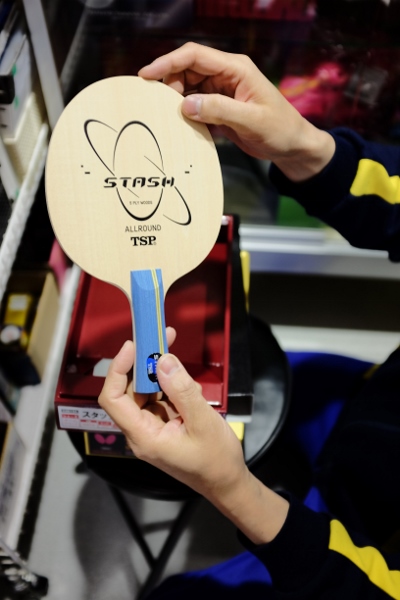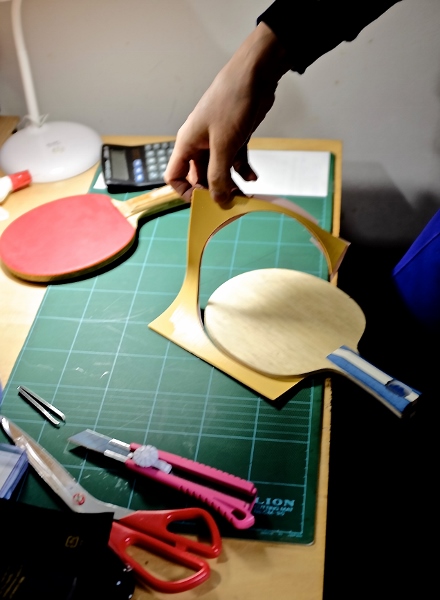 The customer chooses the cover and then Mr. Wakamiya sets to work re-covering the racket by first applying glue to the wooden surface, semi-drying it with a blow-drier, then positioning the cover and trimming it to fit the racket. Mr. Wakamiya told me that the average player might have his/her racket re-covered twice a year, while serious competitive players might require new covers twice a month!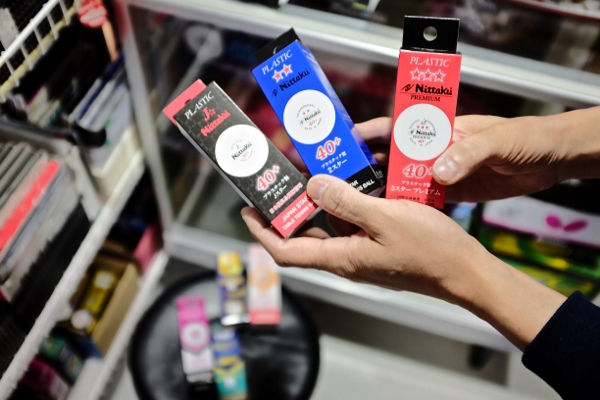 Naturally, Mr. Wakamiya is cheering for the Japanese team in the upcoming 2020 Olympics. As for non-Japanese customers, he says his customers include Indian, Chinese and Taiwanese players as well. Overseas customers appreciate the high quality of Japanese table tennis products.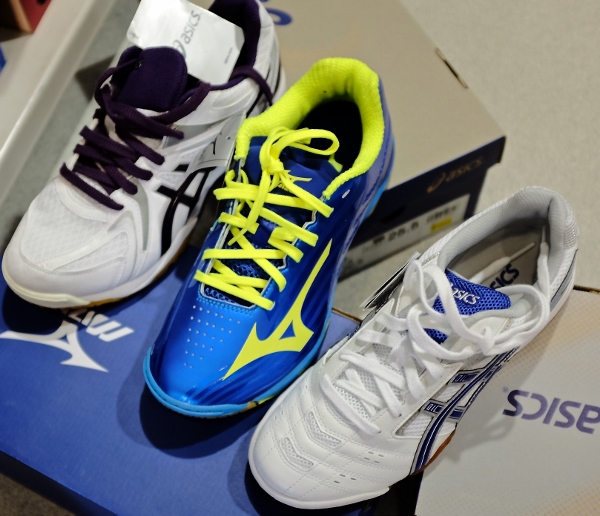 His hope is to present a bright and friendly face to all of his customers and to assure them that all the products are safe and of the highest quality. His dream? Of course, to continue this business, but also to have a bigger space for his shop—one where he can have a table with a net set up and ready to go. And why not? We wish him the best of luck.
Story and Photos by David Parmer