Yakatabune Cruising Style
Published: November 22, 2022
Yakatabune are a type of Japanese riverboat that date back to the Heian Period (794 to 1185), when the aristocracy used them for travel, or cherry blossom and moon viewing parties. During the Edo Period (1603-1867), they became a popular way for Tokyo denizens to escape the summer heat, cruising around Tokyo Bay with food, drink and good company. Continuing that centuries-old tradition is Funayado Uchida, a cruising company based in Koto-ku. On a recent sunny afternoon, we dropped in for a chat.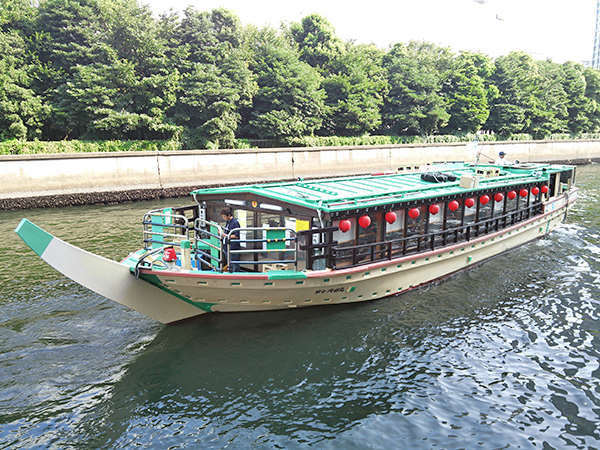 The Funayado Uchida company operates some 15 boats, from fishing boats to yakatabune, and is a member of the Tokyo Bay Sport Fishing Association. The company was originally founded as a shipping business, transporting lumber down to the lumber yards at Kiba, but has now been in the yakatabune and fishing cruise business for 45 years.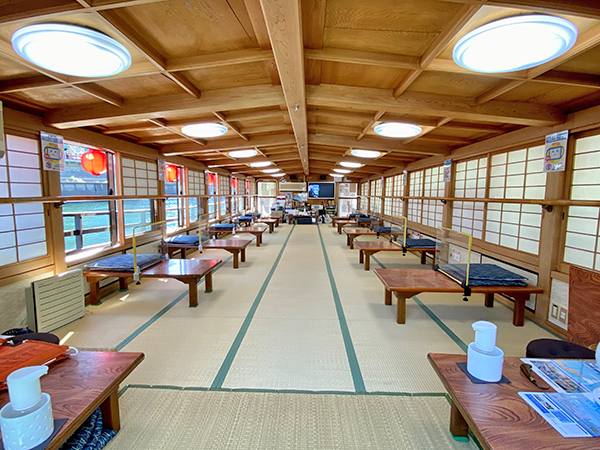 The interior of this particular boat, the Number 7 Uchida Maru, is as classic a yakatabune as there could be. The flooring is tatami mat, the blonde wood is Japanese cypress and the tables are just like those you'd find in a traditional house. It's just like being in someone's front room, except on a boat!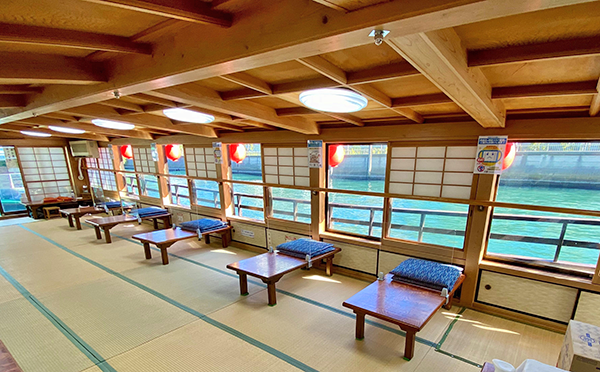 Despite being close to 35 years old the boat is spick and span. With the sun shining and the sound of water lapping gently against the hull, it was really comfortable.
How do you get there? Well, the embarkation point for the yakatabune cruises is the Hamazono bridge area in the bottom left corner of the map. The embarkation area is about a 10 minute walk from Etchujima station on the JR Keiyō line or slightly longer to Monzennakacho on the Tozai subway line.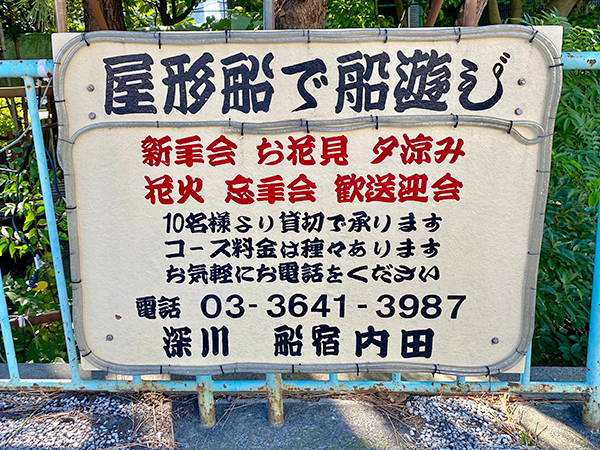 This sign on Hamazono Bridge marks the entrance to the embarkation dock.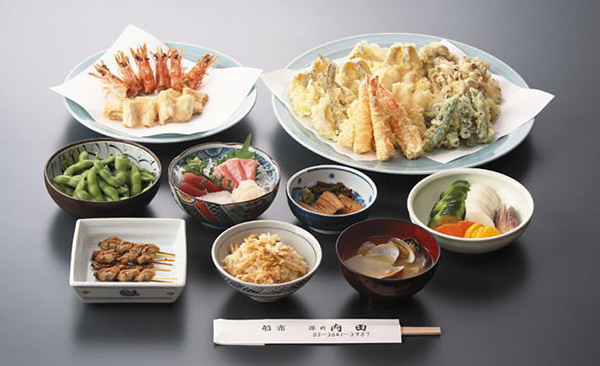 Passengers on the Funayado Uchida yakatabune can enjoy a variety of course dinners, all of which feature tempura cooked on the boat.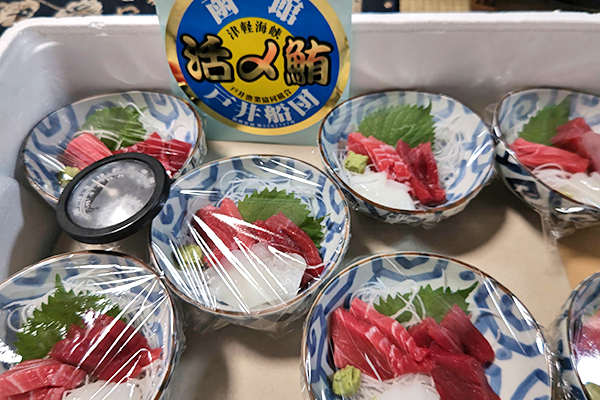 There's fresh sashimi too! The courses feature all-you-can-drink and begin at 8,800 yen, which is very reasonable.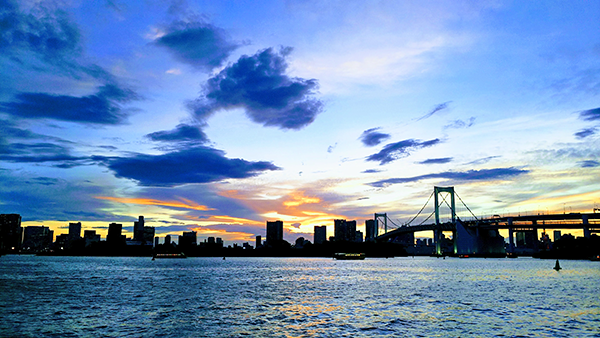 Koto-ku is criss-crossed with rivers and canals, while the extensive south side is on Tokyo Bay. This extended waterfront makes it an ideal place to traverse by riverboat, especially at night.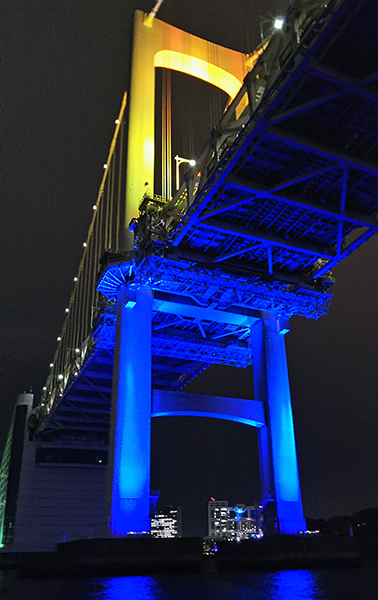 There's really nothing quite like it on a warm summer's evening. Rainbow Bridge….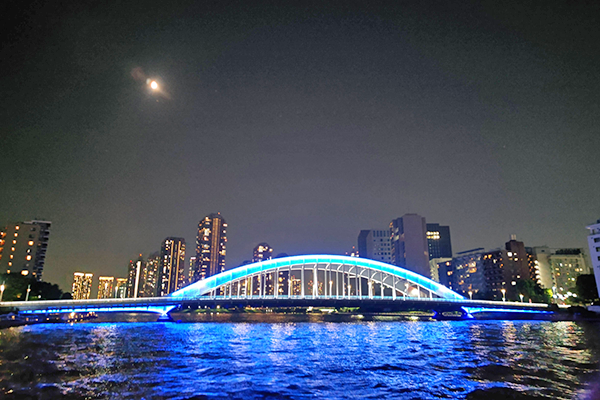 ….and the moon over the glittering cityscape.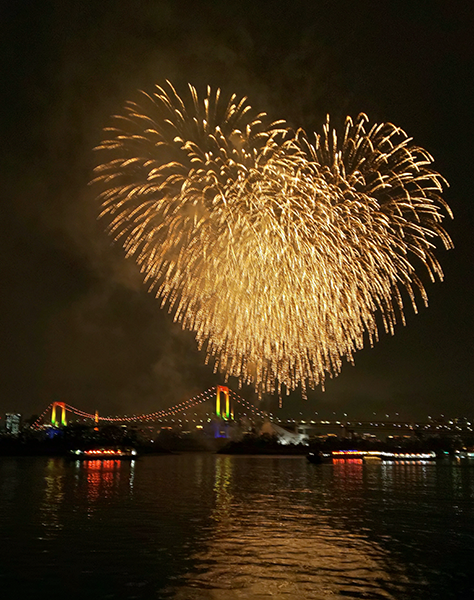 Cherry blossom viewing in spring, summer fireworks and moon viewing in autumn, all with a cold beer and tasty food. Wonderful!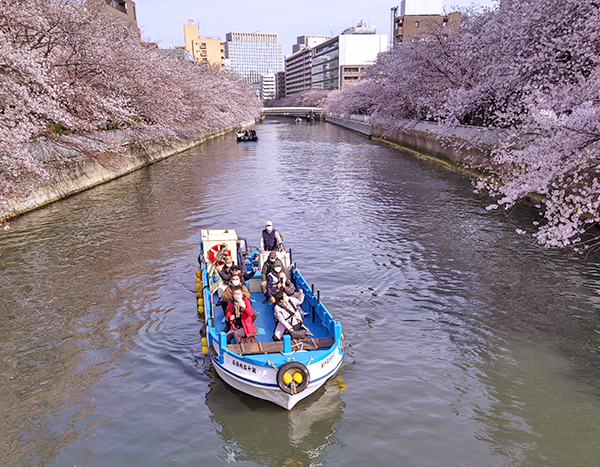 Funayado Uchida also offers a variety of cruises such as cherry blossom viewing along the River Oyoko and the canals of Koto-ku.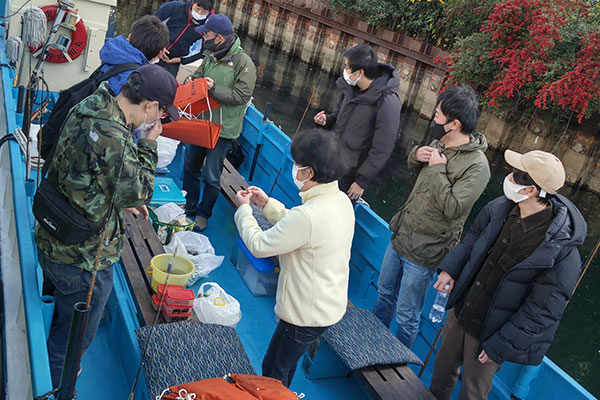 As well as goby fishing!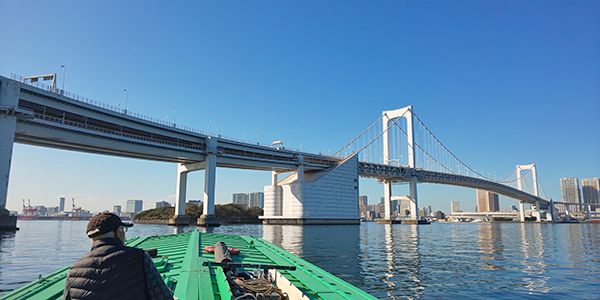 Seeing the city from a boat, whether by day or night, is an unmissable experience. Check out the Funayado Uchida website and treat yourself to an unforgettable experience.
by Stephen Spencer