Juicy Yakitori, Stylish Interior, Friendly Atmosphere
Published: November 9, 2020
The Kameido area of Koto-ku is turning into a real treasure trove for food lovers. In recent months, it's been our privilege to introduce several establishments offering quality comestibles at prices that won't damage your wallet and today is no exception. On a recent balmy autumn afternoon, we dropped in to Yakitori Keichan to talk about barbecued chicken with owner Mr. Keiichi Shimoda.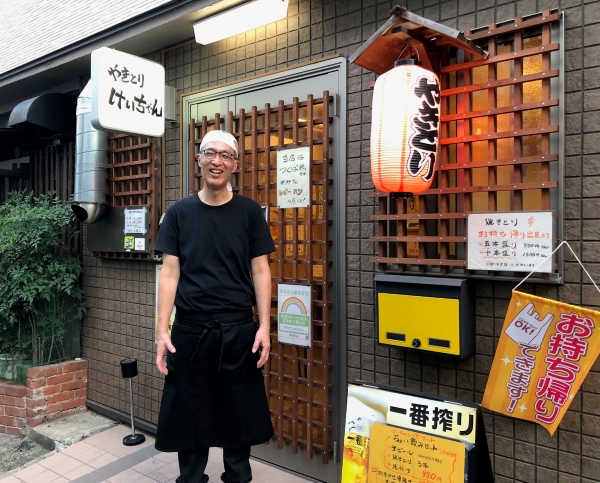 Located on a backstreet between Chuo Street and Suijin Street just north of the station, Yakitori Keichan opened in March 2019, as Mr Shimoda explained. "I'd been working for a yakitori restaurant chain for many years and decided it was time to branch out on my own. I was actually looking for an office space when an estate agent introduced this place to me. I thought it would make a tidy restaurant if it was remodeled, so that's what I did and opened for business last year."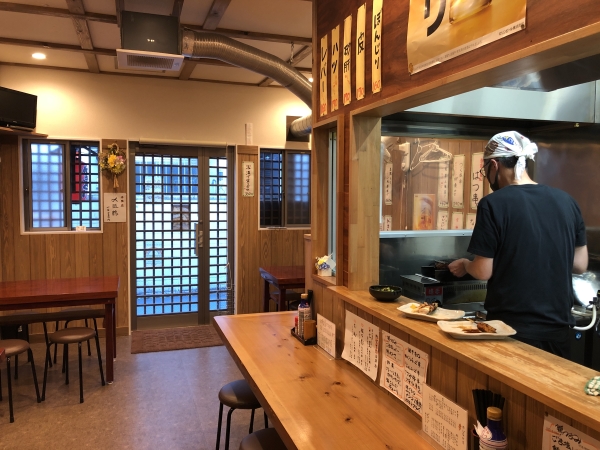 The beautifully remodelled interior has a warm and comfortable ambience that encourages customers to roll up their sleeves and order an ice-cold beer with some immaculately grilled chicken. Extremely powerful extractor fans above the grill and in the central ceiling whisk away the smoke, while the door and window lattice design allows potential customers a chance to peek inside and see how inviting it looks.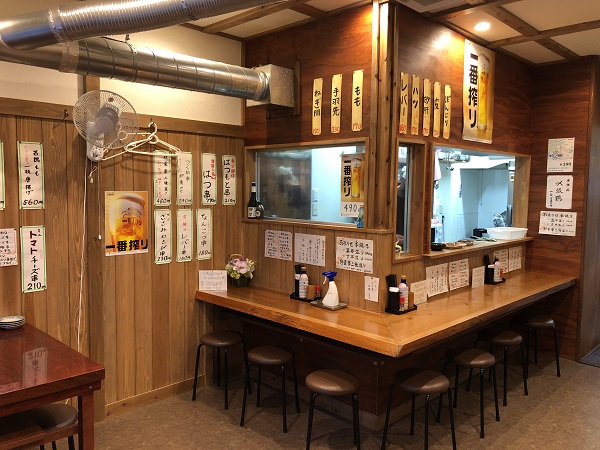 The seating has been reduced to comply with current safeguards. "Business was a little slow to start with but then picked up through word of mouth," said Mr. Shimoda. "I'm from just down the road in Ojima so I know what a great area Kameido is for eating and drinking. The people are really openhearted and thanks to them we haven't suffered much from the pandemic, although we did close completely for two weeks when it began."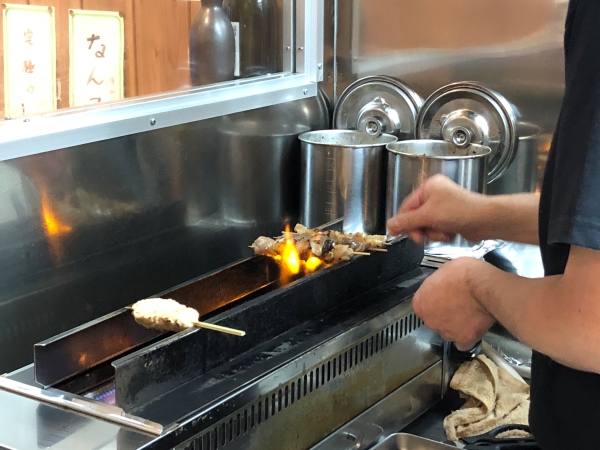 While the name is Yakitori Keichan it's not all about those tasty skewers of grilled chicken, as Mr. Shimoda explained stepping behind the grill, "I think of it as an izakaya (Japanese pub) that serves mainly, but not only, chicken dishes." There's around a dozen different chicken yakitori, various vegetables (shiitake, negi onions, shishito green peppers, mini tomatoes and cheese, okra, and cheese) and a selection of items such as chicken yukke (Korean-style minced raw chicken breast with egg yolk), deep-fried cartilage (nankotsu), chicken soup, fried noodles, fried chicken and many more.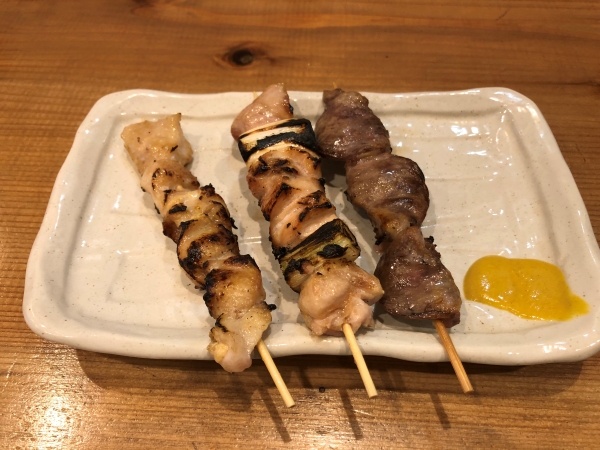 From left to right the plate features parson's nose (bonjiri, 160 yen), chicken and negi onion (negima, 170 yen) and the top-selling heart (hatsu, 170 yen). "All of our chicken is from a well-known Japanese free-range mixed-breed chicken (jidori)," explained Mr. Shimoda. "The sauce (tare) is homemade too."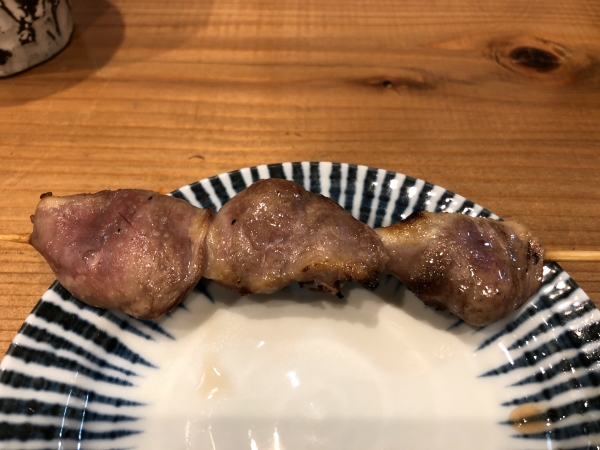 We were particularly intrigued to hear that the heart (hatsu) was the top-seller; although it has aficionados it's never the most popular on the yakitori menu. But then we tried it and discovered that it's incredibly soft and juicy. In fact, this is easily the softest and juiciest heart yakitori we had ever sampled. Bravo! The parson's nose was crispy on the outside and soft inside, while the chicken was again exceptionally juicy, and the pieces were very large.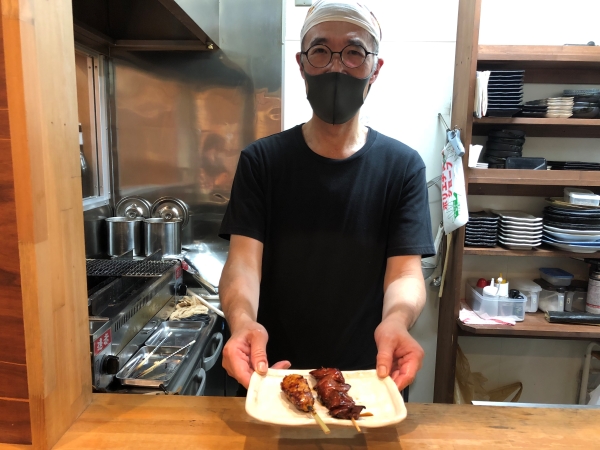 Next up were two skewers featuring the homemade sauce, chicken liver and chicken meatball (tsukune). "The chicken meatballs contain just a little finely chopped cartilage, a touch of garlic and a little more ginger," said Mr. Shimoda.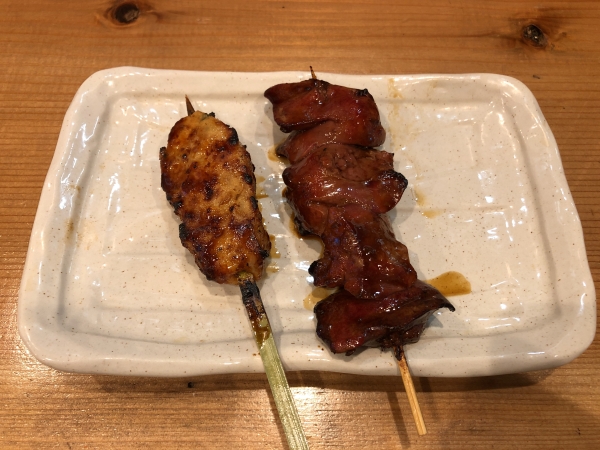 While I couldn't taste the garlic the extra ginger was a pleasant surprise, as was the texture of the tsukune. Many places use coarsely chopped cartilage, but this was more texture than crunch. The liver was tremendous as well, with a melt-in-the-mouth, almost creamy softness. Mr. Shimoda declared the secret was to only cut the liver once. At 160 yen for the chicken meatball and 180 yen for the liver, the cost performance is remarkable.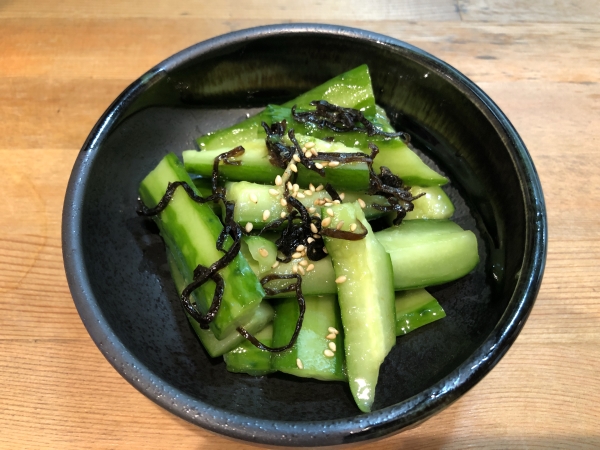 This dish of crisp sliced cucumber garnished with salted kelp (konbu) and sesame (360 yen) was a chilled contrast to the juicy chicken delights and would doubtless be very appealing with a nice cold beer. An egg and potato salad is also available.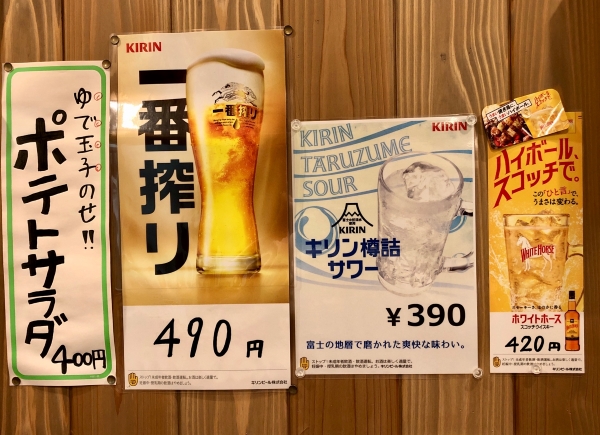 Speaking of beer, it's Kirin Ichiban Shibori at 490 yen a glass on draft. The highball craze shows no sign of abating, with White Horse whiskey (420 yen) the preferred choice at Yakitori Keichan. All the usual soft drinks are available too.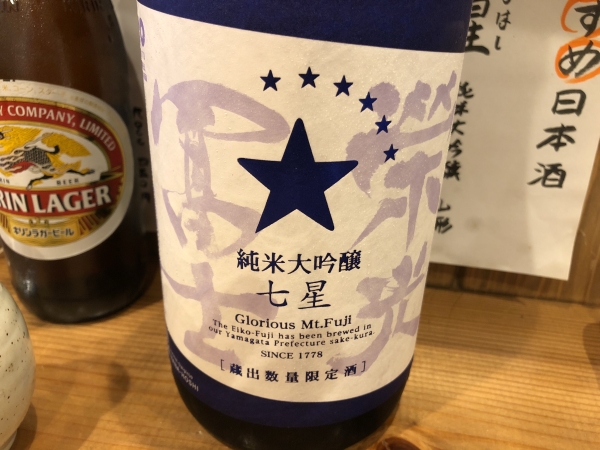 For customers who prefer something stronger there are three varieties of sake available: this Nana Hoshi from Yamagata Prefecture, Koshi no Taka from Fukui, and Kure from Koichi. They cost 790, 750, and 680 yen respectively for 180ccs. Cheers!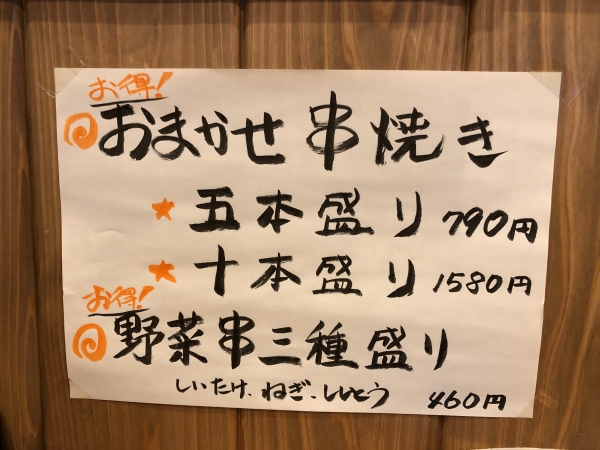 For many people it may be easier to order an omakase set (chef's choice) of five sticks for 790 yen, or ten for 1,580 yen if you're really hungry. The three vegetable sets of shiitake, negi onions, and shishito peppers are just 460 yen. All prices mentioned here are before tax.
And what of the future? "I just want to continue serving good food at reasonable prices in a relaxed atmosphere," said Mr. Shimoda. "All are welcome here, singles, families, kids. At weekends our customers are mainly local residents, many with children. We have a lot of repeat customers now." Having eaten Mr. Shimoda's yakitori and other splendid offerings, it's easy to see why. If you find yourself in the Kameido area and in the mood for some top-quality yakitori and chicken dishes, just head for Yakitori Keichan. You won't regret it!
Story and photographs by Stephen Spencer