Yakuzen Cooking for Life
Published: June 25, 2021
Omanekiya Didean is a unique cafe and dining bar dedicated to medicinal cooking (yakuzen in Japanese). Put simply, yakuzen is an approach to food-as-medicine that originated in ancient China and has undergone a latter-day revival with the increase in public awareness of healthy eating. In practice, this means organic vegetables and fruit, produced without pesticides or agricultural chemicals, as part of a well-rounded, balanced diet. On a recent afternoon, we dropped in for a chat with chef and manager Mr. Nagasoe.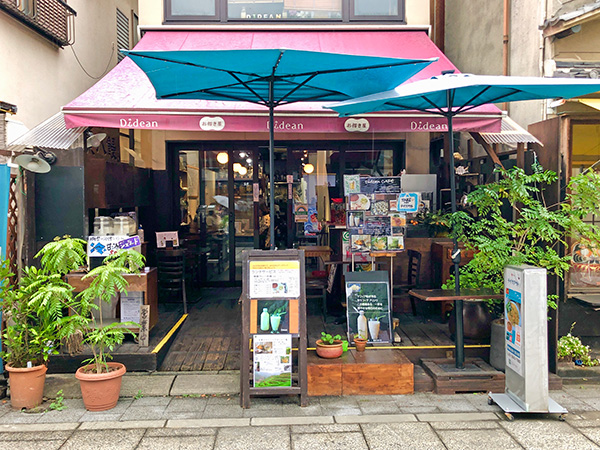 Omanekiya Didean is located right on the approach road (sando in Japanese) to Fukagawa Fudo-do, a 300-year-old temple of the esoteric Buddhist Shingon sect, just two minutes' walk from Monzen-nakacho station. Fukagawa Fudo-do is a remarkable place, with the daily Goma fire ritual a must-experience for visitors to the area.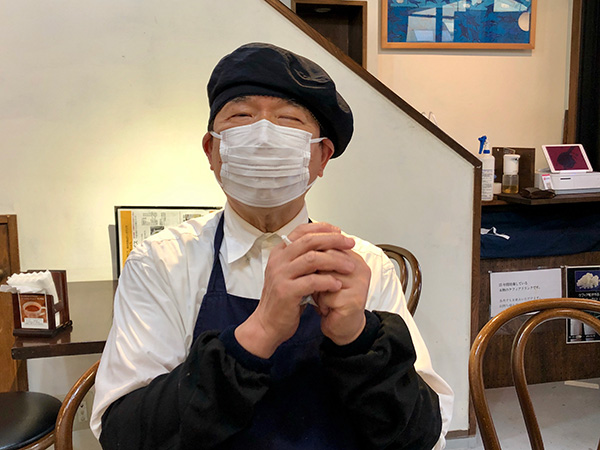 Mr. Nagasoe is a fascinating character who became the full time chef and manager at Didean after retiring from his job as a journalist with a national newspaper. His wife is president of the company. "We first opened in October 2000 near here, then moved into these premises around ten years ago. It's a really nice location. Our aim is to promote healthy eating and to raise awareness of the importance of medicinal cuisine. While some of the items on our menu are suitable for vegans or vegetarians, many dishes use chicken stock as a base."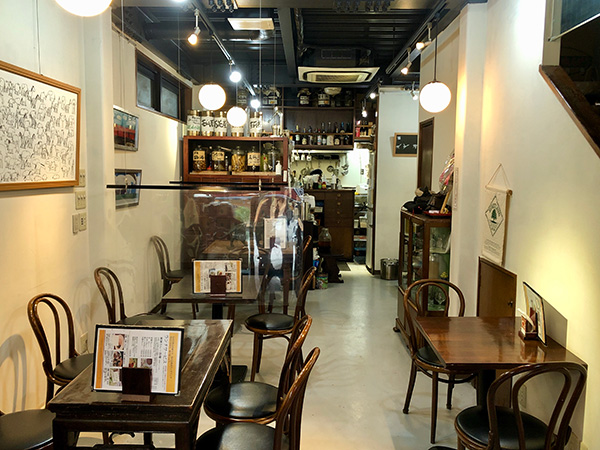 The interior at Omanekiya Didean is an unusual combination of restaurant, antique shop, and herbalist. Interesting artworks adorn the walls while soothing ambient music floats from hidden speakers; packets of dried plants sit next to caddies of obscure Chinese tea and a display case contains a selection of seemingly random items. At one end is an antique tea shop cabinet across from a table containing Mr Nagasoe's ongoing pickled apricot (umeboshi) production. All the tables and chairs could be straight from a mid-20th century French cafe. It's very comfortable!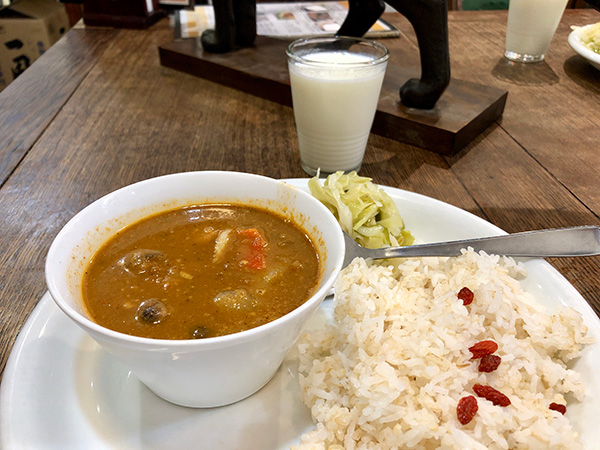 While Omanekiya Didean offers an extensive menu, this time we're focusing on the current signature dish, curry. "The basic broth is made from Nagoya Cochin chicken," explained Mr. Nagasoe, referring to one of Japan's most famous (and tasty) breeds of chicken. "The curry sauce is made from a wide selection of Sri Lankan spices, including curry leaf, and contains pork, paprika, shimeji mushrooms, and onions. The rice is a 50-50 mix of brown and jasmine rice and there's a portion of home made coleslaw too."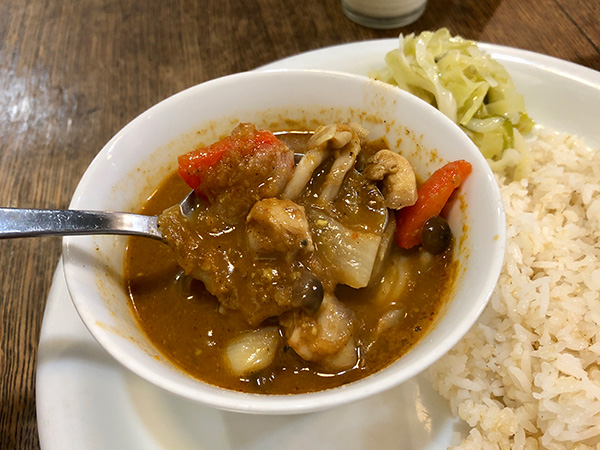 The rice is dotted with red goji, or wolfberries (kukonomi in Japanese), one of the key ingredients in yakuzen cuisine. The curry was delicious, with a deep, richly spiced flavour that wasn't overly fierce but was highly satisfying. The rice was terrific too, the light and sweet jasmine nicely balancing the brown rice. I polished off the entire set in about ten minutes, broke a sweat, and felt re-energized on what was a humid and rainy afternoon. Great, and great value at 1,000 yen.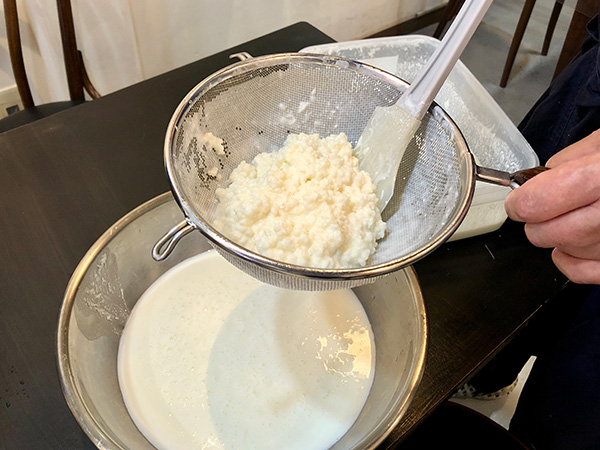 There are five varieties of curry including the regular version: mozuku, a brown seaweed from Okinawa, mixed beans, stewed pork spare ribs (ton soki, also from Okinawa), and beef tendon (gyu suji). All are served with a glass of homemade kefir, the fermented milk product similar to yogurt, which Mr. Nagasoe has been making with the original grains since the restaurant opened. It's totally fresh and a little tart, a perfect accompaniment to the spicy curry.
Such is the demand for his kefir grains that Mr. Nagasoe opened a Kefir Club, membership of which is available for a small fee. Members can receive the grains and study how to make and enjoy kefir.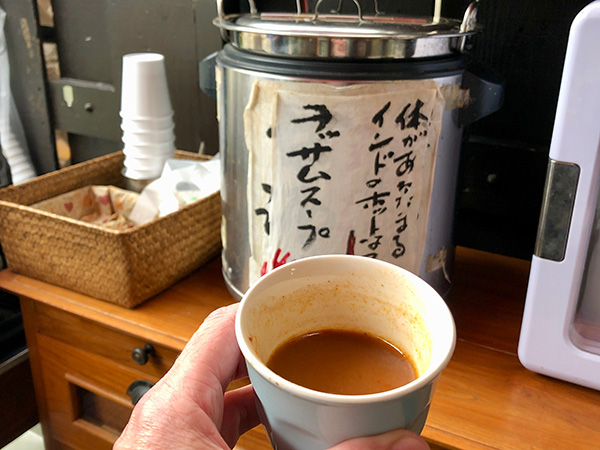 We continued on the South Asian theme with this rasam, the spicy, sweet and sour soup flavoured with tamarind, tomato, curry leaf and a host of other spices. Also known as ayurveda soup, it's a common breakfast drink amongst the Tamil people of South India and Sri Lanka. One can see why; it's spicy, fruity, and a real eye opener. 400 yen a cup and perfect for vegans or vegetarians.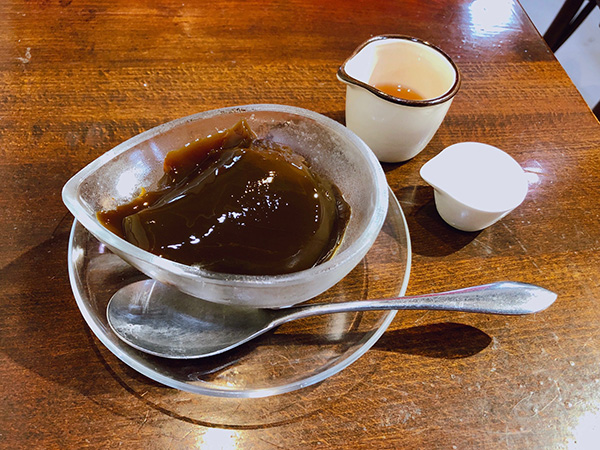 While this brown jelly may appear somewhat unassuming, it is totally unique. In all of Japan, the only place one can eat Siberian ginseng extract (Eleutherococcus senticosus, ezokogi in Japanese) in jelly form is here at Omanekiya Didean. "My wife suffered from terrible allergies for years, taking quantities of anti-allergy medicine. In China, we came across this Siberian ginseng and, to our amazement, it relieved many of her symptoms, to the point she could live comfortably without taking medicine. It prompted us to start this restaurant and devote ourselves to natural food therapy."
Mr. Nagasoe has enjoyed a lengthy relationship with farmers in the Heilongjiang region of China, importing boxes of wild roots gathered in the forests and preparing the extract by himself. "Just a 5g serving a day provides a great boost to health," he says. It's 500 yen for a serving with syrup and cream. The extract is available through Didean's online shop and can be eaten as a topping for ice cream or fruit.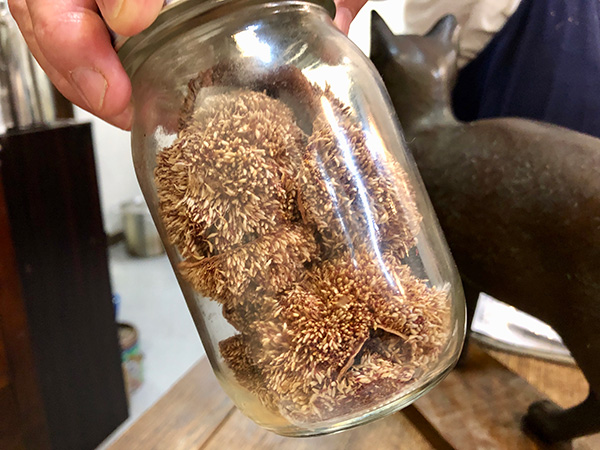 We began to enter esoteric territory with this fruit of the ficus pumila, or creeping fig, a plant of the mulberry family native to East Asia. The fruit is turned inside out and dried, the seeds then mixed with water and massaged to create a semi-firm gel similar to agar. The gel is chilled in the fridge and then flavoured with fruit syrup or other sauces. It's known by a variety of names; ogyochi in Japan, aiyu jelly in Taiwan, and ice jelly in Singapore among others.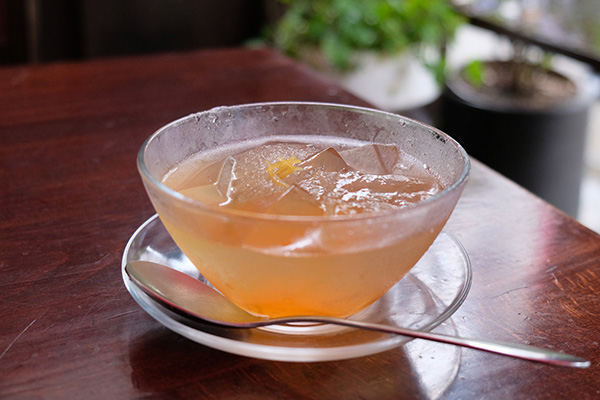 The ogyochi is available with around a dozen or so different syrups, but for Mr. Nagasoe the preferred topping is one made from Hiroshima lemons and lemon peel. The flavour is exquisite; light, sharp, sweet but not cloying, and extremely refreshing. Terrific value at 500 yen a portion, it's perfect for the heat and humidity of summer. Sets for making your own jelly are available. It's widely regarded as good for one's kidneys.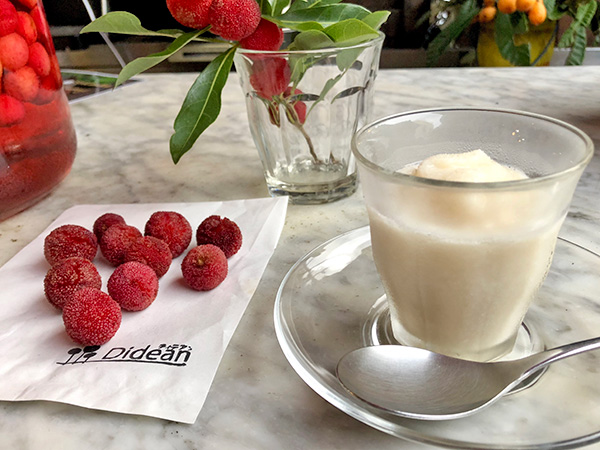 Amazake, the traditional low-alcohol drink made from fermented rice, has enjoyed a major boom in recent years for its taste and nutritional content. The version at Omanekiya Didean is made from sake lees produced by Hakkaisan Brewery, one of Japan's most venerable sake makers. There's hot in winter and this fantastic gelato version in summer (500 yen). Delicious, and healthy!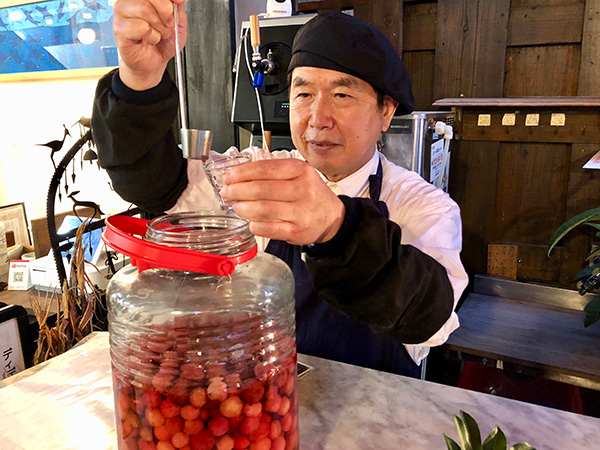 Mr. Nagasoe also makes a syrup from yamamomo (myrica rubra), the attractive crimson fruit in season during the rainy month of June. Sweet, slightly tart and with a faintly herbal flavour, it's another winner. Omanekiya Didean is a remarkable place and Mr. Nagasoe a truly unique character. It's simply unmissable for those interested in ayurveda, yakuzen and some seriously unusual food (the curry is a knockout, too!).
Story and Photos by Stephen Spencer