Yoshoku Delights in Higashi-ojima
Published: September 29, 2021
Kitchen Hiiragi is a popular restaurant that has been serving traditional Japanese-style western food (yoshoku) to satisfied customers in the Higashi-ojima area for many years. The part of the station building housing Kitchen Hiiragi underwent a complete rebuild recently, so to mark its re-opening we dropped in to talk to the Takaoka family who have managed the restaurant for 20 years.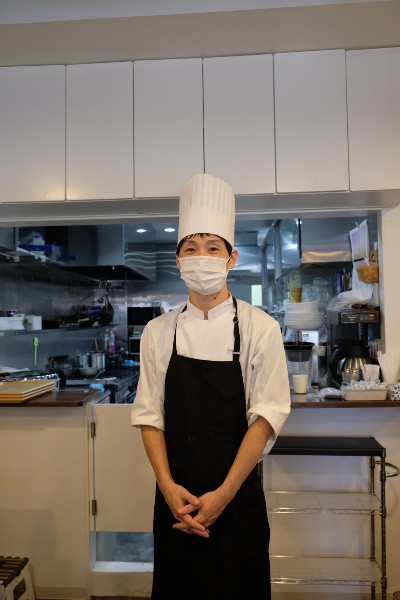 "My parents first opened Kitchen Hiiragi in the year 2000," explained Italian chef Mr. Hiroyuki Takaoka. "Business was very good but in 2018 this whole row of shops was demolished as part of building work to strengthen the station against earthquakes. We bid a teary farewell to our loyal customers, but were fortunately able to regain a space in the rebuilt arcade, and after three years' absence, we opened for business again in April 2021. We've kept the identical menu and I've become the 'semi-boss'," he said with a grin.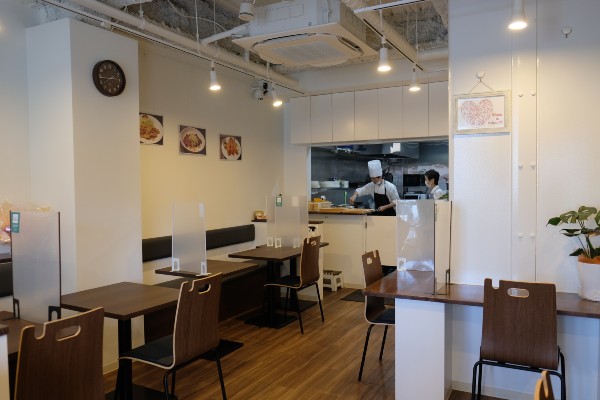 The new Kitchen Hiiragi is brilliantly white with a high ceiling and all-glass frontage that creates a spacious, airy ambience. The restaurant seats around 20 people, reduced from pre-pandemic days, with all the current health protocols in place. It's a very comfortable environment to take one's time in, as shown by the numbers of customers chatting over a late lunch when we visited.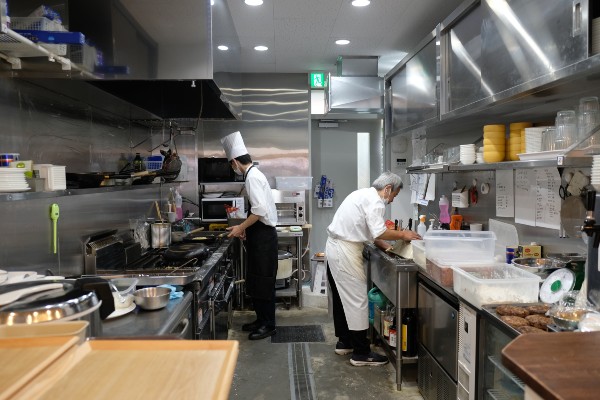 Mr. Takaoka and his father Tadashi share cooking duties in the spotless, gleaming open kitchen, while mother Kazuko manages the hall. "We serve set meals (teishoku), which feature a main dish, salad, soup, rice, and pickles. There are around eleven varieties, plus the special, which changes every day." On this particular day, it was stuffed cabbage roll in cream sauce and grilled salmon, plus soup, salad, rice, pickles, and a cup of coffee, all for 850 yen. That's remarkable value!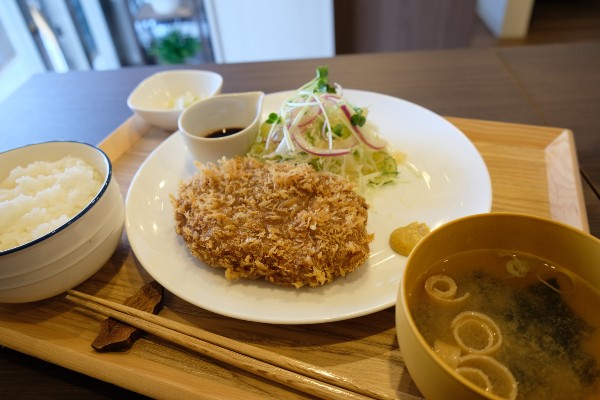 The most popular item is this minced pork and beef cutlet (menchi katsu) set at 850 yen. It's minced beef, pork, sauteed onions, and seasonings shaped into patties, then dredged in flour, dipped into beaten egg and panko, before being deep-fried to crispy golden perfection.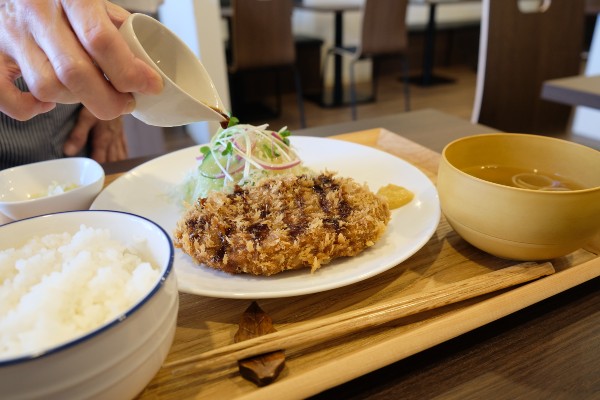 The cutlets are usually eaten with the same sauce used on pork cutlets (tonkatsu sauce), a Worcester-based sauce with a mix of vegetables and fruit. The cutlet was surprisingly large; it was also nigh on perfect, crisp on the outside, meaty and juicy inside. The salad, with its light oil dressing, was crisp and refreshing, a perfect counterpoint to the cutlet, while the miso soup was rich and savoury. Fantastic!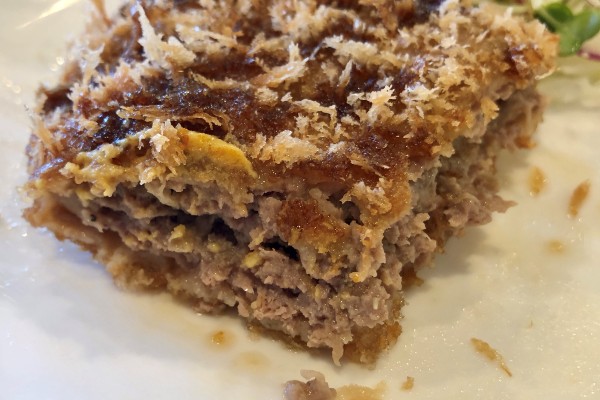 A touch of sharp Japanese mustard added an extra flavour to the cutlet. "They're made to our traditional recipe," said Mr. Takaoka, and it's easy to understand why they are so popular; when a sudden desire for a minced cutlet strikes, this is exactly what you want.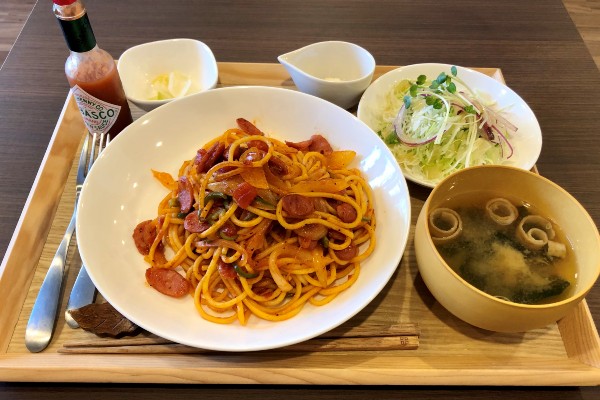 Perhaps the most famous of all Japanese-style western dishes is spaghetti Napolitan. Not from Naples as the name suggests, Napolitan was invented by a chef at the Hotel New Grand in post-war Yokohama, who set out to make a more appealing sauce after witnessing Americans put tomato ketchup on pasta. "Our Napolitan is the original Showa style, not the Japanese cafe (kissaten) version," explained Mr Takaoka. The pasta is thick, with a sauce containing a large quantity of sliced sausage, green pepper and onions. Although the sauce is slightly piquant, it comes with a bottle of Tabasco pepper sauce for those who'd like it spicier, and is traditionally eaten with parmesan cheese. Excellent value at just 800 yen.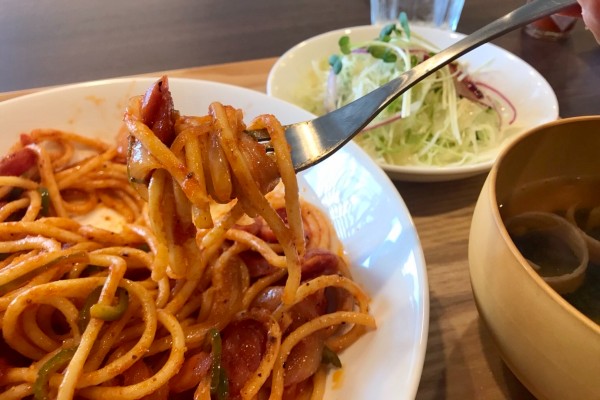 The menu at Kitchen Hiiragi features such favourites as hamburg steak, pork and ginger sauté, and deep-fried horse mackerel (aji furai), all at 850 yen each. Pork loin cutlet (rosu katsu) is 900 yen, while a steak rice bowl is 1300 yen and a jumbo fried shrimp set is 1400 yen. Curry with rice and kids' favourite omelette on rice (omuraisu) are also available.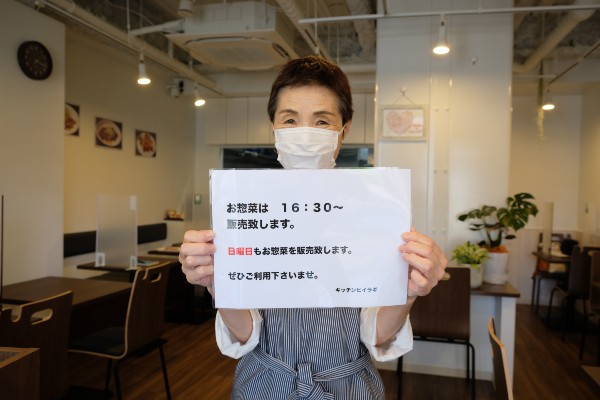 Kitchen Hiiragi also offers a fine selection of pre-cooked items from 16:30 every day, including Sundays. This is a boon to busy workers or those looking for something extra for dinner.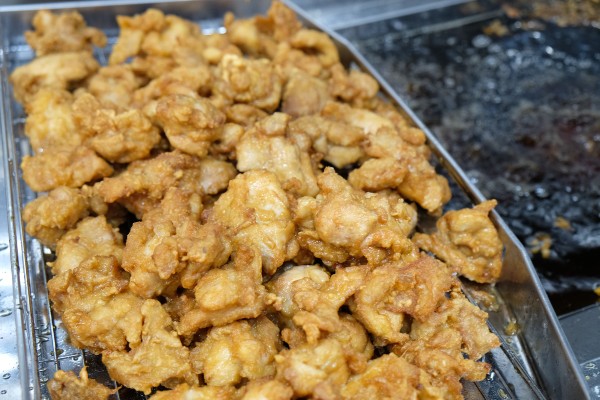 Prices are very reasonable: five pieces of this tasty-looking karaage fried chicken are just 270 yen, smaller versions of the minced meat cutlets are 180 yen, potato croquettes are 100 yen, and the ever-popular crab in cream sauce croquettes are 120 yen each. Horse mackerel, squid, salmon and shrimp are also available at very reasonable prices.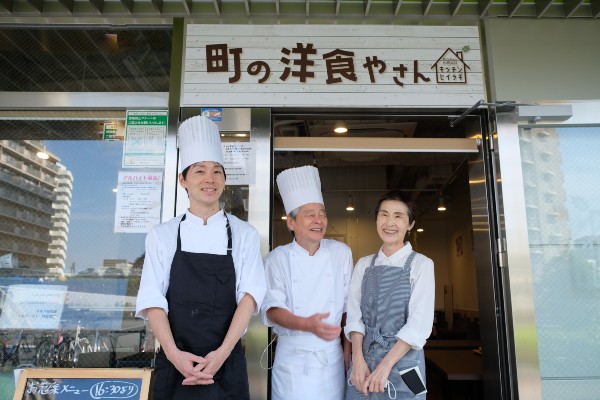 Kitchen Hiiragi is the epitome of a family-run restaurant serving traditional Japanese-style Western (yoshoku) food. A warm welcome is guaranteed for all, as are hearty portions honed by decades of experience.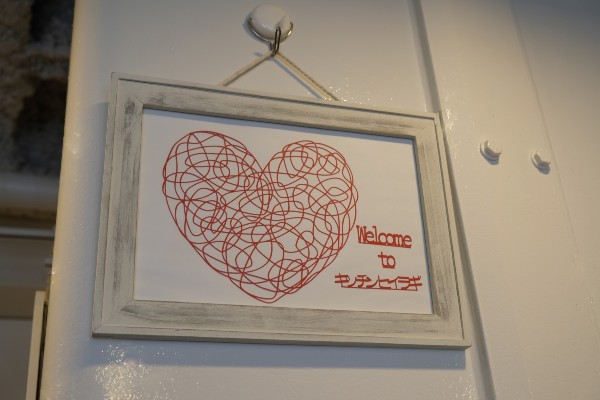 Higashi-ojima station is just a few minutes' walk from several parks and the Arakawa Riverside Walk, one of Tokyo's premier but less crowded cherry-blossom viewing areas. On the day we visited, a birdwatcher had spent an enjoyable morning sighting rare birds in one of the nearby parks before heading to Kitchen Hiiragi for lunch. If you're in the area, why not drop in for lunch or dinner; you'll be glad you did and so will your wallet!
Story and Photos by Stephen Spencer