A Breath of Spanish Air
Published: September 13, 2017
The first thing you'll notice about Zapatero upon walking in is the smell. Delightful, delectable, delicious—the humble Spanish restaurant is enveloped in a haze of enticing aroma—a warm blend of spices characteristic to Spanish cooking.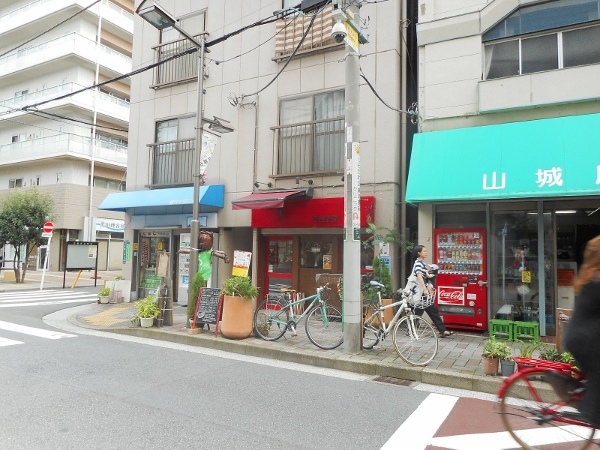 Located in Kiyosumi-shirakawa, a couple of blocks north of Kiba Park, Zapatero is a small restaurant with a bright red storefront that makes it pop out of the background.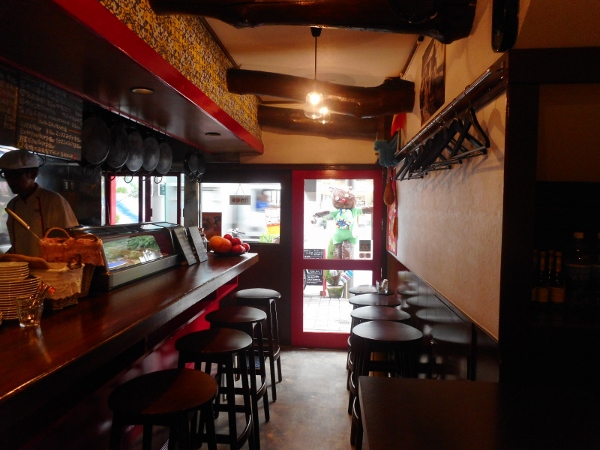 The inside is cozy, with dark wood furniture and colourful wallpaper. Both counter seats and table seats are available, and the atmosphere hits that perfect middle note between fancy and casual—making it a suitable choice whether you want to lunch by yourself, book in hand, or need a place to make a good impression.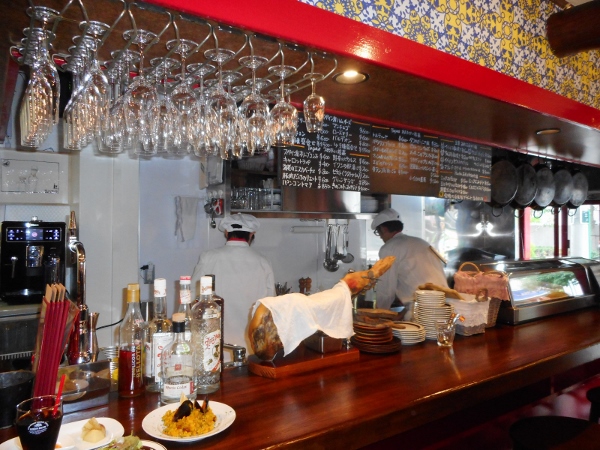 Behind the counter, Mr. and Mrs. Kawada man their stations. They started the restaurant in 2015 after falling in love with Spain and Spanish cuisine. Filled with a sense of purpose, they now spread the love to others from their little abode in Koto City.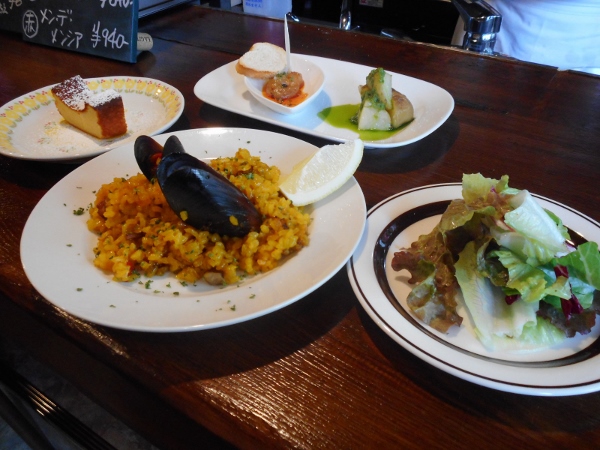 The best time to be introduced to Zapatero might be at lunch. Their fixed weekday lunch set (which makes ordering a breeze!) comes with paella or fideuá as the main dish, two side dishes and a small dessert for 1000 yen flat. It paints a pretty picture, with a little taste of everything that will let you sample the authenticity of Zapatero's cooking.
"We're very particular about the ingredients we use," Mrs. Kawada said. "We import as much of our spices from Spain as possible."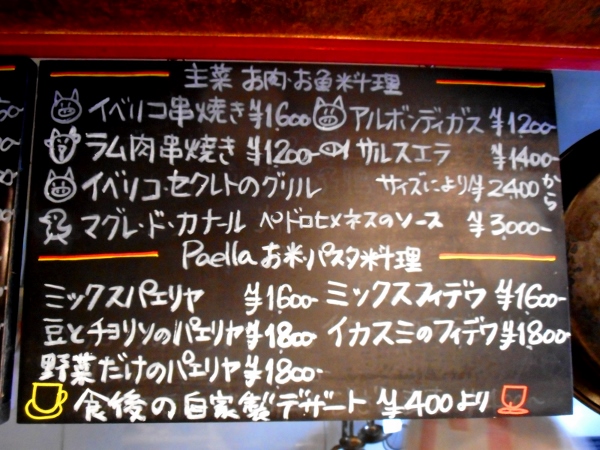 A visit in the evening after work hours, on the other hand, will give you the chance to create your own course. The menu, available overhead on blackboards, is thoughtfully arranged into sections for optimal ordering: selections of prosciutto and cheese, cold tapas, hot tapas, then fish and meat mains, and finally ending with paella rice dishes and fideuá pasta dishes. There is also a dessert menu that changes constantly.
"The paella takes a while to make—40 minutes or so. We encourage our customers to order their appetizers first, with the mains to follow, so they have a smoother dining experience," Mrs. Kawada says jovially. "We used to shy away from offering our advice, but not anymore!"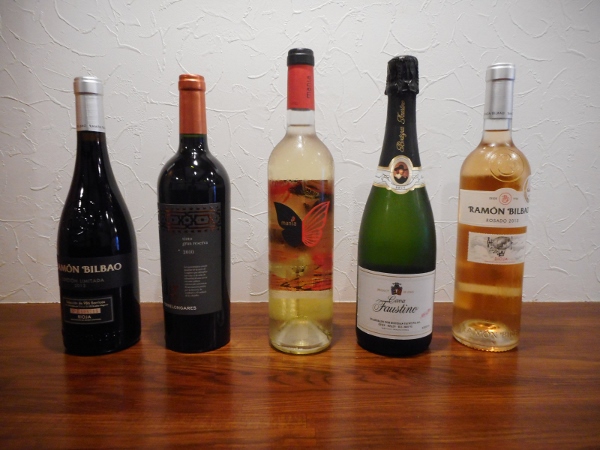 In addition, Zapatero's wine cellar is stocked with a variety of Spanish wine. They make a point to keep around 40 varieties available at once so there is something for everyone. The wines are generally sold by the bottle, though ordering by glass is also possible.
"There are around 7 kinds of wine that customers can order by glass. That way if someone wants, say, red wine, we can hopefully still give them the option of going for a deep and flavourful choice, or a light and dry one."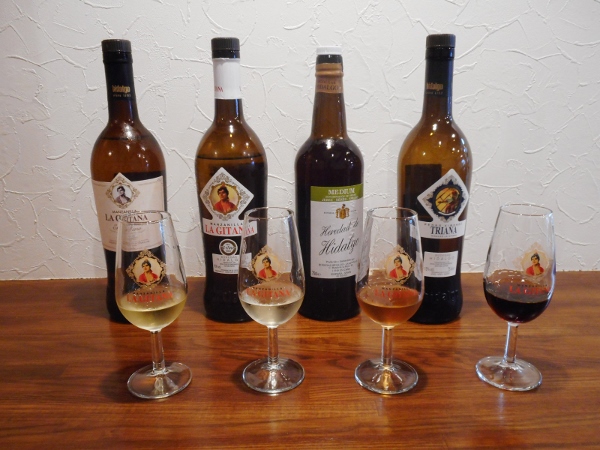 Lastly, those with a taste for it should definitely look into their sherry selection. Imported from Spain like everything else, the sherry choices also range in flavour from dry and fresh to sweet-as-honey (literally. You'll be surprised by the "dessert" in this dessert sherry). The "nomi-kurabe" (tasting) set will let you sample three or four kinds for 500 yen per glass so you can really savour the difference. And! If you're lucky and happen to visit between August and October, you might just run into the rare "en rama" or "raw" sherry. Limited in quantity and quick to go, this extremely fragrant alcohol is a must-try!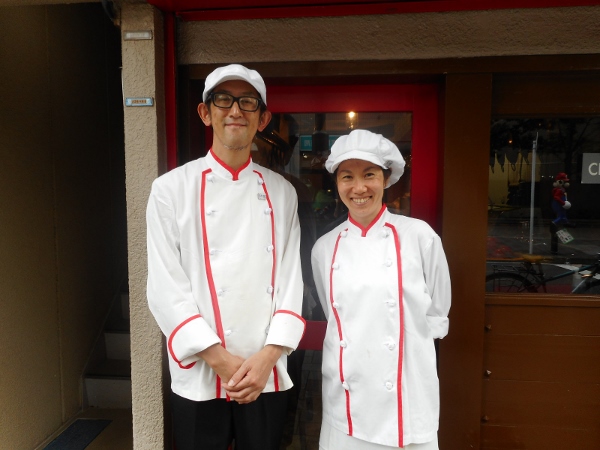 So come in from your wanderings and catch a breath of Spanish air the next time you're in Kiyosumi-shirakawa. Good food and wine await those who venture through the bright red door!
Story and Photos by Xianru Shen(Koto City Office Coordinator for International Relations)