100% Paper Clay from Souma
Published: April 26, 2022
For many people, paper clay is something to which they give little thought after leaving school. Not so the smart employees of Souma Paper Company though, who are currently offering a remarkable paper clay product that is actually made entirely from paper, unlike most paper clay. On a recent spring morning, we dropped into the Souma offices for a chat with president Mr. Akio Kubota and director Mr. Arai.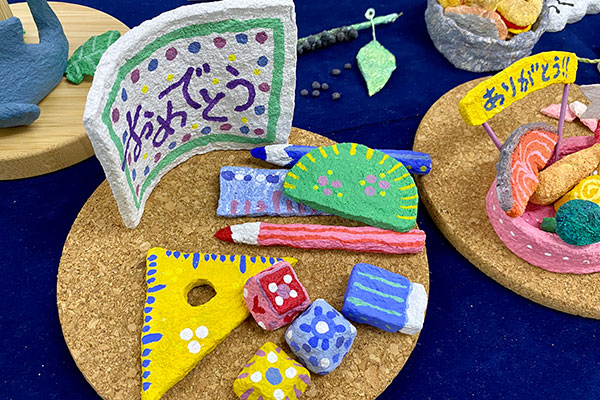 We were quite surprised to hear that clay paper largely consists of limestone and a synthetic resin hardener.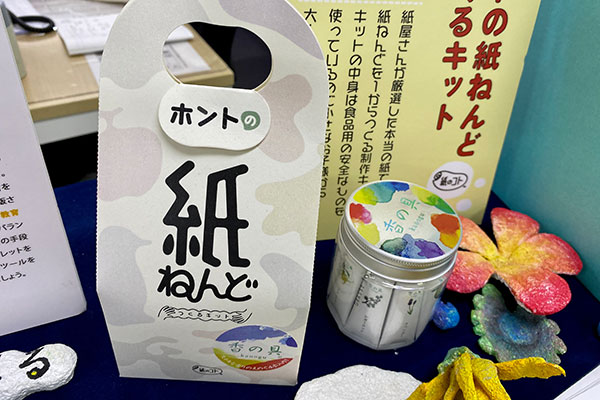 The paper clay kits sold by Souma Paper Company under the name of Honto no Kami Nendo (the real paper clay) contain no additives, unlike previous such products, and allow users to make real paper clay items quickly and easily.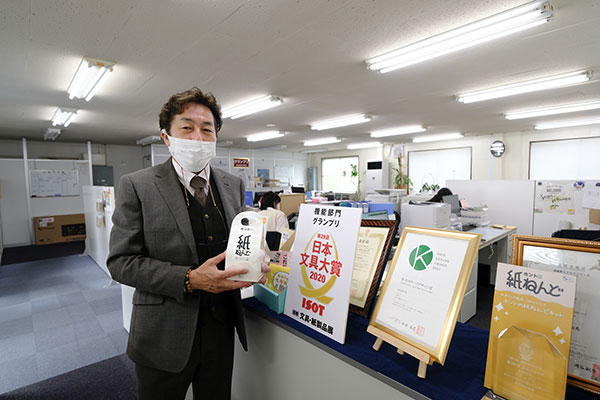 As president Mr. Kubota explained, "Learning how to use paper clay is a form of intellectual training for young children. In 2021, our Honto no Kami Nendo won the Grand Prix for functionality at the Stationery Of The Year awards. It also won the Judges' Special Prize at the 2021 Stationers' Awards and the Kids Design Prize at the Kids Design Awards." Anyone who has spent time in Japan knows the great love for stationery in all its forms and how prestigious these competitions are.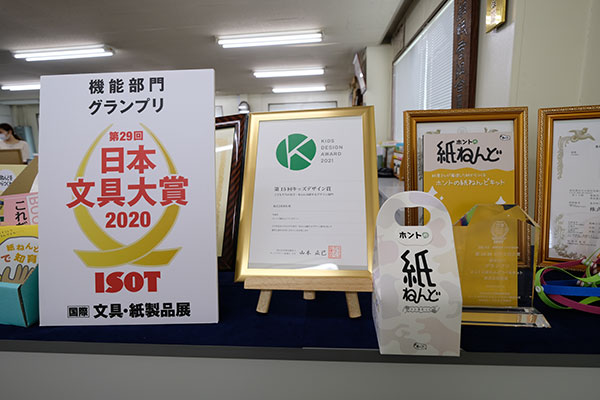 The product was highly rated for its ability to foster communication between parents and children as they learned to create by using it together, and for its ease of use which allowed anyone to develop their powers of creative imagination. It also comes in a package that makes a perfect gift. The set contains two packs of paper, a sheet of citric acid, and another of sodium bicarbonate.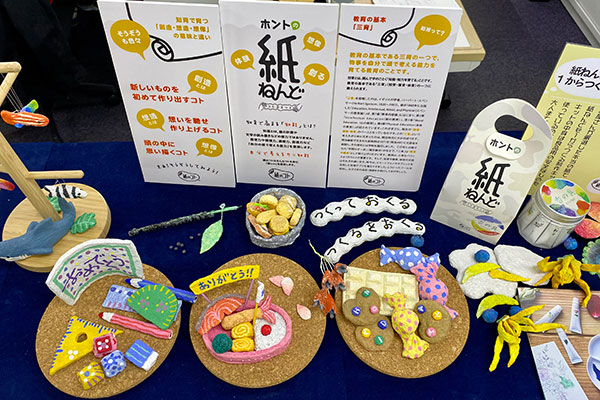 The ingredients are mixed together with water by hand to create the clay paper. It can then be shaped, modelled, painted, written on or affixed to other things. It's easy! The only limit is your imagination. Honto no Kami Nendo is also accepted for use in kindergartens and nursery schools, where it's utilised for fostering creativity and the joy of making things by hand. One set costs 1,980 yen. It's available from the second floor office at Souma's head office, from the company website and at stationery shops and major retail electronics stores across Japan.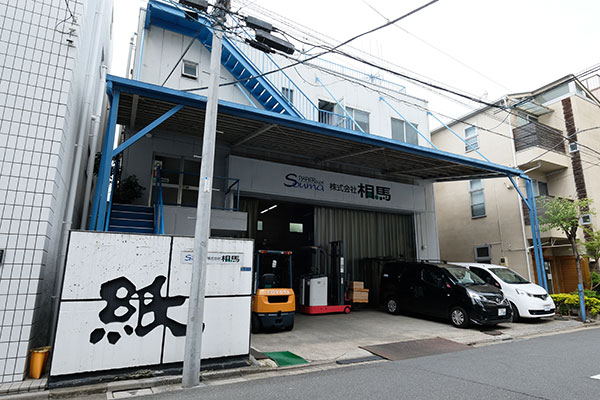 The Souma Paper Company was founded in 1964 as a wholesaler of paper merchandise and now deals with a dizzying array of products, as well its own original brands Kami no Koto (paper coat) and the Honto no Kami Nendo paper clay. Souma Paper Company offers leaflets, posters, printing for publications, office use, menus, packaging, traditional Japanese washi paper, arts and crafts paper, and a whole lot more, pretty much everything one can imagine that uses paper. "We're a really cosy, 'at home' kind of company; customers can drop in and discuss their needs irrespective of size or budget. Leaflets or menus, we'll work on even just one copy of something," said Mr. Kubota. "We don't only sell paper, we're involved in working with Koto-ku shops and businesses to create collaborations," he added.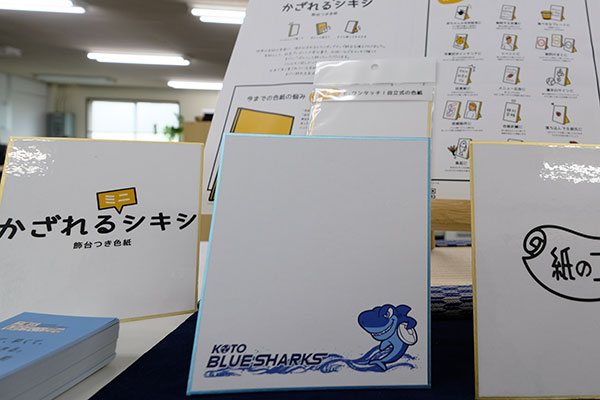 One such collaboration are these squares, produced as autograph boards for a Koto-ku based rugby team.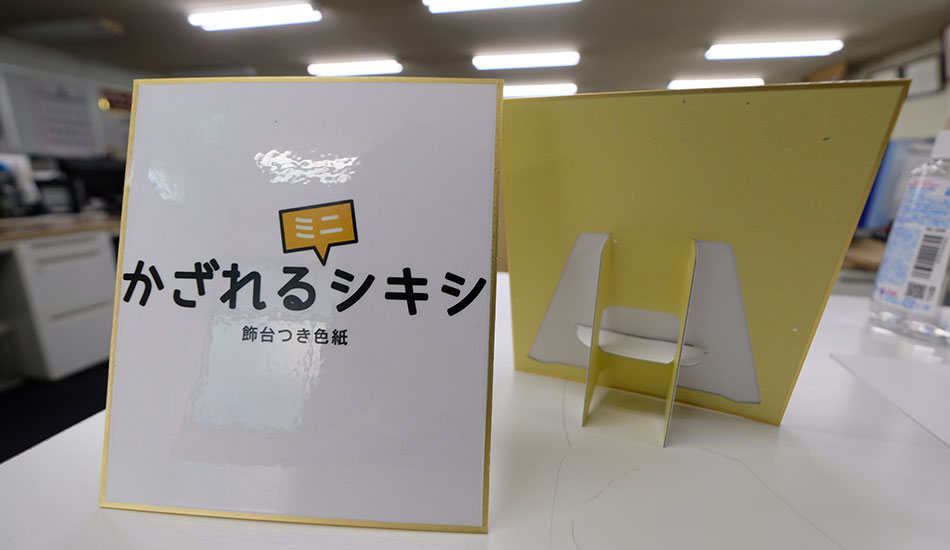 These fancy cardboard squares (kazareru mini shikishi) can be turned into standing decorations with just one push and cost 396 yen each. Measuring 13.5 by 12 cm, they have a myriad of uses such as for babies handprints, shrine stamps, drawings or paintings, autographs and the like. They are small and light enough to be sent through the regular post too.
Souma Paper Company is far more than a paper wholesaler, it's at the cutting edge of contemporary stationery products, making our lives more enjoyable in many ways. For a closer look at exactly what's happening, please explore the website.
Story and some photos by Stephen Spencer