Organic Facial Salon in Toyosu
Published: October 17, 2022
Vi Moana is a brand-new Toyosu salon specialising in facial skin care treatments using high quality organic cosmetics. The salon, adjacent to the matchmaking service Enishi, is also managed by the fragrant and delightful Ms. Fumie Matsuoka, who recently took some time from her busy schedule to talk about her latest venture.
Vi Moana is located on the fifth floor of a building just one minute's walk from Toyosu station. On entering, customers are greeted by this striking interior corridor and a life-size portrait of Audrey Hepburn, whose grace, elegance and beauty has captivated generations of Japanese women.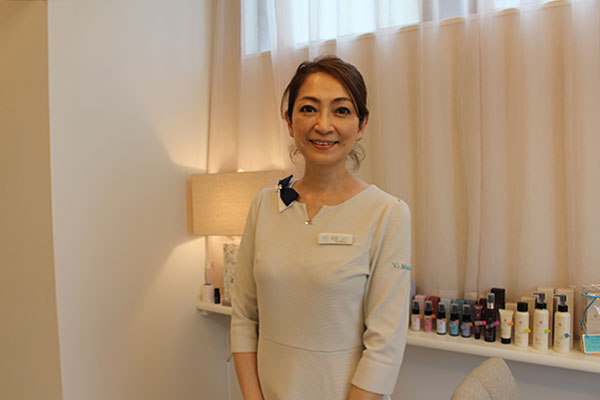 Speaking of graceful and elegant, manager Ms. Matsuoka is all that and more. A former model and organic cosmetics advisor in a well-known department store, Ms. Matsuoka recently gained a diploma from the Nouvelles Esthetic Academy and opened Vi Moana in April 2022. "My aim is to promote beautiful skin for women of all ages, through the use of natural, organic cosmetics," she explained.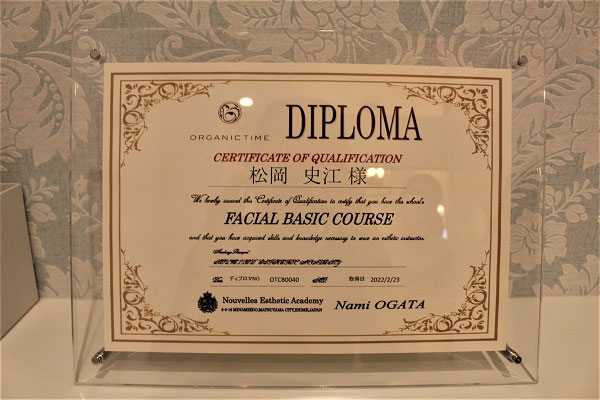 "In France it's said that one doesn't look at one's own face, other people do, so being as beautiful as possible is good for you, it's a very positive thing. No matter your age you should never give up; take care of your skin, wear lovely clothes and feel good about yourself," said the exceptionally positive Ms. Matsuoka, whose aspiration is to make people happy.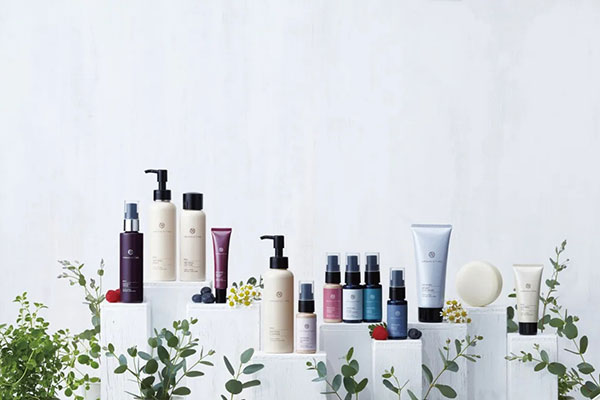 All the cosmetics used at Vi Moana are made in Japan and all are completely organic. Ms. Matsuoka herself travels to each individual farm from which the natural ingredients are sourced and visits the manufacturer, Organic Time in Ehime Prefecture, in person to observe the production process. Around 30 different varieties or organics are used to make the various cosmetics. She's extremely hands on!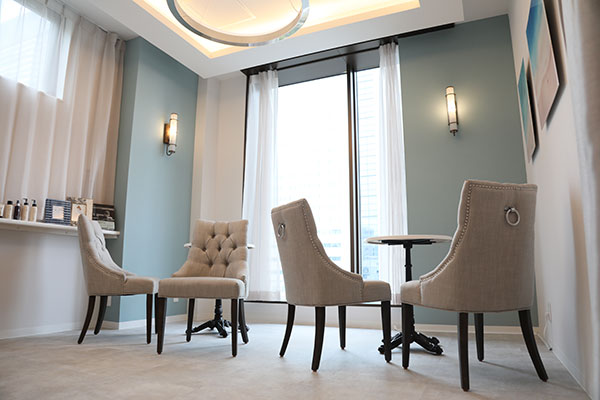 Visitors first enjoy a counselling session in the luxurious lounge, with its Tiffany blue walls, relaxing Hawaiian art and exceptionally comfortable chairs. The atmosphere is calm, while Ms. Matsuoka's charming manner soon puts people at ease. "I love Hawaii and the lifestyle there, so I named the salon Moana, which means ocean or deep sea in Hawaiian, while the Vi is from visual. My dachshund is also named Moana," she said laughing.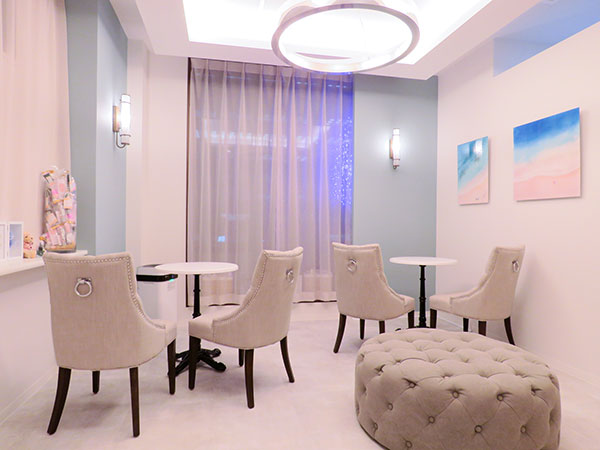 The counselling lounge is even more striking in the evening. Despite being born and raised in Setagaya Ward, "The Toyosu area is a power spot for me, with its sun, sea, and space. I really like living and working here," she said.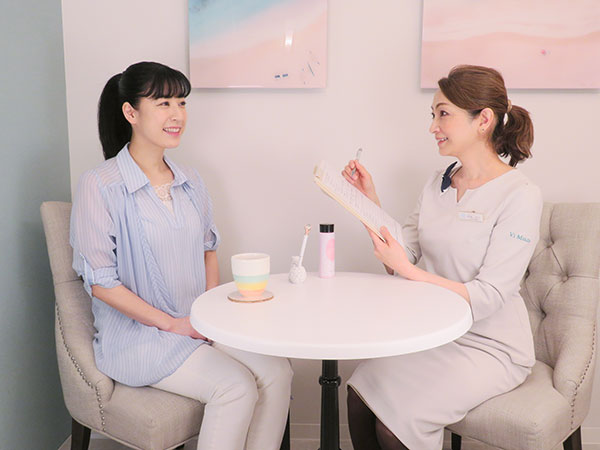 The facial technique taught by the Nouvelles Esthetic Academy emphasises a soft touch; combining this gentle yet sophisticated technique with high quality organic products and the latest in high-technology devices creates the menu at Vi Moana. After a detailed consultation with the client Ms. Matsuoka develops an individual facial beauty plan, and recommends treatment once every two weeks to maintain the skin condition.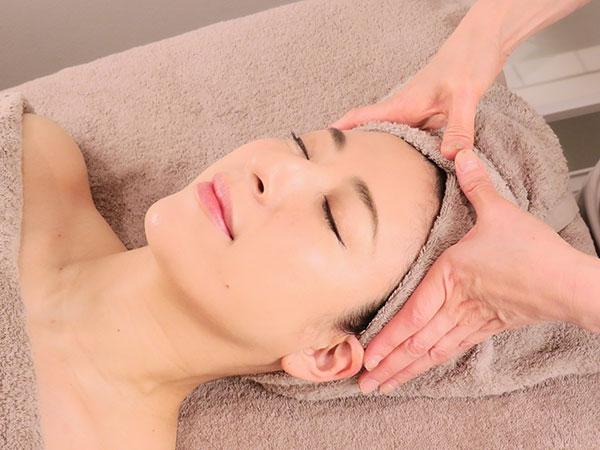 Vi Moana offers eight different courses of treatment: basic, pore cleansing, healing, bright up, wrinkle moist, shape up, AC clear and sensitive. All types are 16,500 yen per session, which generally take around 70 minutes to complete, while members can enjoy a variety of extra benefits, which are well worth checking out on the website.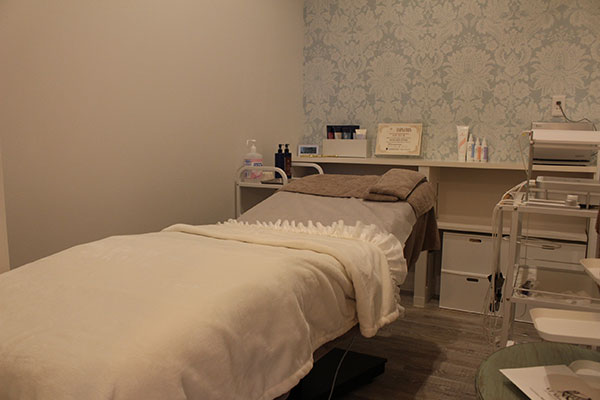 The treatment rooms feature extremely comfortable reclining salon chairs and lilting Hawaiian music to heighten the experience. My colleague said the experience was so wonderfully relaxing she fell asleep immediately!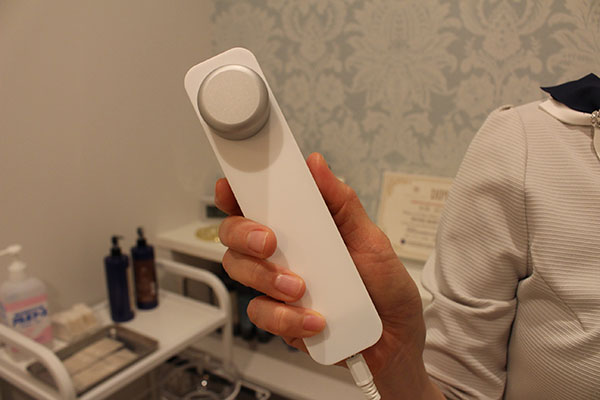 While natural cosmetics may be thousands of years old, modern technology plays its own role in creating beautiful skin. Vi Moana utilises the Neo energy system with a variety of probes to stimulate and revitalise the skin. This attachment, the Sonic, produces sound waves that permeate the skin to the stratum corneum level.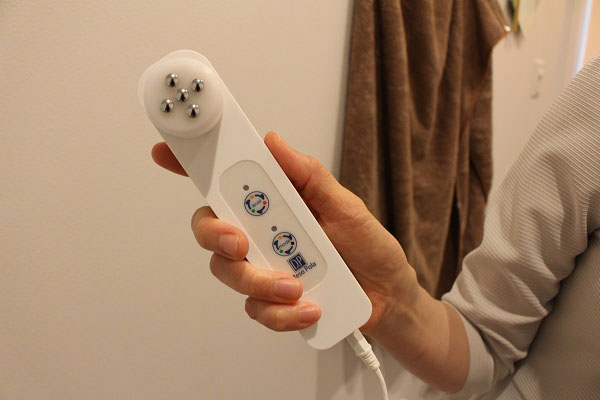 The Meso is used for electroporation that can be used to treat a variety of facial skin problems. The Neo energy system also includes an LED light treatment that resulted from NASA experiments aboard the Space Shuttle to increase cellular energy in plants!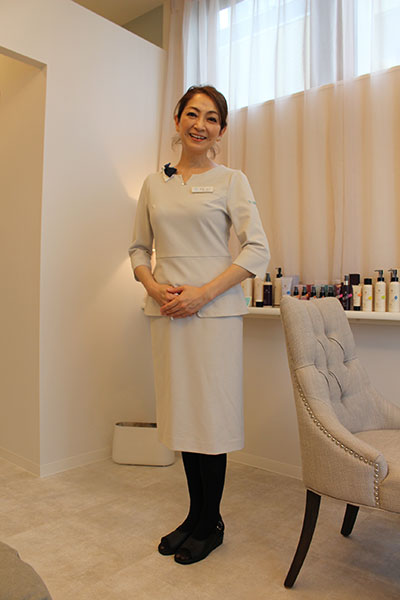 Vi Moana offers a variety of other treatments, such as courses for sensitive skin, a Bridal Course for those getting married and even a mother and daughter special (19,800 yen for two people), in a treatment room with twin salon chairs. As Ms. Matsuoka said, "I want this to be a salon that can assist people to change their lives. Beauty isn't only a matter of beautiful skin but of dressing well, wearing suitable cosmetics, the natural beauty that comes from being healthy and the inner beauty that comes from having a pure heart. My ambition is to help women to shine, regardless of their age."
By Stephen Spencer