Duck Deluxe at Only Kamon
Published: December 2, 2022
If you like duck then you're in luck at Only Kamon, a restaurant specialising in Kyoto duck cuisine. Duck is regularly described as "beauty meat" in Japan for its high nutritional content and is very popular with ladies, so it was with great anticipation we recently ducked into Only Kamon.
Located just two minutes' walk from Monzen-nakacho station, Only Kamon opened in 2019. The name is an amusing play on 'kamo', the Japanese word for duck.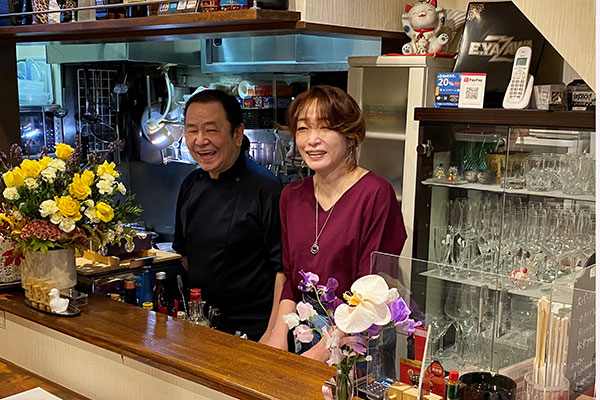 Chef Mr. Kataoka is vastly experienced, with expertise in Japanese, French and Chinese cuisine, while the charming Ms. Matsuoka is the owner and manager. There are only six seats and Only Kamon is popular, so reservations are needed.
So what's on the menu in a duck restaurant? Pretty much everything is the answer, and it's all aesthetically pleasing in the extreme. This is the Kyoto duck hotpot for one (kyo kamo hitori nabe 2,200 yen) which contains various parts of the bird. There's thigh meat (momo), homemade minced duck meatballs (tsukune), heart and smoked duck sausage. Served on a separate plate is soft and tender duck breast.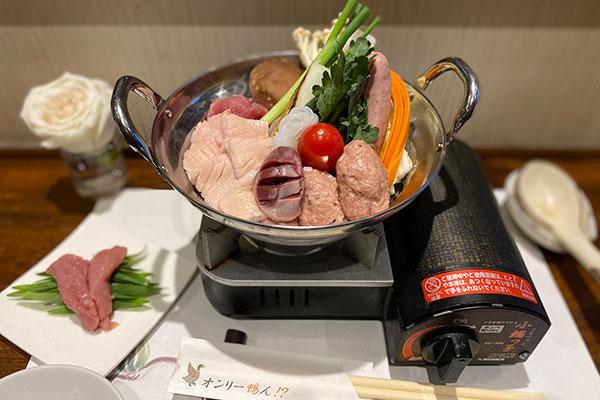 The tsukune are made with minced Kyoto gluten (fu) that recreates the crunchy texture of regular meatballs, while the hotpot also contains a selection of flavoursome seasonal vegetables such as carrots, negi onions and mushrooms. The ingredients are cooked in a homemade broth that is surprisingly light and refreshing.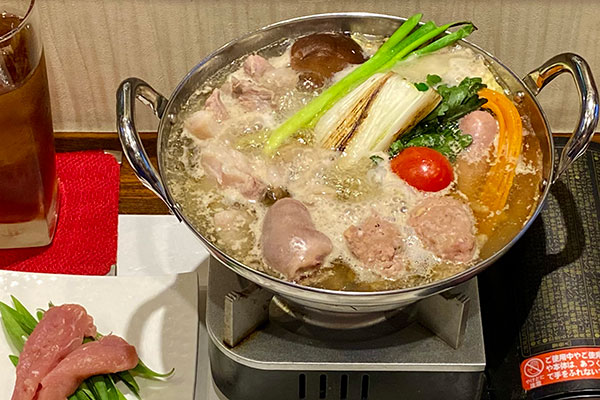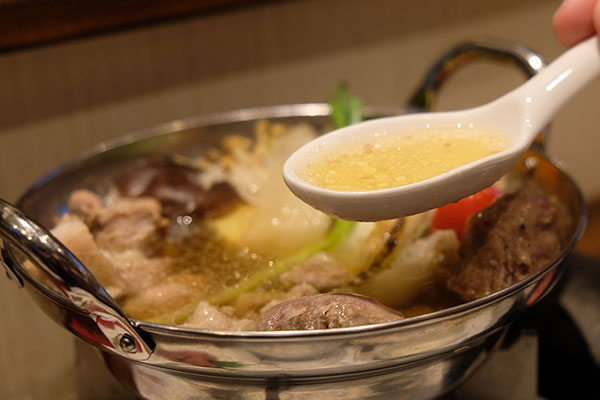 Chef Kataoka and Ms. Matsuoka explained how duck is beneficial to our health, aside from just tasting great. It's rich in protein, high in vitamin B compounds, especially vitamin B3 and contains the amino acids that nurture collagen production in our bodies. Further, duck skin contains glycine, another amino acid important to our health and the meat also has selenium, an important mineral. It's really healthy meat, good for our skin, hair, nails, immune system, anaemia, blood cholesterol and general health.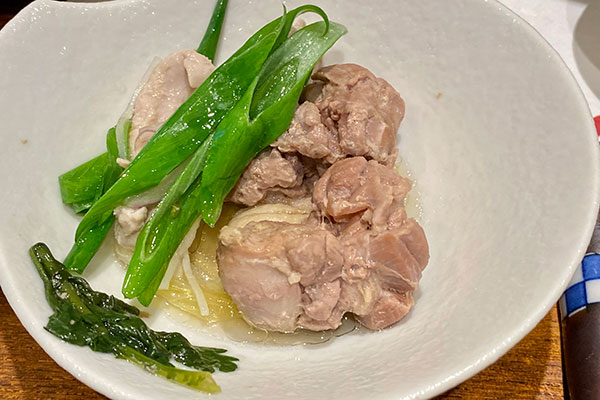 The meat was soft and juicy, rich and very appealing, especially in the dog days of high summer or the depths of winter. The duck sausage was astonishingly tasty, with an intense savoury flavour and texture.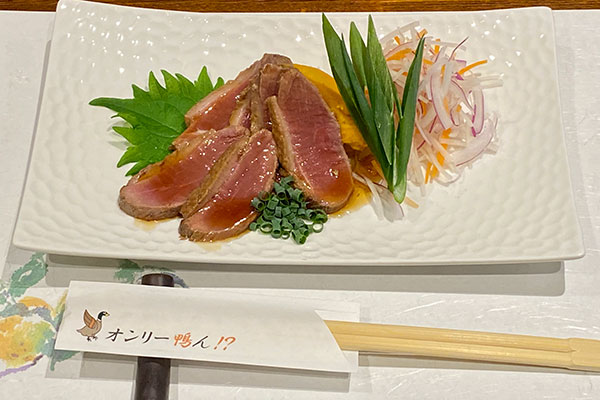 Only Kamon's next most popular dish is this sliced roast duck breast; the meat is seared and then simmered in a special homemade sauce before being served with green peppercorns. It was wonderful, a rich, savoury delight. Only Kamon also offers many original seasonal vegetable dishes prepared by Mr. Kataoka, such as a pumpkin and Gorgonzola salad that was incredibly good.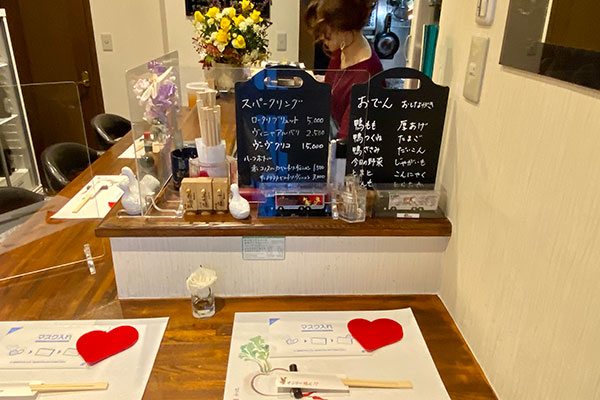 The interior is warm and cosy, with just six seats at the main counter. Only Kamon attracts many female customers, both for chef Kataoka's outstanding cuisine and the comfortable, friendly atmosphere.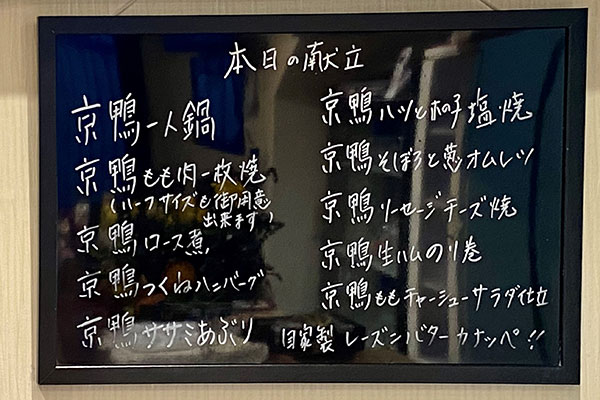 Only Kamon offers both an a la carte daily menu and a course menu. The daily menu on the day we visited contained a minced duck meat (soboro) omelette and a duck sausage and cheese gratin that both sounded like savoury delights.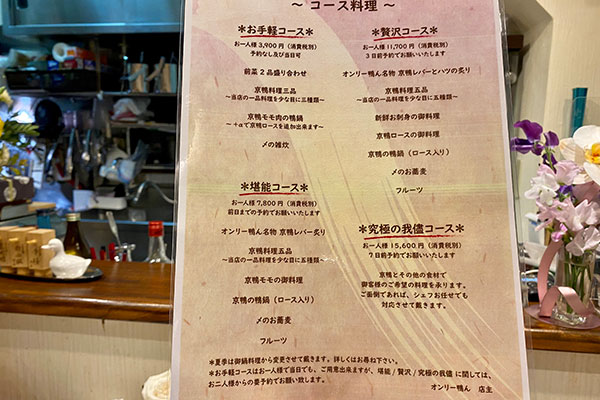 There are four courses available, from light to a full blown duck banquet. Nice.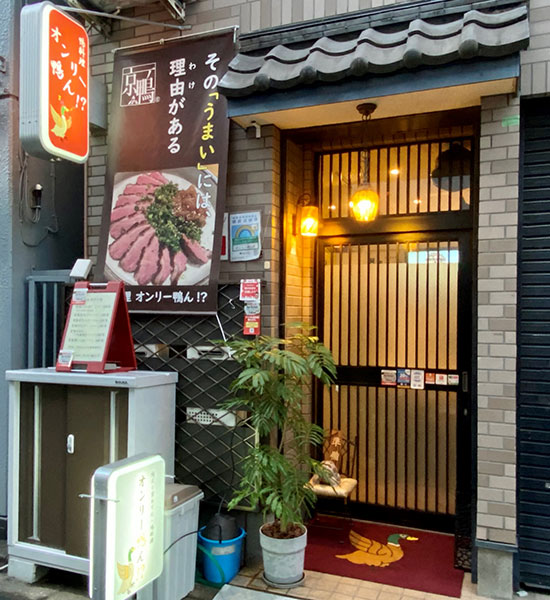 Only Kamon was a real introduction to the versatility of duck in all its glory. Kotomise coupon holders can enjoy a complimentary drink, too. Why not treat yourself to a rare culinary experience at Only Kamon!
by Stephen Spencer