Sparkling Summers Specials at Soraya
Published: August 7, 2019
"Wow! This place is great. Erm…what is it?" Located just off Eitai Street, a mere five minutes' walk from Monzen-nakacho Station, the multi-user space Yane contains a cafe and restaurant called Soraya, although that's only part of the story. On a recent blazing hot summer afternoon, we paid a visit and spoke to the youthful, charming manager of Soraya, Mr. Yuki Nakatani.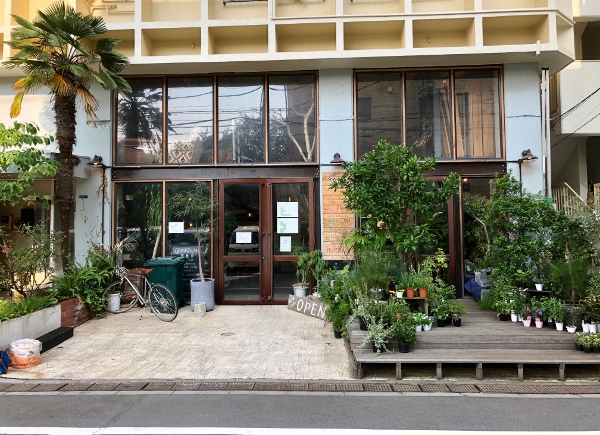 Situated on the first floor of a Showa Period low-rise apartment block in an otherwise unremarkable side street, the exterior with its double windows and plethora of greenery is both beguiling and unique.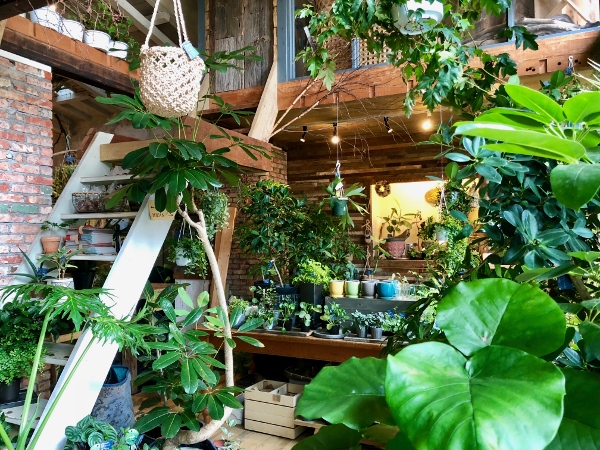 Pulling back the heavy iron doors and stepping inside is rather like entering a market garden. On the right a plant shop somewhat akin to a jungle rises up to the distant ceiling.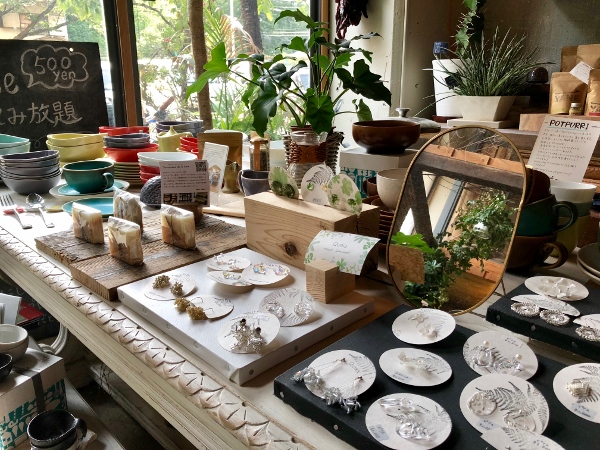 While on the left a pop-up store selling colourful Scandinavian tableware and soft-toned handmade jewelry offers a contrast.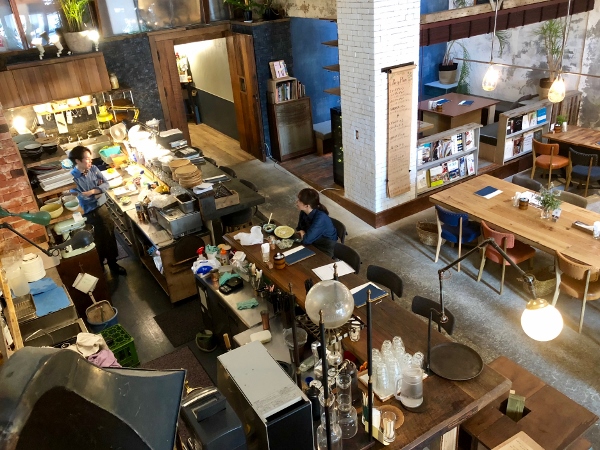 Walking deeper inside the room opens up, revealing the massive 5.3 metre ceiling. "It used to be an imported furniture showroom," says Mr. Nakatani. "The owner had the entire space redesigned and now it's home to a variety of interior design-related businesses. We opened on June 24th, 2017 under the name of Yane (roof in Japanese). The owner has his own design company office upstairs; there's also a workshop that turns discarded raw materials into furniture and interior goods, while there's a photo studio for kids in the back."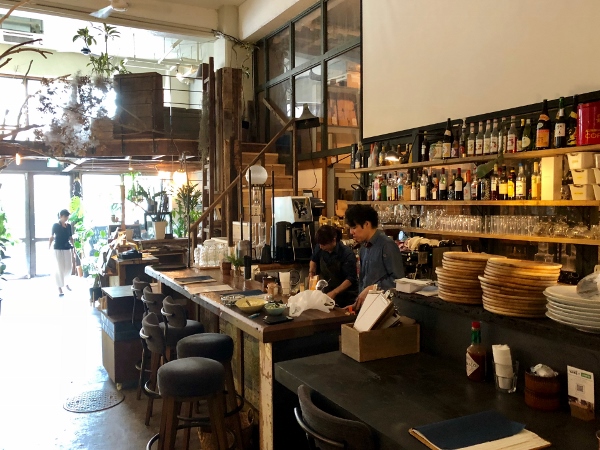 The interiors, such as the bar counter of Soraya, are made from repurposed old wood. "Our menu is mainly Italian-based," says Mr. Nakatani. "We offer a variety of pasta lunches and one-plate dishes, with desserts available too. Everything is hand-made by our chef here, including the desserts. I'd say about 80% of our customers are women and lunch is our busiest time. Many like to come for lunch or drop in with their children. We also get many single female customers. There's plenty of space between tables so strollers can navigate and be parked by the tables."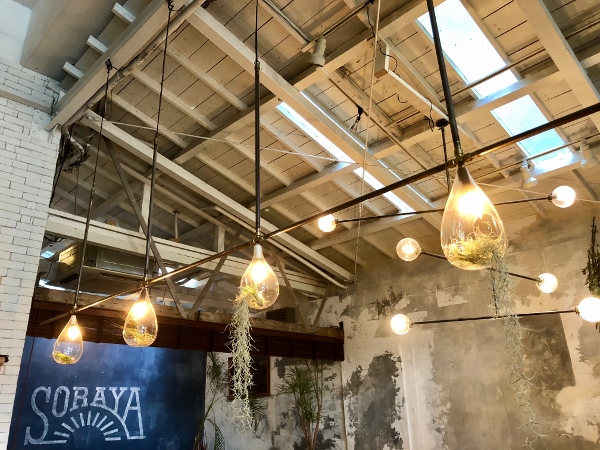 On the day we visited there were three varieties of pasta on the menu: a pomodoro sauce heavy on the cheese, swordfish, and dried tomatoes in a ragu sauce and cabbage and minced beef in a cream sauce. The one plate specials were cheese hamburg (Salisbury steak) with slow-boiled egg (onsen tamago), cubed steak and seared tuna with avocado. The former cost 1200 yen with the latter at 1100 yen each. The days dessert was a chocolate mousse that could be added for an extra 150 yen. Kid-friendly plates, featuring such favourites as mini hamburgs, salad, seasonal fried items, potatoes, dessert and juice are also available.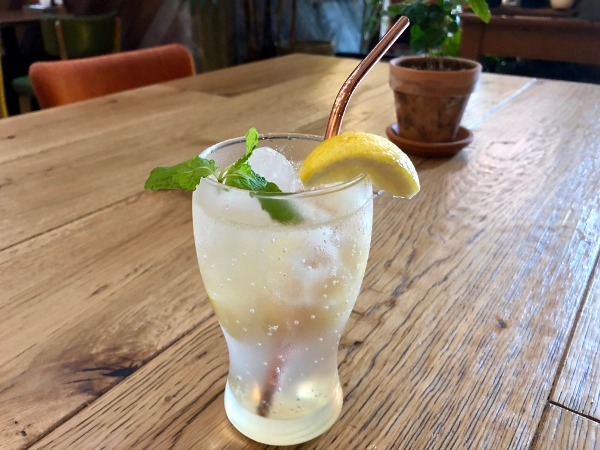 Of particular attention today were two new additions to the menu. First was this elderflower and frozen lemon drink with a sprig of mint. Bursting with flavour and incredibly refreshing, it's a delightful antidote to summer fatigue.  The drink menu at Soraya is extensive, featuring a variety of tea, herb tea, fruit juice and coffee, both hot and cold. Alcoholic drinks are featured, including around 30 different kinds of wine, mainly from Italy and Spain, together with craft beers and many other drinks.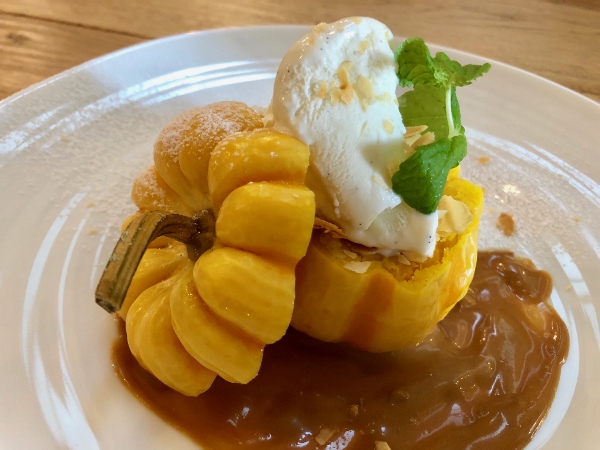 And how about this Puccini pumpkin parfait! It's a limited-edition; available only in August and September. Based on a sweet Puccini pumpkin, there's fresh cream under the vanilla ice cream, caramel sauce and almonds. Costing 800 yen including tax, it can be paired with the 550-yen elderflower and lemon drink to make a perfect afternoon treat.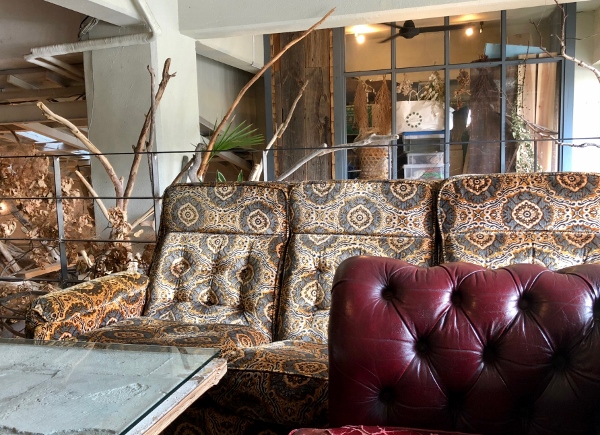 If the main room is full or you'd like more privacy, the loft space can be reserved for the small additional fee of 300 yen. As well as the Puccini pumpkin parfait Soraya offers seven other desserts and a daily special. According to Mr. Nakatani the baked cheese cake is the most popular; also featured are rare cheese cake, orange gateau au chocolat, affogato, chiffon cake and a seasonal fruit millefeuille. He also pointed out that the massive dinner menu will be completely overhauled in autumn to coincide with the increase in consumption tax, killing two birds with one stone. "We're still constantly evolving," he says. "Next we're thinking about adding a terrace outside."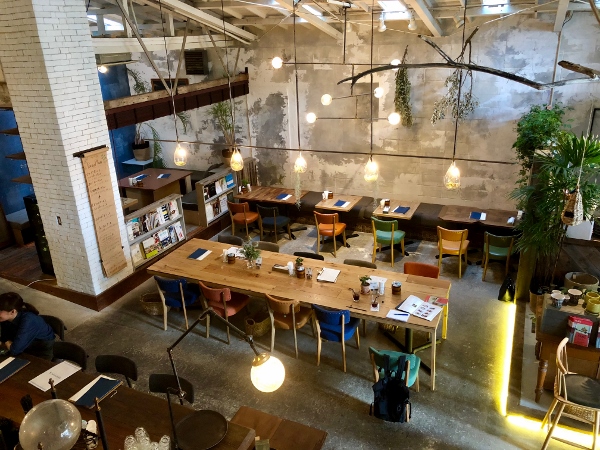 Comfy vintage sofas and antique Chesterfields surround a glass-topped table and the view is amazing. Soraya also offers a variety of party plans and can accommodate from four to forty seated, or fifty with some standing. There are three food course menus and three drinks menus to choose from, depending on the budget and the size of the party. Wedding receptions, birthday parties, Year-end parties, graduations, welcome parties, farewell parties; there's an awful lot of parties in Japan and the search for new venues to hold them seems endless. If that sounds like you then why not peruse the Soraya website or, better still, drop in and see for yourself.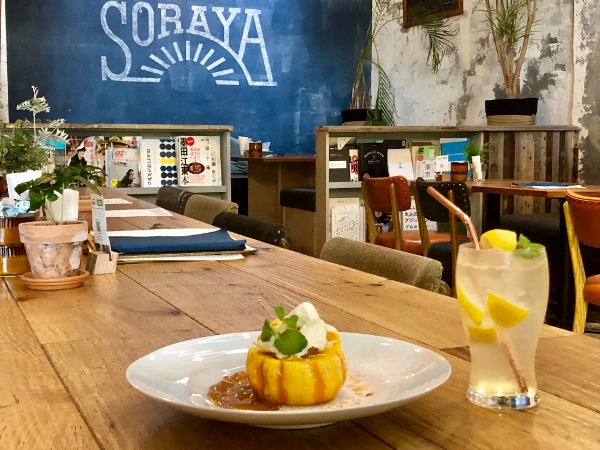 This is a very comfortable and very relaxing space. So comfortable, in fact, that you may find it difficult to leave. Never mind, because Mr. Nakatani and his staff will be ready to cater to your every whim.
Story and Photos by Stephen Spencer