In Vino Veritas at Budoya Maru-shu
Published: October 20, 2021
Budoya Maru-shu is a casual wine bar that has been serving tasty food to accompany its global selection of wines to lucky locals in Monzen-nakacho for ten years now. On a recent rainy afternoon, we dropped in for a chat with sommelier, chef, and manager Mr. Makoto Yamamoto and his trusty chef Mr. Shinya Hori.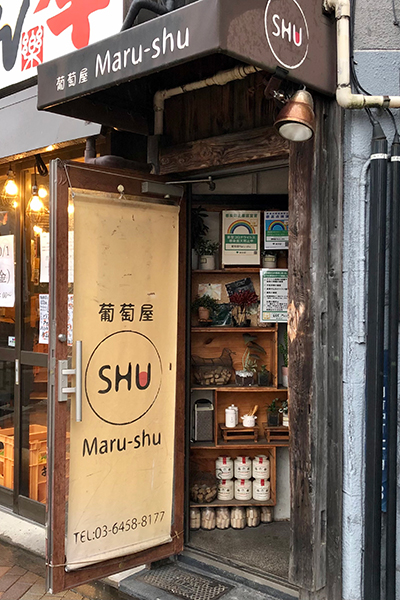 While only 50m from exit 4 of Monzen-nakacho station Budoya Maru-shu is easy to miss as it is located on the second floor of a corner building, accessed by a ground level doorway leading to a narrow staircase.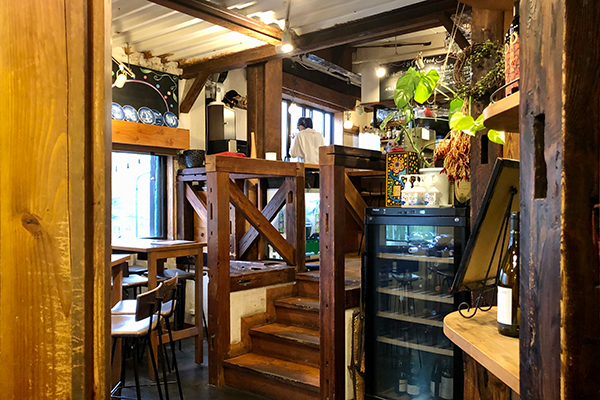 The highly unorthodox interior is based on iron beams and wood. It's also split into two parts, with the lower area containing high tables and chairs, and the upper area an open kitchen and more window tables. The view of the Oyoko river is fantastic, even on a rainy afternoon.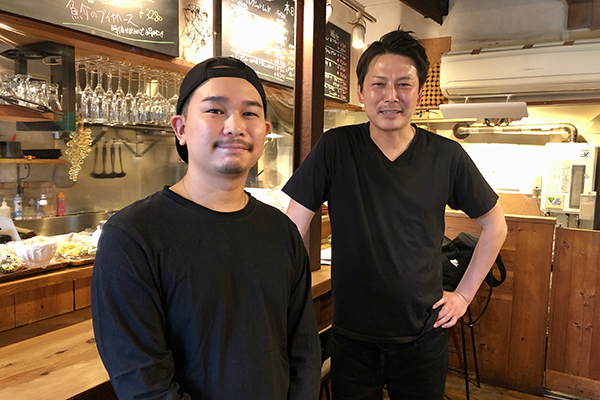 "We opened here in 2011 with the concept of a wine bar," said the laid back Mr Yamamoto, a 20-year veteran of the restaurant business, on the left here. "The base is Italian, but with a selection of Spanish, French and international wines as well. There's so much new wine now, from places like Moldova, Rumania and Saitama."  Saitama? "We wanted a comfortable, casual place where people could drop in with friends, enjoy a drink and some tasty food in relaxed surroundings. Many people have the image of a wine bar as a rather formal place, but we wanted to get right away from that."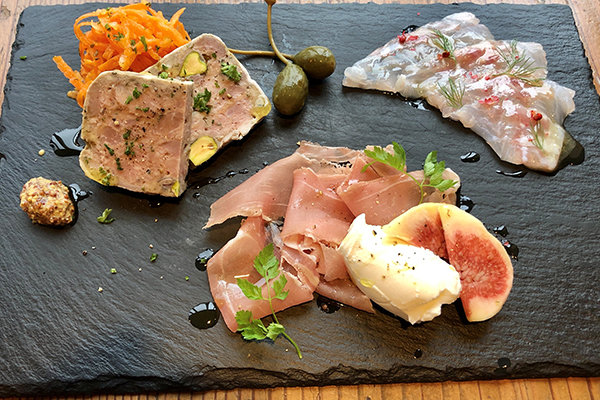 Among the many items on the tapas corner of the menu, this mixed hors d'oeuvre selection (1,320 yen, including tax) is very popular. "We have a grand menu and many items are fixed, but so much of what we serve is seasonal," explained Mr. Yamamoto, "especially the fish and vegetables." On this particular day, it was a very tasty pâté de campagne, Japanese sandfish (hata hata) carpaccio and raw ham with cheese and figs.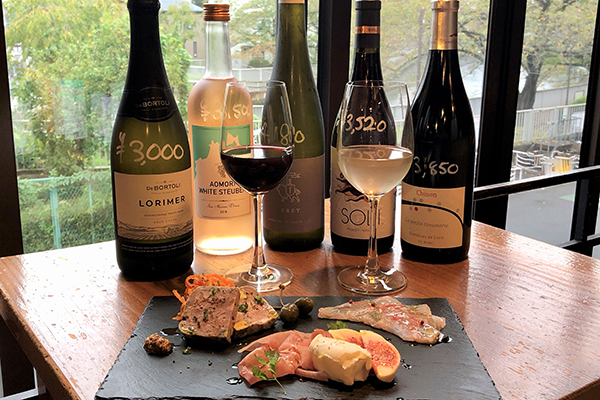 "I really like wine and the menu contains a wide variety of dishes selected to accompany wine," explained Mr. Yamamoto. "We have over 100 different kinds of wine, with an average price of around 2,500 yen to 3,000 yen per bottle. The top of the range would be some rare vintages kept for special occasions at 10,000 yen, but most are reasonably priced. Individual glasses cost around 600 yen each." Interestingly, all the bottles have the price written on them, a unique and convenient idea that saves time rooting through lengthy wine lists.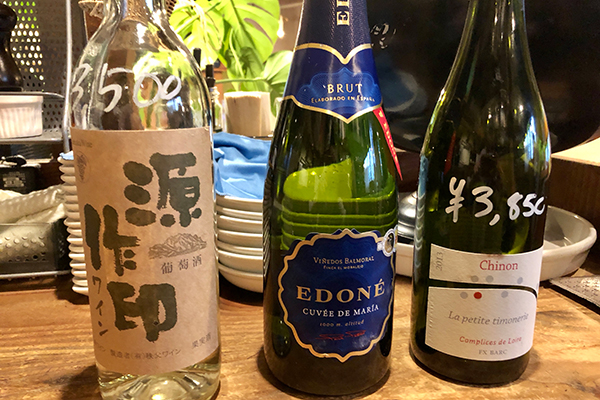 There seemed to be bottles of wine everywhere in Budoya Maru-shu. From the left here is Gensaku white wine from Chichibu in Saitama Prefecture, Edoné Cuvée de María organic sparkling wine from LaMancha in Spain and Chino Le Petit Timoniere, a soft and fruity cabernet franc from the Loire Valley. We also saw White Steuben wine from Aomori in the north of Japan, Frey riesling from Germany, deBortoli Lorimer sparkling chardonnay from Australia and a whole host more. Cheers!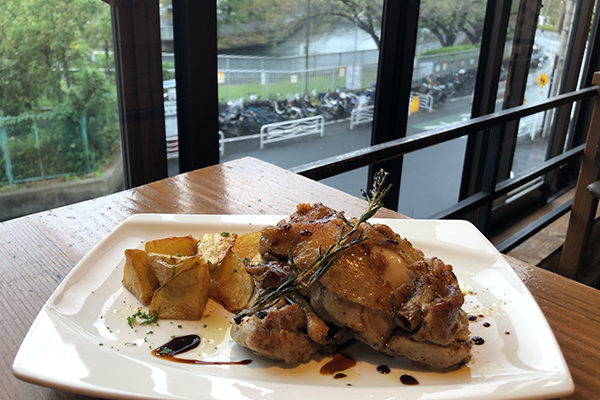 This chicken confit with rosemary in a grape sauce was wonderful. The chicken thigh meat was incredibly soft yet succulent, while the skin was really crispy, just the way we like it. An absolute steal at 1,100 yen.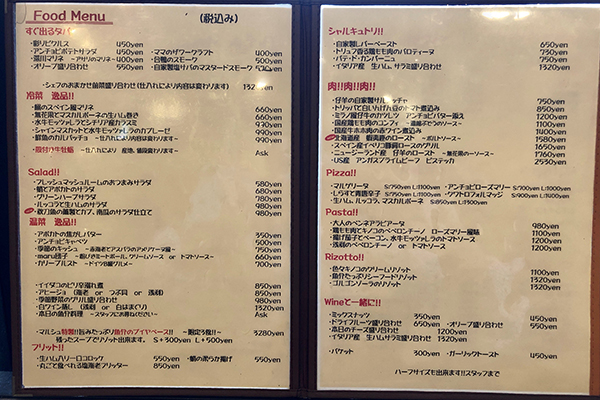 The menu contains a huge number of very appealing dishes: smoked mackerel (550 yen), buffalo mozzarella and Sicilian mullet roe (990 yen), several salads, meatballs in cream or tomato sauce, bouillabaisse (3,250 yen, with the remaining soup cooked into a risotto), ahijo, lots of ham, pizza, and risotto dishes. Venison from Hokkaido is also available in an extensive meat menu that also includes beef cheeks in red wine, New Zealand lamb, Milanese cutlets and American Angus steaks. As Mr Yamamoto said, the menu is made to accompany wine!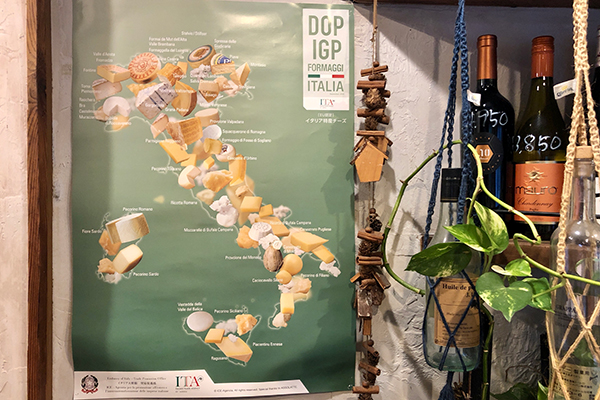 Where there's wine, there's cheese, and Budoya Maru-shu is no exception. "Many of our customers are repeaters," he explained, "with mostly local residents at weekends. I'd say the age range is from thirties to seventies, with most thirties to fifties. Kids are welcome too. Frequently people drop in here as a "second place" after going somewhere else first. We also have many family groups and small groups of friends."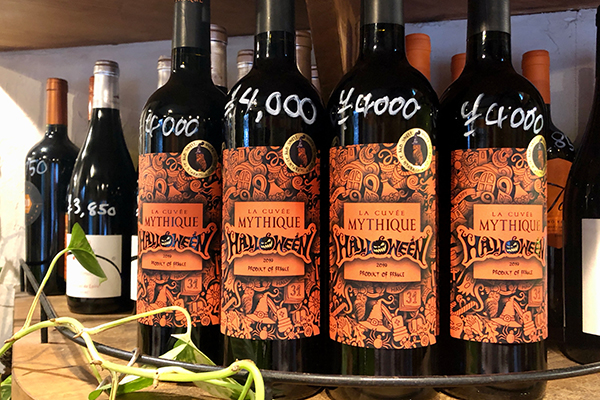 Halloween has become a global event in recent years, and winemakers La Cuvee Mythique, located in the Languedoc region of southern France, have begun producing wine for the occasion. This highly rated wine is all treat and no trick!
While Budoya Maru-shu is a casual wine bar for the evening crowd it's also open for lunch, when Mr. Yamamoto's wife is in charge of the cooking. The menu is short but very good value, with all items at just 900 yen each. On this particular day it was beef tendon curry, hamburg steak, oven roasted shrimp and scallops on garlic rice, and deep fried chicken nanban with tartar sauce and whitebait rice balls. Sounds great!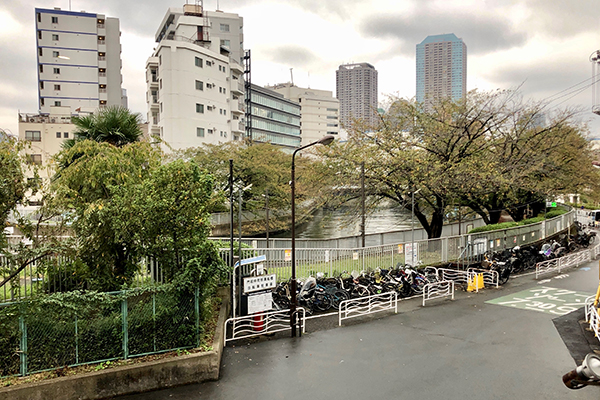 The banks of the canals and rivers of Koto-ku are lined with flowering cherry trees which provide a stunning spectacle during the hanami season of late March and early April. The views from the windows at Budoya Maru-shu are a riot of colour at that time, so popular that they're booked up from January each year. The atmosphere is splendidly casual ("If there's something you'd like to eat just ask and if we have the ingredients we'll make it for you," said Mr. Yamamoto), with blackboard menus and bottles all over the place. The food was really good and the wine selection immense. We're sure that you'd enjoy it too!
Story and Photos by Stephen Spencer