Body Care at Shinkyuin Body Dezain
Published: November 15, 2021
Shinkyuin Body Dezain is an osteopathic clinic specialising in acupuncture, moxibustion, electrotherapy, and much more. Part of the Seichiku group of osteopathic and acupuncture clinics, Shinkyuin Body Dezain is long-established in the locality and underwent a complete redecoration and name change a couple of years ago. On a sunny autumn morning, we dropped in for a chat with the youthful and dynamic clinic head Mr. Yuji Ueda, and staff member Ms. Ariyama.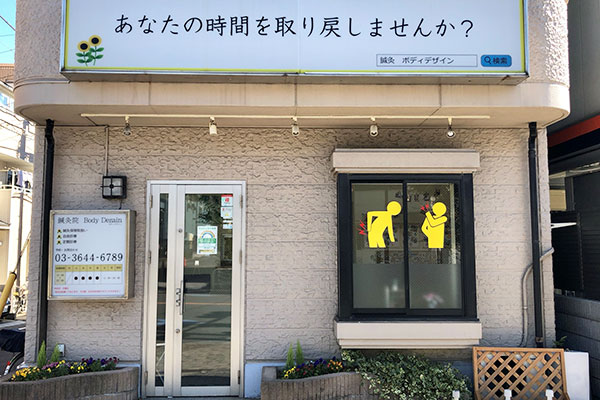 Shinkyuin Body Dezain is located some 15 minutes' walk north of Minami-sunamachi station, at the eastern edge of Koto-ku near the Arakawa River in a quiet residential area. The nearest bus stop is close by at Higashisuna-Rokuchome, convenient for customers who live further away.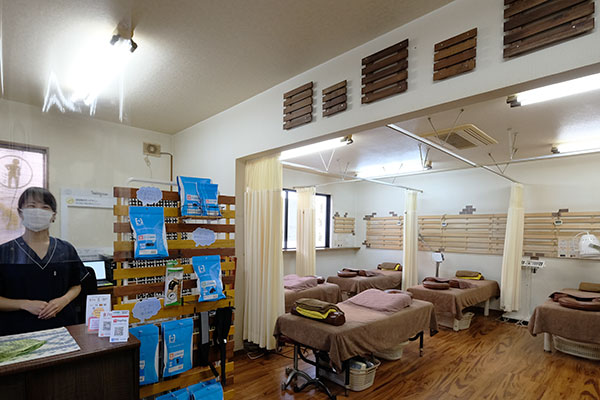 As Ms. Ariyama explained, "This clinic has a very comfortable atmosphere where customers can really make themselves feel at home. That's due to the many local resident seniors who've been regular customers for many years. Recently we've seen younger families moving into new apartment buildings along the river which prompted us to extend the opening hours to 10pm (last reception is at 9:30)," she continued. "The demographics have changed slightly so that now we see many teleworkers with back problems, stiff shoulders, eye strain, and other ailments associated with spending hours in front of a computer at home. The later opening time means working people can drop in on their way home from work. It's proving very popular."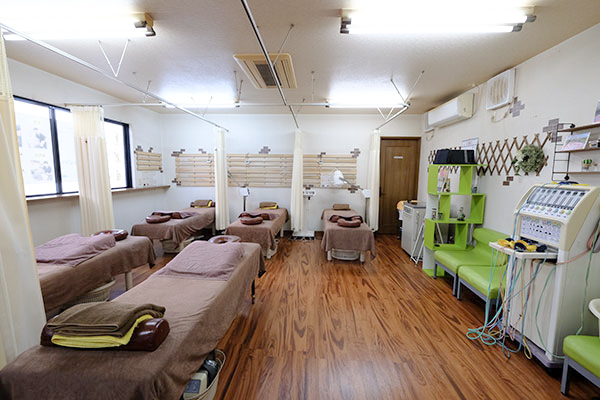 The cosy interior room holds five treatment tables plus additional seating for those not lying down. The acupuncture and moxibustion course at Shinkyuin is the same as that offered at the Seichiku Shiohama branch, which can be seen in detail here.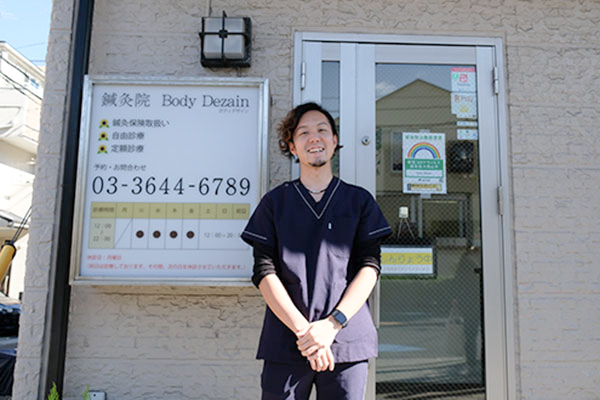 While Shinkyuin Body Dezain offers osteopathic manipulation, acupuncture and moxibustion, it's the only clinic in the group with an electrotherapy machine, as Mr. Ueda explained. A graduate of the Nippon Sport Science University, Mr. Ueda is a qualified sports trainer and medical trainer, currently taking the acupuncture and moxibustion qualifications in his free time. A swimmer and road cyclist himself, Mr. Ueda has treated a variety of athletes up to the All-Japan level, including cyclists, volleyball players, swimmers and performers such as dancers.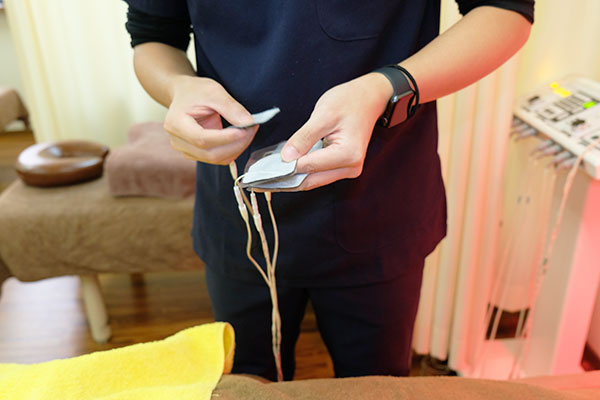 Electrical muscle stimulation devices essentially send signals to the muscles to make them contract, mimicking the action potential from the central nervous system. Mr. Ueda took great pains to explain that electrical muscle stimulation (EMS) is for moving muscles. "It's not a pain reliever, nor a cure for lower back trouble. It's primarily to stimulate, build and exercise muscles. It has an effect on deep inner muscles, for a fundamental physical improvement."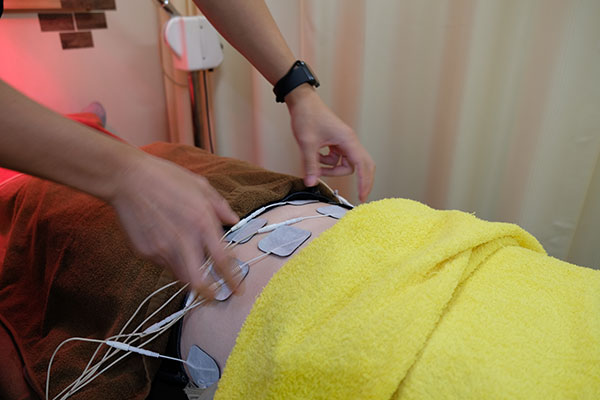 Electrical muscle stimulation is effective in a number of ways: for muscle rehabilitation and strengthening after operations or illness, for those unable to perform exercise, for athletes, to accelerate recovery from injury and to relieve muscle cramps. "The machine we use is top-of-the-range and extremely powerful. In a standard 30 minute session it can stimulate the muscles 9,000 times, an incredible number. To put that into perspective, the popular home use devices run 300 times in 30 minutes. There's simply no comparison."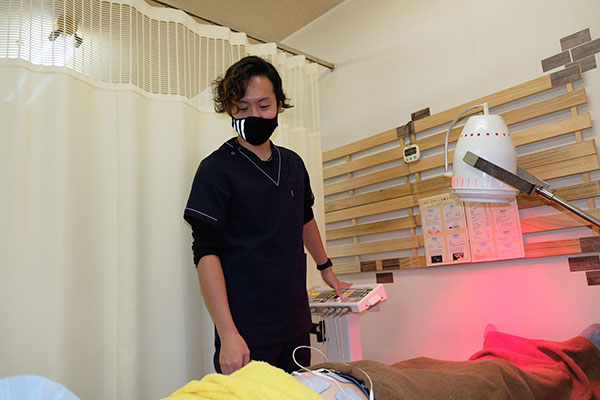 After several of the flat square pads are affixed to the stomach, the current is switched on. It's a pleasant, tingling sensation. Mr. Ueda gradually increases the power until it's both tingling and causing the muscles to contract sharply. As someone who has both put on weight and exercised less during the pandemic, I can immediately feel the benefit. It seems strange that one can exercise, build muscles, and lose weight simply by lying down for 30 minutes, but that's the wonder of modern technology!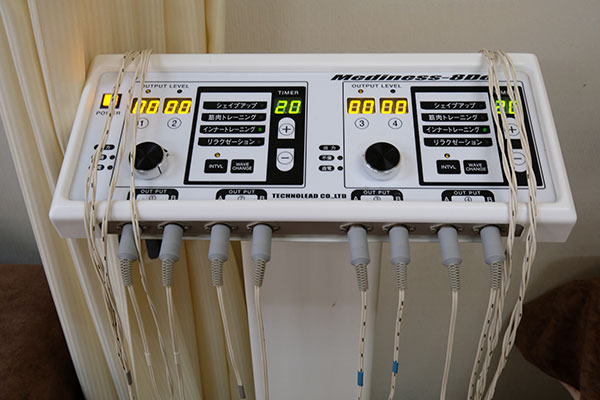 Prices for the electrotherapy are very reasonable, as they are for all services across the three establishments in the Seichiku group. One 30 minute session is 4,500 yen, while a prepaid tickets system is available for three to ten sessions. For 45,000 yen a month customers can have as many sessions as they wish on the ELbio muscle stimulator.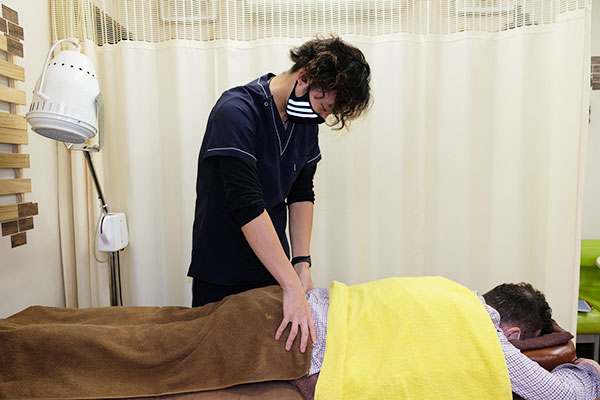 Mr. Ueda and the other staff at Shinkyuin Body Dezain are skilled practitioners of osteopathic manipulation. He quickly homed in on problem areas and with deft but firm movements attempted to relieve tension and unbalance in my posture.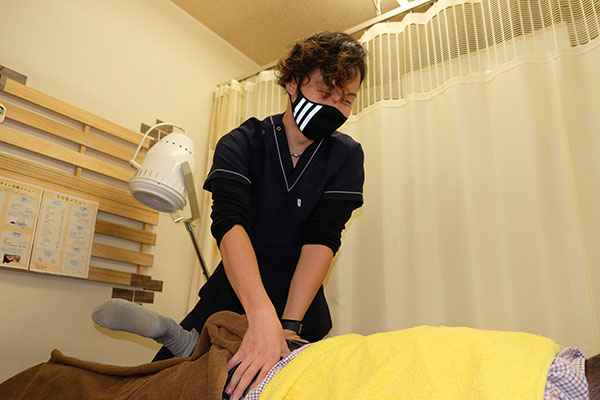 Again, it's a very pleasant experience; as he said, "Our strongest point is finding solutions to pain caused by physical activity. If you're troubled by sudden or chronic pain just drop in; there's a solution somewhere. If it's joint or muscle problems just leave it to us."
Shinkyuin also offers a variety of goods for home use, including moxibustion pads, mugwort tea, soap for atopic dermatitis and skin cream. Whatever your physical ailments, just call or drop into Shinkyuin Body Dezain; you can't go wrong placing yourself in the capable hands of Mr. Ueda and his staff.
Story and some photos by Stephen Spencer