Vegan & Gluten-free Confectionery
Published: December 9, 2021
Bon Bon Bake is a brand-new shop serving gluten-free and vegan confectionery, which means doughnuts, cookies, brownies and muffins that don't contain flour, eggs or any dairy products at all. On a recent sunny morning, I dropped in for a chat with youthful owner Ms. Haruna Yamazaki.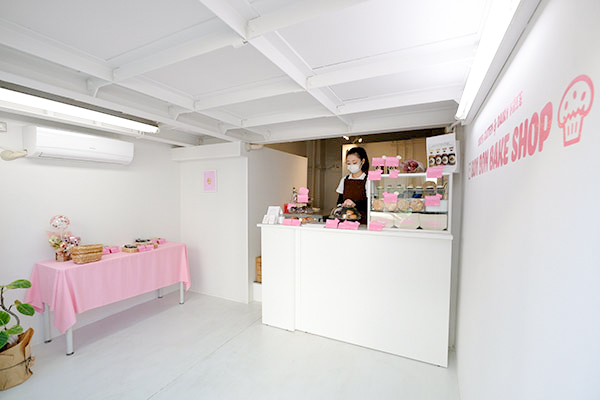 Located in the sleepy canal-side area of Botan-cho, just seven minutes' walk from Monzen-nakacho station, Bon Bon Bake opened in July 2021. The interior is brilliant white with pink trimmings, designed by the multi-talented Ms. Yamazaki herself, and contains the preparation and oven area where she weaves her magic.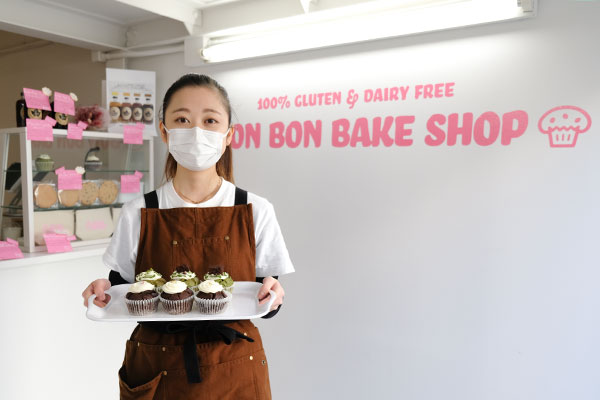 Ms. Yamazaki's story is a heart-warming triumph over adversity. "I was born in Adachi-ku in Tokyo and went to school there. One day when I was in high school I suddenly developed terrible stomach problems that made my life a misery. They just started one day and didn't stop. I visited doctor after doctor and many specialists, took all kinds of tests but to no avail; none of them could find the cause of the trouble. My parents were worried sick and I was devastated, it was terrible. Finally I went to one doctor who had just returned from studying in the US; he knew about the gluten-free diet and tests confirmed that I was allergic to wheat. I'm also allergic to dairy products as well."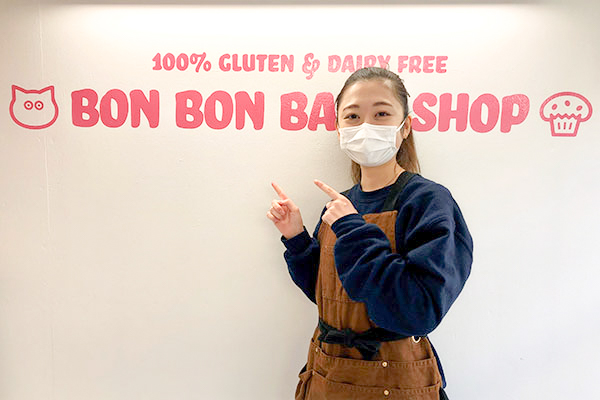 "While I was relieved to have the problem diagnosed at last, it meant I had to watch my diet from then on. I studied about it and began making food that I could eat myself. After I graduated from high school I went to college in Canada to study business administration with a speciality in bakery management. Canada is a great place for people with allergies, vegans, and vegetarians who want a gluten-free diet. I found many great cafes and really enjoyed the easy-going lifestyle. I was all set to stay and get a job but the coronavirus pandemic began so I returned to Japan. I was very much at a loose end until my mother suggested I should make my own favourite confectionery."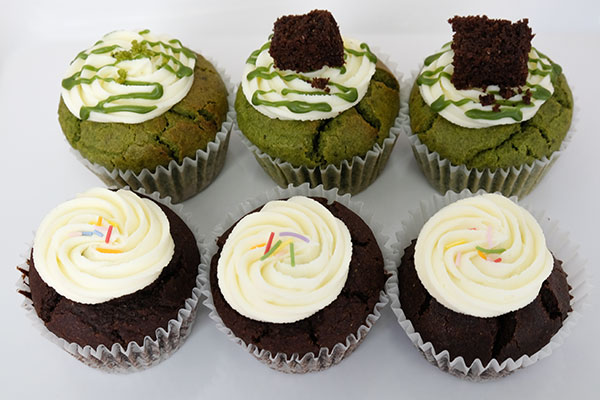 Everything sold at Bon Bon Bake is gluten-free and non-dairy, with vegan options available too. All products are marked with stickers, and Ms. Yamazaki speaks fluent English so communication is no problem. Top sellers are these matcha cupcakes (490 yen) and the brownie cupcakes (510 yen). Instead of wheat flour the cupcakes contain domestically produced rice and brown rice flour, and no dairy products at all.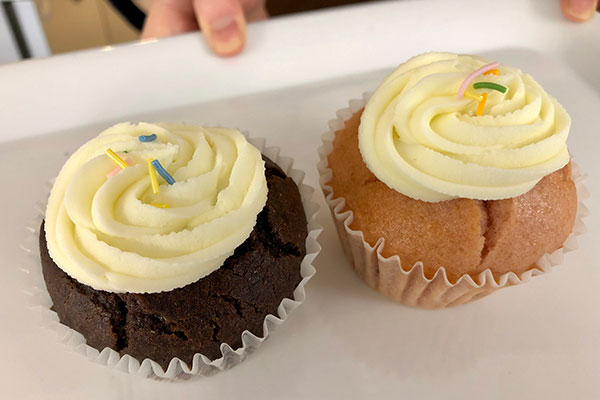 Having partaken I can say they're rich, strongly flavoured and surprisingly filling. The one on the left is strawberry milkshake flavour and went down a treat with a nice cup of tea in the afternoon. The frosting is vegan too of course, made from vegan butter, unrefined sugar, and non-dairy milk.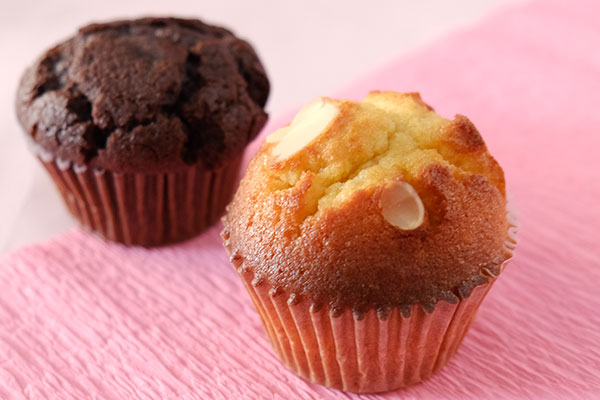 Each month Ms. Yamazaki prepares three or four varieties of muffins using a rice flour base. Pictured here are a double chocolate and an orange peel muffin (420 yen each). As Ms. Yamazaki explained, "I don't use refined white sugar at all. Instead it's cane sugar and beet sugar, which gives the baked items a low glycaemic index, good for those with blood sugar problems."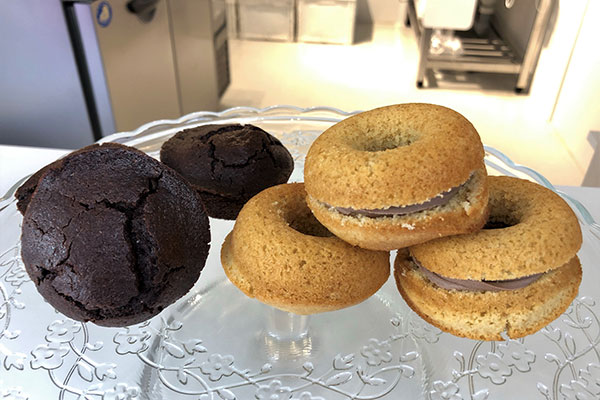 The rich brownies (400 yen, on the left) become fudge when chilled, while a quick blast in the microwave turns the centre into chocolate fondant. The cream sandwich doughnuts (430 yen) contain a special vegan chocolate cream!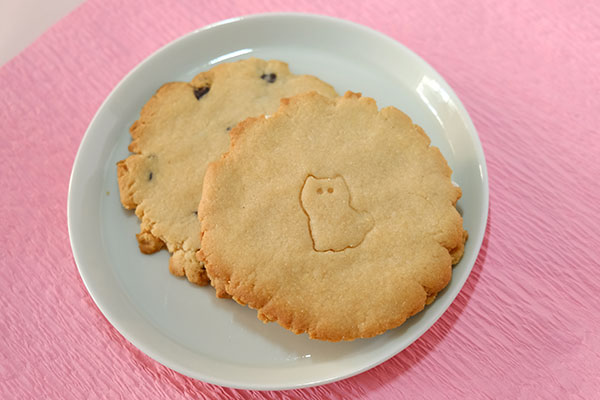 Cookie and biscuit lovers needn't worry as Ms. Yamazaki makes several varieties of these too. The chocolate chip cookies (300 yen) contain no dairy products and are moderately sweet. "Aside from the cane sugar and beet sugar I also use agave syrup," she explained.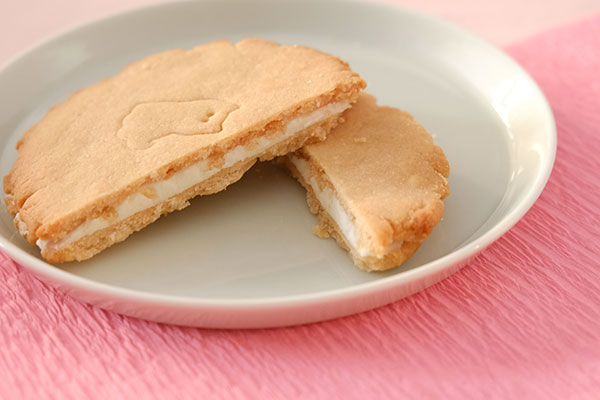 The Bon Bon Creamy sandwich (430 yen) with the cute cat design contains a filling made with a base of vegan butter. After she began making vegan and gluten-free confectionery at home, Ms. Yamazaki started selling them at events and food markets around Tokyo, rapidly gaining dedicated customers and quickly outgrowing her home kitchen. "I needed a place to bake and a base to work from," she explained. "Opening my own shop is a dream come true. Now I've got customers from as far away as Osaka!"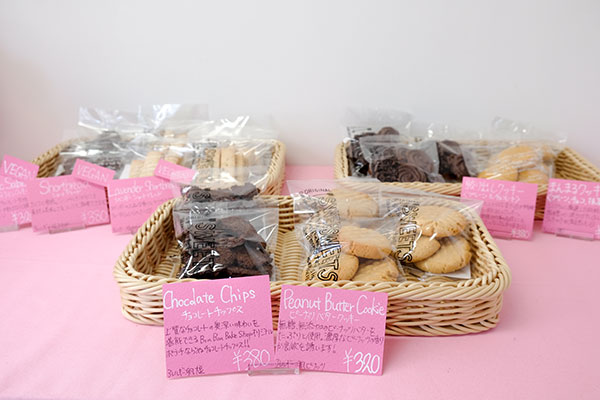 Bon Bon Bake usually has around eight different varieties of cookies for sale, including peanut butter, lavender, and chocolate chip. A large volume of sales are through the internet, with all relevant social media sites accessible through the website below. There's even a series of Bon Bon Bake sweatshirts, many sizes of which have sold out already. Remarkable!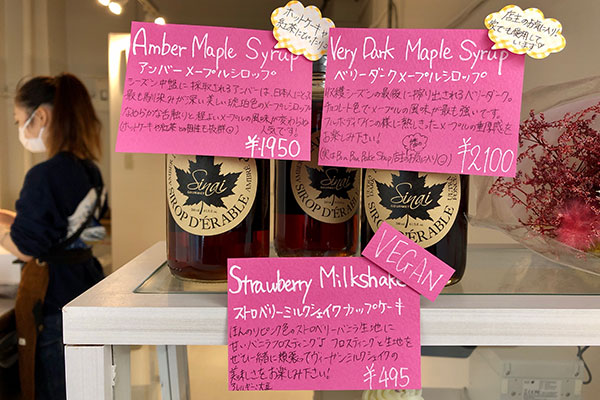 Ms. Yamazaki also offers some rather special gourmet maple syrup from Canada.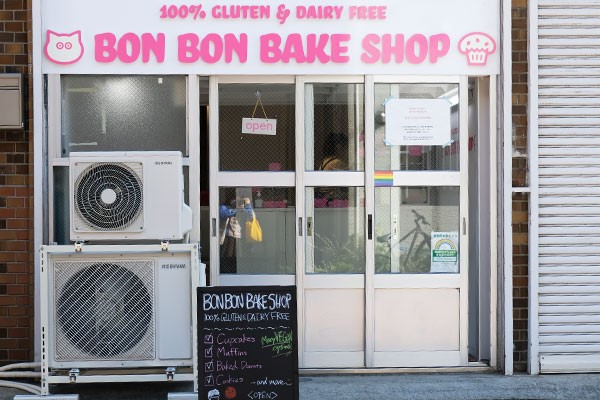 What of the future? "Well, I'd like to expand my customer base, become friendly with the local residents and make the shop bigger." Of course, you don't need to be vegan, vegetarian, or on a gluten-free diet to enjoy Bon Bon Bake's tasty treats.
"Everything is 100% gluten and dairy free," she added. "Please feel free to visit and grab your baked goodies."
Story and some photos by Stephen Spencer