An Uplifting Break in Tatsumi
Published: July 10, 2018
Welcome to Café LaLaLa; a café which is a bit different. It can be found on the second floor of a building above a local supermarket, a short walk from Tatsumi no Moriryokudo and the nearby Tokyo Tatsumi International Swimming Centre.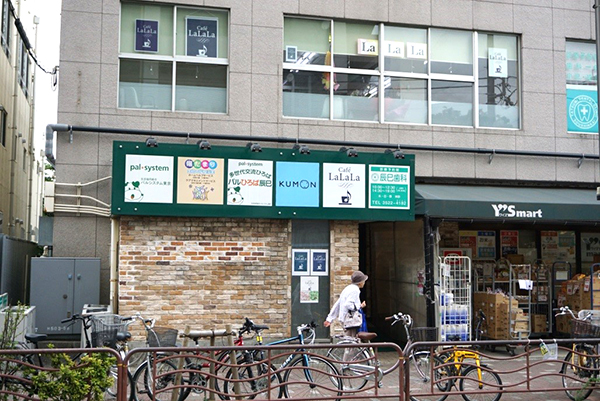 Enter the passage to the left-hand side of the supermarket (don't hesitate!) and climb the stairs to the second floor. There, Café LaLaLa awaits you.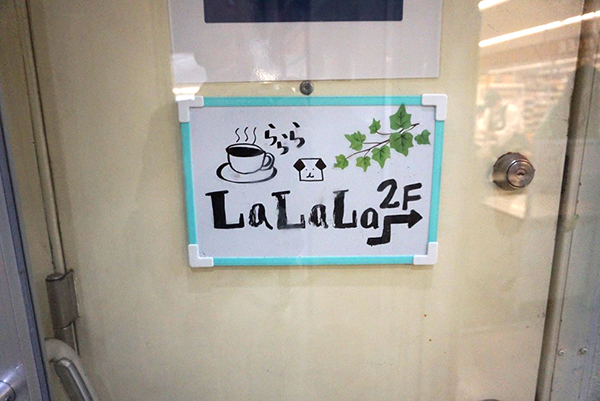 The café is run by a remarkable, energetic lady, Mrs. Teruko Nakazawa, who has for many years been involved in social work in the local community, and who opened the café in March 2018. At present, she is ably assisted by her daughter and a friend.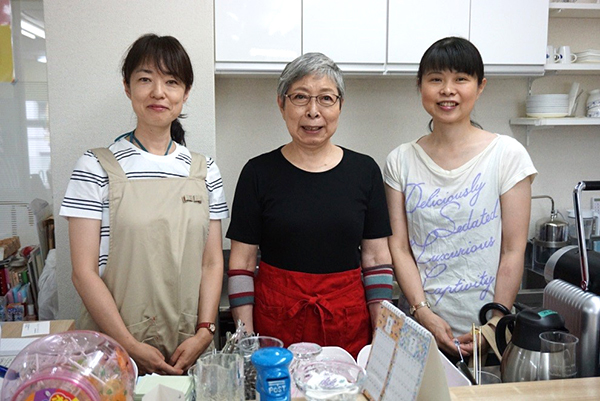 The café space is bright, open and clean, with plants dotted around and tables neatly laid out.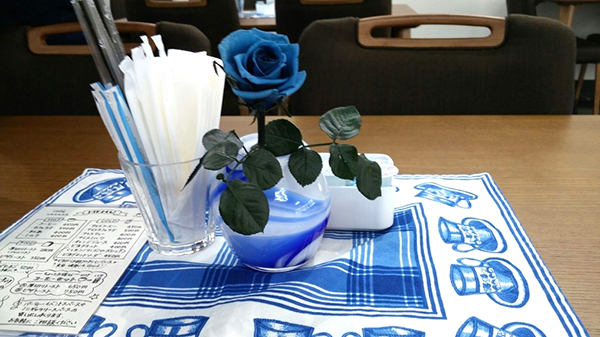 The morning we called in, at one table sat a group of three ladies deep in conversation about business whilst at another table two mothers with their toddlers were taking a short break. Two elderly regulars then came in, to be greeted enthusiastically by Mrs. Nakazawa.
Café LaLaLa is not your usual café; it also serves as an informal drop-in centre where people come to seek advice from Mrs. Nakazawa or just to chat, and where kids from nearby schools can come to do homework. But don't feel you are intruding; the atmosphere in Café LaLaLa is very friendly and casual.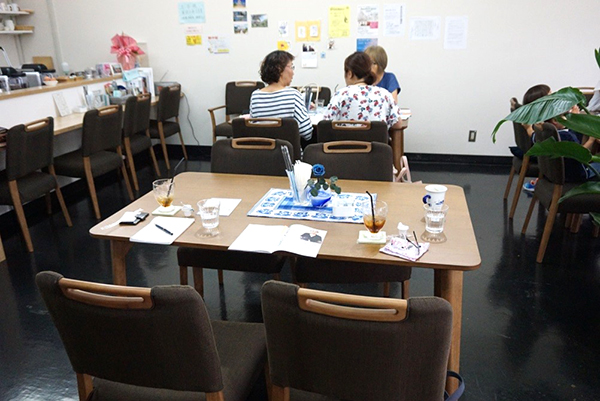 The café also serves as a place where local crafts men and women can display and sell their handmade goods. Along one wall hung handbags…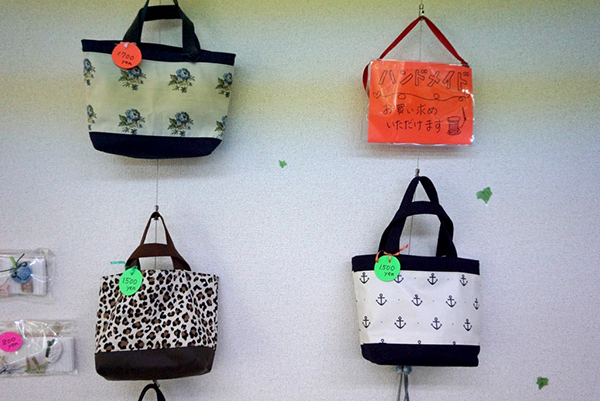 …below which were colourful "teru-teru-bozu" (a traditional paper or cloth doll which is hung up to pray for fine weather) and baby goods. According to Mrs. Nakazawa future exhibitions will include "chigiri-e" (collage pictures made from torn pieces of coloured paper) and a display of photographs of the area.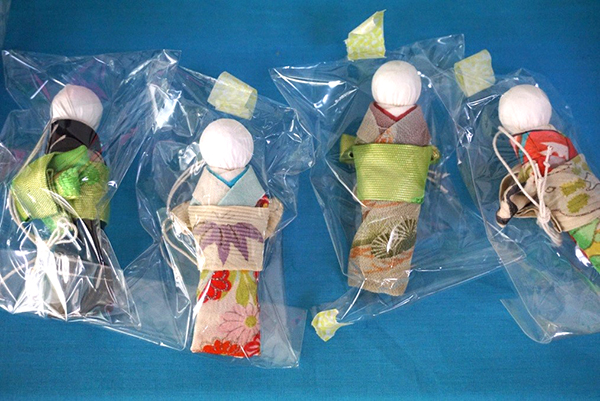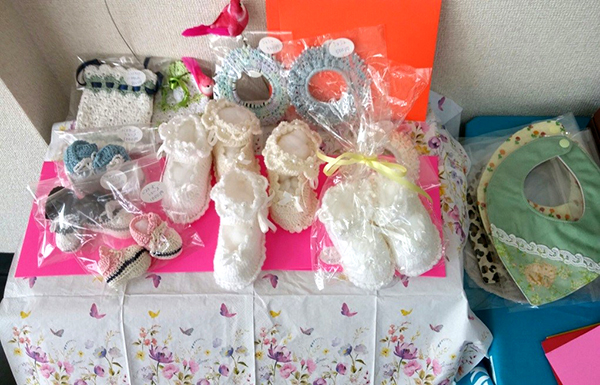 Mrs. Nakazawa asked if we would like to see the menu, which contains hot and cold drinks, boiled egg, thick-sliced toast with jam and pizza toast. And then, with an impish grin, turned the menu over to reveal a blank reverse side, saying, "There is also an "ura menu" (secret menu)".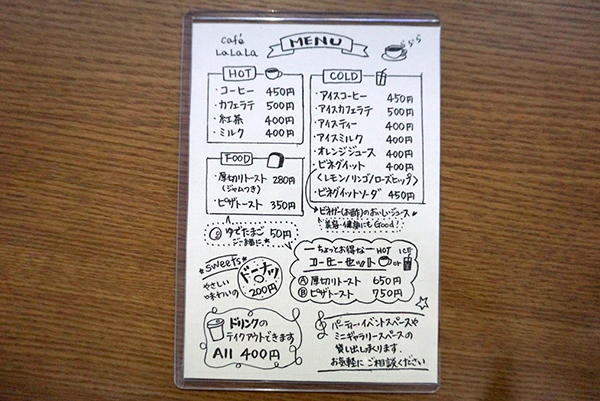 If you ask what is on the ura menu, Mrs. Nakazawa may suggest a plate of chicken rice or ebi pilaf (shrimp pilaf), or some curry rice. She can also rustle up a coffee float or some edamame (green soybeans) and a glass of beer.
This time we stuck to the formal menu; I had an apple "vineguitto"; a combination of apple juice and vinegar, whilst my wife opted for a rose hip "vineguitto". Both were very refreshing on a hot, humid morning. To go with our drinks we had a pizza toast topped with sauce, cheese, onions and green peppers. And just to help the snack along, we were presented with a small plate of cherries, which a customer had brought in for Mrs. Nakazawa.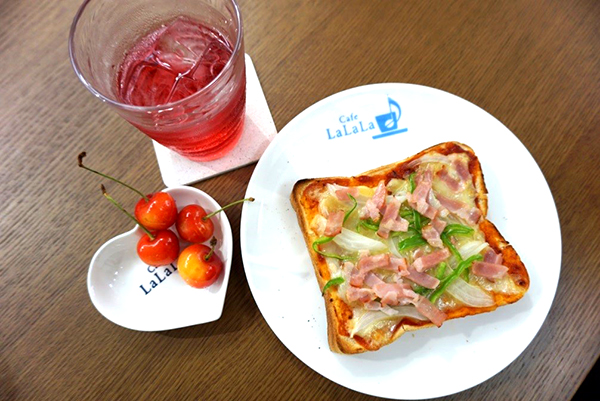 When I asked her whether the café's name has any special meaning Mrs. Nakazawa replied "Not particularly", but she said that the pronunciation of the third "La" ended on a rising note and gave the café an optimistic-sounding name. Besides that, she likes the café's logo.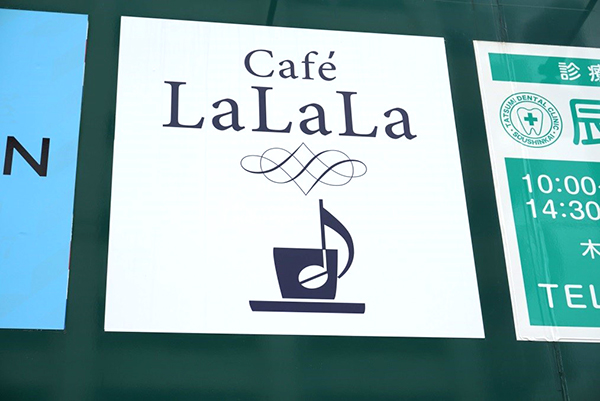 Mrs. Nakazawa is looking forward to the 2020 Tokyo Olympic/Paralympic Games and the opportunity to meet foreign visitors. But, before then, if you are in the area and feel like a drink and a light snack why not drop in? You will always be sure of a friendly welcome.
Story and Photos by Jeremy Hutchinson