I have a feeling "Gorin-ni" will become very popular!
Published: August 4, 2017
No visit to Koto-ku can be complete without seeing Fukagawa Fudo-do, a Buddhist temple of the Shingon sect, and the spectacular Goma (fire rituals) that take place everyday. On the approach road to the temple from Monzen-nakacho Station, one finds Chikusada, purveyor of the finest tsukudani for 99 years.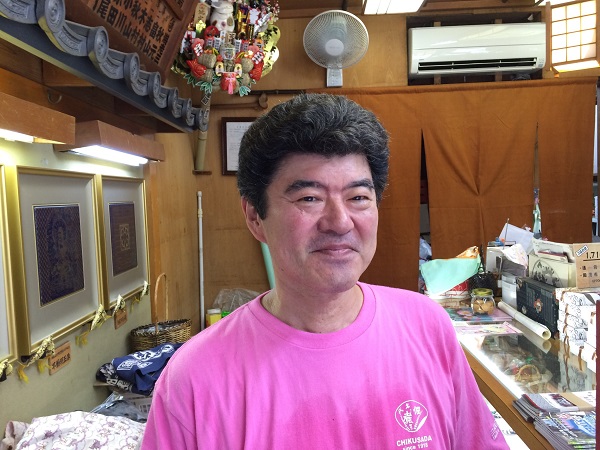 "Yes, next year is our 100th anniversary," says Mr. Morita, the third generation proprietor, "And our products are 99% the same as when my grandfather started the business."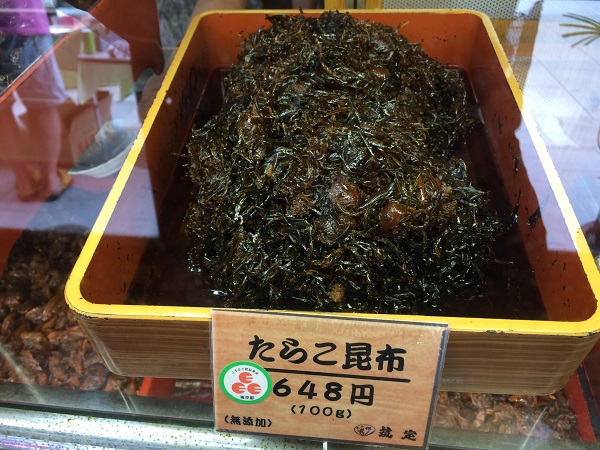 Tsukudani is preserved food that originated on the island of Tsukudajima at the mouth of the Sumida River in Tokyo Bay during the Edo Period, some 400 years ago. Tokugawa Ieyasu, the first Tokugawa Shogun, invited fishermen and their families from Osaka to Edo in order to increase the supply of fish for the rapidly growing metropolis. At first the fishermen boiled small fish with salt to preserve them; then, over the years, a variety of ingredients such as soy sauce, mirin (sweet rice wine for cooking) and sugar were added. As the flavour became more refined, feudal lords residing in Edo began to take tsukudani home as a souvenir and its popularity spread. Mr. Morita's ancestors moved from Chikuzen (modern Fukuoka in Kyushu) to Tokyo around 1800, bringing the sweeter style of Kyushu tsukudani with them.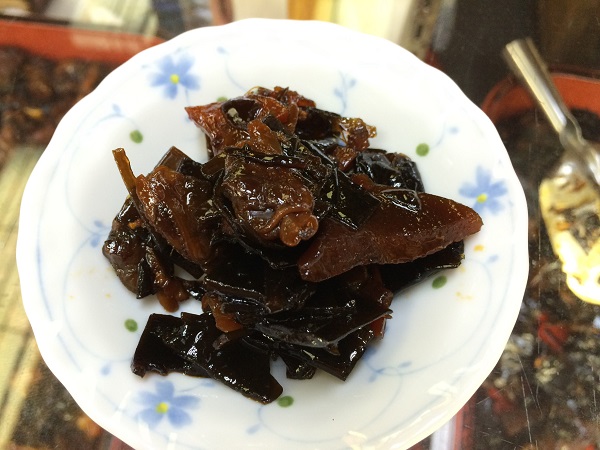 "We make from 20 to 25 varieties of tsukudani, depending on the season and the availability of ingredients. For example, this year there are no hamaguri clams due to the red algae tide caused by the warming of the sea. Our top seller is the "Gorin" mixture. "Gorin" is a Buddhist word representing the five elements: earth, water, fire, wind and sky. We selected the name because of our location near Fukagawa Fudo-do. It actually contains seven ingredients: short-necked clams, seaweed, ginger, carrots, bamboo shoots, burdock root and shiitake mushrooms."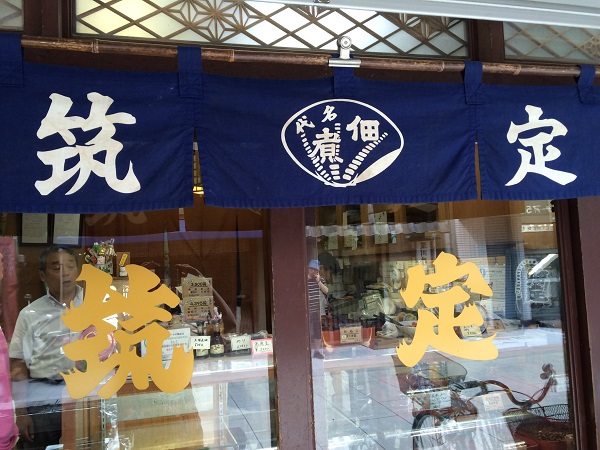 The Chinese characters for "Gorin"(五輪) mean 'five rings' in Japanese and are used to represent the Olympics which will be held in Tokyo in 2020, with Koto-ku playing a prominent role. Purely a coincidence, says Mr. Morita, but a happy one. He remembers seeing the aerobatic display team, Blue Impulse, create the Olympic logo with coloured smoke in the sky above Tokyo at the opening of the 1964 Olympics.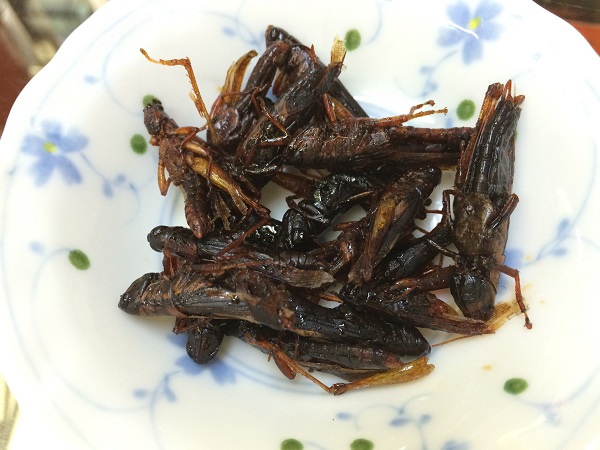 Amongst the variety of tsukudani at Chikusada can be found cod roe sourced from Funka Bay in Hokkaido, and eel from Aichi Prefecture. Smelts, scallop mantles from Hokkaido, seaweed from Kushiro, also in Hokkaido, and the Fukagawa favourite, short-neck clams are all in evidence, as are rice hoppers, better known as locusts. Locusts are a rich source of protein and have long been eaten in mountainous or inland areas such as Nagano and Fukushima. Could you try one?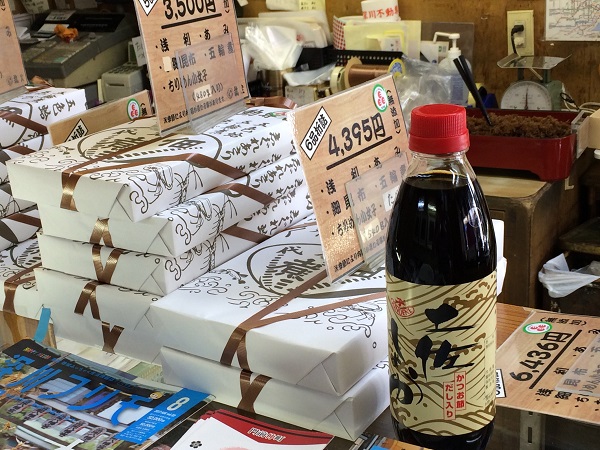 Chikusada has sole rights to use a secret soy sauce blend produced by the venerable Kinoene company of Noda, Chiba Prefecture. "I spent two weeks with the staff there until we got it just right," says Mr. Morita. "It takes them two weeks to prepare an order so we always have to keep a sufficient supply in our factory. That's alongside the special sauce my grandfather prepared. I'm a qualified tsukudani master and can tell when a batch is ready from the smell and colour alone, I don't need to taste it."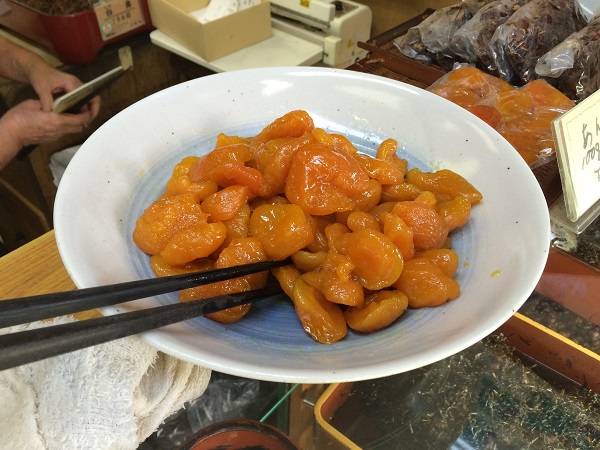 The shop sells a selection of tsukudani variety boxes, soy sauce and sweet tsukudani, such as these made with anzu (Japanese apricots).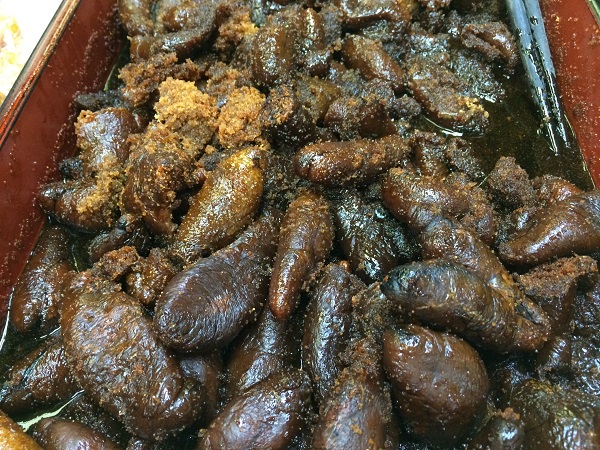 Mr. Morita's tsukudani is rich, with a deep umami flavour, yet not salty. It's a perfect topping for rice, especially if accompanied by some top-quality sake. The cod roe also makes a great filling for rice balls.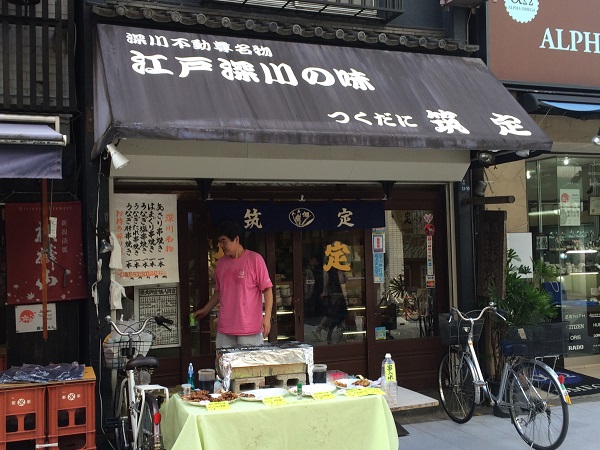 The shop has a wide variety of printed materials in English about its products, Fukagawa Fudo-do, and local events. Mr. Morita is a welcoming host, very enthusiastic about spreading the joys of Chikusada tsukudani to a global audience. Next time you visit the historic Fukagawa area, drop in to Chikusada and enjoy the true flavour of downtown Koto-ku. You could even pick up some rice hoppers as a souvenir!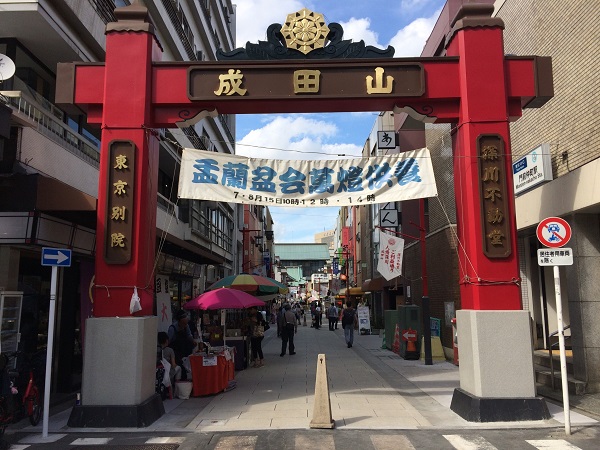 Story and Photos by Stephen Spencer