Coffee and Cakes in Sunamachi
Published: March 10, 2023
Sunamachi Coffee is a brand new coffee stand and cafe space in Sunamachi that serves great coffee and wonderful original recipe baked goods. On a recent sunny morning, we dropped in to chat with manager and barista Mr. Fukuchi and ace pâtissière Ms. Suzuki.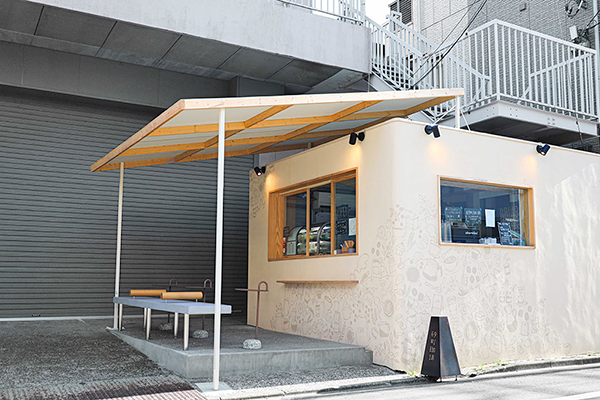 Located in a quiet residential and small business area in central Minamisuna, Sunamachi Coffee opened in June 2022, much to the delight of local citizens. "There's no other independent coffee stand or cafe like ours in the entire area," explained Mr. Fukuchi. "The response from local customers has been very positive indeed."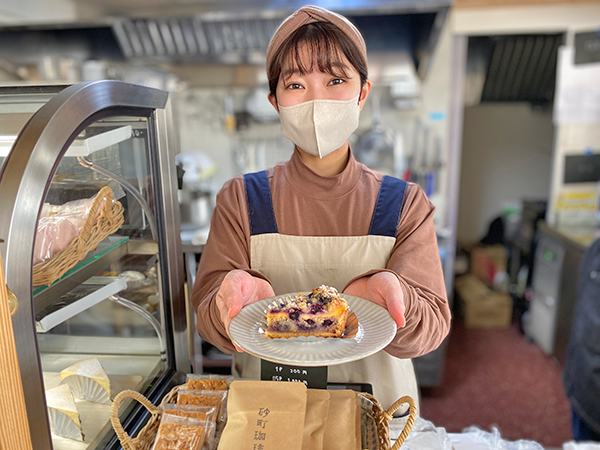 Original Cake Extravaganza
Pâtissière Ms. Suzuki honed her baking skills for five years before joining Sunamachi Coffee at its inception, creating the baked goods menu herself, mostly to original recipes. "The cakes and baked goods I make are not overly sweet. My aim is to create confectionery that customers enjoy but want to eat more of immediately." Here Ms. Suzuki models a slice of blueberry and lemon tart, the most popular on the menu (380 yen).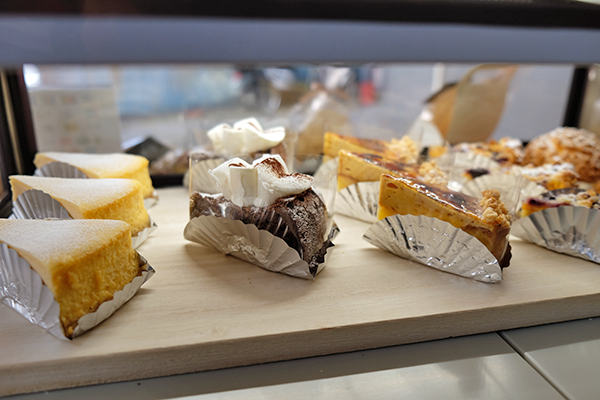 "The tart base is made with almonds for a crunchy texture, while the lemon cream is refreshing," added Ms. Suzuki. There are usually between four and six cakes on the menu daily, with the gateau chocolat, baked cheesecake and choux crème regulars alongside the blueberry tart.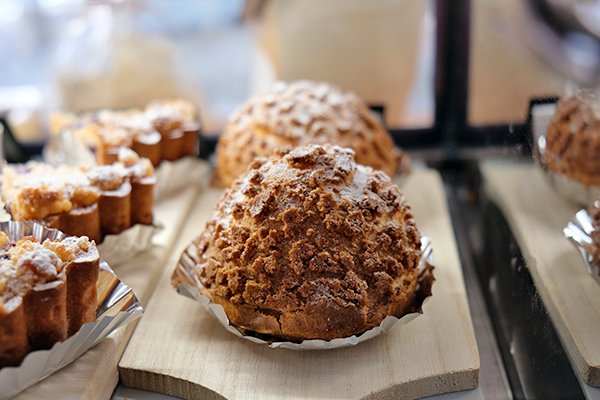 The choux crème features a harder than usual, cookie dough-based outer shell with a fluffy filling of raw cream and custard whipped together. Very appealing and much in demand at 280 yen. The baked cheesecake contains sour cream and cream cheese, another original created after long periods of trial and error. All ingredients are selected by Ms. Suzuki herself. Seasonal cakes are available too, this season's speciality being a caramel chiboust which looked fantastic!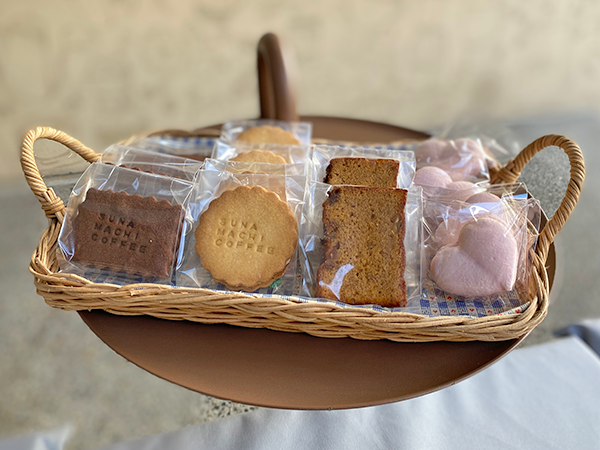 Veteran barista Mr. Fukuchi declared Ms. Suzuki's caramel pound cake was the best he'd ever tasted. High praise indeed. Caramel, fig, rum and nuts combine in a rich, moist delight! At just 230 yen, it's a must-try! From left to right there's a ganache sandwich (230 yen), a raisin butter sandwich with rum (230 yen), the pound cake and a strawberry macaroon (180 yen). They all look very tempting.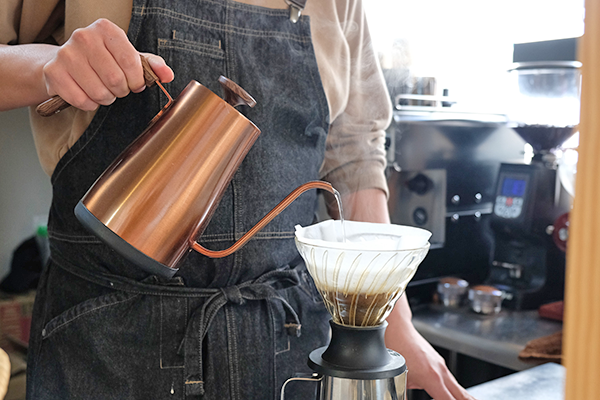 The sweets are premium and the coffee is too, as Mr. Fukuchi explained. "Most cafes use 60cc of water to make an espresso shot but we use only 40cc, which gives a richer taste and stronger flavour. We roast our own beans to create the Sunamachi Blend, which is strong with a touch of sweetness and medium acidity and bitterness. We generally have five varieties of single origin, of which three are always available and two change regularly. Please ask if you'd like to try one of them."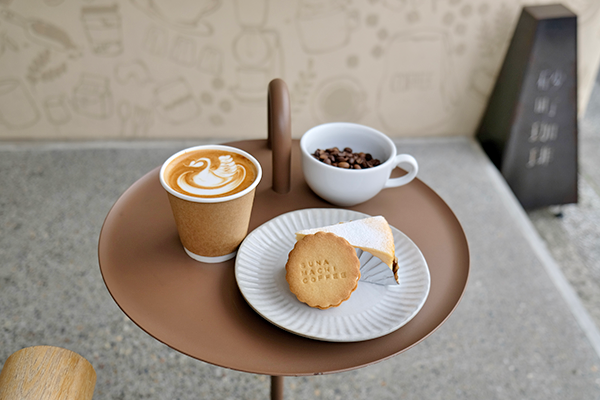 Sunamachi Blend coffee is 400 yen, single origin 500 yen, and Sunamachi Blend with homemade caramel syrup is 450 yen. I drank a straight black, no milk or sugar, and it was very nice, rich yet refreshing and light on the palate. Lattes are 450, caramel and chocolate syrup lattes are 500, and the currently popular Americano is 450 yen. The latte art is by Mr. Fukuchi; like the coffee, it's pretty cool.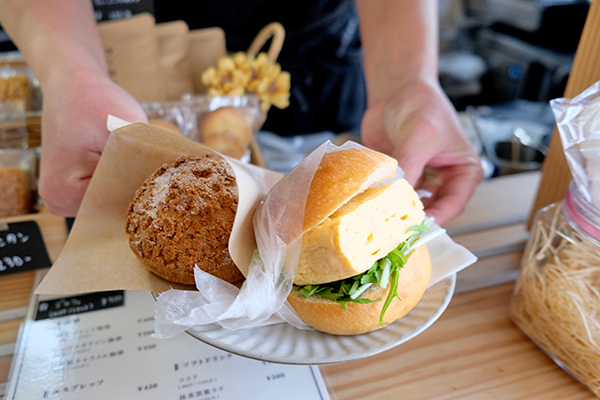 Mr. Fukuchi learned the business working in a cafe bakery for ten years. He bakes the bread at Sunamachi Coffee and also makes the egg roll used in the tamagoyaki egg sandwich (450 yen), which is topped with a touch of mustard mayonnaise, also homemade. Paired with a choux crème and a cup of coffee, it makes a real treat of a lunch.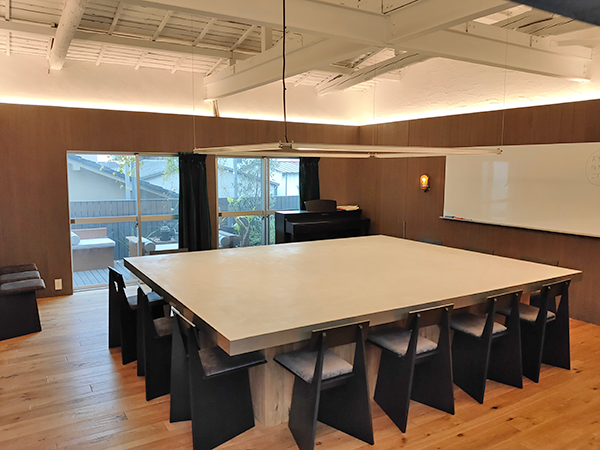 The upstairs room at Sunamachi Coffee is reached by a staircase behind the stand. It's spacious and comfortable, with wall sockets and wifi for those wishing to work. "About 50% of our customers eat in," explained Mr. Fukuchi. As we talked a steady stream of customers dropped by for a late morning drink and a cake. "Our youngest customer is three and the oldest is 92," he added. You're never too old to enjoy a good cup of coffee and a cake!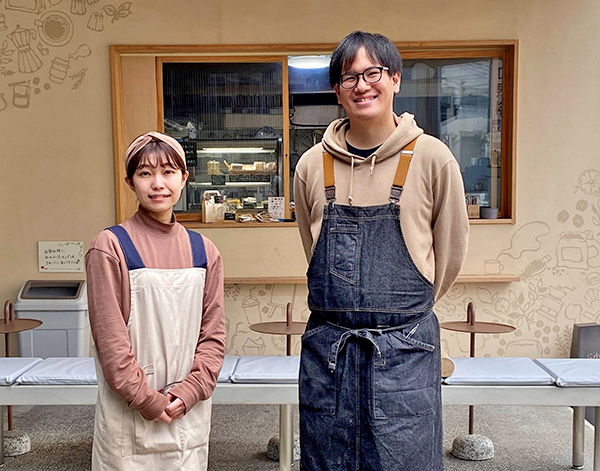 Mr. Fukuchi and Ms. Suzuki make a great team, with the latter's cakes perfectly matched with the former's coffee. Sunamachi Coffee is making a big splash in the area right now. If you're in that part of town why not drop and check it out!
by Stephen Spencer