Coffee, Jelly and Art
Published: April 21, 2022
Kiyosumi-shirakawa—the cafe capital of Koto-ku—earned another feather in its cap with the  recent opening of no mark.Cafe: a stylish coffee shop inside a rebuilt kominka house from the 1950s. On a recent sunny afternoon, I dropped in to chat with owner Mr. Takei and ace barista Mr. Yamaguchi.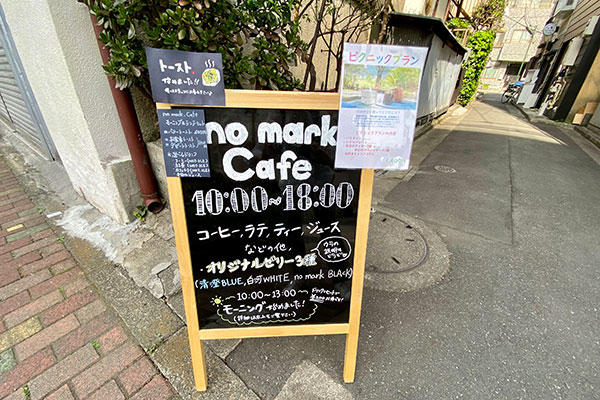 No mark.Cafe is located some five minutes' walk from Kiyosumi-shirakawa station, just north of Kiyosubashi Street. It's on a narrow back street and difficult to spot from the main road, so this helpful sign is placed at the corner. You can't miss it!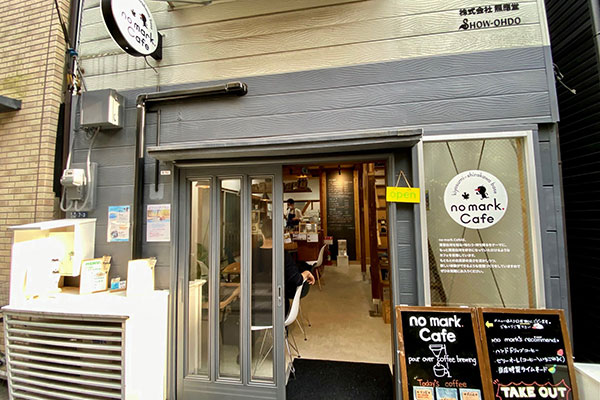 As the owner Mr. Takei explained, "The concept of the cafe is the Kiyosumi-shirakawa area itself: know it, taste it and take it home with you. We found this marvellous old traditional wooden house (kominka) and had it partially rebuilt, keeping the ceiling and some of the walls and windows intact. We opened on August 5th. 2021 as a cafe, art space and more."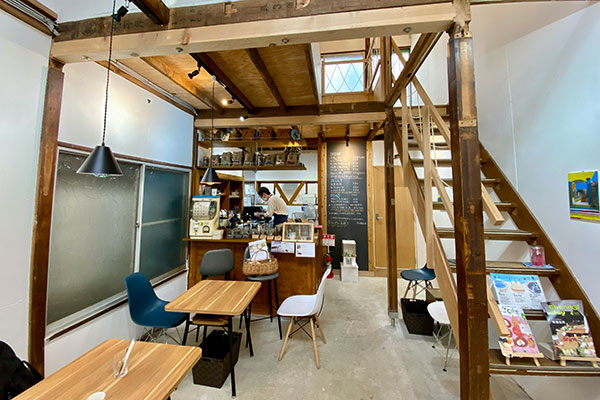 It's an extremely comfortable place, with the original wooden aspects of the old house blending nicely with the modern Scandinavian interior style. The ceiling was removed and stairs leading to a loft style exhibition space were installed. The open space creates an airy, expansive ambience.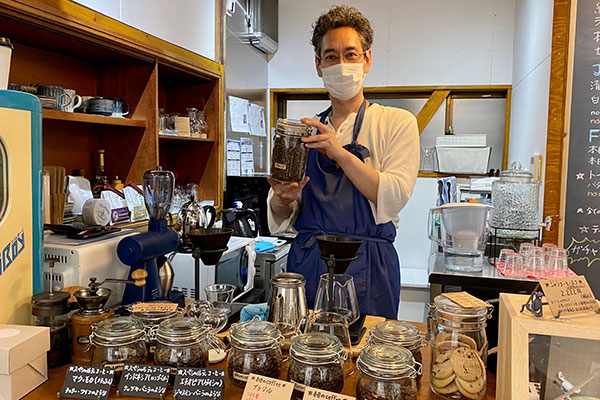 First and foremost though, no mark.Cafe is a cafe. As Mr. Takei and 20-year veteran barista Mr. Yamaguchi (known to all as Gu-san) explained, "Such is the variety of the coffee available in the  Kiyosumi-shirakawa cafe community we chose to offer rare and unusual coffees with unique flavour profiles, things that aren't readily available elsewhere. Our coffee menu changes regularly so there will always be something new for our customers to try."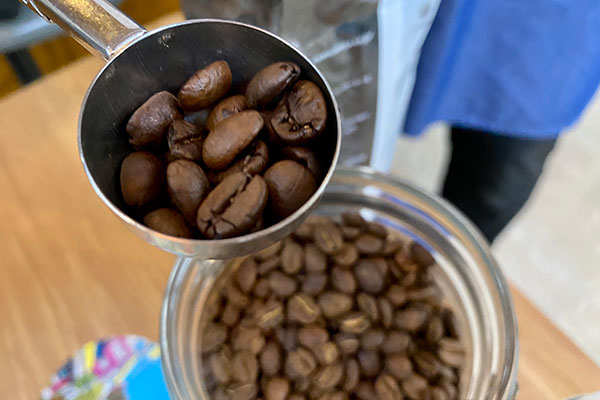 On this particular day, the four daily coffees were from Mexico, India, Burundi, and Brazil, while the specialities were Maui mocha, Ethiopian geisha and Indonesian longberry. Mr. Yamaguchi said the next guest coffee would probably be from Hunan Province in southern China.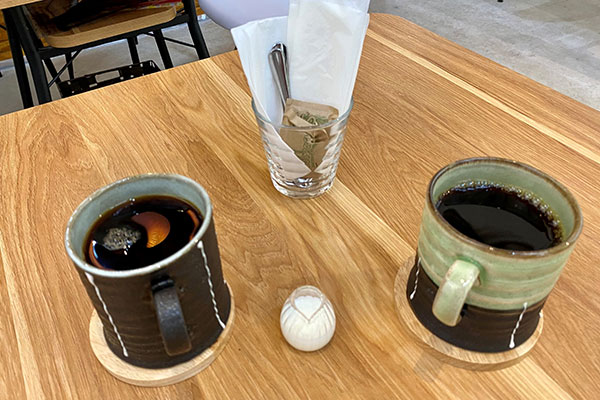 Mr. Yamaguchi ground three varieties of beans for a quick taste test. The Mexican coffee was a rich, chocolaty non-acidic brew, the Burundi coffee was bright and fruity, while the very popular Indian coffee was smooth and herby. Unusual and interesting, just as advertised!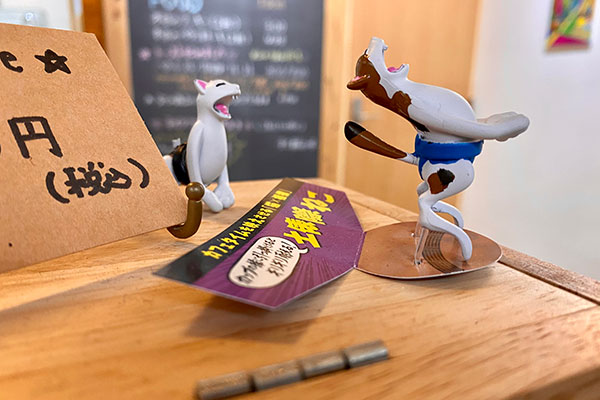 Among the many interesting concepts at no mark.Cafe is the "coffee subscription service" whereby customers who pay 2,222 yen a month can enjoy a cup of one of the "daily" coffees each day. That's great value as one cup is 500 yen! Pictured here are the dohyo giwa cats (edge of the ring, from sumo) one of which customers who join the coffee subsystem can receive.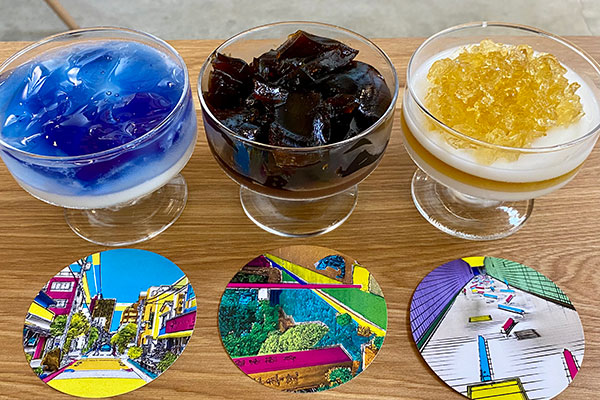 These colourful, photogenic jellies are wildly popular with customers of all ages, as one can imagine. Made with organic, fair trade ingredients they are 550 yen apiece, and surprisingly filling. From left to right are:
Kiyosumi Blue: slightly sweet and sour butterfly pea and lemongrass jelly sits atop a sweet milk jelly base.
No mark. Black: strong, bitter coffee jelly sits on a base of sweet azuki bean paste.
Shirakawa white: white coconut milk jelly and golden jasmine tea jelly.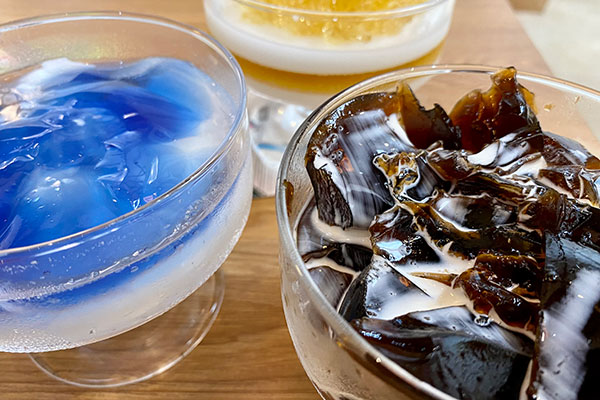 "Weekends are busy, with many customers ordering coffee and sharing two or three jellies," explained Mr. Yamaguchi. They were all terrific: the blue was fruity and refreshing, perfect for a hot and humid Tokyo summer afternoon, the black was strong, sweet and a real eye-opener, while the white was an exotic blend of fragrant jasmine and rich coconut milk.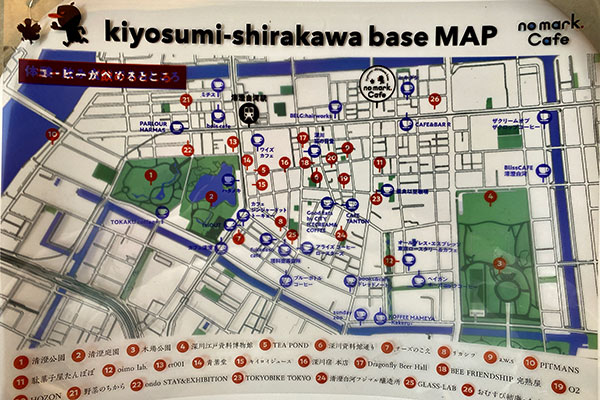 As the owner Mr Takei had explained, he envisaged no.mark Cafe as being both part of the Kiyosumi-shirakawa area cafe life and a promoter of it. To that end the cafe produced these transparent maps, one featuring the 30 or so cafes in the area and the other local restaurants, shops and places of interest such as parks, gardens and the Edo museum.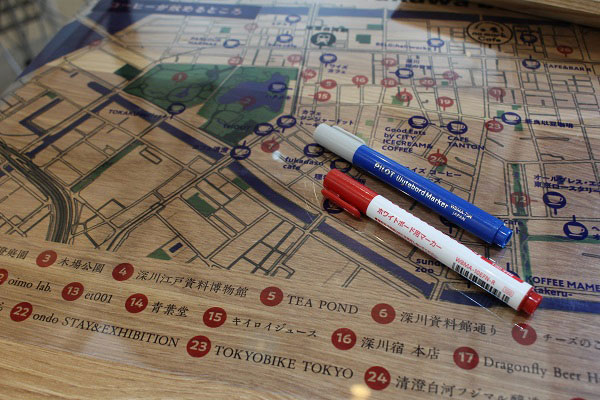 Customers can use the special pens to draw routes between the places they'd like to visit, photograph the map with their smartphones and then follow the route.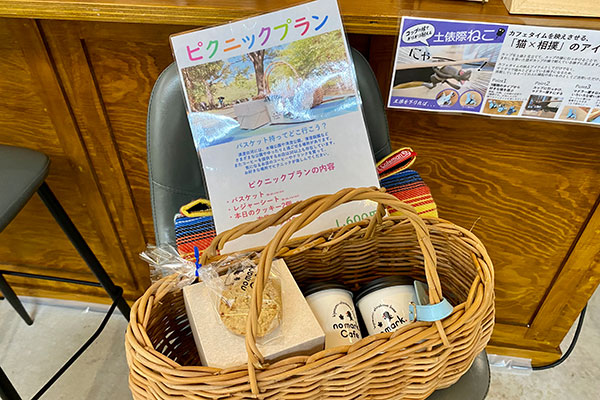 Aside from the culture/gourmet maps, no mark.Cafe also offers a rather thoughtful picnic basket set service. Customers can borrow a handy sized wicker basket with a large and colourful blanket, two coffees and a choice of two cookies or pound cake for the day for 1,600 yen. The cafe is located just a short walk from the grassy lawns of Kiba park and the Museum of Contemporary Art Tokyo, both very popular with locals and visitors to the area. Spending a sunny afternoon lolling on a blanket in the park followed by an exhibition of leading-edge modern art sounds very nice indeed!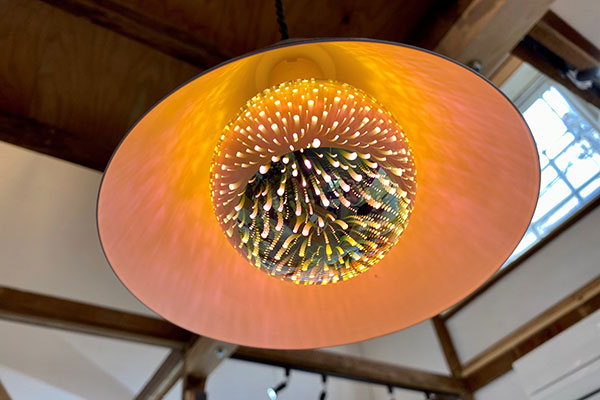 In keeping with the art theme, these fireworks light bulbs hang above every table. The bulbs reflect on the surface of the coffee, creating art objects in your drink!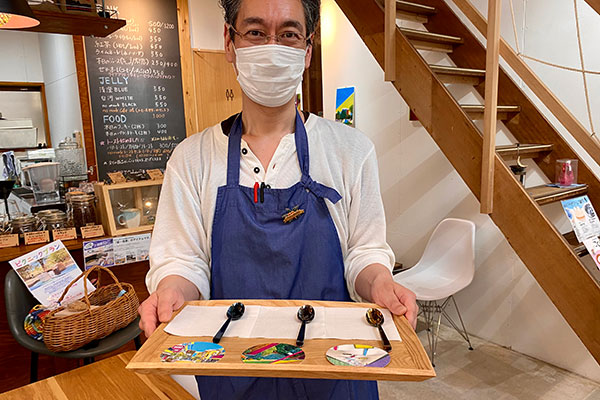 Even the coasters are uniquely designed items at no.mark Cafe. If you're hungry there's thick cut toast topped with cheese, azuki bean paste and butter or strawberry jam and butter. It's a very cool place with great coffee, nice music, friendly staff, and friendly locals. If you're in the area, why not drop in for a drop?
Story and photos by Stephen Spencer