Design For Living
Published: October 5, 2021
Sanji Reform is a long-standing interior design and renovation company based near Sumiyoshi station in Koto-ku. While primarily a B to B company, it has branched out into offering services for private housing, as we heard recently when we dropped into the office for an interesting chat with president Hiroyuki Yasuno and sales assistant Yuko Kobayashi.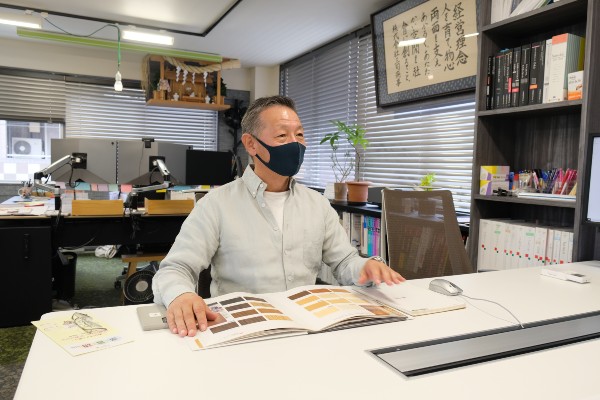 "My father founded the company in 1964, the year of the first Tokyo Olympics and the year I was born," explained the trim, youthful and eloquent Mr. Yasuno. "I was born in Kanda and lived near here in Morishita as a child. In the early years, business was hard but slowly the company flourished, based on word-of-mouth about the quality of our work. Over the years we have worked with many high-end companies, both Japanese and international, as well as several luxury hotels in the Tokyo area." In fact, the extremely impressive Sanji Shoji customer list contains some of the world's top companies.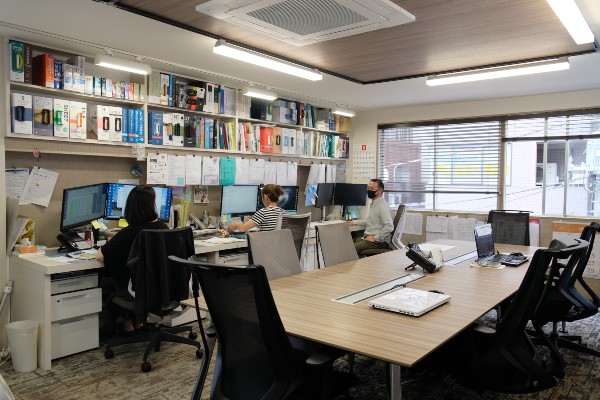 The nerve centre of Sanji Shoji is the third floor office. "We've always been a business-to-business interior renovation and design company," said Mr. Yasuno. "We have never advertised, we were recommended to all our major clients." This stance changed in early 2020 with the pandemic. "Like many companies, our staff began to telework, as I did too. We immediately encountered the same problems so many people did: lack of space, lack of a comfortable working environment, noise, interruptions, care-giving and child care concerns, alongside the general sense of insecurity and stress of that period."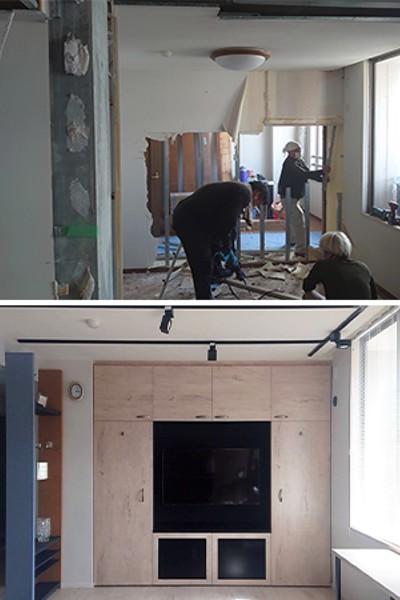 "I was in the same boat too. As president of an interior design and renovation business I felt obliged to start by making my own home into a more comfortable and fitting place for my family and I to live and work," he explained, laughing.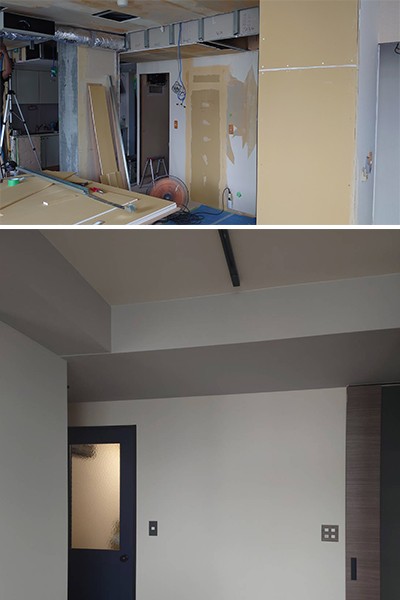 Mr. Yasuno and his staff quickly realised that telework was the future. "We were actually ahead of the curve," he said with a laugh, producing a remote work guide pamphlet they produced early last year.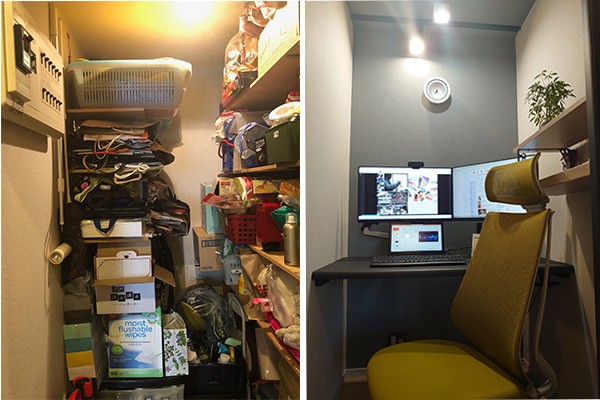 One key area they targeted for renovation is dead space. It's neither excessively expensive nor time consuming to turn a walk-in closet into a smart and comfortable workspace. This room features soundproofing and ceiling track lights, with enough desk width for a double monitor setup. LAN cables can be installed through the walls or ceiling, and there's even room for shelving to add some colour to your background for online meetings.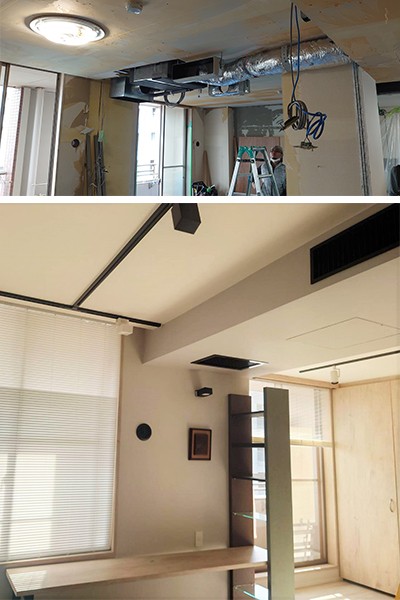 The Tokyo climate makes great demands on designers, as sweltering, humid summers give way to cold, bone dry winters. Seasonally suitable air conditioning, ventilation, and heating are vital to create a living environment that allows people to work or study in optimum conditions. Here the craftspeople install a built-in air conditioning system.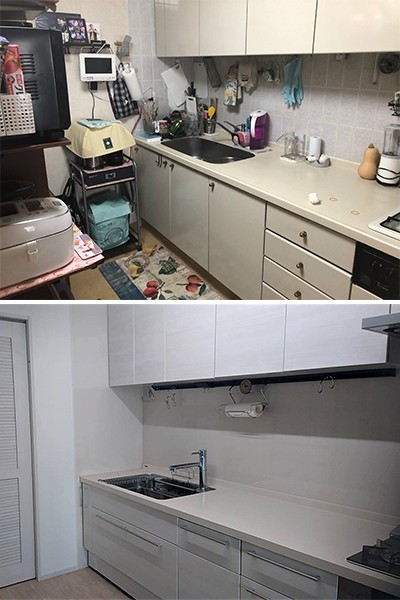 It's perhaps the shared spaces which are most in need of creative renovation. With several members of a household working or studying at home, kitchens can become congested points of disharmony. A sleek modern upgrade not only looks terrific, it calms the spirit as well.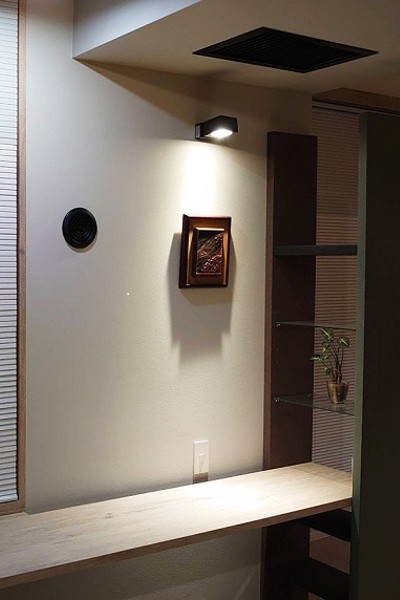 The current pandemic has spurred the development of antiviral and antibacterial products. Sanji Shoji offers SIAA—standard wallpapers and floorings with antiviral, antibacterial and antifungal properties to add an extra layer of protection to your living and working environment. Prices are reasonable and another worthwhile investment for the future.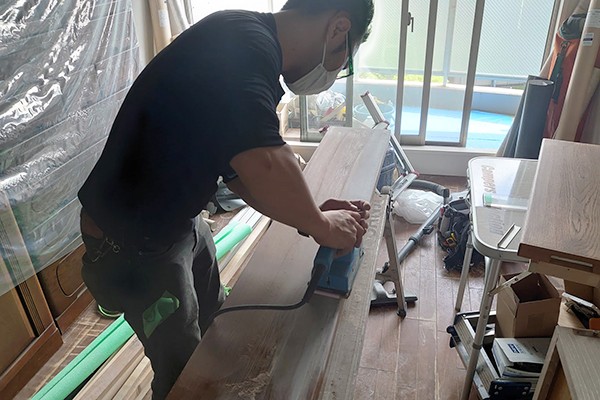 One key point in considering Sanji Shoji for your household renovation is a five year insurance warranty on all work and an annual inspection for five years after completion, free of charge. (This is very rare as most companies only offer a one  year warranty and inspection).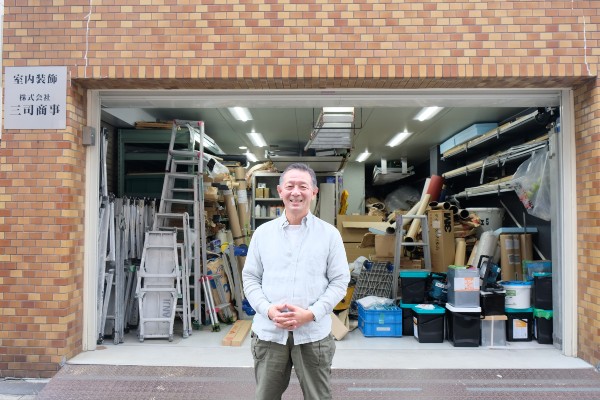 As Mr. Yasuno said, "We're a Koto-ku based company and aim to offer our best services to residents who wish to improve their living and working environments. Every customer has a different situation, different needs and a different budget, but many simply don't know where to start. The best course of action is to call Sanji Shoji and talk to us about it."
Story and Photos by Stephen Spencer