Mention the word "winery" and it conjures up images of sun-drenched rolling hills covered in grape vines, or scenery from films featuring vineyards for their locations. The last thing I expected to find in the Furuishiba area of Koto Ward was a winery.
You can't miss Fukagawa Winery, just a short walk from Etchujima Station on the Keiyo Line or Monzen-nakacho Station on the Tozai , with its distinctive wooden frontage, and a wine barrel and bottles lined up outside. Opened in 2016, this small establishment specialises in producing fresh young wines made from Japanese grapes.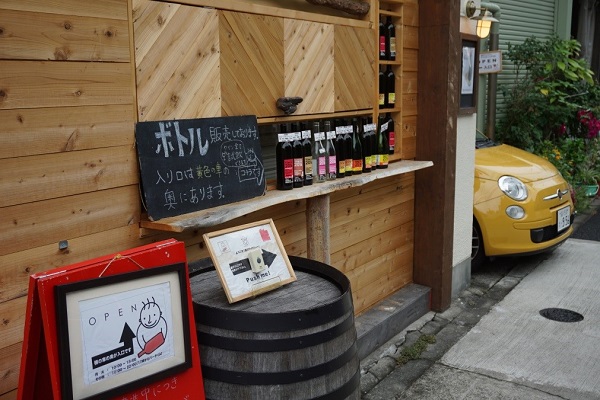 On the morning we visited we were shown around the premises by Mr. Yuki Onami, who started out by explaining the concept of Fukagawa Winery, which places emphasis on "kotozukuri" or user experience and value creation, rather than "monozukuri"  which is the art, science and craft of making things. As Mr. Onami says, this concept is aimed at enabling customers to experience the making of wine together with the winery staff, through events and ceremonies.
The wine produced at the Furuishiba site is young wine, generally of 2 to 3 months vintage, as Japanese grapes tend to favour fresh wines. As Mr. Onami says, "Japanese wine is like vegetables: it is best taken fresh."
Grapes are brought from Aomori, Nagano, Yamagata and Yamanashi to the winery here in Tokyo to be pulped and squeezed, and the juice left to ferment before being filtered and bottled. This all takes place inside incredibly cramped but spotlessly clean premises. The white wine is fermented in temperature–controlled stainless steel tanks, whilst the red wine, which can be allowed to ferment at higher temperatures, is usually left in vast yellow vats. These can all be viewed through large windows in the bar counter area.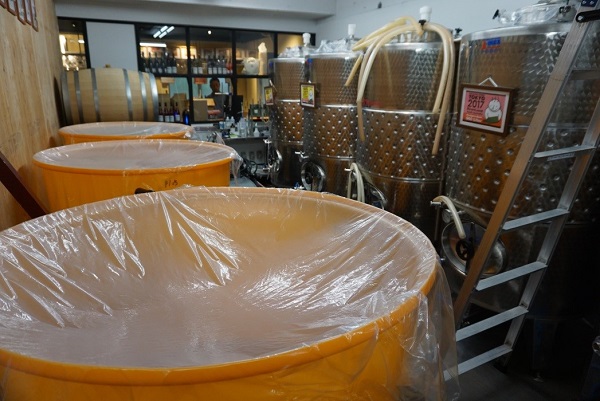 Some wine is also stored in barrels for up to 6 months to mature before being bottled.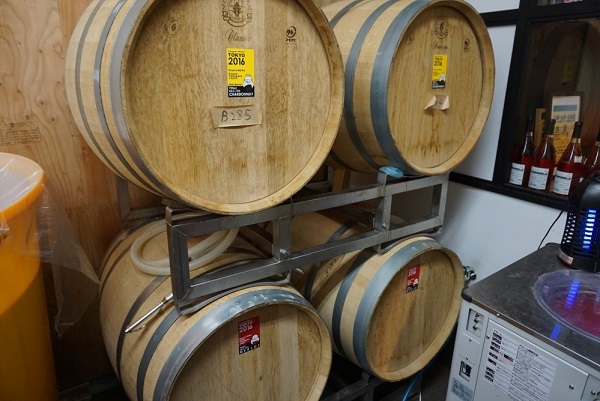 In addition to wine made from Japanese grapes, Fukagawa Winery also produces Australian wines, such as a sparkling Sauvignon Blanc, made from imported Australian grapes.
As Mr. Onami says, "The design of the wine labels and the layout of the wine counter, as well as the Wineman 'Image character', reflect the creative mind of the owner whose background is in sales rather than wine production."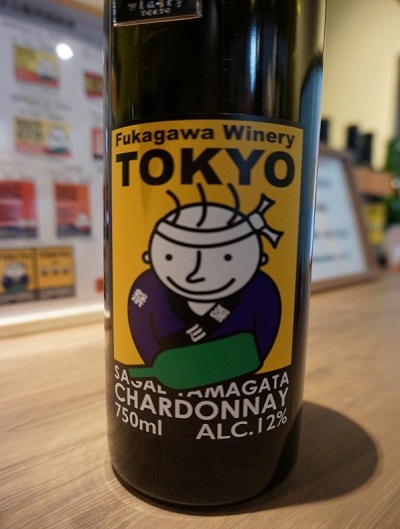 Even though it was only mid-morning, we were served a 6-month-old Yamagata Chardonnay, which was light and not too sweet, and a red Yamagata Muscat Bailey A, which had a distinctive, almost caramel-likearoma and slipped down the throat very nicely.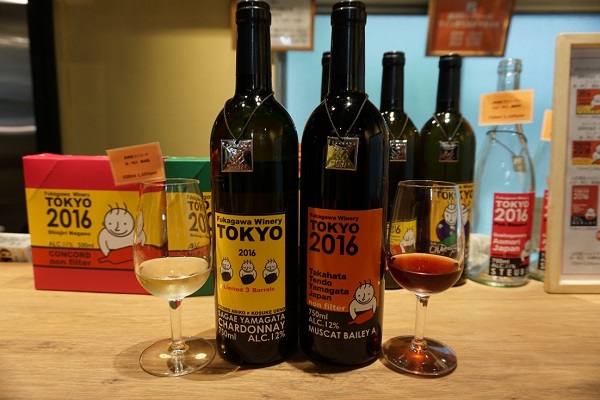 As we sat in the small bar area, which seats 9 and where light snacks prepared by a chef onsite can be had in the evening to accompany the wine, Mr. Onami said that they are in the process of creating a 12 seat private restaurant on the premises, which is projected to open within August 2017.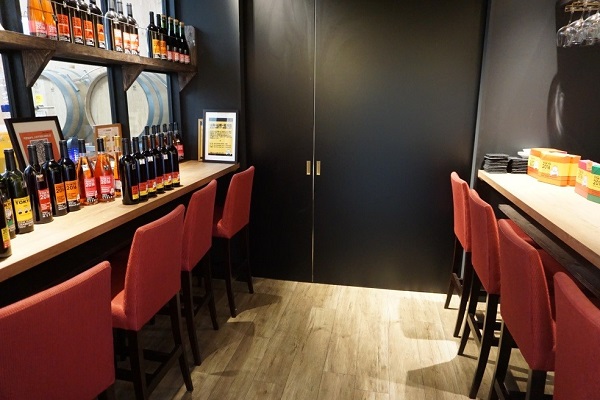 Fukagawa Winery's clientele has grown primarily by word of mouth, and the bar has become popular among locals and with groups of young women. Having sampled the wine and seen photographs of the food, it was easy to see why, and I look forward to coming again and trying the food along with the wine one evening.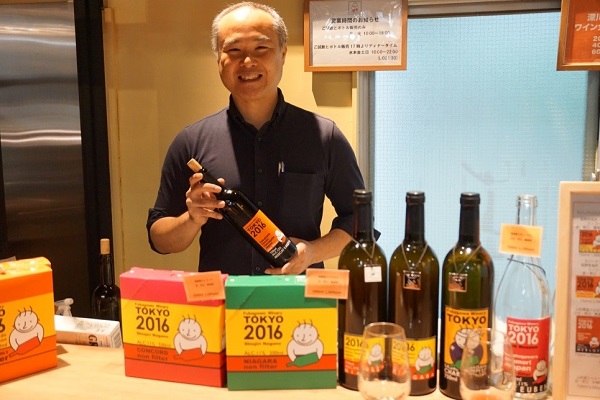 Note: Tours of the winery production area are held on weekends and national holidays, by appointment, at 13:00 and 15:00. The tours are in Japanese and last about 15 minutes.
Story and Photos by Jeremy Hutchinson