Global Wine, Red Meat, and Much More at Ballondor
Published: June 29, 2020
The restaurant Ballondor is a haven for oenophiles and carnivores. Located just three minutes' walk from its eponymous station, Mozennakacho Winehouse Ballondor is dedicated to the joys of wine and largely, but not entirely, meat in all its guises. On a recent sunny afternoon, we dropped in for a chat with the multi-talented managing director and sommelier, Mr. Kazushige Watanabe.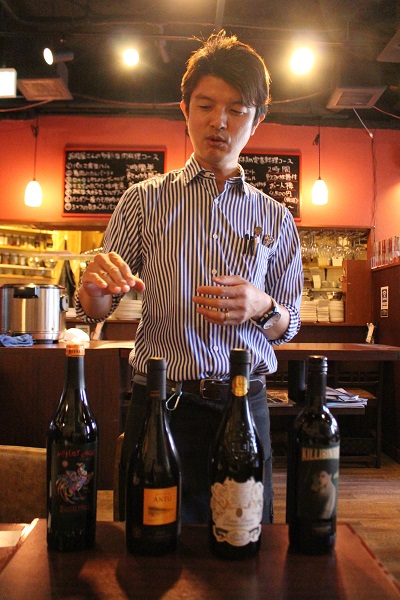 "We opened here in spring 2016," explained the brisk and youthful Mr. Watanabe. "I began my career as a bartender, then joined the well-known restaurant management company Global Dining. After working there for several years, I went independent and managed places in Ningyocho and Yushima. The Ningyocho restaurant closed and we moved here, attracted by the area and the possibilities of the space. I'm a qualified wine sommelier and meat sommelier, too. Mr. Akemi, our chef, cooks and I'm in charge of the wine, cheese, and restaurant management."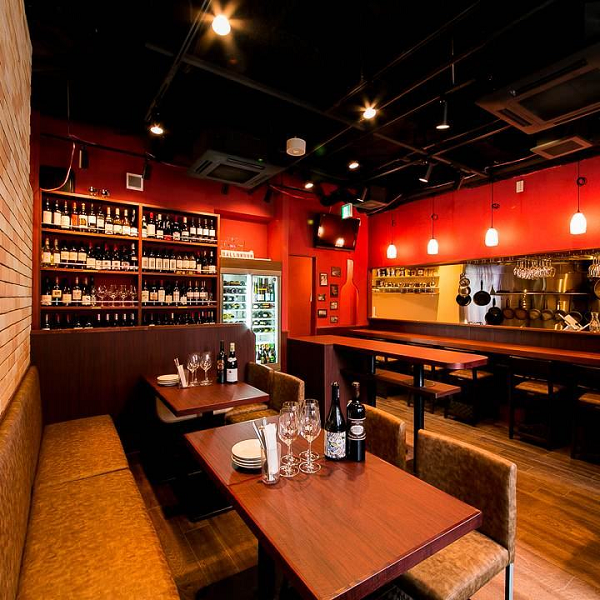 "We wanted both an open kitchen and a bar counter immediately inside the door, which meant raising the ceiling to improve the ventilation, and we also put in the large window. To be honest, we didn't really have a particular theme in mind with the decor," he said. Despite that, Ballondor has a decidedly Southern European or even South American ambience with the dark orange walls, brickwork, and brown leather banquettes, and chairs.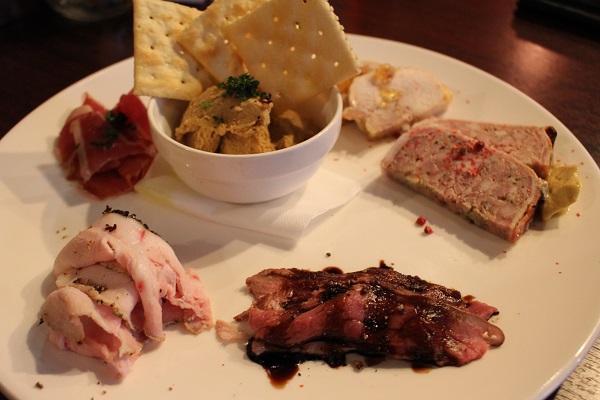 Amongst savvy diners in Koto-ku, Ballondor is renowned for offering top quality cuisine at prices that won't break your budget, and this charcuterie plate of hors d'oeuvres certainly fits the bill. Featuring foie gras rillette, raw ham, roast pork, roast beef, chicken, and negi onion galantine and pâté de campagne, it's remarkably priced at less than 1,000 yen.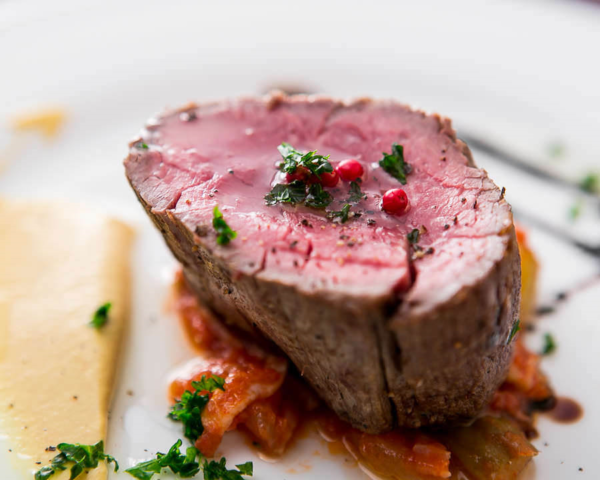 The most popular item on the menu is undoubtedly this carefully selected Australian filet steak bistecca. Weighing in at 200g, the lean steak is gently seared on all sides then roasted, leaving the inside medium rare. Low in fat and extremely delicious, it's 2580 yen, before tax. 100g steaks at 1500 yen are also available. "You'd pay around 4,000 yen for a steak of this quality in most places," says Mr. Watanabe. "Our sauces are seasonal, a lighter soy sauce base with meat juices in the heat and humidity of summer, changing to a heavier fond de veau or demi-glace sauce base in the depths of winter."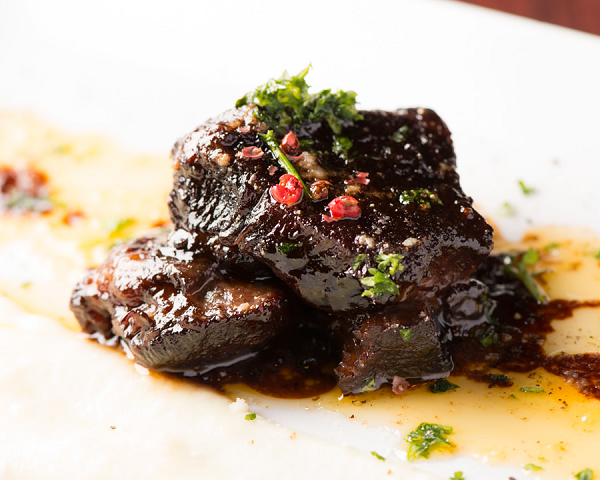 These beef cheeks are gently simmered in a red wine sauce until they are melt-in-the-mouth tender. They cost 1780 yen before tax.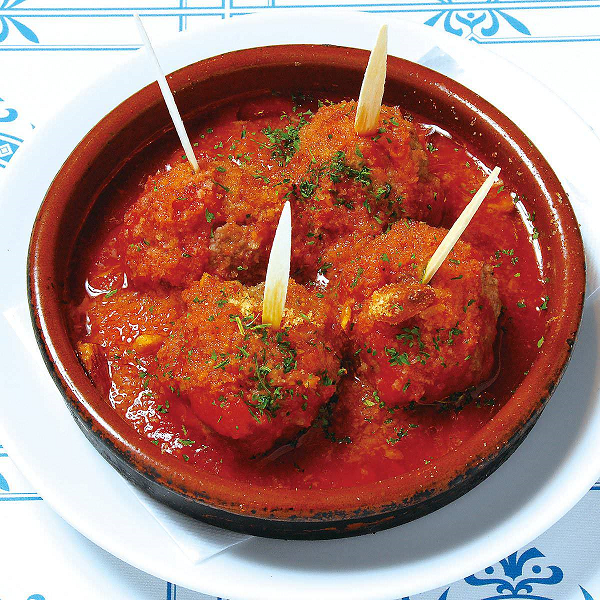 Although high quality beef is the foundation of the menu at Ballondor, these lamb meatballs are much in demand, cooked slowly in a spicy, Moroccan-style sauce. They are also very reasonably priced at 780 yen before tax.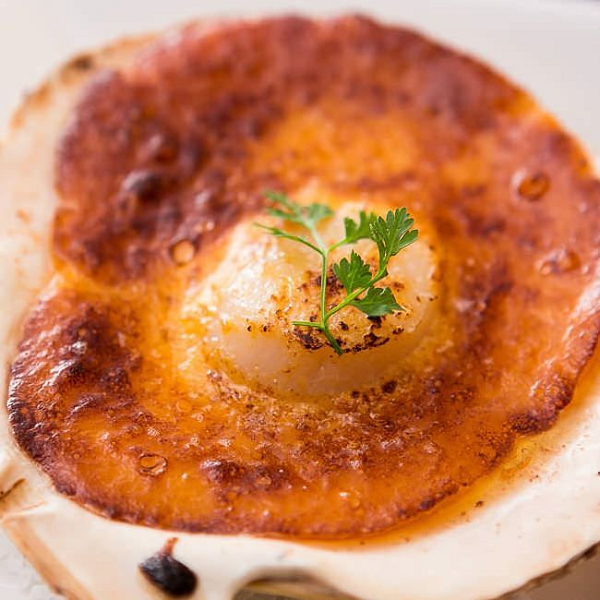 As readers can perhaps imagine, these Japanese scallops cooked in a sea urchin sauce are another well-received dish, especially at just 550 yen apiece before tax.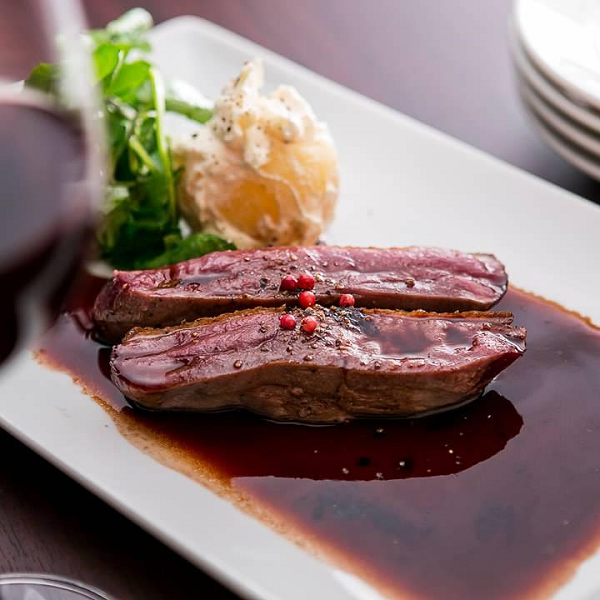 This Hungarian duck poêlé is cooked in a marsala-based sauce. It's one of the stars of the main menu, very agreeable at 1680 yen, not including tax.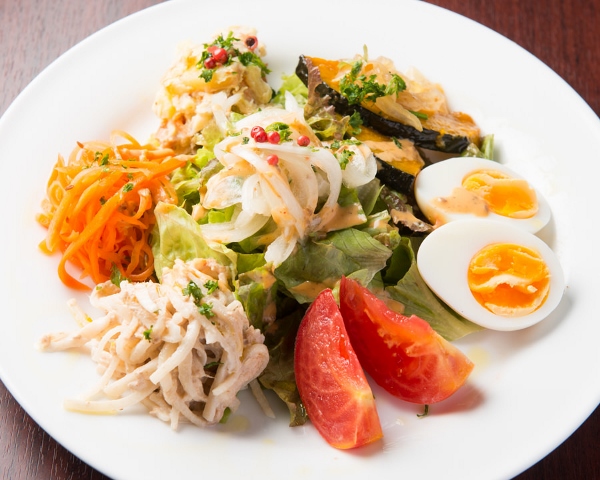 It's not all meat and seafood, though. The menu features some popular salads, such as this mixed (kimagure) salad (980 yen), roast tomato and mozzarella (780 yen) or romaine lettuce cooked caesar salad (980 yen).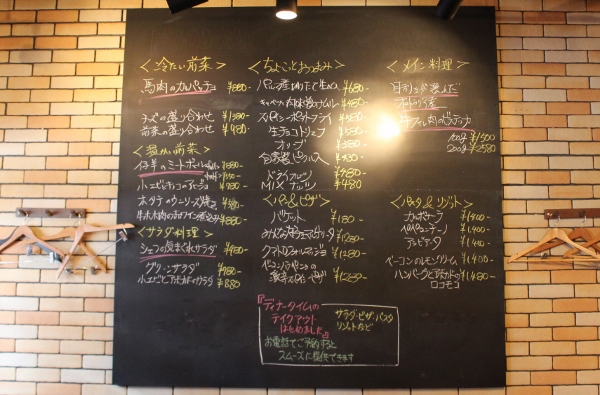 The daily menu depends largely on seasonal availability. On this particular day there was a shrimp and avocado salad at 880 yen, or a green salad at 780 yen. Horse carpaccio, shrimp, and mushroom bagna cauda, an assorted cheese plate and a selection of pasta or risotto dishes also featured on the daily menu. Carbonara, peperoncino, arrabiata or bacon and lemon cream pasta were all 1400 yen, with a hamburg steak and avocado loco moco also 1400 yen.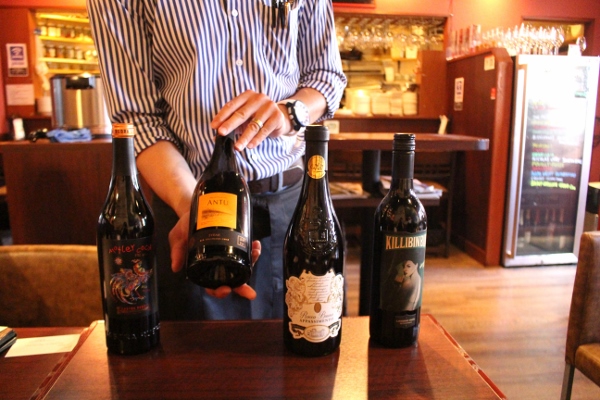 "There's no wine list at Ballondor," says Mr. Watanabe, to our great surprise. "In my experience, customers tend to order wine by its price, not by its suitability to the food they just ordered. Instead, after they have ordered, I make a selection of four different wines that could all be paired with the selected dishes and make a small presentation of each wine, explaining its qualities in detail. I then discuss with the customers who make a final selection, depending on their individual tastes."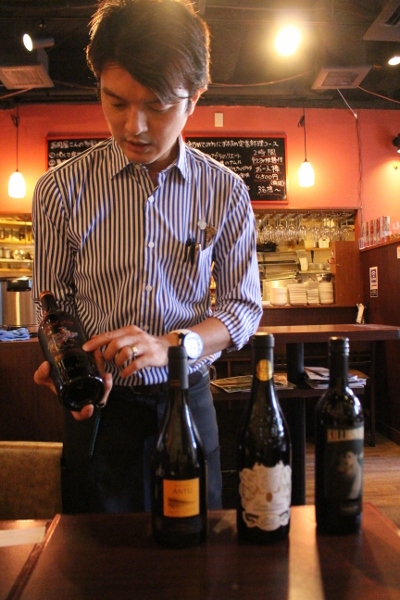 Mr. Watanabe selects a Bulgarian Castra Rubra Motley Kock, a Chilean Antu syrah, a Rocca Bruna Appassimento and a strikingly-labeled Killibinbin Secrets. He explains the background and various aspects of each wine's individual character in a brief but easily understandable presentation, performed with great style and élan, for which he receives a richly deserved round of applause. A glass of house red or white is 500 yen before tax, with sparkling wine at 580 yen.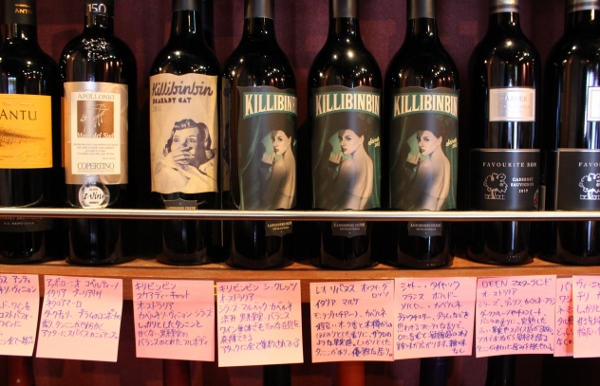 "We have around 150 varieties of wine from both the old and new world," he explains. "We recently had some Brazilian wine, grown in the far south of the country, which was very popular with customers. At the moment wines from areas such as Georgia, Uruguay, and Bulgaria are increasing in both quality and popularity. We're also seeing a lot more wines from Puglia in Italy.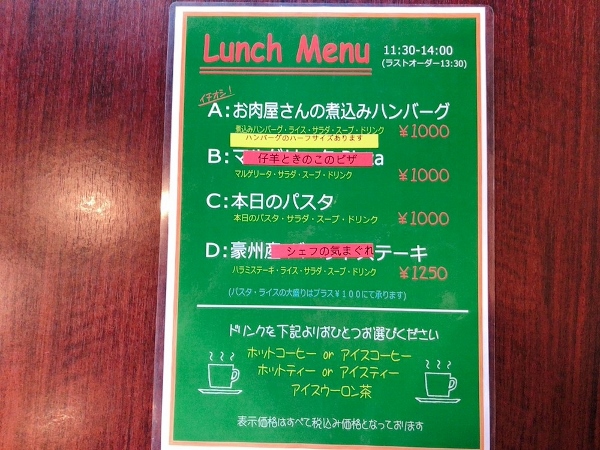 Ballondor is open for lunch from 11:30am to 2pm, with last orders at 1:30. The lunch menu consists of four main selections: Hamburg steak, simmered in a sauce with rice, salad, soup, and a drink; margherita pizza with salad, soup, and a drink; daily pasta with soup, salad, and a drink all at 1,000 yen. The fourth selection is up to the chef and depends on the season.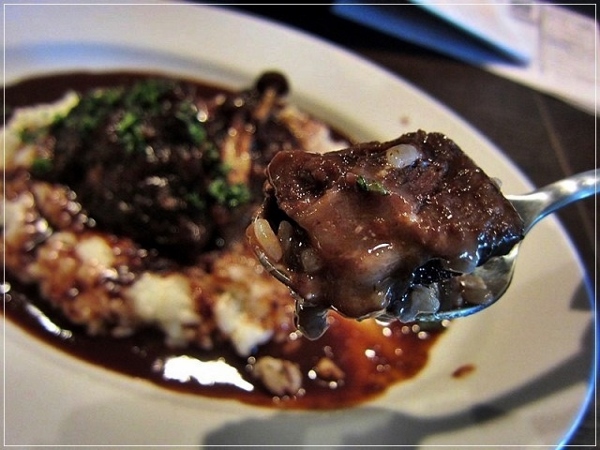 In the evening a take-out service is available from 17:30 to 21:30. The truncated menu features pickles, green salad, the Hamburg steak, three kinds of pizza (margherita, quattro formaggio and a bacon and jalapeno pizza for those who like it hot). The pizzas are 1280 yen each. There are five pasta dishes available at 1400 yen: pomodoro, tomato and chili arrabiata, carbonara, garlicky peperoncino, and bacon with lemon cream. Sounds great!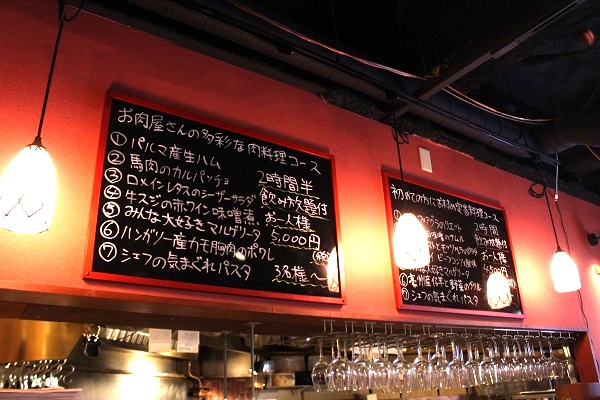 Ballondor offers an interesting selection of courses, which are very popular and represent tremendous value. For example, this "Butcher's Variety" meat course features seven dishes (Parma ham, horse meat carpaccio, Romaine lettuce caesar salad, beef tendons in red wine sauce, pizza margherita, Hungarian duck poêlé, and a pasta dish) with all-you-can-drink for just 5000 yen a head. It's a two-and-a-half-hour course that needs a minimum of three diners in a group. Although it's a little early to be thinking about the year-end, Ballondor does have some excellent party courses, ideal for a small group, or even a large group. Please check the restaurant website for more details.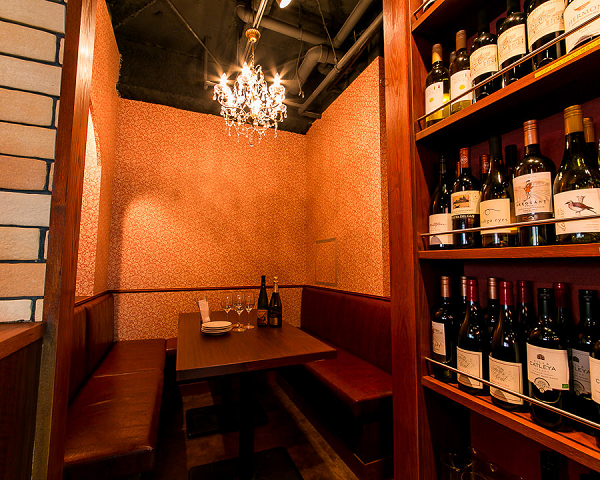 For those mixing business with pleasure there's a slightly more private area that can be reserved in advance. "Ladies seem to outnumber men at lunchtime," says Mr. Watanabe, "but it's the reverse at night. Men in their 40s or 50s tend to be more prevalent."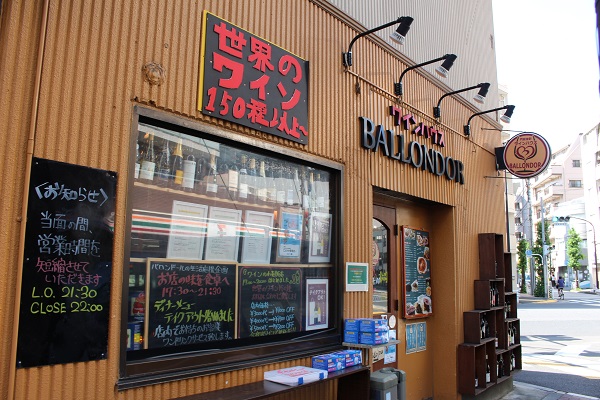 Fantastic food, great wine and a terrific atmosphere. What more could you possibly want? Ballondor really is a hidden gem……
Story and some photographs by Stephen Spencer