Great Eats at Standing Wine Bar
Published: November 25, 2021
Tachinomi Wine Maru-shu 2 is one of those magical places everyone wishes to have near their local station: a stand up wine bar that sells great wine in single glasses at very reasonable prices, and has fantastic food too. For the lucky locals in Monzen-nakacho, it's right on their doorstep. On a recent sunny autumn afternoon, we dropped in for a quick chat with manager Mr. Makoto Yamamoto and young chef Mr. Yasuhisa Setogawa.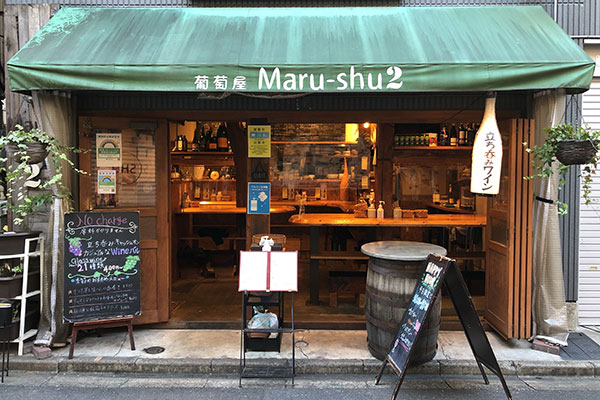 Located just one minute from Monzen-nakacho station on a back road behind Eitai Street, Tachinomi Wine Maru-shu 2 opens at 4pm for Happy Hour, attracting a jolly crowd of wine lovers. If it looks vaguely familiar that's because it's a sister to Budoya Maru-shu, the very popular, long-running casual wine bar also in Monzen-nakacho.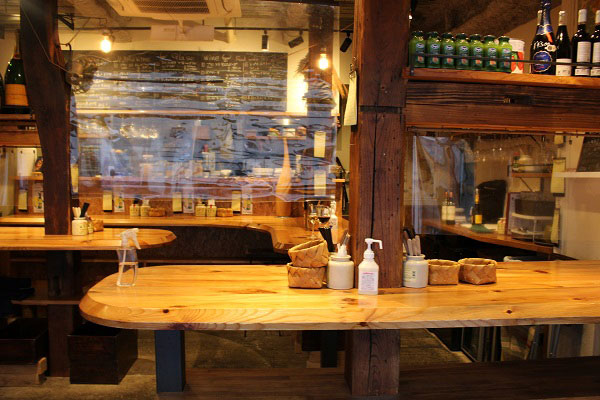 If you squint you could almost be in a backstreet bar in Spain. There are plenty of counters for leaning on, with a cash-on-delivery system for each drink or order. Just pop your money in one of the bamboo boxes on the counter and you're away.
Maru-shu 2 is a standing-only bar so there's no table charge!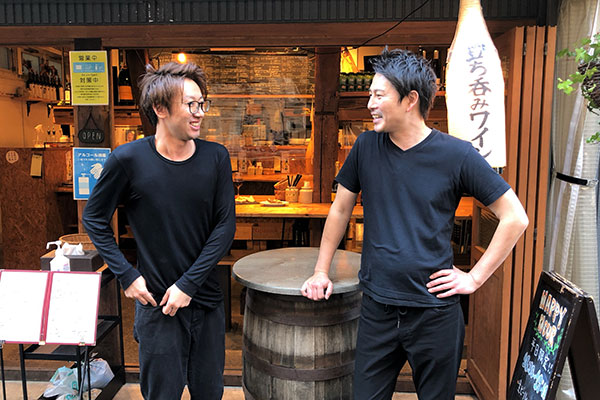 According to owner-chef-sommelier Mr. Yamamoto, on the left here with youthful chef Mr. Setogawa, he wanted "a really casual place where people could just drop in for a quick drink and something good to eat, in a standing bar style. There are many small plates of tapas on the menu at reasonable prices too." The tapas begin at 200 yen, with the top price being 1,200 yen for some of the meat dishes.
On weekdays from 16:00 to 18:00 it's Happy Hour, when draft beer is reduced from 480 yen to 300 yen a glass, and all glasses of wine are 200 yen off their regular price. Unbelievable!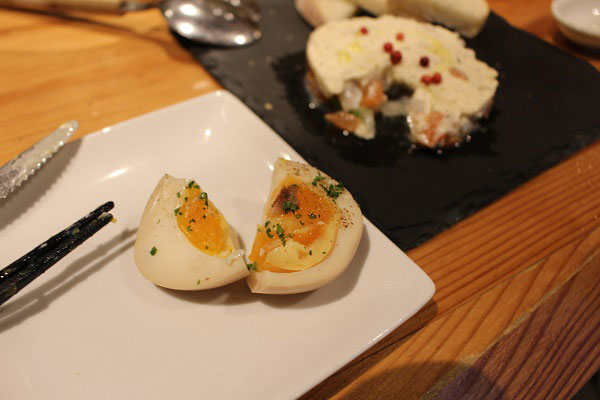 As Mr. Yamamoto explained, "The menu is designed to match the wine, not the other way around." Surprisingly, one of the most popular items is one of the simplest and most reasonably priced, this half-boiled egg with anchovy and garlic oil (chobitama 200 yen). It's a knockout: the creamy eggs are slow cooked in a herb-heavy broth and combine beautifully with the salty anchovy and garlic oil. It's an interesting mouthful and very moreish.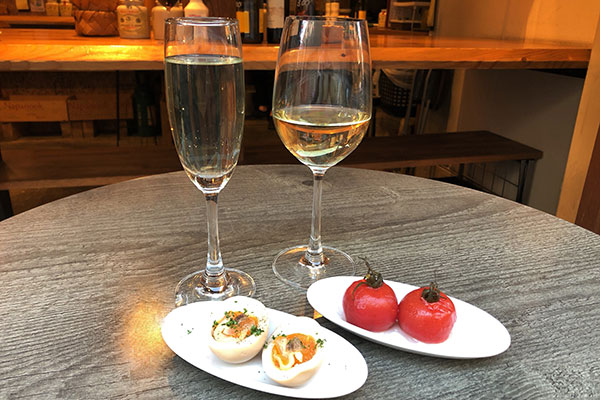 The anchovy egg and these mini tomatoes marinated in white wine with rosemary (220 yen) make the perfect accompaniment to a dry white or a sparkling wine.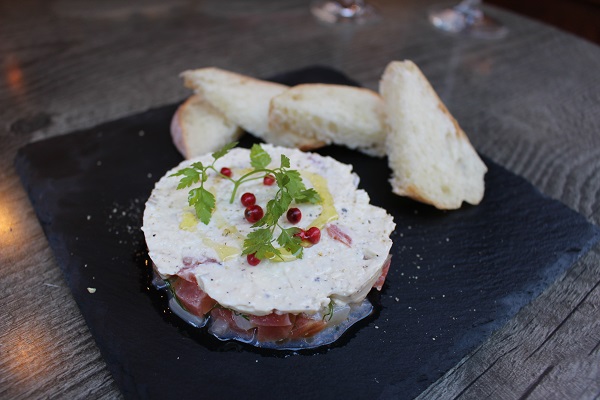 Another winner was this homemade smoked salmon and scallop with a rich tartare sauce (830 yen). The salmon is home smoked while the tartare sauce contains cream cheese for an extra taste sensation. Slather it on the crispy baguette and enjoy with a crisp white wine. Cheers!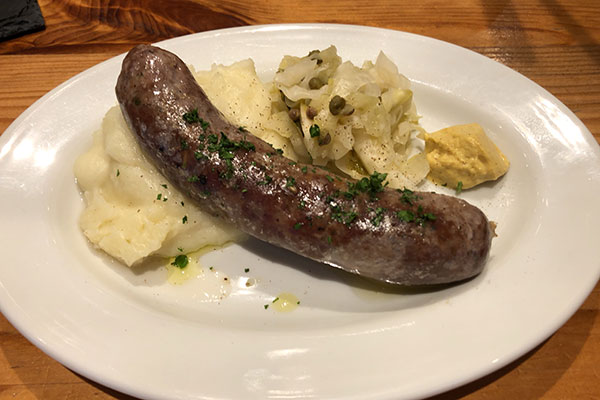 Mr. Yamamoto saved the best for last. This homemade lamb sausage with mashed potato and mustard was amazing! Roughly minced lamb meat is mixed with pine nuts and herbs, a juicy, meaty homemade Italian salsiccia for just 730 yen.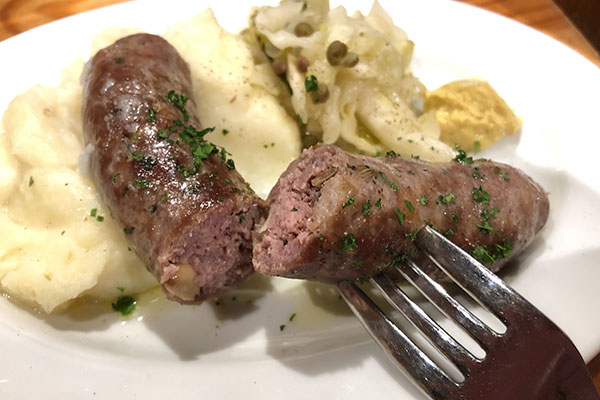 Lamb isn't the most popular meat in Japan and lamb sausages like these are as rare as hen's teeth, so it was a revelation to find them on the menu. The mashed potato was rich and creamy too, just like mother used to make, with lots of butter. The sausage was exceptionally filling, and a dab of mustard made it even more wonderful still.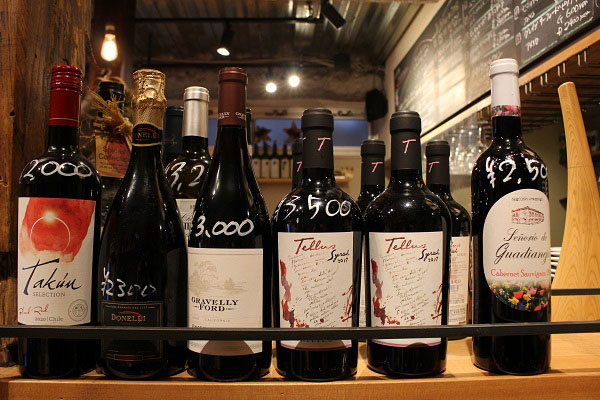 The wine book features a host of tasty, reasonably priced wines from all over the world. Around ten varieties each of red and white are always available, plus many more guest wines and several sparkling wines.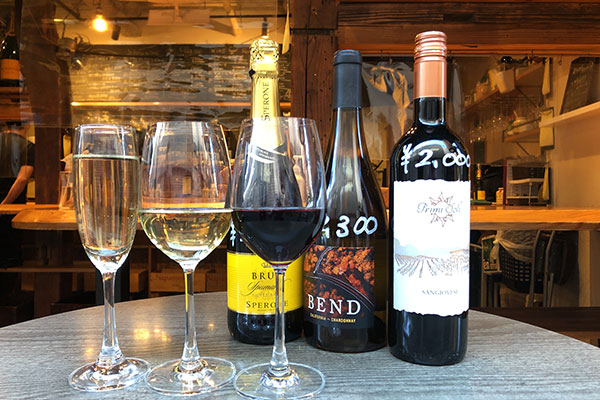 Sommelier Mr. Yamamoto has a real nose for eclectic wine, with the food selected to match. With the Happy Hour prices beginning at just 200 yen a glass, the quality is way beyond the price; "Hats off to Mr. Yamamoto," as my colleague said, visibly moved.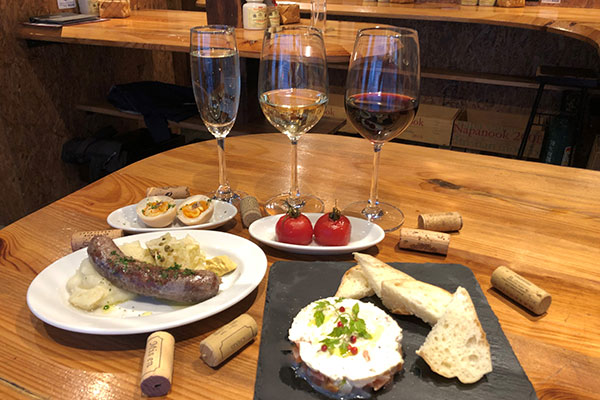 This fine spread plus three glasses of wine (one red, one white and one sparkling) comes to the princely sum of 2,850 yen during Happy Hour. Cheers!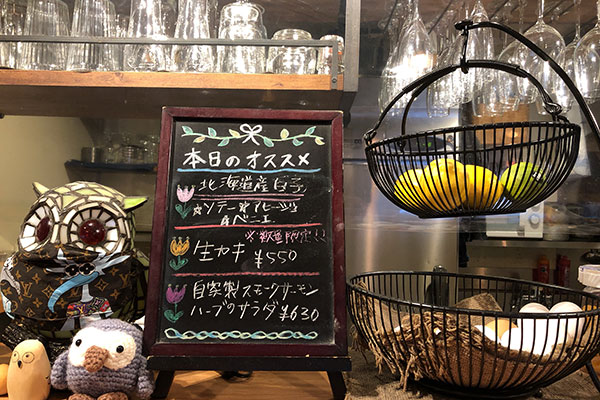 There are more substantial main dishes too, such as homemade pizza, tripe with haricot beans in tomato sauce, and boneless pork rib in white wine sauce. Seafood and fish are also popular, selected by Mr. Yamamoto himself at Toyosu Fish Market. Raw oysters and home smoked salmon were featured the day we visited. Whatever your tastes, there's something for you at Tachinomi Wine Maru-shu 2.
Story and some photos by Stephen Spencer