Located on a quiet residential street just five minutes' walk from bustling Eitai Street and Monzen-nakacho station, Craft Pasta Torino is an extremely popular restaurant dedicated to the art of making pasta and Italian regional cuisine. On a recent afternoon, we dropped in to meet the dynamic and highly affable owner, chef and sommelier, Mr. Takahiro Nakamura.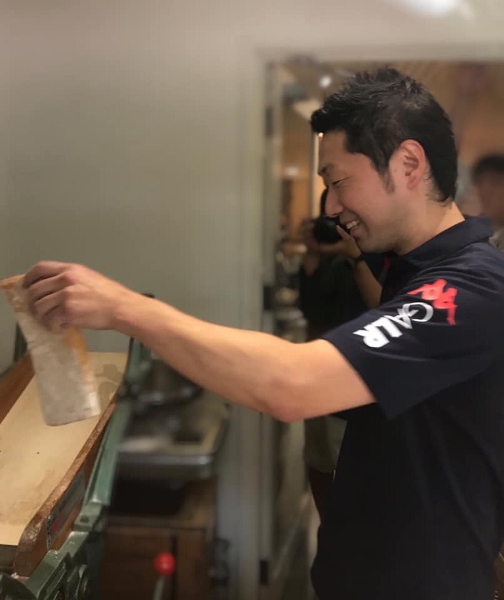 Born and raised in Tokyo, Mr. Nakamura spent five years in Hokkaido, Japan's northernmost island, studying at the Hokkaido College of Agriculture where he developed a love of nature and settled on his chosen path in the restaurant business. On returning to Tokyo he worked in an Italian restaurant for four years before heading to Italy, where he spent three years traveling, studying and working. "I knew I had to take the next step," he explained with a grin, "and go to the source to experience it for myself."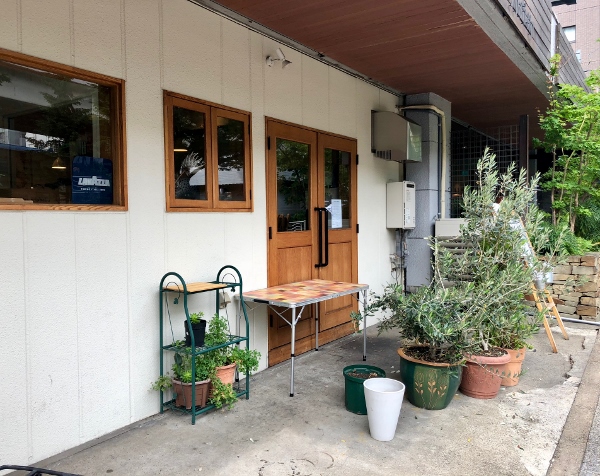 During those three years Mr. Nakamura spent most time in Sardinia, Piedmont, and Apulia, three wildly disparate areas that opened his eyes to the vast panoply of regional Italian cuisine. He then returned to Japan and took a job in a well-known restaurant before deciding to become independent. Craft Pasta Torino opened in 2019.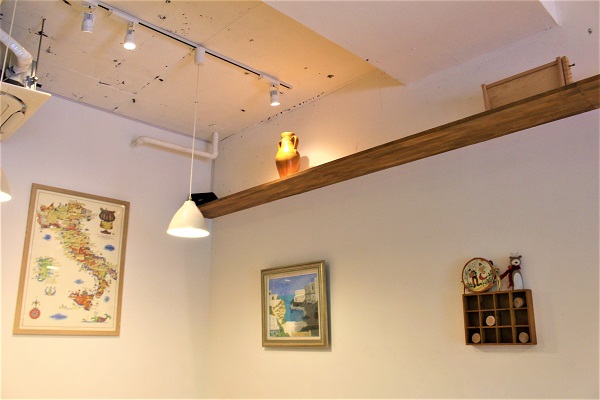 "I'd long dreamed of owning a Michelin-starred restaurant. Then one day I went into a small, family-run trattoria in Italy where three generations worked together, grandparents, parents, and grandchildren, and the atmosphere was so warm and friendly, I realised that was what I really wanted. A place where local people can drop in wearing sandals or house clothes to eat, talk and relax," he explained. A place that can be "a wonderful world that combines technique and skill with love and affection."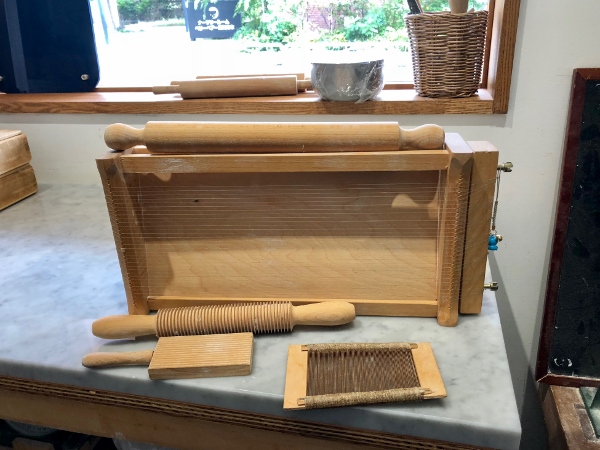 When designing the interior for Craft Pasta Torino Mr. Nakamura received help from local lumber merchants to make the counter, floors and this windowed pasta-making room. "The table is reinforced to accept the weight of the marble top. Marble is always used for making pasta in Italy as it stays cool even in the hottest summer months." The many pasta making implements were bought in Italy or imported to Japan.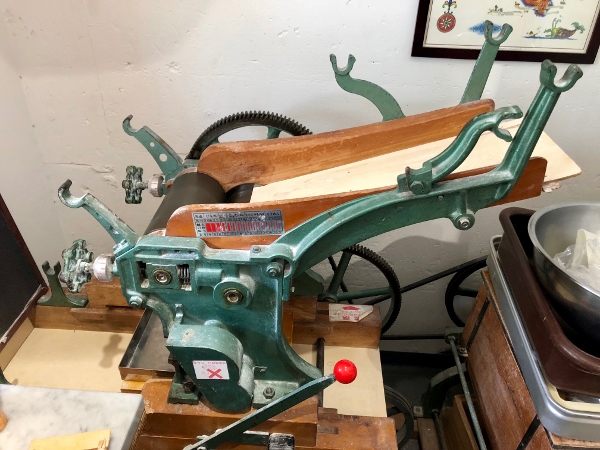 Mr. Nakamura inherited the pasta machine from a friend who made soba noodles with it. By fitting extra sets of heavy gears, a wide variety of pasta can be quickly prepared.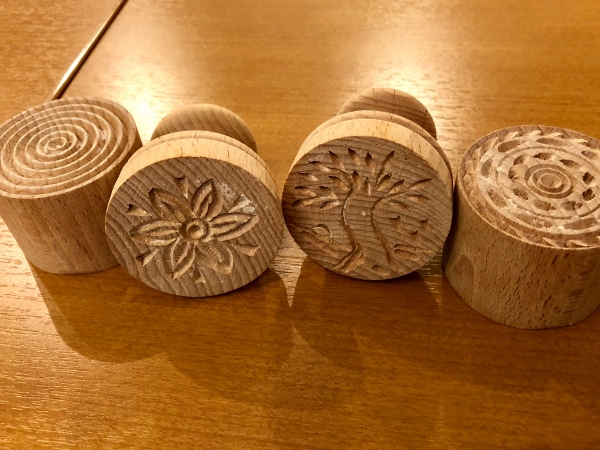 These wooden stamps are used to decorate corzetti, small rounds of pasta traditionally eaten in Genoa. One of the oldest forms of pasta, they are usually served in a simple pesto sauce of marjoram, pine nuts, walnuts and parmesan cheese. The stamps are quite rare nowadays.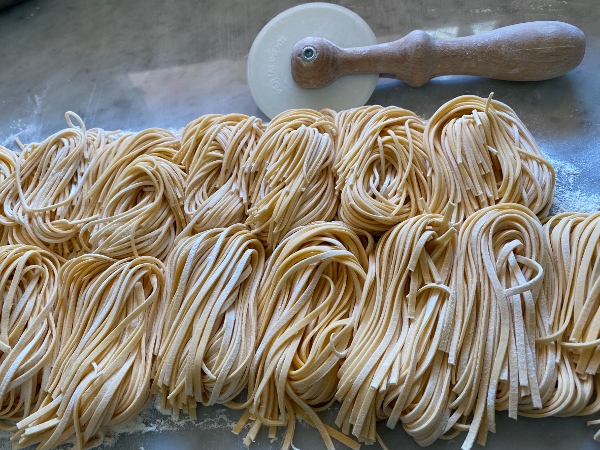 "Flour is obviously important in making fresh pasta," he explained, "but it's the eggs that really make a difference. I spent a long time searching for the ideal eggs, doing trial and error, until I settled on a brand from Fukuoka called Tetsuya and Noriko's eggs." Mr. Nakamura makes around 15 varieties of pasta, using domestic wheat flour.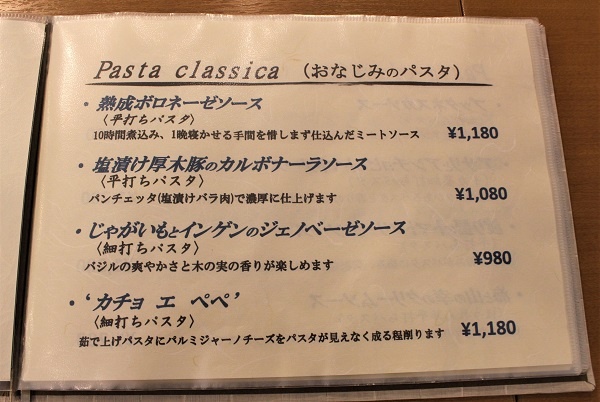 The regular pasta at Craft Pasta Torino includes tagliatelle, linguine, squid ink pasta, and pasta with spinach. The classic pasta menu includes Bolognese sauce or carbonara tagliatelle at 1180 yen and 1080 yen respectively, potato and green beans in Genovese sauce linguine at 880 yen, or cacio e pepe linguine at 1180 yen.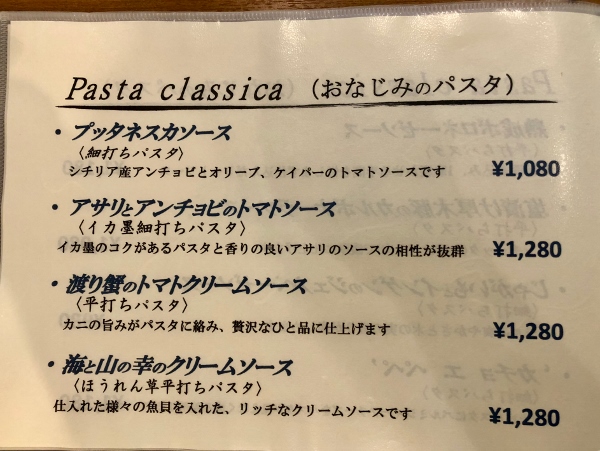 Classic pasta part two features puttanesca linguine with Sicilian anchovies at 1080 yen, short neck clams and anchovies in tomato sauce with squid ink linguine for 1280 yen, Japanese Blue Crab (watarigani) in tomato cream sauce for 1280 yen, and a rich, creamy "sea and mountain" sauce featuring a variety of seafood with spinach pasta for 1280 yen. Sounds great!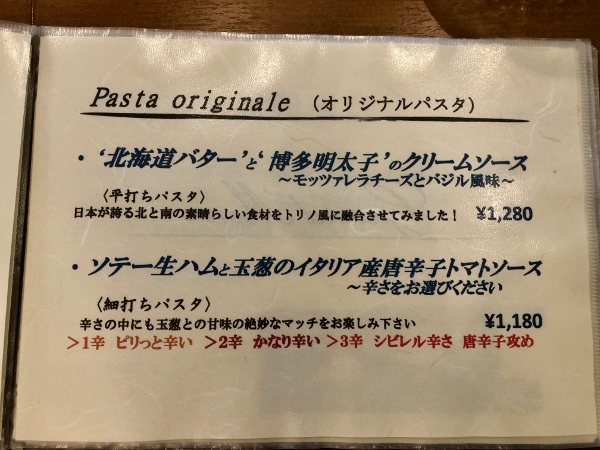 The original pasta menu features a very appealing Hokkaido butter and Hakata pollock roe tagliatelle with mozzarella cheese and basil for 1280 yen. Second is a sautéed raw ham and onion linguine in a tomato sauce spiced with Italian chili peppers. Customers can choose their preferred level of heat from mild, medium or tongue-tingling!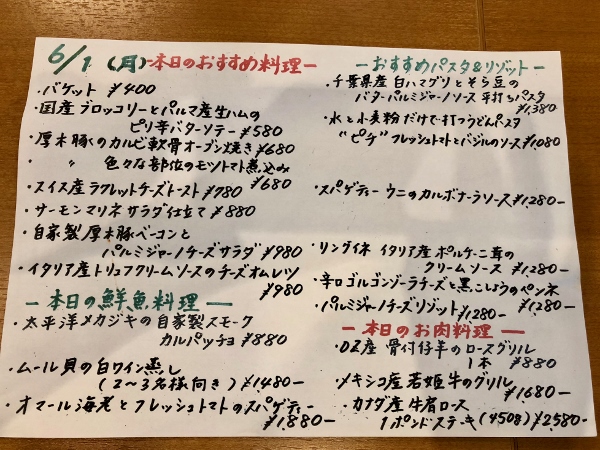 The daily menu contains a vast number of items too. For example: broccoli and Parma ham spicy sauté (580 yen), oven baked short pork ribs (680 yen), Swiss raclette cheese on toast (780 yen), thick cut bacon and parmigiano cheese salad (980 yen) and truffle cream sauce omelette (980 yen). Fish is smoked swordfish carpaccio (880 yen), mussels in white wine (for 2~3 people, 1480 yen) or lobster and fresh tomato spaghetti (1880 yen). Pasta is white short-neck clams with broad beans tagliatelle in a butter and parmigiano sauce (1380 yen), homemade pici udon pasta with tomato and basil sauce (1080 yen), sea urchin carbonara, Italian porcini mushroom cream sauce linguine (1280 yen), and many more: grilled chicken , gorgonzola and black pepper penne, risotto. The list is seemingly endless.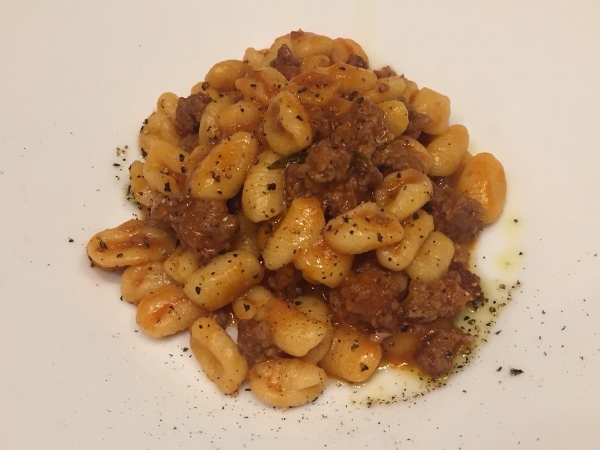 Amongst the many rare and unusual regional dishes available is this gnocchi Sarde, from Sardinia. Made without potato, from just wheat flour and egg, the gnocchi are smaller than usual and come in a pork or squid ink sauce.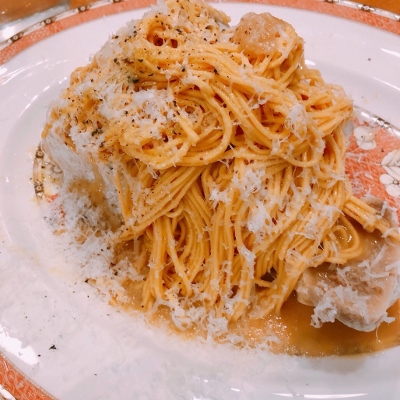 This beef tendon pasta is another original from Mr. Nakamura. Beef bones and tendons are simmered for hours to create a rich savoury sauce that consists of beef, olive oil and salt only.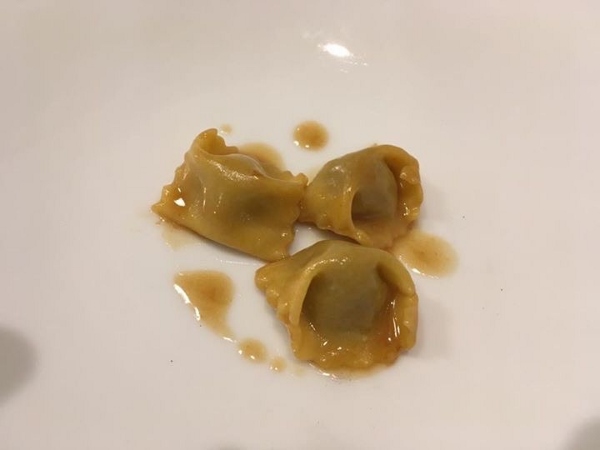 These agnolotti del plin hail from the Piedmont area and remind Mr. Nakamura of his stay in Alba, the gourmet town renowned for white truffles, wine and chocolate.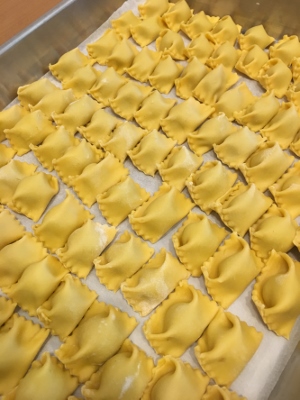 Plin means pinched in the local dialect, which is how the agnolotti are made: two sheets of pasta stuffed with a rich, savoury sauce of pork and beef are then twisted together. Paired with a local Alba wine such as Barolo or Barbaresco is the way to go!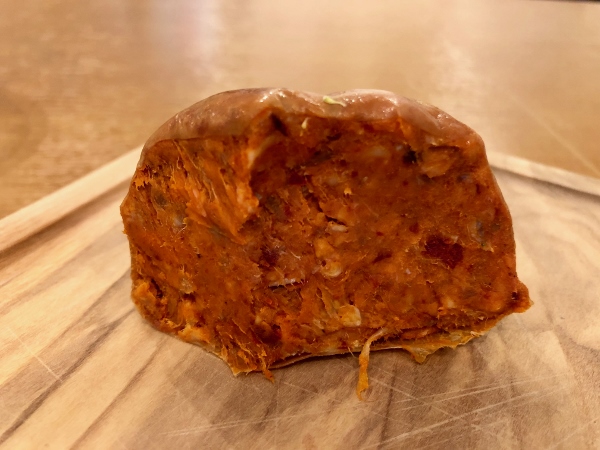 'Nduja is another rarity, this time from Calabria, the "heel" of the Italian peninsula. It's a pork-based spread made from various parts of the pig, spices and roasted chili peppers which give it a fiery taste. Highly versatile, the 'nduja can be eaten on bread or mixed into pasta sauces. It's tangy and savoury with a creamy texture and a nicely spicy aftertaste; very good indeed and probably great with a glass of wine.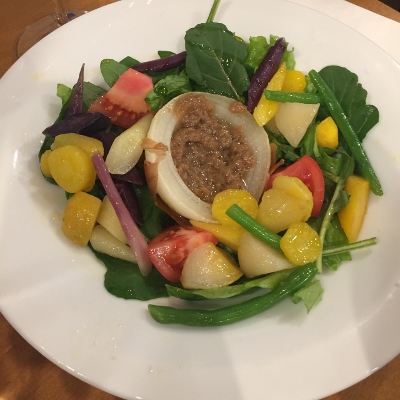 Another Piedmontese dish that has become a global favourite in recent years is bagna cauda. Chef Nakamura serves his in the local style, using organic vegetables sourced from the renowned Poco a Poco Farm in Ibaraki Prefecture.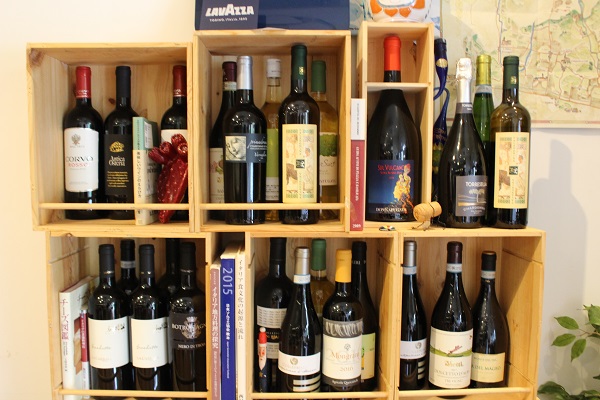 Italy is home to many famous wineries and enjoys a wide range of indigenous cultivars. The wine list at Craft Pasta Torino is bursting with rare and unusual wines, with a stock of around 100 or so. If you're in doubt which to select, just ask Mr. Nakamura for his advice!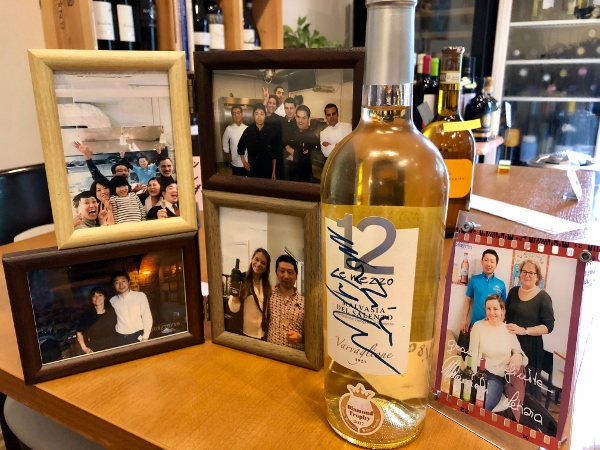 Chef Nakamura maintains a lively relationship with many wine producers, some of whom drop in when they visit Tokyo.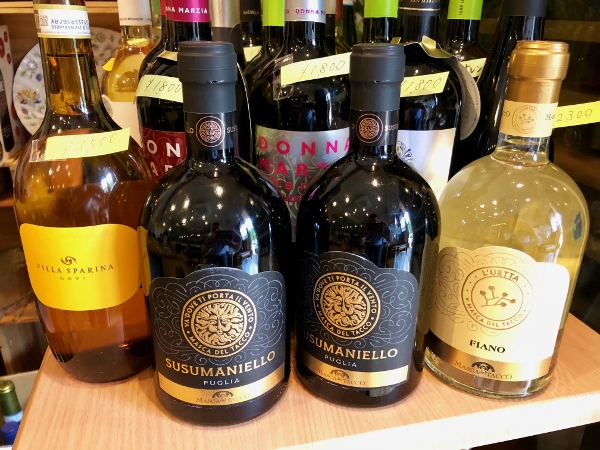 Some bottles are available to buy with take out meals in the evening. For a couple of thousand yen, customers can pick up a cracking bottle of otherwise hard to find wine to go with dinner.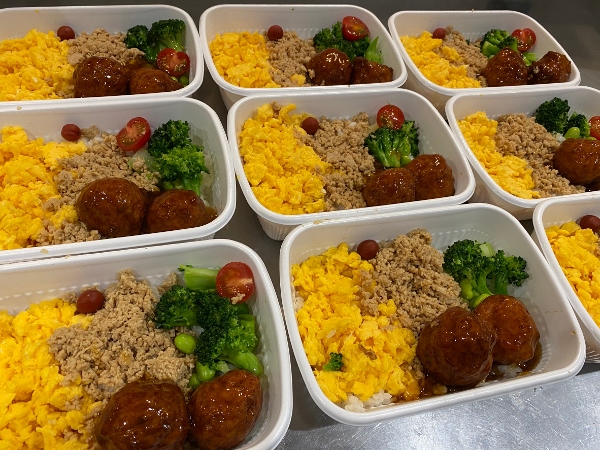 The current schedule for Craft Pasta Torino is as follows:
11:30 ~ 13:00 Lunch takeout and lunch box sales (weekdays)
16:00 ~ 20:30 Dinner takeout and drink sales
17:30 ~ 20:30 Restaurant business as usual
Tuesdays and Wednesdays are currently holidays. The restaurant's website and Facebook pages are linked below. The endlessly inventive Chef Nakamura produces a range of reasonably-priced and visually appealing lunch boxes such as these meatball and soboro donburi. Japanese-style meatballs, minced chicken cooked with soy sauce, dashi and sake, served with scrambled egg and vegetables on rice. Top value at 600 yen!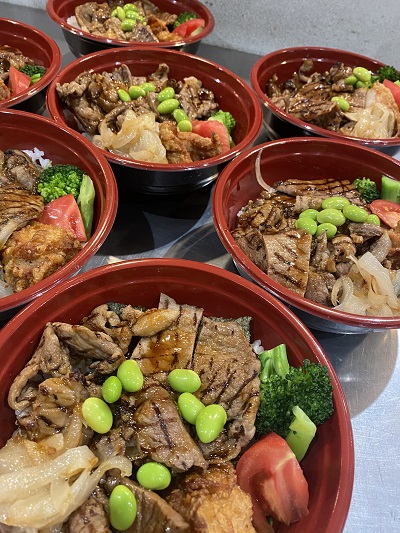 This high-quality Atsugi pork loin in a special sauce on rice is just 800 yen.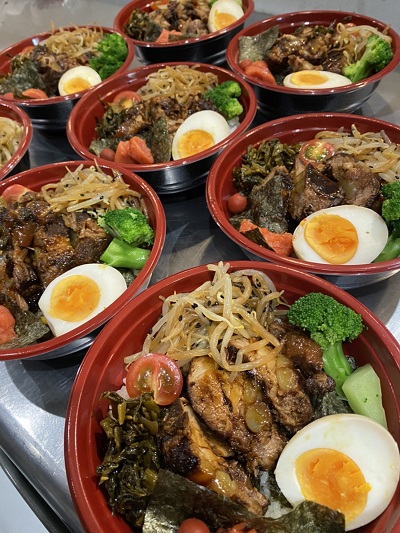 Atsugi pork short ribs and pollack roe with mustard greens also is just 800 yen. As you can imagine, these lunch boxes are extremely popular and often sell out before 12:00 o' clock. Customers can make phone reservations and pick up their order at lunch time.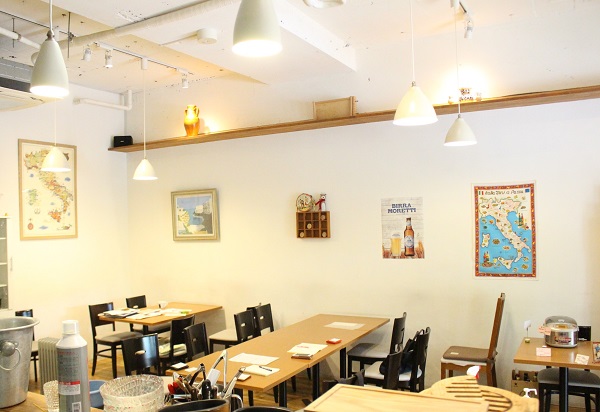 Only four tables are used in the evenings to maintain social distancing. Mr. Nakamura is a most engaging character, fiercely passionate about his food, dynamic and creative yet laid-back at the same time. He's also committed to keeping prices as low as possible, which means that he and his wife do all the work by themselves. If you're interested in wonderful regional Italian food and wine in a very comfortable atmosphere, and why wouldn't you be, then Craft Pasta Torino is the place for you. Alla salute!
Story and photographs by Stephen Spencer